Retention messages are just a great sales pitch⁠—they make customers feel unique and appreciated.
Your customers, especially those who come back, are worth their weight in gold. According to Crazy Egg, existing customers spend about 31% more than new customers and if you release a new product, they're 50% more likely to try it out. The good news is that you're probably already using two powerful channels to retain customers⁠—email and SMS.
Here are five ways you can use both channels  to increase retention and keep your customers around for life.
1. Create a two-way omnichannel strategy
Use a two-way communication tool to answer your customers quickly and create a 1:1 experience that other channels don't offer.

Email and SMS are two of the best channels to use for retention as they create a direct communication path between you and your customer. There are two ways you can approach SMS and email for retention: automated and conversational. With an omnichannel support strategy, brands can meet customer expectations and have conversations in real-time.

Think about what a typical sale looks like. A customer orders a product (and your online store takes care of payment and fulfillment), but then what?

With a two-way, omnichannel strategy, it'll look like this:
They'll stay in the loop. SMS and email updates about the status of their order and shipment/delivery updates are sent out automatically.
Customer service on speed dial. Each SMS and email sent out to a customer post-purchase has options to contact customer service if they've got questions about shipping, payment or delivery.
Post-purchase nurturing. After customers receive their order, post-purchase SMS and emails are triggered, sending special discounts and offers to encourage more purchases.
An omnichannel strategy means email and SMS keep your communications in one place. If customers have any problems throughout their purchase, your customer service team can jump straight in.
The result? Happier customers.
Pro-tip: Two-way communication channels are the perfect place to ask repeat customers for their feedback.
Ask customers how the product can be improved and what your brand can do to give them a better user experience. Even better, create an automatic feedback loop that collects and stores data. If a customer gives you their feedback on your user interface, tag it with "user interface." If you use any of their suggestions to improve it, it's easier to send out a segmented email thanking them for their input!
2. Make sure your product recommendations are on point
Personalization, personalization, personalization. It always pays to personalize—58% of all email revenue comes from segmented and targeted messages.

Use your marketing data to segment and tailor every email or SMS you send to customers. If they've recently purchased a product or browsed your online store, use that data to send them product recommendations they will  likely love. This strategy also works if your audience engages with certain types of content, like blog posts and emails.

The trick is using the right toolkit.
An email or SMS platform with an eCommerce customer data platform allows you to customize every message you send out so it hits the mark with each customer. On top of that, you can add tags like a customer's location, past purchases or buying behavior to send out personalized offers to up-sell or cross-sell related products to customers.

Check out this personalized email from American Giant. It takes data from its online store and uses it to personalize follow-up emails based on items the customer was browsing.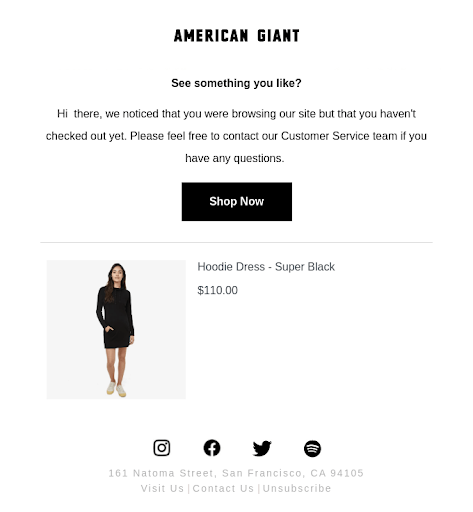 It also includes two important elements:
A customer service pitch. American Giant lets the customer know that if they need any help, its team is on standby
A clear call to action. The "shop now" button takes the customer right back to the item they were looking at so they can resume shopping straight away
These little touches⁠—like personalized follow-ups and customer service help⁠—keep customers coming back for more.
3. Switch up your post-purchase funnel
Marketers have so much data to level-up the customer experience after they make a purchase. Use this data to trigger emails and SMS to be sent to customers based on engagement, purchases, and buying behavior, so every message is relevant.

The best part? This entire process can be put on autopilot. Let's look at how this works for customers. They land on your site and, after some digital window shopping, decide to buy a sweatshirt. They checkout, and your marketing platform takes care of the order and shipping confirmation emails.
After their sweatshirt is delivered, your post-purchase funnel kicks into gear. A week after the customer purchased the item, an email lands in their inbox saying something like:
"Hey, we hope you're enjoying your new sweatshirt! Since you bought a cotton pullover, we thought you might enjoy these products from the same line."

Here's where your data comes in. The email shows the customer some product recommendations based on their previous purchase, so they'll (hopefully!) see something they like. Your post-purchase funnel will follow up in three days if they don't bite. This time, the email is packed with reviews from other happy customers and more recommendations they may like. Here's a great example from Everlane.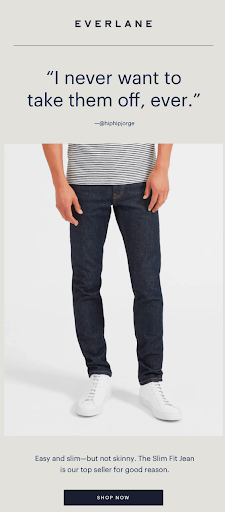 This email is designed to show reviews and recommendations if they don't buy something from the first email in the post-purchase funnel. It'll remind customers what they're missing out on, and just like that—you've turned a one time customer into a repeat buyer.
4. Start loyalty and referral programs
Referred customers are more loyal and spend more money. Creating loyalty and referral programs is a great way to lower customer acquisition costs and keep customers coming back. A basic referral structure may look something like.
Refer 20 friends and get free shipping for life!
Get 20% cashback for every subscription from referring a friend!
Reward customers with a credit to use next time they shop to make it even easier.
Postable does this by offering customers $5 credit for every customer they send their way.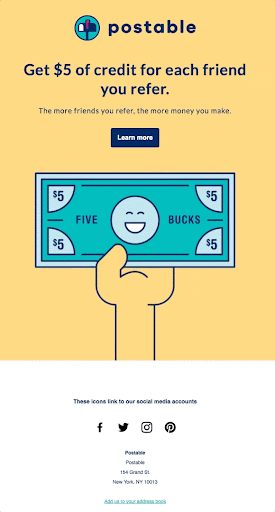 Loyalty programs are a little different, as they reward customers for each purchase they make. For example, a customer could earn points every time they spend a certain amount of dollars. This could look like 200 points, which equals 20% off their next purchase. Or on  their birthday, they'll get a one-time 35% voucher to use if they spend it within 24 hours.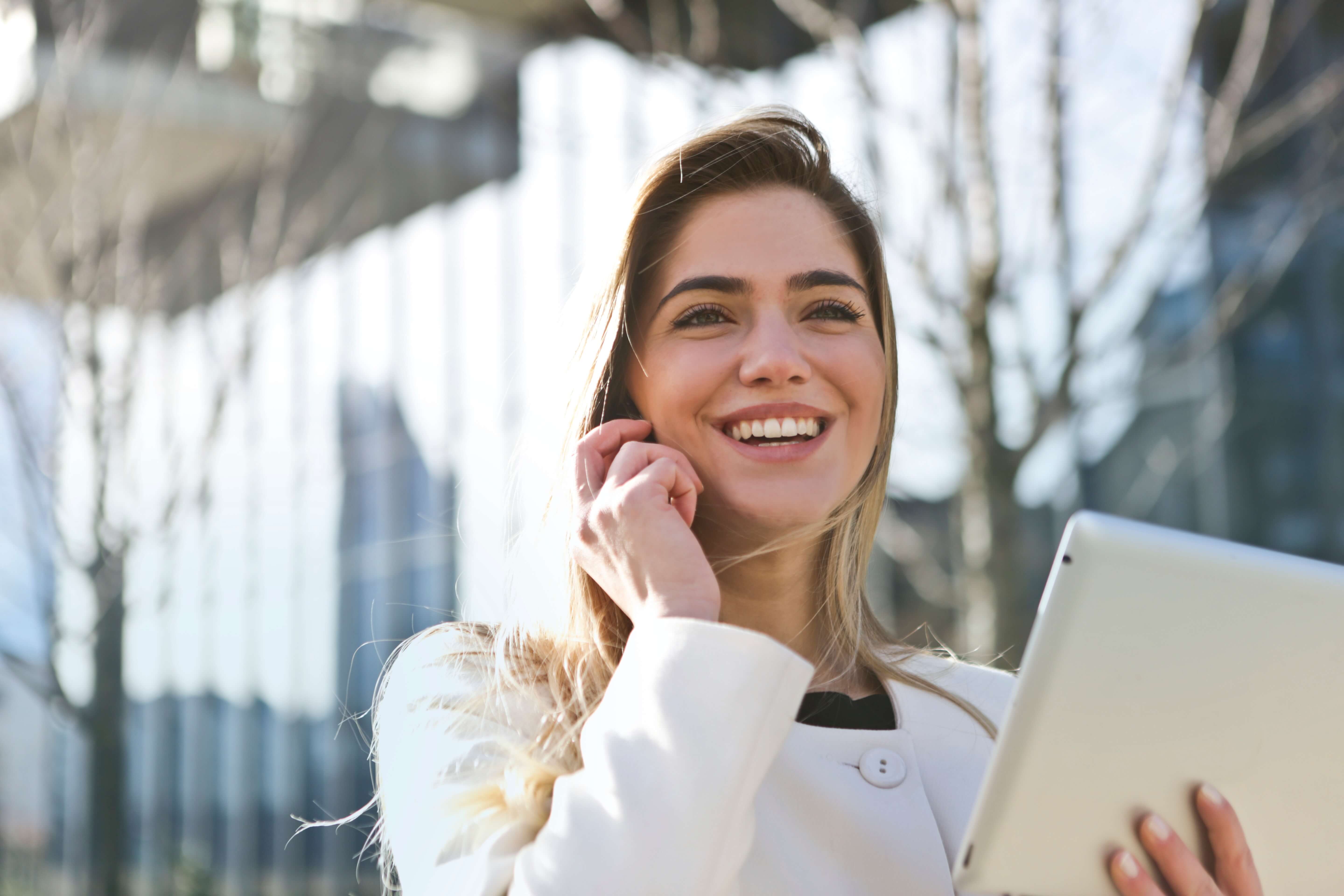 Here's how TOMS' loyalty program—Rewards—works. Customers sign up (for free!). Then, every time they buy something from TOMS.com, they'll earn points. Once they have enough, they can choose to exchange their points for TOMS products or donate them to one of the brand's chosen charities:

Customers also earn points by signing up to TOMS' email list, connecting on social media, and updating their profile. For TOMS, it's a win-win—they gather more data on customers and nurture them over email and social media, all while bringing in more sales through rewards-based purchases.
5. Segment contacts so your messages get opened
Finally, only send customers messages they want to read. It sounds simple, but segmenting your audience based on their previous buying behavior is a great way to boost engagement and message open rates. There are hundreds of ways to segment your audience, but basic ones to start with are:
Loyalty segments. Customers are segmented based on their lifetime value and average order value to maximize revenue
Past purchase segments. Customers are segmented based on buying behaviors. You can recommend other products based on past purchases to cross-sell or up-sell related products.
Beyond these, segments can also be used in messages to target customers based on product views, abandoned carts, and lifetime value.

You may want to target customers who have already spent a lot of money with your brand if you introduce a new product at the top end of your range. Create a segment that targets customers who you consider "high" lifetime value customers. Then, set segment conditions (e.g customers who've spent over $800) to help you find them.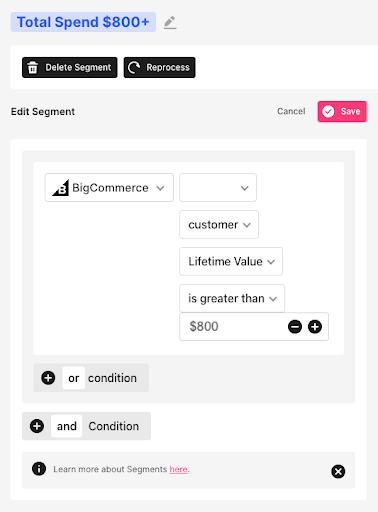 Segments are also a way to easily target customers who have a low lifetime spend. These customers need an extra push to get them back to checkout. With segments, you can send them discount codes and let them know about upcoming sales to get them thinking about your brand again.

This tactic doesn't just work with email⁠. Targeting high value customers and those who need to be won with SMS is possible by including images of products and discount codes along with a link back to your store.
Increasing retention requires you to play the long game
Winning over new customers is hard—keeping them around is harder. Customers want a unique buying experience. Creating personalized email campaigns and nurturing customers post-purchase with segmented recommendations is a great start.
Try going one further. Loyalty programs and starting conversations with customers show them that you're not forgetting them after they buy. You want to get to know them and reward them for sticking with your brand.

Put in the hard work to retain your customers—your bottom line with thank you.

Merchants can use the Sendlane and Smile.io integration. If you'd like to put these tactics to work inside an all-in-one email and SMS marketing platform, chat with a Sendlane expert today!
This is a guest post from Jimmy Kim, CEO & Co-Founder, Sendlane