Editor's Note: This post was originally published in 2016 and was updated for accuracy and comprehensiveness on November 17, 2023.
For the past number of years, more and more company executives have been putting the spotlight on customer retention. Brands recognize the value of having loyal customers now more than ever as competition increases and customer acquisition becomes increasingly expensive.
According to research from Business Wire, 69% of brand executives have increased their loyalty investment over the past 2 years, and 55% plan to invest even more in the coming years. Brands are now prioritizing retaining the customers they already have over acquiring and converting new ones.
The question now becomes how to build customer loyalty efficiently and effectively.
Without a doubt, one of the best ways to retain customers is through a loyalty program. With the average American consumer belonging to 16.7 loyalty programs, it's clear that shoppers are receptive to this retention tool. So why are so many companies stalling their loyalty program's launch?
Like any major decision, committing to something that requires so many resources can be tough. Between branding, promoting, and communication, a lot goes into a loyalty program—especially if you want to get it right the first time.
To maximize its benefits, you want to ensure that you launch a loyalty program that's as close to perfect as possible, no matter how long that program takes. But is perfection worth the wait?
What if we told you that every day you wait costs you money?
Losing without loyalty
While it may sound like a stretch, you're doing your business more harm than good when you wait to launch a loyalty program. Studies have shown that 64% of loyalty program members actively spend more money to maximize points earning.
If you're unsure how you're losing money, here are three critical considerations that clarify why you need to launch a loyalty program sooner rather than later for your revenue's sake.
1. Revenue distribution skews to your top customers
This one sounds like a no-brainer, but your doubt makes it necessary to reiterate. Even though your top loyal customers only make up 8% of your shoppers, they represent 41% of your total revenue. Even more, the top 5% of customers contribute 35% of an ecommerce store's revenue.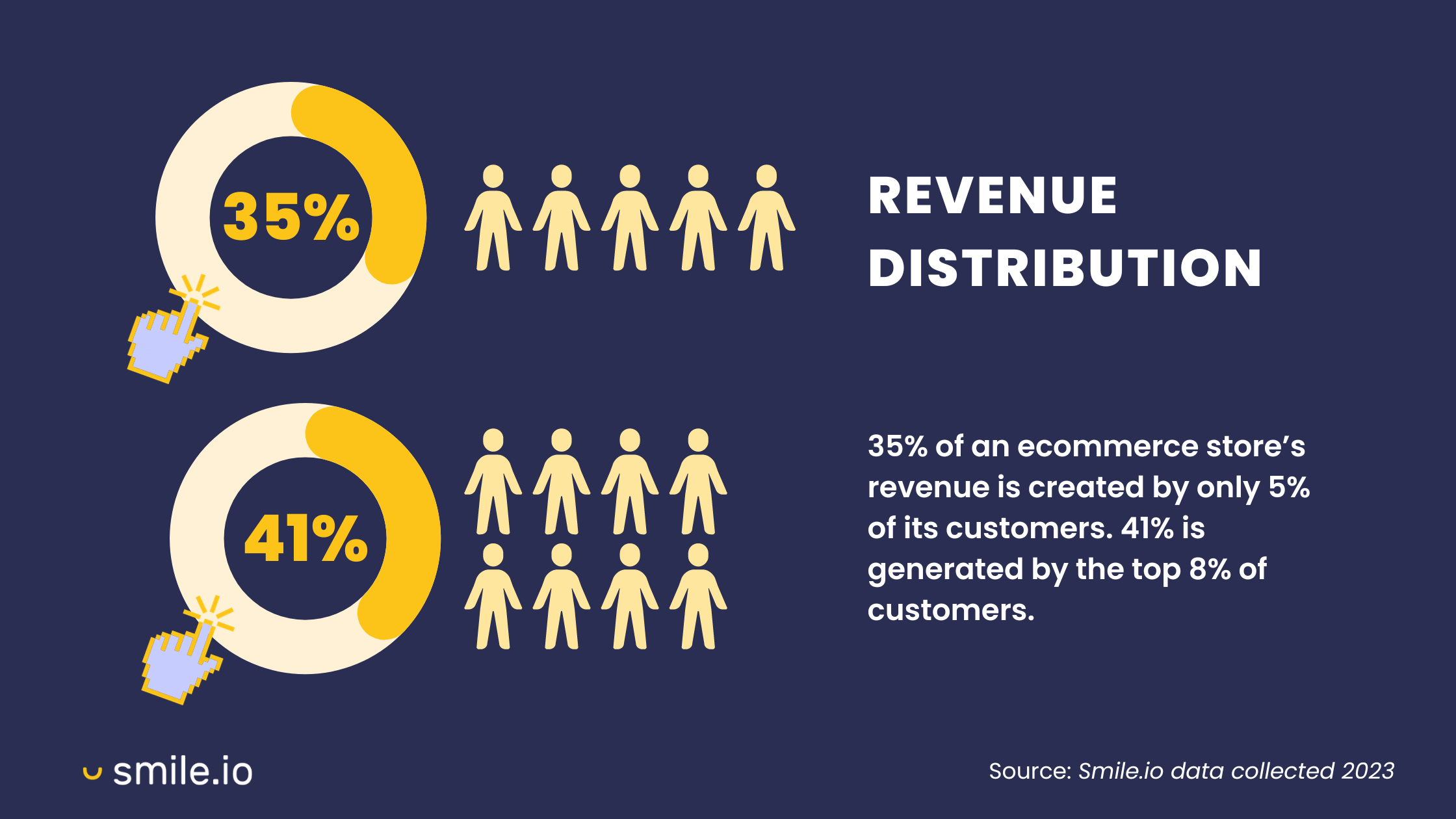 This staggering figure clearly states that delaying your decision to launch a loyalty program will also delay your continued financial success.
Still not convinced? That's OK, we've got more reasons.
2. Loyal customers significantly impact average revenue
If repeat customers bring you more revenue per order, it stands to reason that they can have a significant impact on your annual revenue. On average, repeat customers who redeem points spend 3 times more than other customers. What better way to incentivize repeat customers than with a loyalty program? When you fail to launch a loyalty program quickly, you're losing out on the potential for substantial financial gains.
💰
Loyalty point redeemers spend 3 times more than other customers on average.
Let's lay it out again through some scenarios. To keep things simple, let's say you made $100,000 in a year, had 1,000 customers, and did not offer a loyalty program. That would give each customer an average order value (AOV) of $100 annually.
Now, imagine if you offered a points program and had 10% of your customers redeeming points. These 100 customers would be spending 3 times more than the average customer who does not redeem points, bringing their annual AOV to $300. These 100 customers would spend a combined total of $30,000, bringing your total yearly revenue to $120,000. That's a sales lift of $20,000, with only 10% of customers redeeming points.
If we repeat this scenario for 25%, 50%, 75%, or even 100% of customers redeeming points, your annual revenue would be $150,000, $200,000, $250,000, and $300,000, respectively. The results are significant:
25% of customers redeeming points = a $50,000 sales lift.
50% of customers redeeming points = a $100,000 sales lift.
75% of customers redeeming points = a $150,000 sales lift.
100% of customers redeeming points = a $200,000 sales lift.
In other words, each month you don't launch a loyalty program, you lose anywhere from $4,000 to $28,500 if at least 25% of your customers redeem points.
Each month you wait to delay launching your loyalty program has an opportunity cost of up to 3 times your revenue. The sooner you launch a loyalty program, the sooner you can increase your repeat customer rate and revenue.
3. Loyalty program members make more repeat purchases
Last but not least, your loyalty program members considerably impact your repeat purchase rate. Customers are prone to loss aversion, meaning they are more influenced by what they may lose than what they may gain. Rewards program members who have already accumulated points won't want to lose that value. This means they'll either make another purchase to redeem those points or earn enough to reach the next reward.
Loyalty program members have a repeat purchase rate 56% higher than non-program participants. It's no secret that your existing customers have the most profit potential. So, if you don't have a loyalty program, what are you waiting for?
With these stats in hand, you don't need an equation to see how valuable a loyalty program can be to your store.
The sooner, the better
As you can see, building your loyal customer base is critical to growing annual revenue. Representing a significant chunk of your annual income and armed with the power to make considerable contributions to yearly figures, your brand can benefit from the power of a loyalty program.
So what are you waiting for? Launch a loyalty program today, configure it correctly, and consistently support it, and we can assure you that the long-term benefits severely outweigh the short-term costs and stresses. You (and your repeat customers) will be singing your program's praises in no time.
Stop leaving money on the table.
Launch a loyalty program today.