Every brand aims for a loyal customer base that will support them no matter what. Loyal customers are the ones who eagerly await every product release you announce and shout your brand from the rooftops. But what exactly is customer loyalty?
We're going back to basics in this post to learn what customer loyalty is. In this ultimate guide to customer loyalty, we'll define customer loyalty, why it's important, how to gain customer loyalty as a brand, several types of loyalty programs that can help you achieve it, and how to measure customer loyalty.
Table of Contents
What is customer loyalty?
Loyal customers are a valuable asset for every brand. They are not easily persuaded to switch to competitors; they form emotional associations and relationships with your brand and can become advocates who share your brand for you.
Customer loyalty and retention go hand in hand and are often used interchangeably, but they are different. When we look at our definition of customer loyalty, we see it's all about consumer perceptions.
💗
"Customer loyalty is a desired consumer behavior where customers will continue to make repeat purchases and choose the brand over competitors due to a positive perception or relationship."
On the other hand, customer retention is more closely tied to consumers' actions. Retained customers make repeat purchases but may not have true customer loyalty because they lack emotional attachment to the brand. Loyal customers will support almost anything you do by supporting any product you launch, engaging with your online content, and participating actively in your brand community.
Loyal customers offer additional protection against unexpected issues that may arise with your brand. You obviously want to provide an exceptional customer experience every time, but sometimes mistakes happen. Genuine customer loyalty can withstand a few poor experiences (depending on how the ecommerce business responds), and loyal customers will forgive a few mistakes if the brand makes it right (fast).
❤️‍🩹
"Customers are 2.4 times more likely to stick with a brand when their problems are solved quickly."
-
Zendesk
For example, think about a brand you love and would never even consider shopping from a competitor. If they were to accidentally send you the wrong size product, quickly apologize, and correct the mistake, would you forgive them? Chances are it's a yes, and you may even develop a deeper sense of loyalty due to their commitment to rectifying the mistake. The point is customer loyalty offers both tangible and intangible benefits.
Why is customer loyalty important?
Loyal customers are essential from both a financial and reputational perspective. As we mentioned, loyal customers will likely become brand advocates who will refer their friends and family to your brand, spread positive sentiment about it, and support you through thick and thin.
But loyal customers also help contribute to your bottom line. According to data from Smile.io's expansive network of businesses, 41% of an ecommerce store's revenue is created by only 8% of its customers. And your top 5% of customers contribute 35%.
Repeat customers are also more likely to shop with you again. After 1 purchase, a customer has a 27% chance of returning to make a repeat purchase. But after 2 or 3 purchases, that increases to 49% and 62%, respectively. Each time a customer returns to your store, you're building their loyalty and their customer lifetime value.
👤
Loyal customers:

- Are more likely to make repeat purchases.
- Are easier to sell to.
- Spend more on each purchase.
- Spend more during key sale periods.
- Are more likely to become advocates and share your brand.
- Are more likely to join or create your brand community.
- Are less likely to switch to a competitor.
Brands with loyal customers benefit from short-term and long-term gains by building a sustainable customer pool. But how do you actually create customer loyalty?
How to gain customer loyalty
Several loyalty marketing strategies improve customer retention and ultimately lead to loyalty. Every retention method can be considered a strategy, tactic, or tool. Retention strategies are the overarching plans to keep customers returning, tactics are the actions carried out to retain customers, and tools are the specific systems or implementations used to achieve the goal.
Customer experience
One of the most popular customer loyalty strategies is delivering an exceptional customer experience at every stage of the customer journey. Simply meeting customers' expectations is not enough anymore. The brands that foster true customer loyalty go above and beyond to delight customers.
🚨
"49 percent of customers who left a brand to which they'd been loyal in the past 12 months say it's due to poor CX."
-
Zendesk
Some of the best tactics and tools to achieve this include adding handwritten thank-you notes or surprise gifts to customers' physical orders. Receiving an ecommerce order is often the first tangible touchpoint a customer has with your brand. There's already a level of excitement and anticipation that comes with finally receiving a package in the mail. Adding surprise bonus elements presents the opportunity to bring that customer delight to an even higher level.
The brands that stand out are those that understand that the customer journey is continuous and doesn't end once the package is in a customer's hands. Following up with post-purchase communications through email or SMS marketing is key to building customer loyalty. You can send a thank-you note, ask them to rate the product or keep them in the loop on exciting things and updates about your store. Whichever tactics you choose, customers will feel appreciated and remember that you didn't forget about them. When the messaging is tailored, relevant, and valuable, they'll reward you with their loyalty.
Brand community
When your brand represents something deeper than the products you sell, customers will be more emotionally invested and more loyal. Brand communities are a great way to achieve this.
Building a brand community involves giving your customers a place to communicate and interact with one another about topics beyond your store or your products. The best brand communities offer a range of benefits, like creating brand advocates, helping you understand your customers and their values, and creating additional value for your shoppers.
Brand communities are effective at building loyalty because customers are connected with other customers who love your brand as much as they do. They're given an outlet to talk about their real-life experiences, struggles, and questions with like-minded people in a way that they may not be able to do IRL. When customers think about this community, they'll think about your brand.
Value-added content marketing
Not every person who discovers your brand will become a customer—and that's okay. That's why it's important to understand the difference between your customers and your audience. Your customers are those who have purchased from your store, but your audience is a larger group of people who may be interested in your products or your brand values. And you can and should design content for both.
You may be wondering, "Why should I care about people who aren't shopping from me?" And the short answer is that they may know someone who might. You can create content explicitly aimed at your customers, like sales promotions announcements, or design content for a larger audience, like tutorials or educational blogs.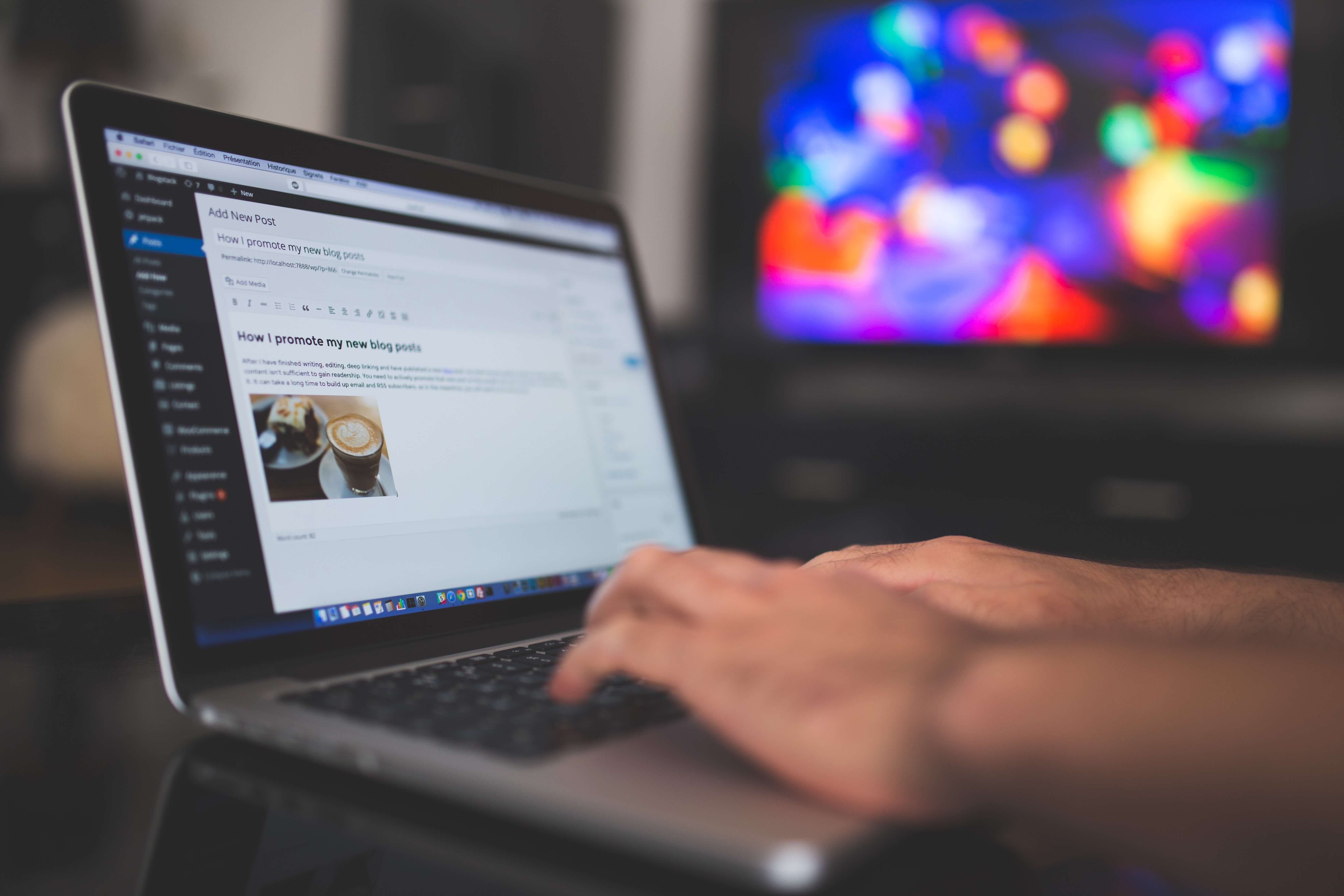 The goal of this type of content aimed at a larger audience is to provide value. While delivering value is the primary intention, you can have sub-goals like educating, inspiring, teaching, or entertaining people. You can use your content to build a relationship with audience members who may or may not be customers.
Not every marketing channel should aim to promote your products or services if you want to build customer loyalty. At its core, loyalty is tied to emotional connections, and transactional messages like sales don't inspire emotional reactions. Value-added content provides intangible benefits to audience members. Then, they'll positively associate with your brand and think of you when they need to purchase or simply refer your brand to a friend or family member searching for something you offer.
Personalized communication
Customers are more likely to be loyal to a brand that makes them feel special and appreciated. One retention tool that checks this box is personalization. Delivering a tailored message to customers will stand out in their inboxes and brains.
💌
"80% of customers are more likely to purchase when brands offer a personalized experience."
-
Epsilon Study
You can use marketing automation tools to segment your customers based on different characteristics, like their stage in your customer journey. This allows you to send your loyal customers different messages than a customer who hasn't purchased from you in a year. Your loyal customers will feel appreciated and valued while you can rebuild a relationship with the dormant customer instead of missing the mark with both through a general email.
Other ways to personalize your communication are including product recommendations based on previous purchases, timing your communications based on purchasing behavior (for example, reminding customers when it's time to restock on their favorite skincare products), including their names in every email, and adding points balanced in every email header or footer if you offer a loyalty program. All of these tactics show customers that you care about their business and will make them care about you.
Customer loyalty programs
One of the best, most actionable ways to build customer loyalty is through a customer loyalty program. It's all in the name, after all.
🔄
The sole purpose of a
loyalty program
is to turn one-time customers into repeat customers and build a loyal following.
Not all loyalty programs are created equal, though.
🏆
The best loyalty programs achieve three things:

1. Bring customers back.
2. Have loyal customers who spend more money.
3. Motivate those returning customers to spend more often
When configured effectively, a program will offer an attractive return on investment by simultaneously providing value to customers and your business. Determining what type of loyalty program best suits your industry, customers, and brand is key.
Types of customer loyalty programs (with examples)
There are several different types of loyalty programs with different goals. Determining which kind of loyalty program is best for your brand depends on understanding where each type of program is most applicable.
Let's review 5 different types of customer loyalty programs and look at an example of each.
Points programs
Points programs are the most popular and most traditional type of program. Customers are rewarded points for every purchase they make, and other actions like social media follows, leaving reviews, or celebrating a birthday.
They can then redeem the points for different rewards like fixed amount-based discounts or variable percentage-based discounts. You can also offer rewards like free shipping, products, or various experiential rewards.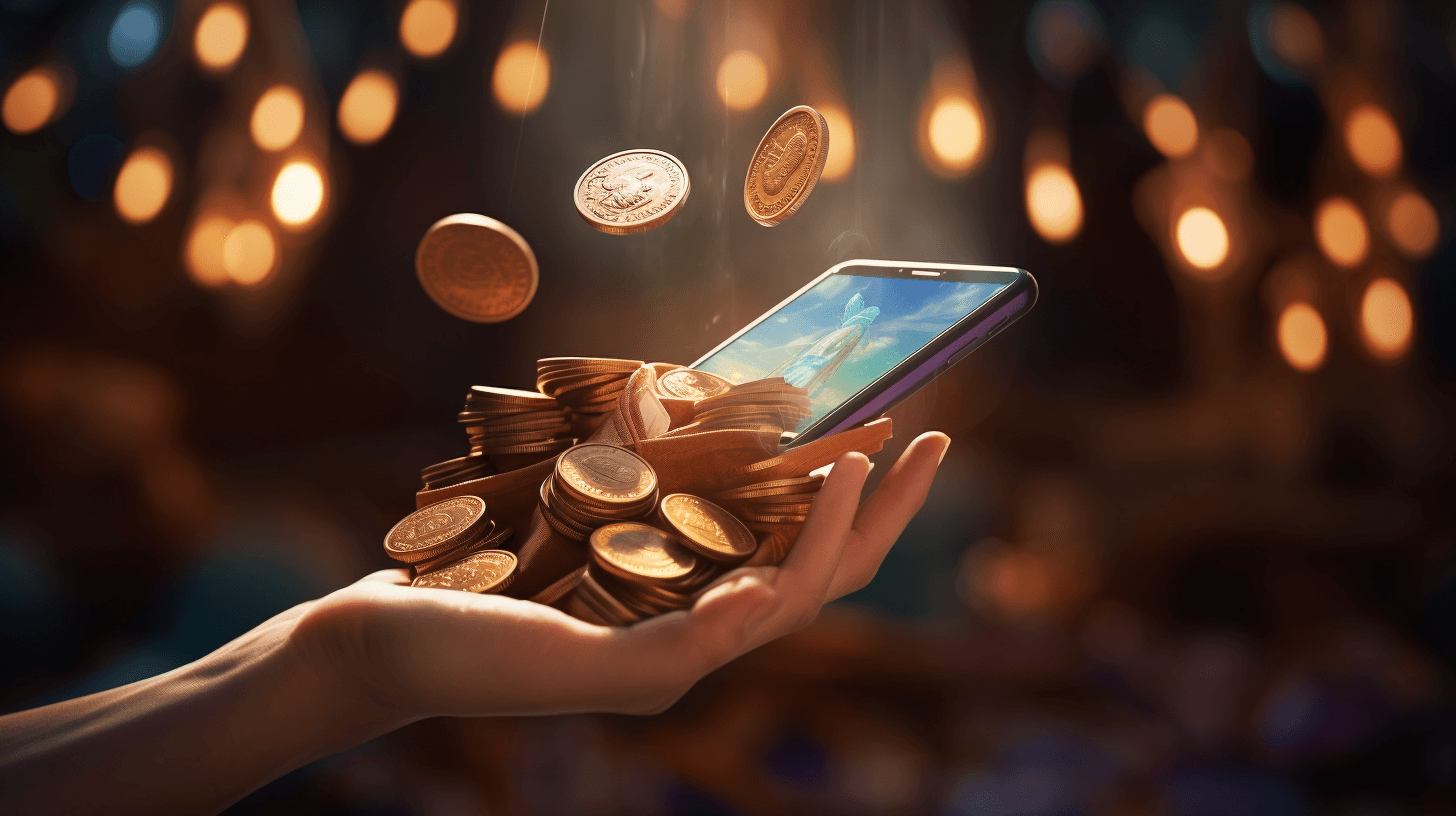 Despite the criticism that points programs don't foster true loyalty, Smile.io data from nearly a decade and over 1.2 billion orders has shown that customers who redeem points spend 3x more than other customers on average. When a customer is making this many repeat purchases, they've proven their retention and loyalty.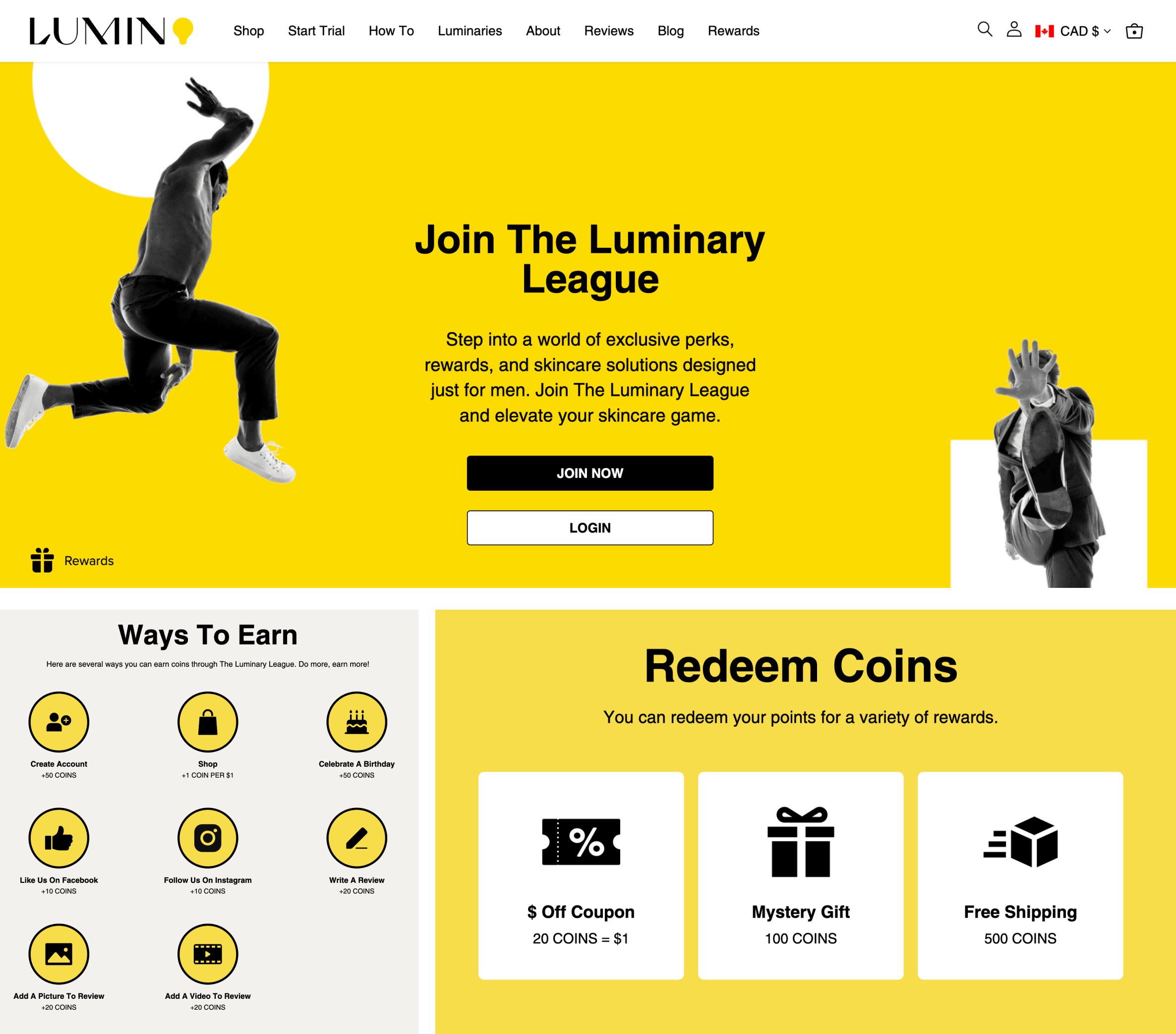 Men's skincare brand Lumin leverages the power of points in its Luminary League loyalty program. Customers earn one coin per dollar spent and can earn points for creating an account, interacting on social media, and leaving reviews. They can then redeem 20 points for $1 off their next purchase, cash 500 points for free shipping, or redeem 100 points for a mystery gift. This program works well because skincare is an industry with a high repeat purchase probability, so offering customers points encourages them to stay loyal and avoid switching to a competitor.
Tiered VIP programs
The next type of loyalty program is a tiered VIP program, where customers work their way up through various tiers to unlock increasingly valuable rewards. This type of program is a great way to motivate your best customers to continue engaging with your brand over time.
Due to the exclusivity associated with the highest tiers, this type of program works well for luxury or status-based brands. Additionally, in industries where customers have a high customer lifetime value (CLV), VIP programs are a great way to lock them in for the long haul. As customers earn points and move up through the tiers, their status and accumulated points act as a switching barrier, protecting you from competitors.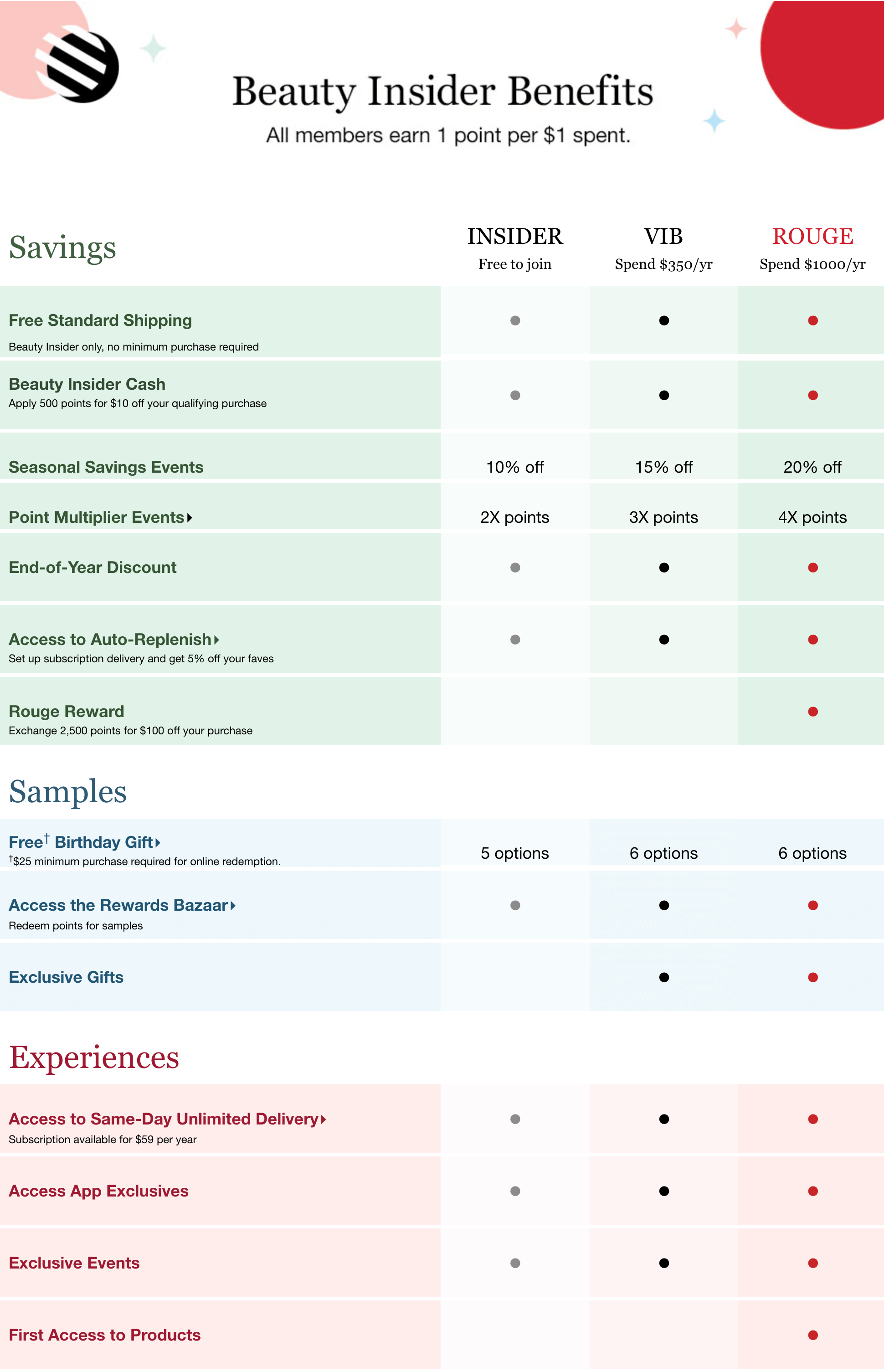 Sephora's Beauty Insider program is one of the most iconic VIP loyalty programs. Customers can work from Beauty Insiders to the coveted VIB Rouge status by spending $1000 annually. This program is so successful because Sephora ties its loyalty status to its frequent Sephora sales. VIB Rouge members get better discounts and earlier access to the brands' best sales, increasing both the transactional and experiential benefits of this tier. Beauty fanatics also crave the ability to identify as VIB Rouge members, making the exclusivity and status a reward in itself.
Referral programs
The next type of program is a referral program, which is a system that incentivizes your existing customers to refer their friends and family to your brands or products. The rewards offered need to be appealing to both parties. Effective referral programs are a great way to lower your customer acquisition costs.
Typical configurations for referral programs include offering a fixed discount to both parties or offering a discount to the new customer and reward points to your existing customer who made the referral. This eliminates the stress associated with committing to trying a new product for a new customer and rewards the existing customer for their loyalty and advocacy.
Speciality Vietnamese coffee brand Copper Cow Coffee offers a referral program that rewards both parties with $20 off their next purchase over $35. In an industry as competitive as coffee, where customers have strong brand loyalty, a generous referral reward is a great way to incentivize customers to try their brand for the first time. And if there's one thing coffee lovers love to do, it's tell someone else about their latest fixation.
Paid loyalty programs
Another type of loyalty program is a pay-to-join loyalty program. These programs require customers to pay a monthly or annual membership fee to unlock the benefits of the reward program. Some brands offer free and fee-based memberships depending on the customers' preferences.
While these programs offer some benefits like an additional revenue stream, insight into customers' perceived value of the brand, and an opportunity to offer unique rewards without impacting the bottom line, they do have some cons. Paid loyalty programs don't appeal to new customers, the perceived value of the benefits needs to be significantly higher than free programs, and it's challenging to compete with competitors who offer similar programs for free. It's best to offer paid loyalty programs when you have a large customer base and distinct segments.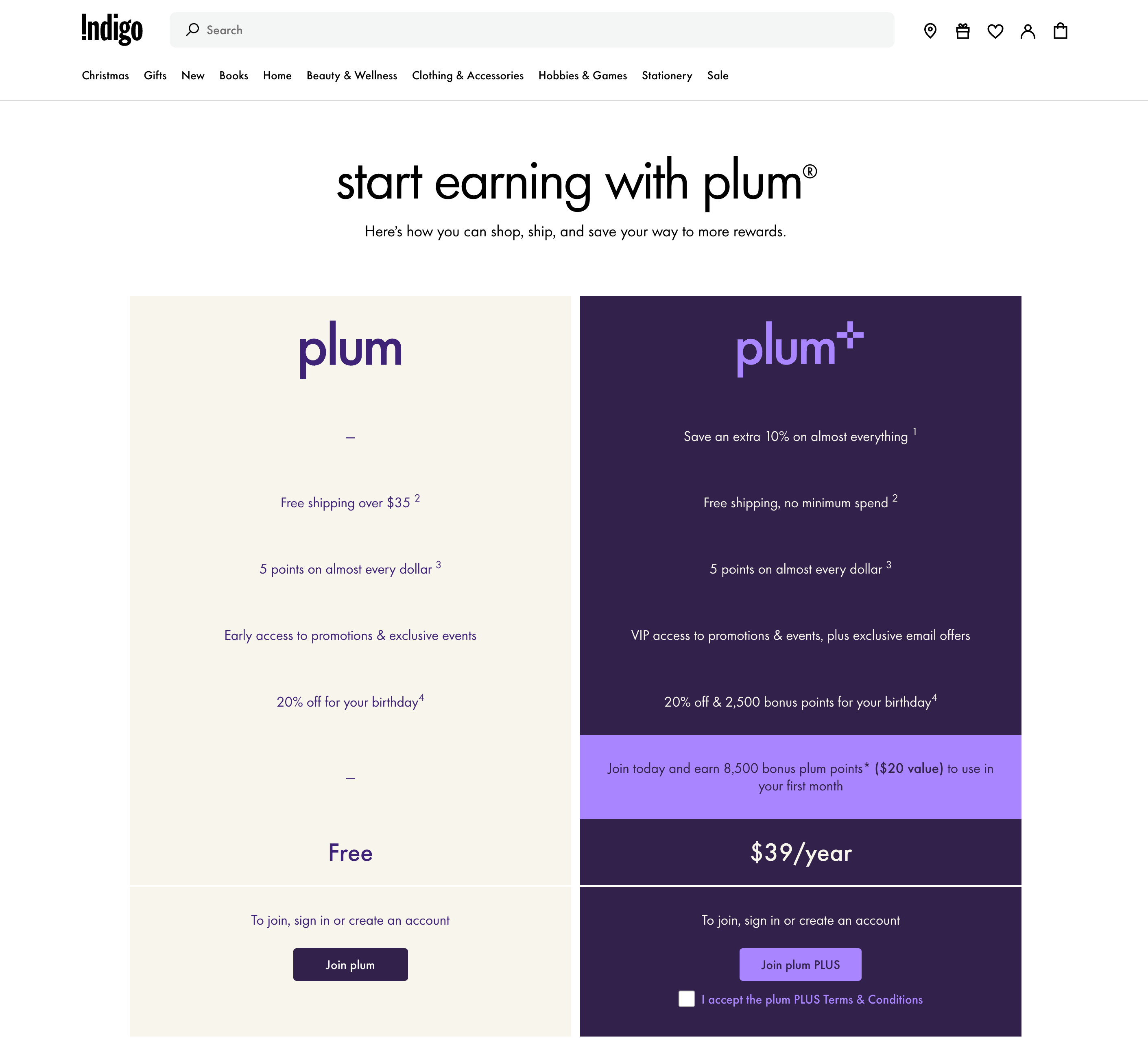 Indigo offers a free and paid loyalty program as part of its Plum Rewards program. Indigo's Plum Plus program costs $39 per year to join, allowing customers to unlock more appealing rewards. For example, Plum Plus members save 10% on almost everything and get free shipping on every purchase, as opposed to regular Plum members who have to hit the $35 threshold. Plum Plus members unlock bonus points for joining and celebrating birthdays.
Indigo's paid membership is effective because it has a substantial customer base and can easily identify different segments. Casual readers may not find value in the paid membership, but complete bookworms will jump at the chance to save 10% on every purchase, get free shipping on every book they order, and get first access to sales and book releases.
Punch card programs
The final type of loyalty program is one of the oldest and simplest types—the classic punch card program. These are the programs where customers have a physical or virtual card that is punched or stamped every time they make a purchase. Once they make a certain number of purchases, they'll earn a free item.
This type of program works very well in high purchase frequency industries like the food and beverage industry. Think of the "buy 10 coffees, get 1 free" coffee shop model. These programs are simple to understand, easy to join, and require little effort to maintain. They also don't significantly impact your bottom line because the value of the reward is negligible compared to the investment the customer needs to make to receive it.
On the other hand, because the reward's value isn't significant, they aren't as effective as locking customers in or building true loyalty.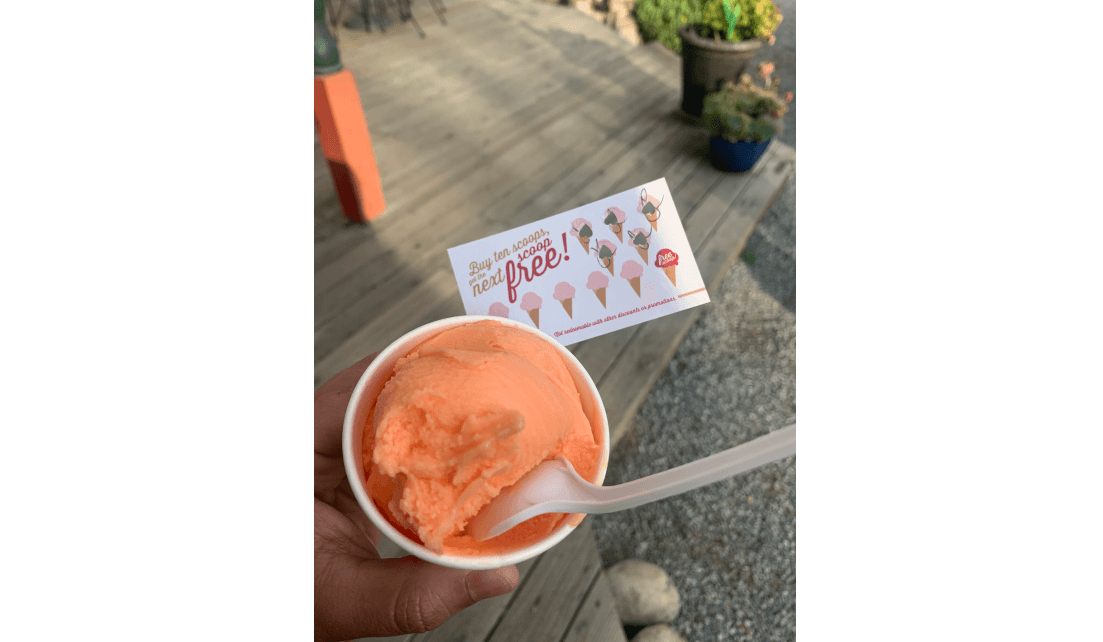 How to measure customer loyalty
Now we know what customer loyalty is, why it's important, how to gain loyalty, and different types of loyalty programs you can implement to build it. But how do you actually know if you've achieved customer loyalty? How do you measure loyalty?
There are a few retention metrics you can turn to to measure the health of your customer retention and loyalty program. For example, the redemption rate is an excellent indicator of your loyalty program's health; average order value lets you know how much your customers spend on each purchase, and purchase frequency enables you to understand how often they return.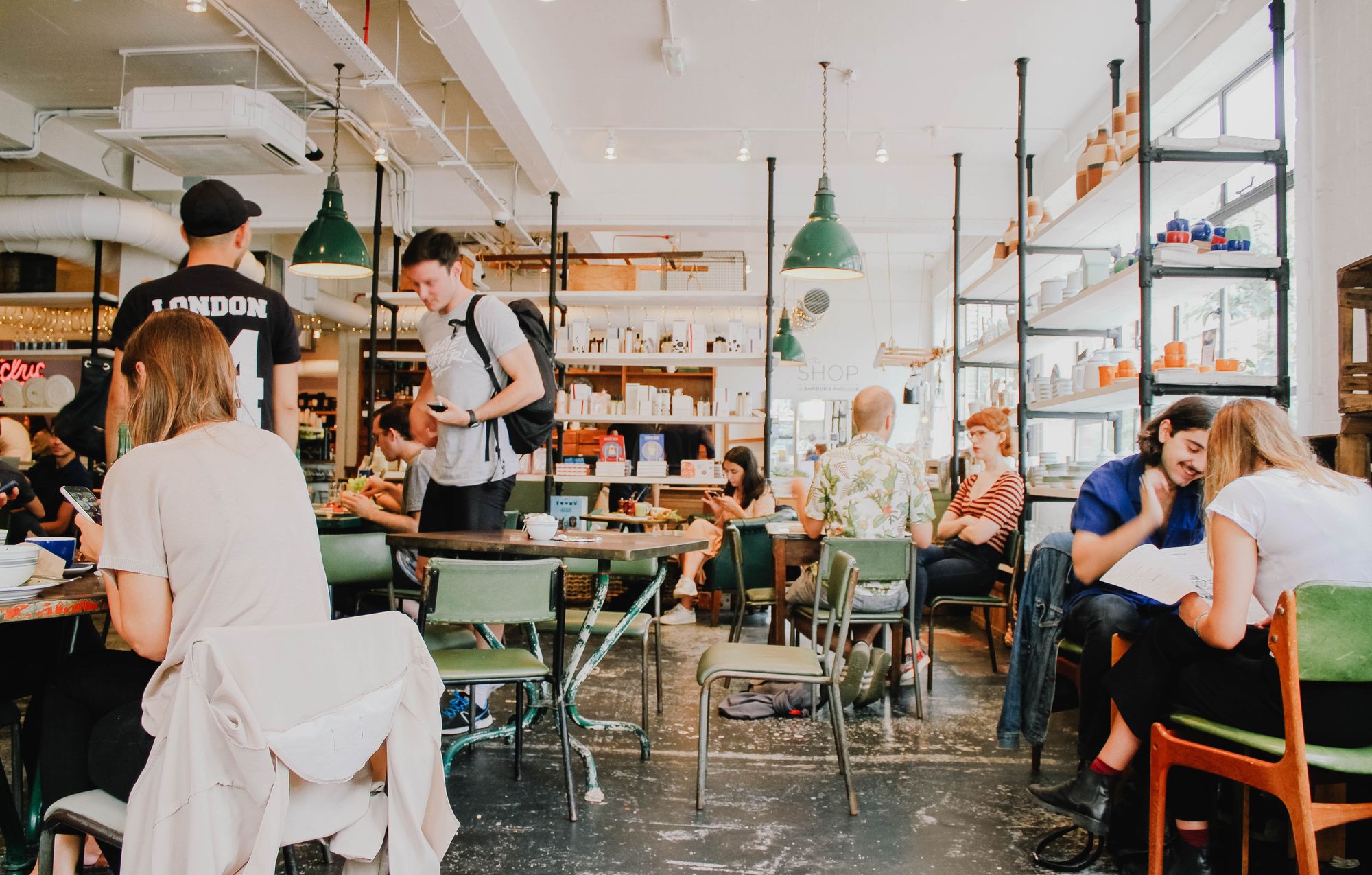 But there are also several qualitative methods of measuring customer loyalty:
Online customer sentiment
Organic user-generated content
Social media mentions
Net promoter score
Customer feedback from surveys
Customer reviews
Brand community activity
Although the actions above don't have a tangible number or metric tied to them, monitoring them is just as important as crunching numbers.
The TL;DR on customer loyalty
Customer loyalty is a consumer behavior associated with making repeat purchases and choosing a brand over competitors because of a positive relationship with the brand. Loyal customers provide reputational and financial benefits like spending more money, becoming brand advocates, and joining your brand community.
There are several ways to build customer loyalty, such as delivering an exceptional customer experience, building a brand community, using value-added content marketing, personalizing communications, and implementing customer loyalty programs.
Once you have your customer loyalty strategies, tools, and tactics in place, it's time to measure your customer loyalty using quantitative and qualitative measures.
Start building customer loyalty with a loyalty program
Choose the best type of Smile.io program for your brand