Not too long ago, reward programs were synonymous with classic points programs. Since then, customer preferences and competitive landscapes have changed the face of commerce and as a result rewards programs have had to change with it. Today, a brand's rewards program can choose from (or combine) a number of different reward systems like points, punch cards, VIP tiers, and referrals.
While having more options for building a rewards program helps build stronger programs, the variety of choices available presents a new challenge for brands: how do you make sense of all your options and build the best rewards program for your brand?  More importantly, how do you build the best program for your customers?

Different rewards programs are designed to elicit different responses and behaviors from the customers that interact with them. Understanding where each type is most applicable is a key step in building a rewards program that creates value for both your business and your customers.
In this post, we'll outline some common business and customer characteristics that lend themselves to certain reward program structures. It's important to note that almost no brand will be worse off for implementing a rewards program of any kind but this guide can help brands prioritize which program types can make the largest impact in the shortest time.
What Kind of Rewards Program is Best for Your Business?
The Best Reward Programs Work With Your Industry
One of the most dominant forces in deciding what type of program a brand should be using is the industry the brand operates in. Industry standards create customer expectations that can make certain rewards programs a practical necessity. For example, the beauty industry is a prime location for VIP programs like Sephora's VIB Rouge and e.l.f. Cosmetics' Beauty Squad. These customers crave the elite, first class feelings that accompany a VIP program as well as the beauty products themselves.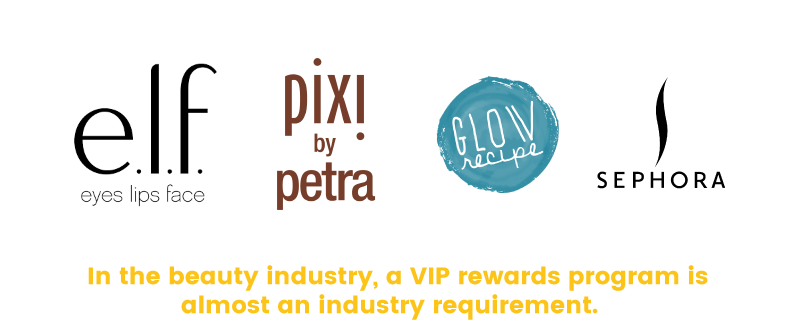 Another great example of matching your rewards program to your product or industry is mobile apps. From global organizations like Airbnb to daily crossword puzzle games, the majority of applications count on referral programs for the virality that is so important to their success. These brands know that their industry is built on acquiring customers quickly and effectively, so they turn to referral programs to meet their goals.
These examples aren't isolated instances, either. Subscription services frequently involve a points program and coffee shops live and die by punch card programs. I could continue listing examples all day, but the moral of the story is that when it comes to deciding what kind of rewards program to build for your customers, the characteristics of your product and industry can often point you in the right direction.

The Best Reward Programs Match Your Business Stage
As brands grow and develop, they go through stages with unique objectives that help lead the business to success. Early on in the life of your brand, you might find yourself in the growth phase where your primary objectives are creating a name for yourself and getting in front of customers. A more established business in the maturity stage might be more concerned with deepening customer relationships and establishing protection from competitors.
While a rewards program can help a brand in every stage of their business, a growth stage organization will benefit more heavily from a referral program designed to spur on rapid growth. For example, Uber grew from a fledgling application to a billion dollar global enterprise on the back of it's amazing referral program in just a few years. While points programs and VIP programs are great assets for customer engagement, a referral program is the perfect growth tool that a growth stage organization would be foolish to overlook.

On the other hand, a more mature organization may actually be battling market saturation. In this case, rapid growth isn't the primary objective - protecting your brand from competitors is. Suddenly, reward systems like points and VIP programs become the "must haves" as they specialize in long term customer retention. These programs build relationships over time and reward customers more and more for their continued commitment to your brand. Essentially, when customer retention is the name, points and VIP programs are the game.

What Kind of Rewards Program is Best for Your Customers?
The Best Reward Programs Account for Your Customer Acquisition Costs
Customer acquisition is an important and sometimes costly part of doing business. Between marketing, advertising, and sales, every brand  has to bear some form of customer acquisition cost. The thing is, not all acquisition costs are created equal.

A brand might have high acquisition costs for any number of reasons. Your target market might be a popular customer segment (ex. millennials), making competition for their attention fierce. Your product might be a large purchase like a vehicle which would require exposure to multiple rounds of advertising before a customer is ready to commit to a purchase. Your industry might even rely on a sales team which can lead to acquisition expenses like commissions and bonuses.
A referral program can help these high CAC businesses by using rewards to mobilize their existing customers as part of their acquisition efforts. This allows the brand to acquire new customers through referrals instead of incurring the regular, more expensive, acquisition initiatives.

Clearly, a referral program can help reduce customer acquisition costs for every brand but how do you know if you have high acquisition costs? Well, the answer varies from industry to industry but we've put together a detailed guide on calculating your CAC that can help get you started. Beyond that, some questions to consider are:
How many purchases would a customer have to make before your business makes up its acquisition spend?
What percentage of your customer lifetime value is eaten up by acquisition costs?

Speaking of CLV...
The Best Reward Programs Consider Your Customer Lifetime Value
Customer lifetime value (CLV for short), is a measure of how much money a customer will bring your brand over the entire period of time that they shop with you. As you might have guessed, brands with a high CLV are naturally better off than brands with lower lifetime values. That being said, there is still room for a rewards program to help both groups improve.
For brands with a high CLV, the "must have" is a VIP program. Customers who pay large amounts of money over long periods of time are extremely valuable if a brand can get them to commit early and keep them for the long haul. A VIP program does exactly that! New customers start off at an entry level tier and are given the opportunity to move up over time, earning more valuable rewards and cooler benefits as they do. This promise of future benefit is what keeps customers coming back and consequently, what allows brands to make the most of their high lifetime values.

Starbucks Rewards is a great illustration of pairing a high CLV brand and an amazing VIP program perfectly. Financial analyst Nancy Fellinger estimates that a 3 coffee a week habit at Starbucks costs the average American approximately $1,092.00 a year, which demonstrates the lucrative lifetime value of the Starbucks customers.
To make sure their customers are spending that money with Starbucks and not a competitor, the brand created the Starbucks Gold card - the ultimate VIP status symbol that comes with special offers, faster reward earning, birthday rewards and free in-store refills. By motivating customers to both attain and keep Gold status, Starbucks is sure to enjoy the high lifetime values their customers represent.

For brands with low customer lifetime values, a points program is a great way to improve CLV quickly. Without getting into the details of how to calculate your CLV, it's important to know that increasing your purchase frequency and your average order value are the two fastest ways to increase your customer lifetime value. A points program increases purchase frequency by giving customers points every time they shop with you, which will keep them coming back more often.
Points programs also increase AOV by giving customers a reason to toss another item into their carts. By allowing shoppers to earn points on every dollar spent, a points program can help increase your CLV and make your brand more profitable as a result!

Your Brand is One of a Kind and Your Rewards Program Should Be Too
As you can see, reward programs have come a long way from just punch cards and points programs. Since each brand and every customer segment is unique, the reward programs that connect them should mirror that diversity.
It's important to remember that this guide wasn't created to disqualify certain businesses from using particular rewards programs, but rather to help prioritize the "must have" features for businesses appealing to specific customer segments. Rewards programs aren't a one size fits all solution they're a one of a kind solution that combines your industry, product, and customers to create value for everyone involved. So I guess the best kind of rewards program is the one that works for you!