Referral programs are a great tool for driving more traffic to your store, but more traffic doesn't necessarily mean more sales. As with most things in ecommerce, it's a question of quality over quantity. If your customers are driving valuable traffic to your store you'll be able to convert more of these new visitors into customers. The key is getting the traffic you need.
You can actively target and improve your referral traffic conversion rate by understanding how the referral process works and what's involved in a successful referral. We're going to take you through the entire referral funnel and give you 3 actionable pieces of advice for how you can start turning your referral traffic into purchases today.
The 4 stages of the referral funnel
Before you can start improving your referral conversion rate, you need to understand how the referral process works. We'll walk you through each stage, explaining what occurs with examples from natural, handcrafted popsicle brand, Happy Pops.
1. Send
This is how most people would define a referral but it's really only the tip of the iceberg. Stage 1 is defined by a current customer making the decision to share a referral link with their friends and family. The key to initiating this process is offering a motivating incentive for your existing customer when they share their referral.    
Whether it's on social media, in an email, or via text, physically sending a unique code to others is at the top of the referral funnel. Happy Pops uses a pop-up referral panel where customers can generate their unique referral code and either share it with the click of a button via Facebook, Twitter, or email, or they can copy and paste the link into a personalized text.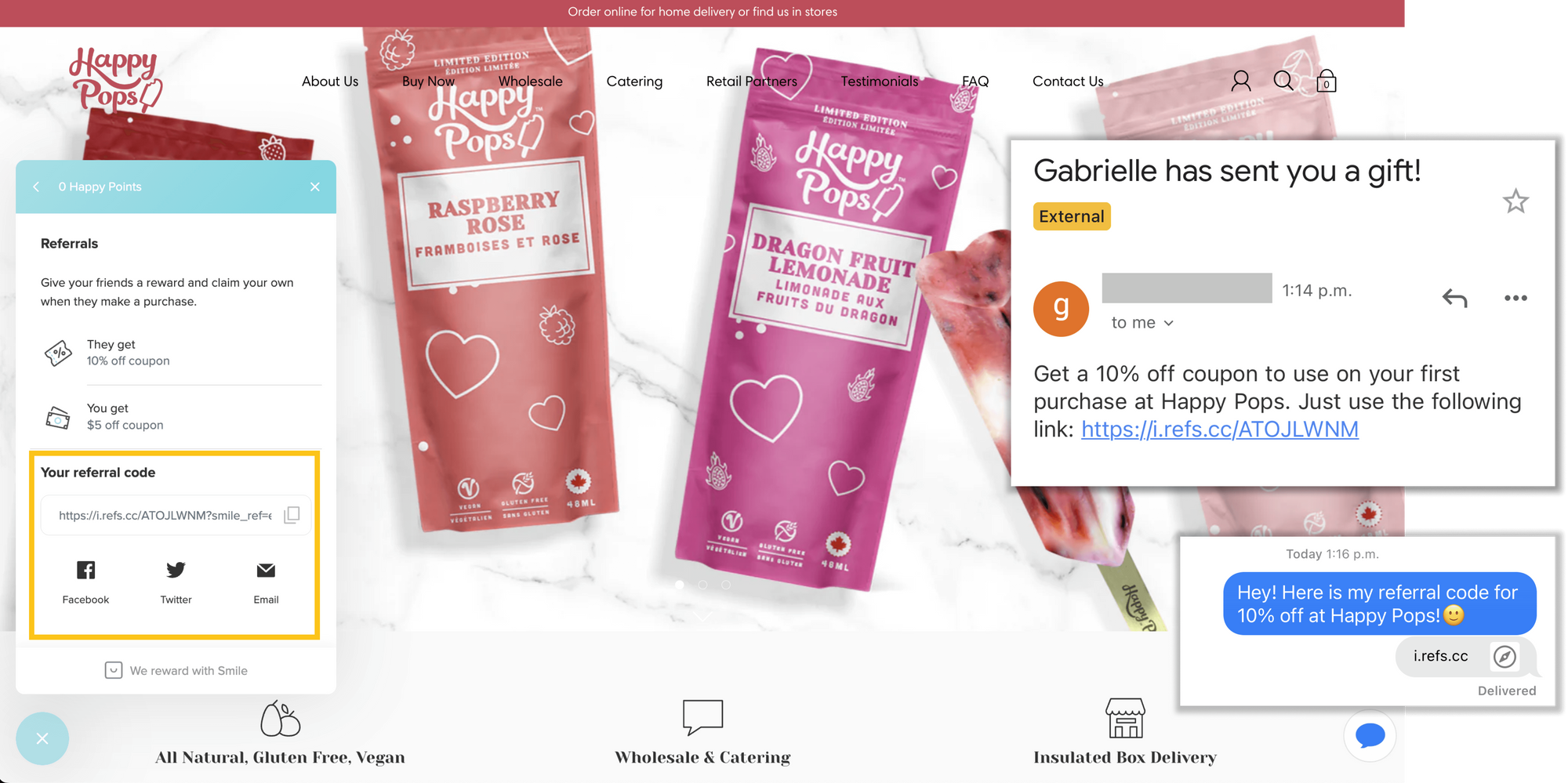 2. Click
When a new customer receives a referral URL, they can engage with it or not. If they choose to click through and visit your store, the referral has been successfully moved into stage 2.  
This click represents a new customer's first interaction with your site and counts as referral traffic for your store. However, it's what they do once they get there that determines the value of that visitor–making it essential to direct traffic to a landing page that engages visitors right away.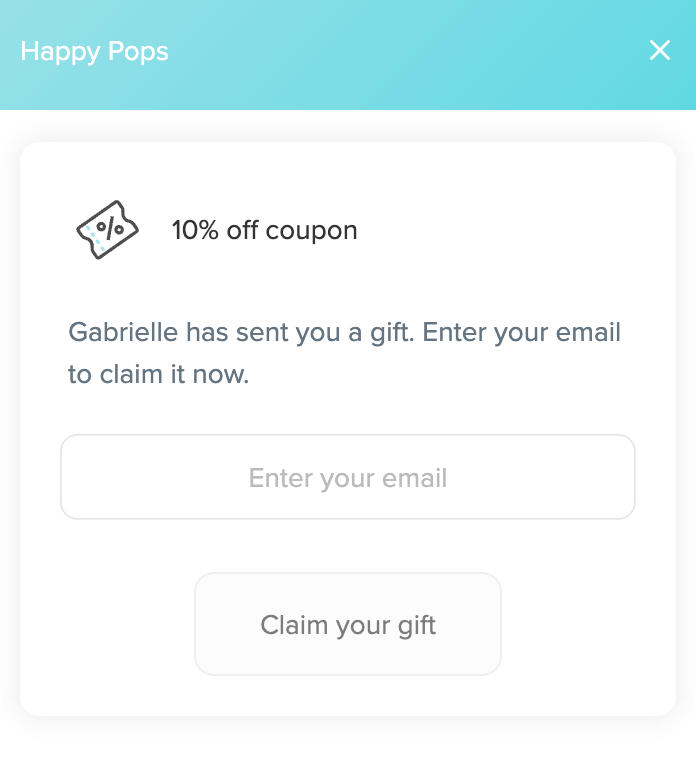 3. Accept
A referral is viewed as "accepted" when the referred customer submits their email address to generate their referral coupon code.
It's safe to assume that a customer who accepts a referral is considering making a final purchase, but it's still not a home run. They need to get through one more phase to be considered a referral purchase. You can make the process more convenient by sending an email with their referral discount code directly to their inbox, as Happy Pops does.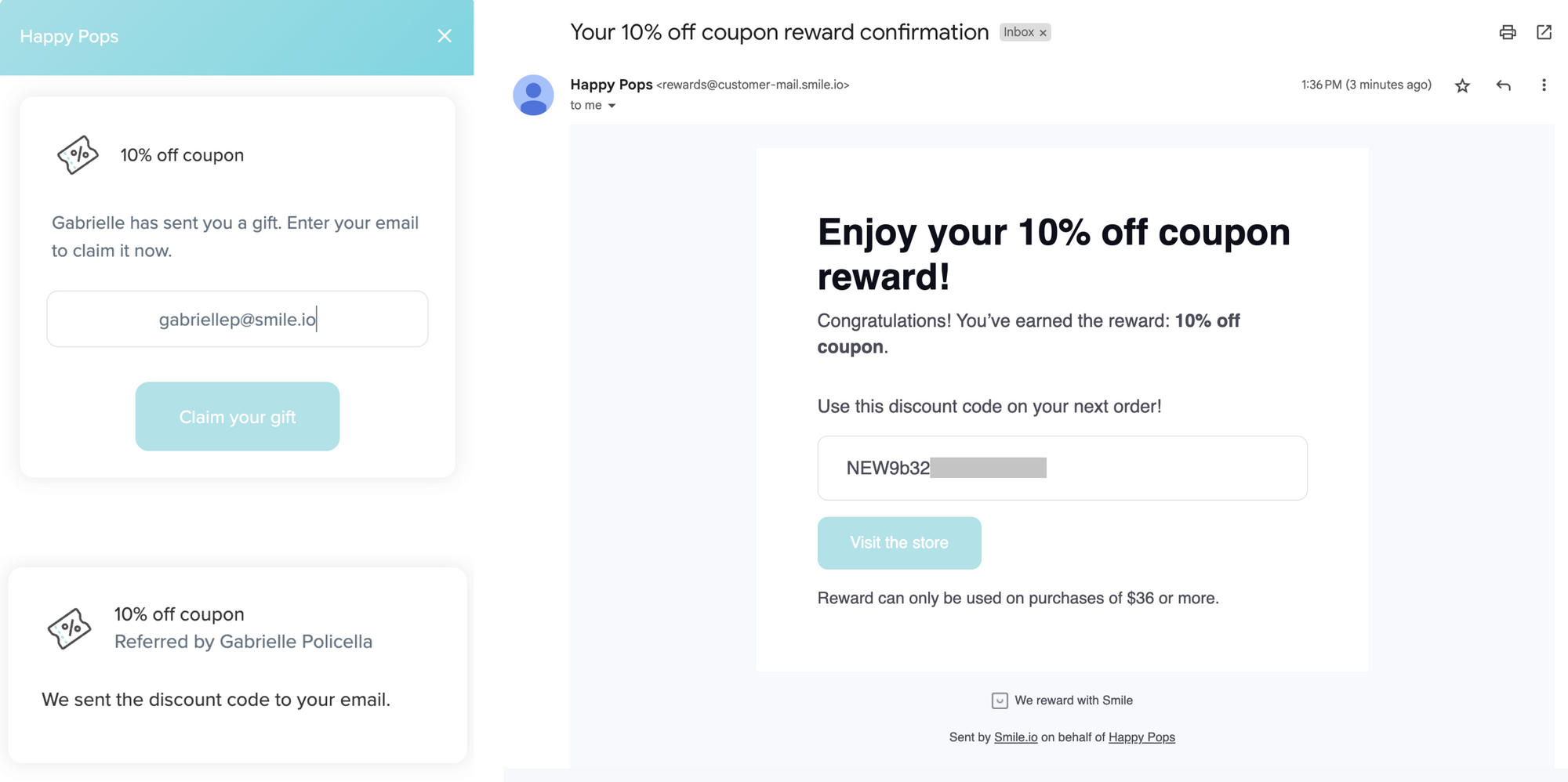 4. Use
In this stage the referred customer actually uses their referral code to complete a purchase, becoming a paying customer at your store. This is tracked as a completed referral and contributes to the growth of your referral traffic conversion rate and referral revenue. At this point, the original customer who sent the referral received their reward as well.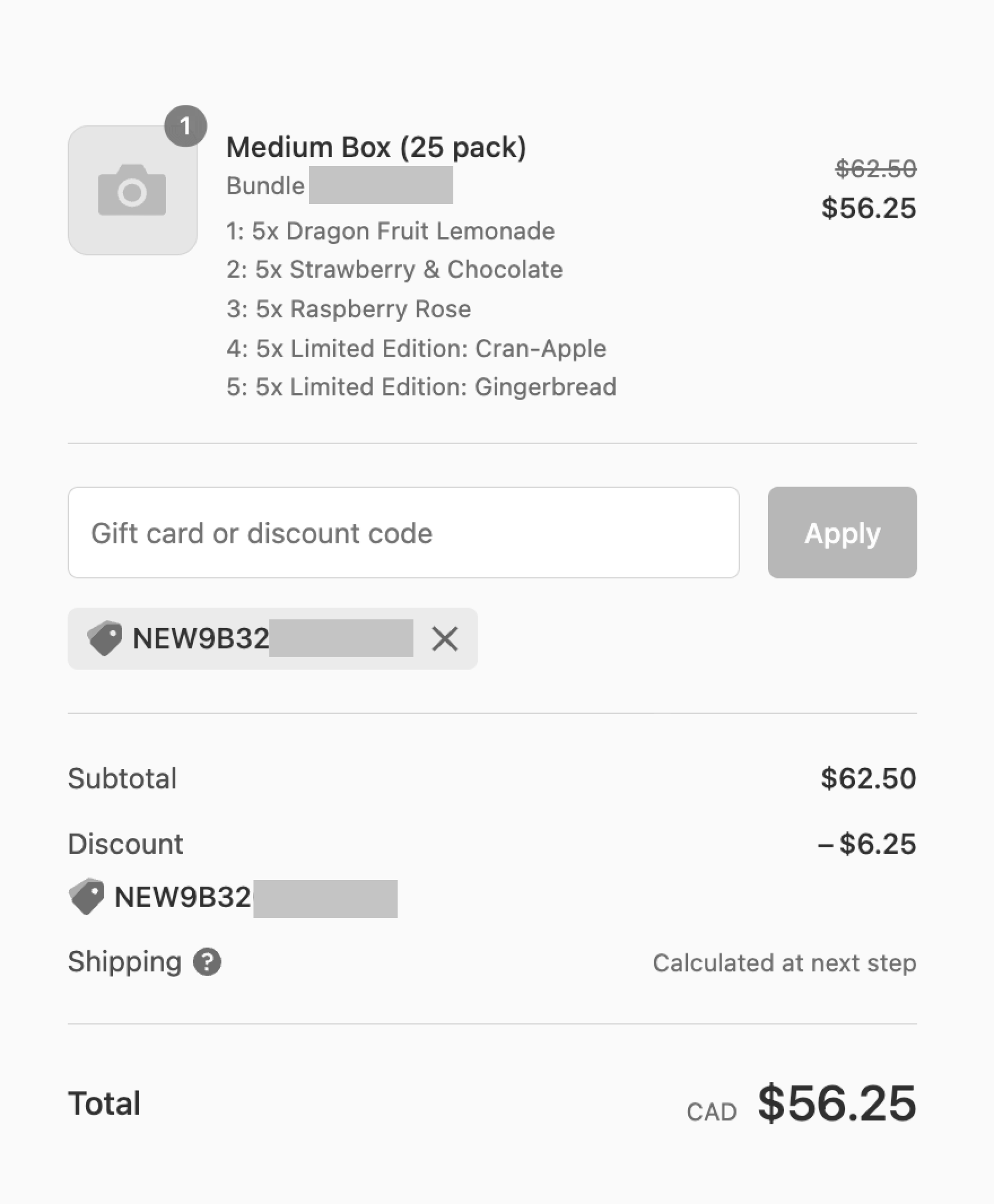 How to diagnose a weak referral program
Understanding how the referral process works allows you to target specific areas that aren't performing well. Successful referral programs are able to move new customers through every stage of this funnel and are typically assessed with two specific metrics:
Referral traffic–people who click on your referral links.
Completed referrals–people using your referral codes.
Referral traffic gives you a clear idea of how often new customers see your referral offer and consider it valuable. It also gives you an idea of how often customers are sharing their referral links with people who are truly interested in your brand. You need referred customers to want to visit your store, and this traffic plays directly into the send and click stages at the top of the referral funnel.
A referral program's success is based on referral traffic and the number of completed referrals.
Completed referrals, on the other hand, have the greatest impact on the bottom of the funnel by increasing your referral-driven revenue. If this number rises, it means your program, products, and rewards are valuable to new customers and prompt them to accept and use the referral codes your program members are sharing.
With these metrics in mind, it's easy to determine if your referral program is in trouble. If your site has 500 referral traffic visits and only one completed referral, there's clearly a problem. In these cases, your program definitely requires some restructuring in order to turn more of your referral traffic into purchases.
A program with a lot of traffic but few completed referrals is not performing well.
Luckily, improving your referral program doesn't have to be an intimidating task. Based on the referral metrics we mentioned earlier, your referral program could be struggling with one or two problems:
People are not clicking your referral links.
People are not redeeming referrals with the codes.
As a result, it makes sense that targeting these areas is the perfect way to improve how customers move through your program's referral funnel. We'll walk you through each of these issues and our recommendations on how to improve each.
Improving your program if you have a traffic problem
As we mentioned, the first problem that affects the first two steps of the referral funnel (sending and clicking URLs) is a lack of referral traffic–or people clicking on the URLs your program members are sending. After all, you can't make a sale if people aren't visiting your site in the first place.
1. Make sharing valuable
The problem:
There's a reason we're listing this first–it's the most important part of any referral process. If customers don't have the desire to share your brand with others, you won't have any referral traffic to convert in the first place. That means you need to establish why your customers should make a referral.
🎁
Your referral rewards need to convince your customers to participate in your program.
The key to this is clearly establishing what's in it for them. Highlighting the reward they can earn will connect the act of referring with value they can't resist, making the whole process more appealing.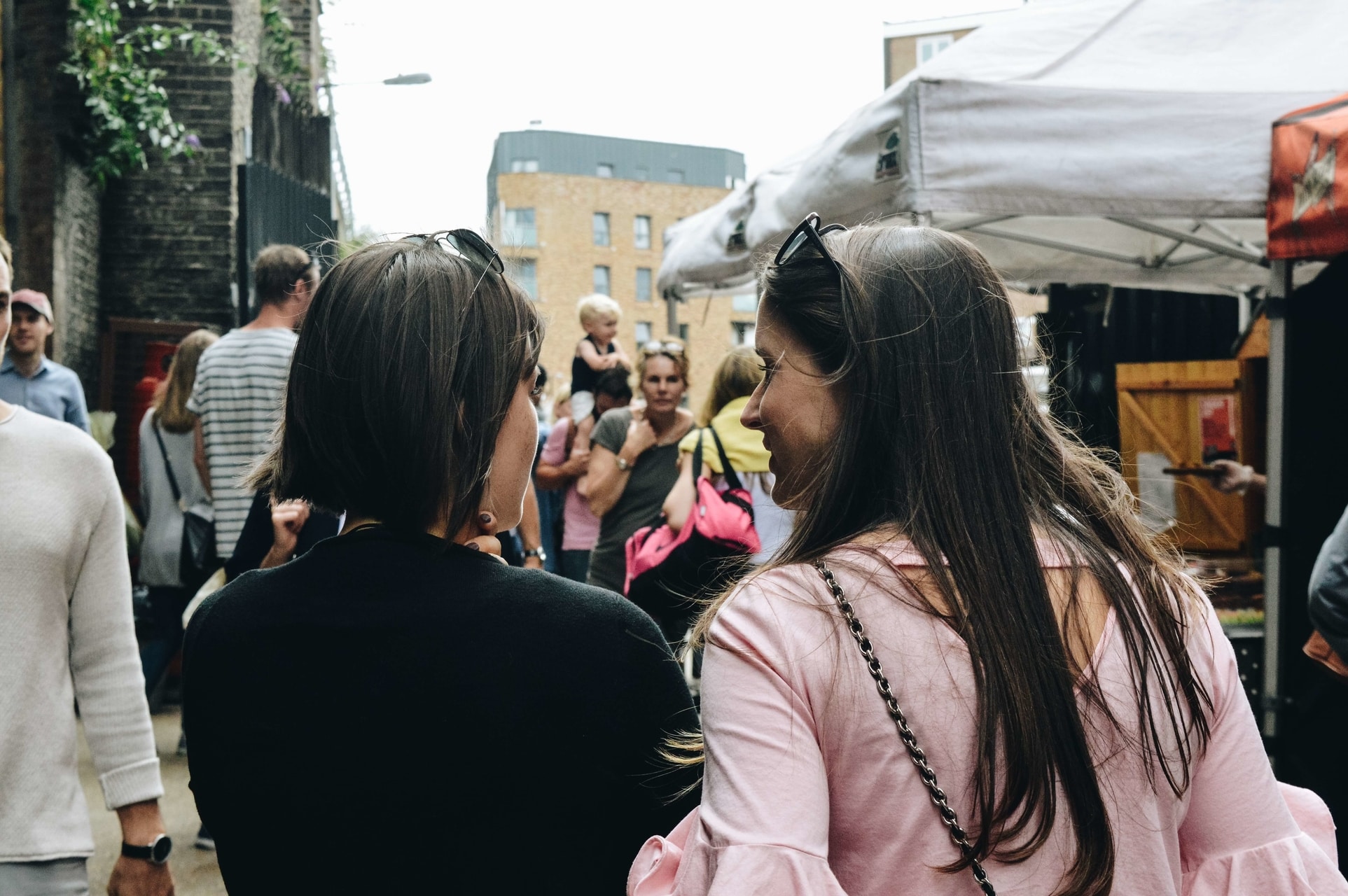 How to fix it:
The best way to make your referral program valuable is by offering your existing customers a bigger reward than the friends they're referring. After all, they're doing all of the hard work!  When your members feel like they're getting a real reward, they'll be incentivized to take action.
You can easily highlight this value using emails to remind your customers what they stand to gain by participating in your referral program. For the best customer experience, we recommend integrating your loyalty program with your email service provider to keep your referral program top-of-mind.
Best practices include sending a program launch email, embedding your customers' point balances in every email they receive, and including something about your referral program in all existing email marketing you already do–this can be as simple as one sentence reminding customers what they can earn as a referral reward.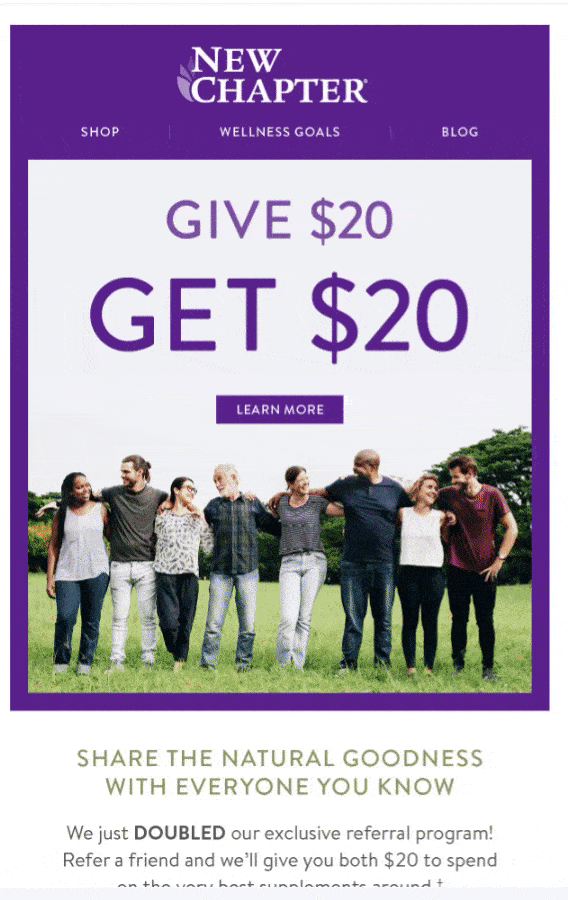 New Chapter's referral email is a great example of what this type of campaign should look like. With conversational language and step-by-step instructions on how to participate, they've made the referral process look so easy that it is hard not to join in. To top it off, they've also included a GIF tutorial on how customers can refer a friend and a call to action prompting customers to sign-up for the program and get started.
Each feature increases the likelihood of their members following through and making a referral, and could do the same for yours!
2. Make your referral message relevant
The problem:
This is a super important step that many brands overlook. Your most loyal customers shop with you because they genuinely love your brand. Whether it's the products you sell or other elements of your customer experience, they've chosen you because of what separates you from your competitors and your referral message should fit into that brand strategy.  
Your referral messages need to represent why your customers chose you in the first place. No one will want to share their referral link if it doesn't make them look friendly or reflect who you are as a brand. If your message doesn't align with what they love about you, your customers are not going to be motivated to refer others.
How to fix it:
This is what makes branding your referral share messages so important. Not only does it make your offer more appealing to prospective customers, but it also increases the chances that existing customers will want to share it. The logos, colors, and language you use should speak to the experience you deliver to your customers every time they shop with you.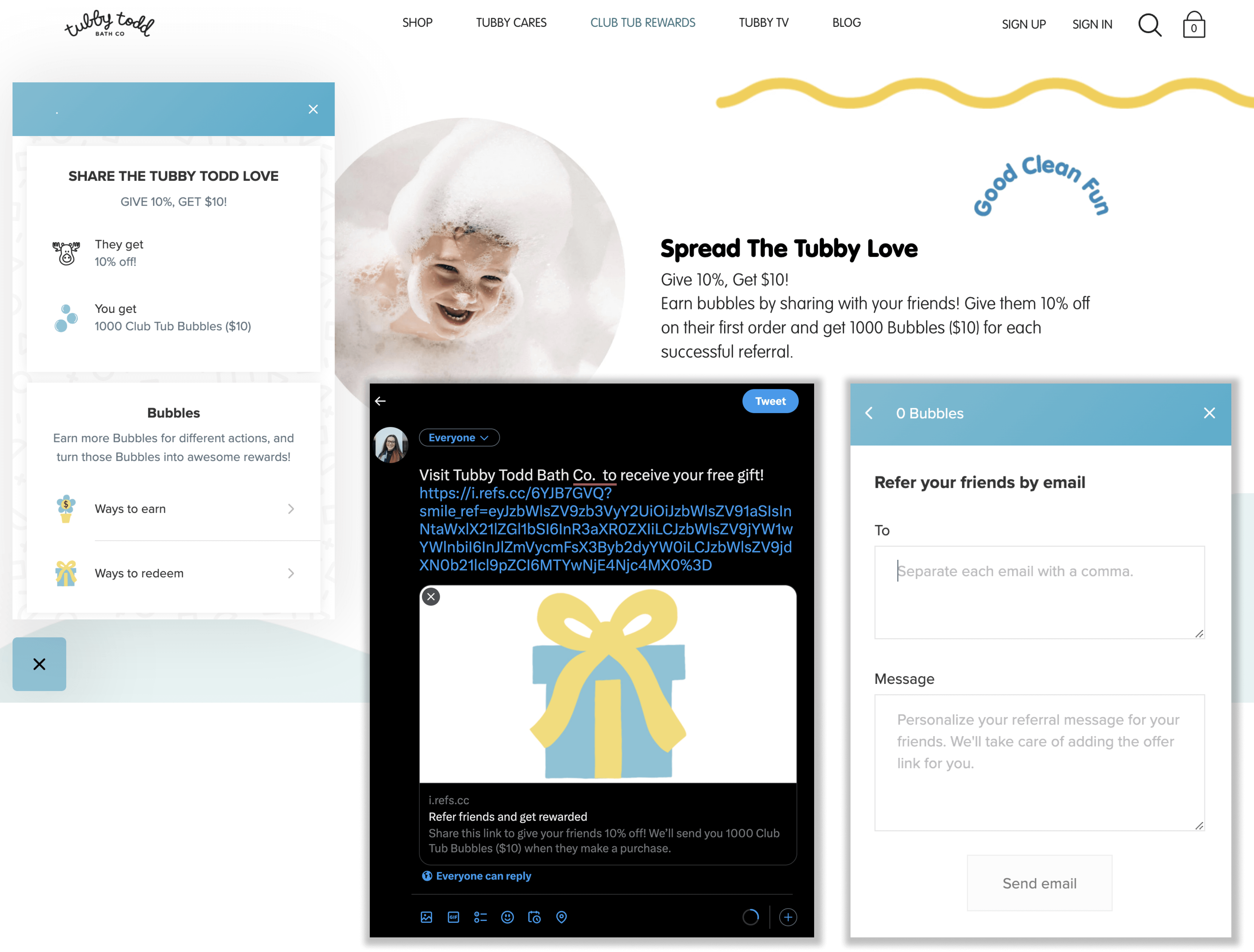 If you want to know what that looks like, take a look at Tubby Todd's  referral message. Not only have they made it personal and valuable by using the phrase "your free gift", but they also included a branded gift icon, and clear value by letting new shoppers know what they're going to save on their first purchase. Their on-site referral branding is also on point with cute messaging like "Share the Tubby love" and cute images that will appeal to customers and potential customers on an emotional level. They tie their referral messaging strategy all together with their custom email-sharing option that allows customers to craft their own message when sending their link for a truly personal touch.
3. Choose referral channels wisely
The problem:
Depending on what kind of products you sell, the referral channels you choose to reward customers for can have a significant impact on their likelihood to share. For example, if you sell beauty products, public channels such as social media are very appropriate for encouraging referrals because your customers are comfortable sharing their experiences with others.
💻
Your program's referral channels have a big impact on whether customers are willing to refer their friends to your store.
There are many other products that don't fit this mold, though. If you sell products like adult diapers or feminine hygiene products, your customers may not be inclined to share your store with others if their only option is with Twitter or Facebook.  
How to fix it:
When you reward your customers for sharing on the right channels, they become much more likely to send referrals to their friends. Understanding how they'd prefer to share referrals makes it easy to set up a referral program that gives members the opportunity to share in ways that are natural and comfortable for them. These considerations once again make your referral process easy and relevant, increasing the odds that they'll engage more and more over time.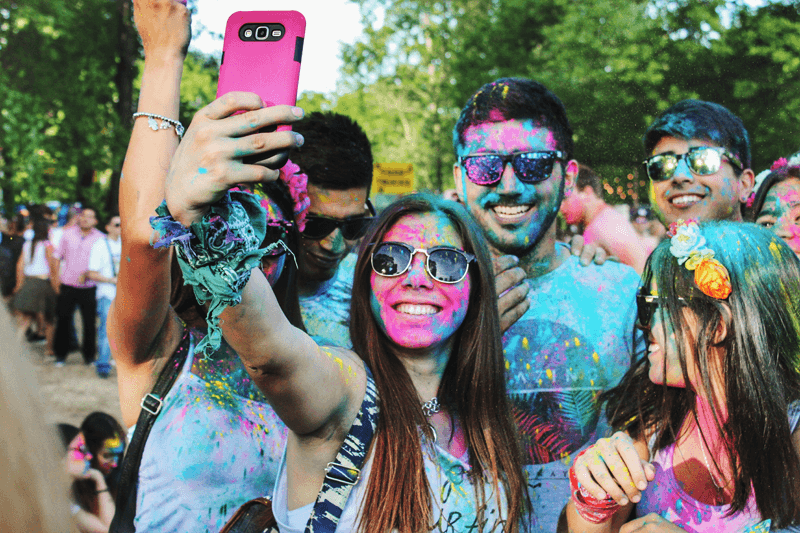 Improving your program if you have a conversion problem
If you have no problem getting visitors to your website through referral links but the amount of completed referrals is still low, you have a conversion problem. The problem here lies within steps 3 and 4 of the funnel–accepting and using referrals. Let's see how you can make your offer more valuable to new customers.
1. Make your referral reward desirable
The problem:
The reward you offer your new customers is the final piece in the referral puzzle. Since these prospective customers know nothing about your brand, this reward needs to be super valuable if you want to motivate them to cash it in.  
That means you need to carefully consider the other discounts and promotions you run on your store. If you're constantly running 30% off sales or first-time customer discounts, but only offer 15% off as a referral reward, your program is going to look both cheap and not valuable–two negative associations that will keep many customers from engaging.
How to fix it:
As soon as they land on your site, they should feel like the reward they've been promised is valuable. For Vegetable + Butcher, that means offering new customers $50 off their first order–a dollar amount that sounds and feels like a real discount. Their entire referral program explainer page communicates value from their banner image to the referral message template included.
A good trick for finding that "true value" threshold is to offer referred customers a discount around 20% of your average order value. That means that if your AOV is $100, new customers would receive $20 off–a reward that's generous without giving too much away. You can even make this look more valuable by rounding up to whole numbers that end in a 5 or a 0. These dollar values are easier for people to calculate what they can save and how it applies to their purchase, making it more appealing.
You can also run promotions to offer higher referral rewards during certain periods. Take Vegetable and Butcher for example–they're temporarily doubling their referral reward from $50 to $100 and made it clearly visible in their orange, referral program launcher found on every page of their website. This is a great way to use your referral program as an event-based marketing tool to increase sales during slower sales periods.
That being said, your referral rewards should not consistently be more than your retail margin. That size of reward can quickly put you in the red and cause bigger problems than low referral conversion rates.
2. Send referred shoppers to a strategic landing page
The problem:
When a customer's new to your brand, they don't know what to expect. Clicking on your referral link can be a huge leap of faith, and with so many other competitors fighting for their business you need to make sure that you make a good first impression. Otherwise, you run the risk of turning them away from your brand for good.
How to fix it:
That's why the page you send them to is so important. You can hit your referral reward out of the park by pairing it with an effective referral landing page. Direct new customers to a page that highlights what makes your brand appealing and unique, such as a best-selling product or product bundle to help connect the dots between your reward's value and their purchase intent.
⬆️
Send referral traffic to a strategic landing page to increase your referral conversion rate.
Pairing a great reward with a smart landing page makes a new customer's initial interaction with your brand exciting, valuable, and enjoyable. These feelings will not only push them to make their first purchase but also encourage them to refer their own friends to your brand, continuing the referral cycle long-term.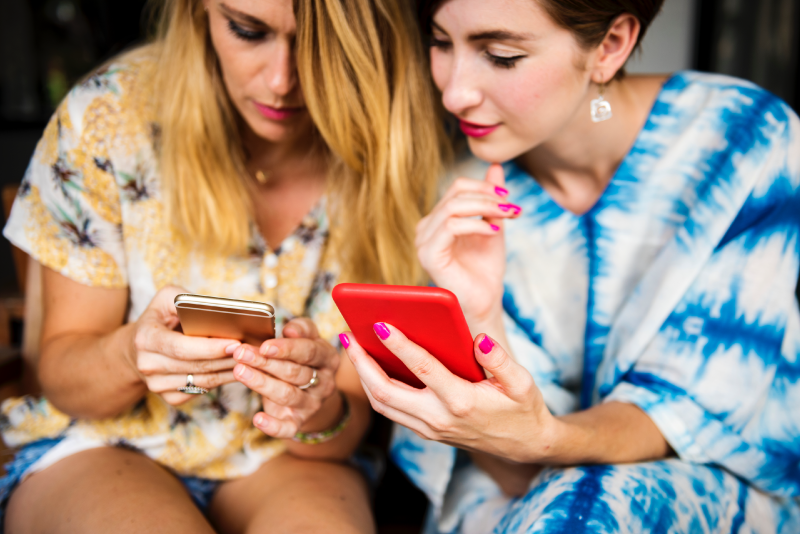 Increasing referral conversion rates isn't complicated
Turning more of your referral traffic into purchases can easily be accomplished when you understand how referrals work and learn to identify the weak areas of your program. By cleaning up your referral messaging and restructuring your rewards to appeal to both new and returning customers, you set your program up to become the powerhouse marketing tool it's intended to be.
Editor's Note: This post was originally published on June 5, 2018, and was updated for accuracy and comprehensiveness on March 23, 2023.
Build a referral program of your own.
Launch a program in minutes.