The secret to building a cutting-edge rewards program is knowing what features will make the biggest impact on your customers. Sometimes the smallest things can make a huge impact — especially when they're combined with other powerful elements!
In order to help you properly build out your own rewards program, we took a look at what some of the biggest brands in the world are doing to retain their customers. From onsite reminders to effective email communication, this list will give you the inspiration you need to build a more successful program your customers will love to be a part of.
1. Onsite reminders
Even if you know your rewards program provides amazing value for your customers, you need to make sure they know it, too! Assuming that your customers will discover your program on their own is a surefire way to slow your brand community's growth and get you off to a rocky start.
Onsite reminders are the best way to let your customers know that you're running a rewards program. Whether that's through a dedicated program explainer page, customer Panel and Launcher, or a little Nudge that encourages them to create an account, making your program visible is the key to improving its accessibility and overall success.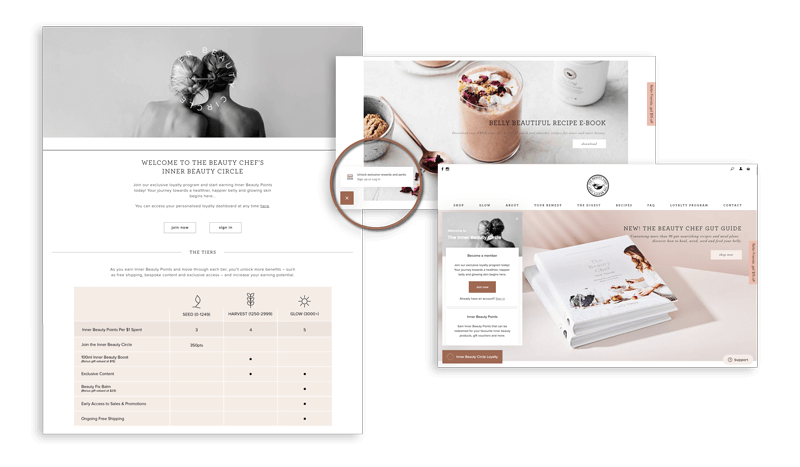 The Beauty Chef is doing a wonderful job of incorporating all 3. No matter where customers are on their site, they can easily find more information about the program, discover all of the cool things they can earn and, most importantly, join!
Paying attention to these types of customer cues makes all the difference between your program succeeding and struggling.
Why you need onsite reminders
Even if your customers are interested in your rewards program, you need to make it easy for them to discover and give them a compelling reason to join. Otherwise, your program becomes one more thing they have to do on your site instead of something they get to do.
2. Variety of ways to earn points
Earning points is one of the most exciting parts of any rewards program. After all, they're what turn into rewards for your customers! A successful rewards program is able to strike a balance between giving away too little and giving away too much by rewarding customers for actions that provide value on both sides.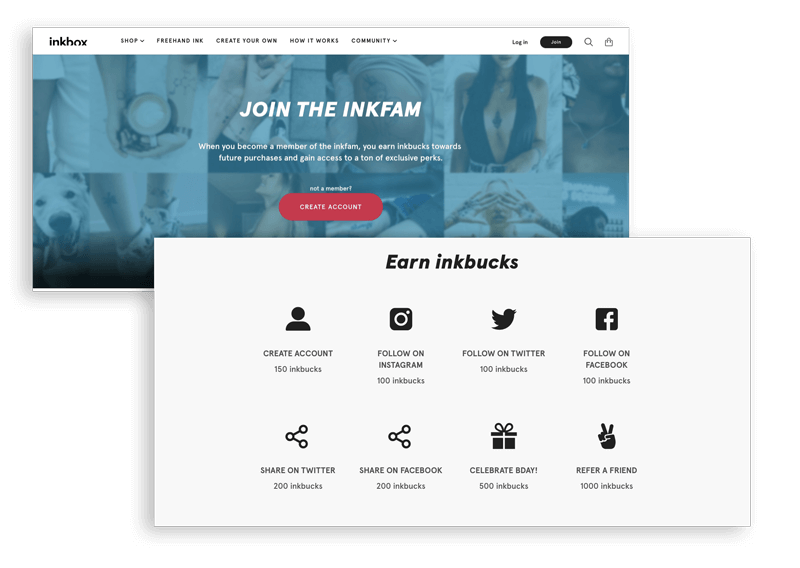 You can see this at play in inkbox's inkfam program. Besides just rewarding points for making purchases, inkbox rewards their customers for creating an account, celebrating a birthday, and engaging with them on social media.
Each of these actions draw customers deeper into their community while still being things customers can easily repeat on a regular basis. As a result, inkbox is given the opportunity to intentionally deepen their connection with every customer on a regular basis while their members always feel like they're one step closer to their next reward.
Why you need more than one way for customers to earn points
The more chances you give your customers to earn points with your brand, the more likely they are to stay engaged over time. This also makes your program more appealing to potential new members who want to know that their investment in your community will be rewarded.
3. Valuable and tailored rewards
People don't earn points just for the sake of earning points. The real motivation behind a rewards program lies in the rewards they can earn by redeeming them.
For example, Run Everything Labs offers their community members the option to redeem their points for everything from free products to branded merch and everything in between — including store gift cards! Each of these rewards carry a high perceived value that make them that much more appealing to their target customer.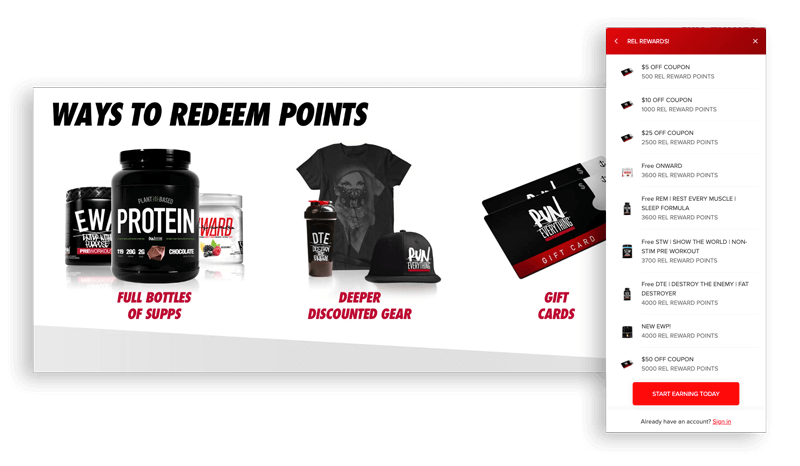 This is a fantastic example of what it means to truly understand your audience. If your customers don't find the rewards you're offering valuable, they won't be motivated to participate in your program. As a health and fitness brand, Run Everything Labs understand that their customers want to be rewarded with ways to improve their fitness and help them reach their lifestyle goals. Each of the rewards they offer speak to that desire and are directly related to their brand values.
At the end of the day, a truly successful program offers rewards that its members care about, regardless of the price tag attached.
Why you need to tailor your rewards to your customers
Customers won't join a rewards program that doesn't offer them the rewards they want. Understanding your customers is the key to designing a rewards menu that's motivating and valuable to the customers you're trying to retain.
4. Consistent and beautiful branding
No matter how well you've structured your program, customers are not going to want to join if it doesn't match the rest of your brand. Your program's visual identity is incredibly important to establishing your community's value and connecting it to the other experiences customers have with your brand, which means it can't be an afterthought. Consistent branding signals that your program isn't an afterthought for your business, making it worth the effort for your customers to sign up as a result.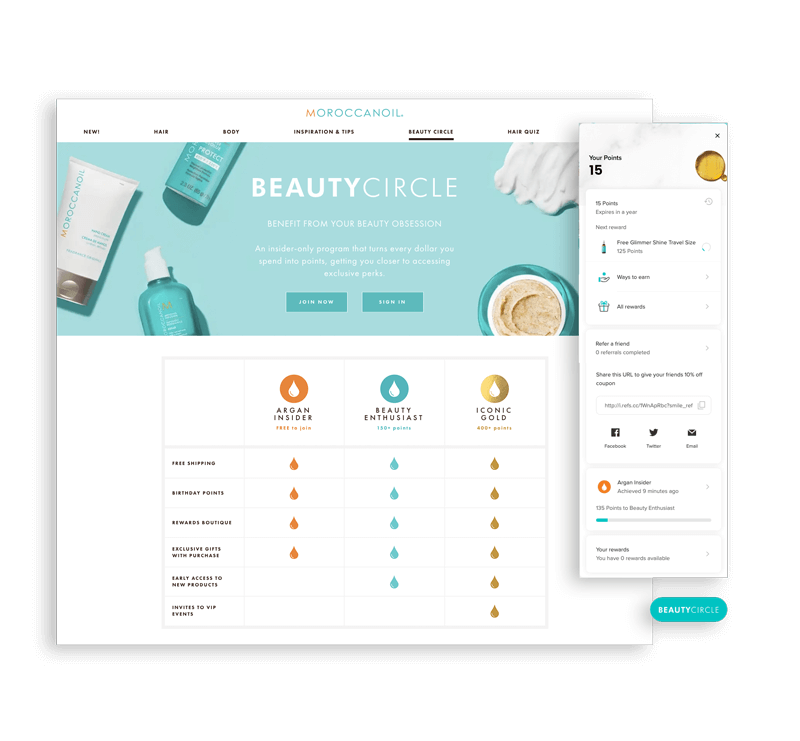 Moroccanoil is a great example of a brand that takes this seriously. When you visit their site, you're immediately greeted with beautiful photography and a rich combination of blue and orange that you can see on every page.
These features extend to their rewards program as well. From their explainer page to their customer Panel and everything in between, Moroccanoil has designed a wonderful rewards experience that feels familiar to their Beauty Circle members at every stage in their customer journey. The result is a program that customers can't wait to join and can immediately understand.
Why you need to brand your rewards program
The way your program looks has a huge impact on how desirable it is to join. The more consistent it looks and feels with the rest of your site, the more likely your customers will be to join it. This familiarity will also encourage them to share it with their friends as they connect their positive experiences with other parts of your brand to your program.
5. Engaging mobile experience
As more and more of your customers shift to shopping on a mobile device, your rewards program needs to be optimized for mobile. Otherwise, you are leaving money on the table. This is easier to understand when you consider that Starbucks generates $6 million in sales each month from their mobile app alone.
This doesn't necessarily mean you need to create a dedicated mobile app, but serving up an experience that is as good (or better) than your desktop experience is key to ensuring you don't exclude a large portion of your customer base.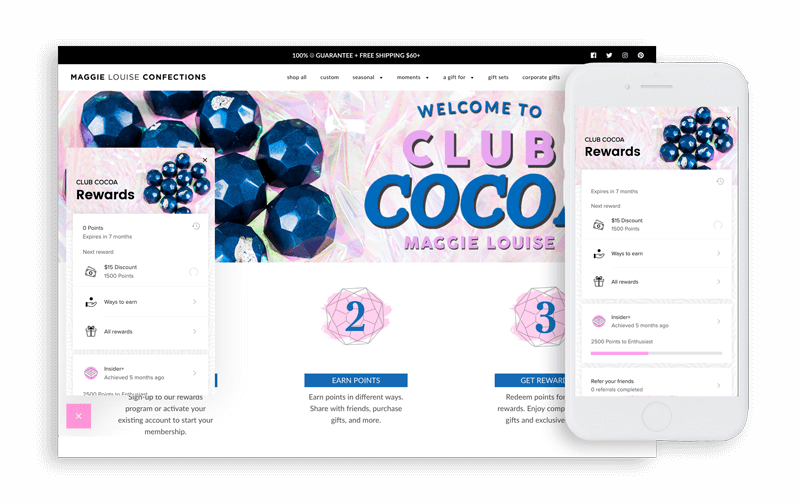 You can see this at play with Maggie Louise Confections' Club Cocoa program. Regardless of how their customers discover their program, they're treated to a similarly easy-to-use interface that makes their program easy to explore, join, and engage with.
Why your mobile experience matters
As mobile commerce continues to grow, your rewards program needs to look and feel like the rest of your brand experience no matter where your customers are accessing it. This will help establish trust with your brand and make every customer interaction a positive one.
6. Effective email communication
While you might not think of email marketing as a feature of a successful rewards program, the two go hand in hand. Email is still the most effective way to stay in touch with your customers between purchases, making it the perfect place to keep your rewards program top-of-mind.
There are many ways you can use email to your advantage to keep customers excited about your program:
Run a launch campaign inviting customers to join your rewards program
Congratulate them on earning points and invite them back to earn more
Remind customers how many points they have and encourage them to spend them
Let customers know when their points are expiring
Invite customers to earn more rewards at a bonus points event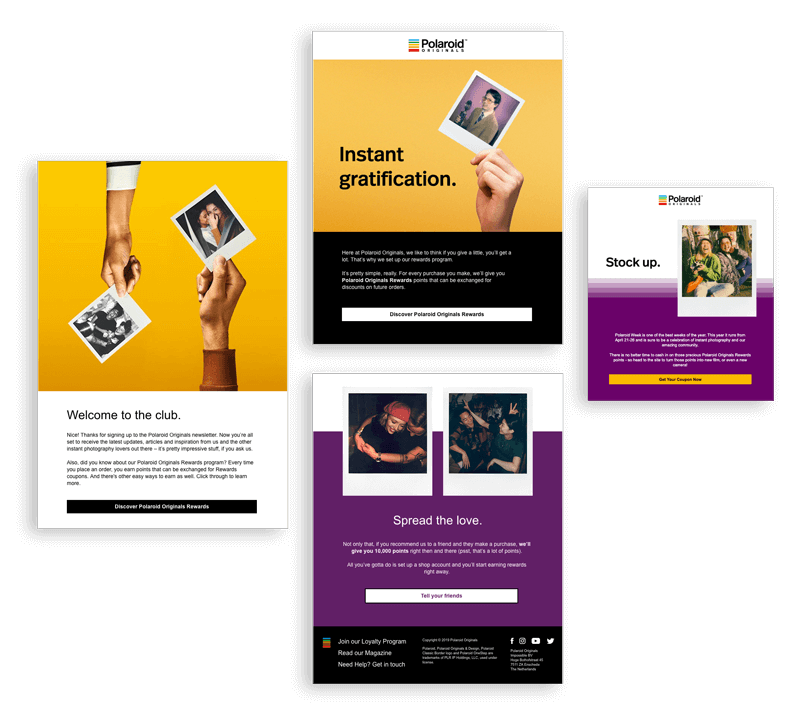 Polaroid Originals does an incredible job of incorporating their rewards program into their email marketing. With consistent branding, clever copy, and vivid photography, they help establish not only who they are as a brand but also why customers should care about being involved in their rewards program. These messages work together to encourage customers to join, engage with, and share their program, making their ongoing marketing extremely easy.
These are only a few of the ways you can build email marketing into your rewards program. No matter how you choose to do it, email has the power to keep customers engaged with your program over time and, as a result, bring them back to your store more often.
Why you need effective email campaigns
Email is one of the easiest and most effective ways to communicate with your entire brand community at once. With targeted messages about points balances, promotions, and program news, you can keep every customer informed about the value your program has to offer, bringing them back again and again.
Building the most successful rewards program possible
After surveying everything the world of rewards has to offer, there are 6 fundamental elements that should become a part of your own rewards program:
Onsite reminders
Variety of ways to earn points
Valuable and tailored rewards
Consistent and beautiful branding
An engaging mobile experience
Effective email campaigns
Incorporating these elements in your rewards strategy will ensure that you're offering a cutting-edge program that your customers really want to join. At the end of the day, you want your rewards program to be about your customers — not about your business. These 7 program features will keep that focus in mind, allowing you to create a rewards program that fosters true customer loyalty.