In ecommerce, if you aren't moving forward then you're falling behind. So while customer retention marketing may have been a distant lighthouse three years ago, it's now one of the most powerful strategies any business can invest time in.
If you aren't currently focusing part of your marketing efforts on retention, you are going to have a hard time growing your business. This is a direct result of increased competition, the rising cost of acquisition, and savvy shoppers. Offering discounts is simply no longer a guaranteed way to attract new customers, let alone encourage them to return.
Luckily, retention marketing has the ability to make positive impacts on both your brand and your customers, allowing you to set your business up for long-term success.
Defining customer retention marketing
Customer retention marketing is a strategy that aims to increase a store's amount of repeat customers while simultaneously increasing the profitability of existing customers.
Retention marketing supports acquisition strategies while increasing the number of existing, retained customers.
If done correctly, you can use retention strategies to grow your number of repeat-shoppers and find new customers through the support from the loyal brand advocates you retain.
Why do you need retention marketing?
As the success of ecommerce platforms (like BigCommerce, Shopify, WooCommerce, and Wix) continues, it's easier than ever for any-sized business to build an online store.
More stores bring more competition, which leads to more merchants investing in paid advertising. As more people require ad space, the cost of advertising goes up, and these increased prices begin to cut directly into a merchant's annual profit.
This is a vicious cycle that is not sustainable, and it poses an interesting dilemma: on the one hand, acquisition is extremely important because without acquired customers there's no one to retain. On the other hand, we've seen how aggressive and costly the ecommerce ad market is. In fact, customer acquisition costs have increased by 50% over the past five years
Retention marketing is all about finding a balance between customer retention and acquisition strategies in order to increase repeat purchase rate.
Retention marketing is the key to rising above all of these problems. When you're able to strike a balance between acquisition and retention strategies, you'll start to see more customers returning over time. This shift allows you to gradually reduce the amount of acquisition marketing you're doing and focus on retention strategies that will help you make money instead of spending it!
Customer loyalty
Focusing on loyalty will result in a strategy that uses incentives and customer service as a way of increasing the likelihood of customers returning to your store. The success of your retention strategy will then impact your average customer lifetime value and repeat purchase rate.
Combining retention marketing goals multiplies the long term positive impact of your brand's growth.
The best part about each of these ideas is that they can be combined to make an even bigger impact. Of course, there are many other ways you could build a retention strategy, but these three tried-and-tested ideas are a great place to start!
Building a customer retention marketing strategy
The Harvard Business Review found that increasing customer retention rates by as little as 5% can increase profits by up to 95%. These types of results may be surprising, especially when you consider that they will also positively impact factors like customer lifetime value and purchase frequency.
Knowing that your desired end-result is an increase in retention, you need to determine what goals and strategies you'll use to accomplish that. Here are a couple of ideas to get you started:
Customer satisfaction
Many shoppers return to stores because they had a good customer experience. Making this the focus of your retention strategy will help you move beyond the simple sale in your customer relationships, and transition towards forming emotional, long-term connections with them.
Customer loyalty
Focusing on loyalty will result in a strategy that uses incentives and customer service as a way of increasing the likelihood of customers returning to your brand. The success of your retention strategy will then impact your average customer lifetime value and repeat purchase rate.
Customer referrals
Word-of-mouth is a primary factor behind 20% to 50% of a consumer's purchasing decisions, making it an extremely powerful marketing tactic. Concentrating on brand advocates will help your acquisition efforts because customers will bring new shoppers to your store by sharing their positive experiences.
One way you can build your team of brand advocates is through a loyalty program offering referral rewards. By rewarding your customers for making referrals to their friends about your brand, they'll be motivated to share positive messages about you online, and you will earn more shoppers. For example, The Laundress, an eco-friendly line of home cleaning products, offers referral bonuses as part of their rewards program.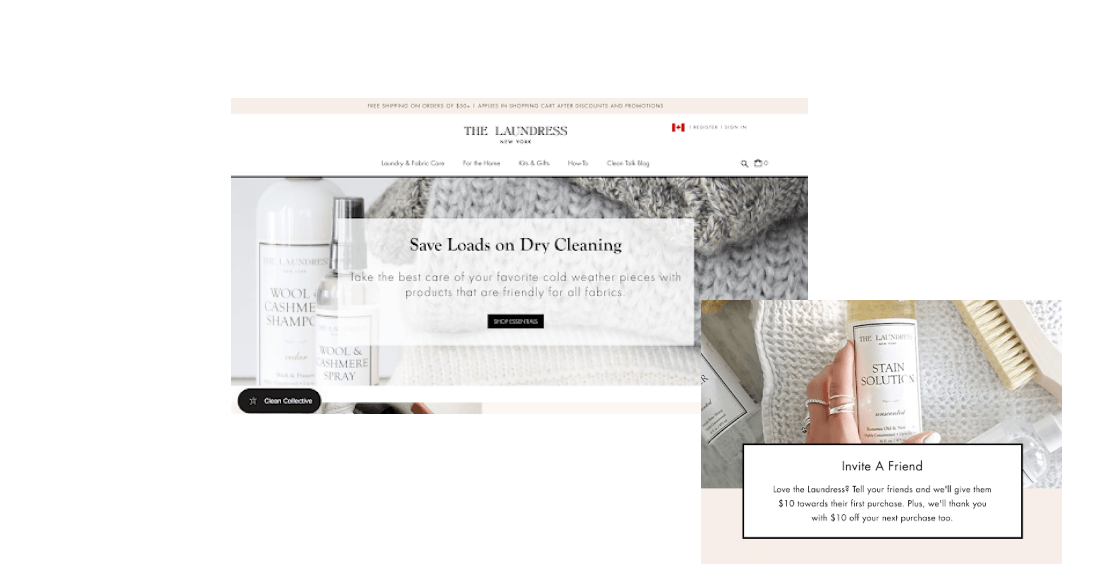 With their referral program, The Laundress offers a $10 discount to new customers who shopped through a customer referral, and once they make their purchase the customer who gave the referral gets a $10 discount too. It's a discount anyone would enjoy, so it gives customers a reason to refer their brand.
By offering a bonus to new shoppers who visit your store through a friend, you're already on the right track to a positive customer experience. This means those new customers could also become loyal to your brand and make referrals of their own.
By rewarding the customer who makes the referral, you're showing your appreciation for their support and loyalty. Again, this leads to a positive customer relationship where they will be more likely to continue referring you to their friends and remain loyal at the same time.
Using a referral program to increase your word-of-mouth customer marketing, along with increasing customer satisfaction and customer loyalty, will help drive your new and old customers towards retention.
Combining retention marketing goals multiplies the long-term positive impact of your brand's growth.
The best part about each of these ideas is that they can be combined to make a bigger impact. These three tried-and-tested ideas are a great place to start building your retention strategy!
The tools of the trade
Regardless of what goals you set for yourself, there are a number of retention marketing tactics and tools you can use to accomplish them.
Strategic Discounting
Shoppers like clearly-defined value. One of the easiest ways to demonstrate value is by offering your customers products and services at a lower price (or for free).
This method of retention marketing is very easy to start, but it can dangerously condition customers to expect discounts, making it difficult to encourage customers to return to your store in the future when you aren't running a sale. This doesn't mean that discounting can't work, but rather that you need to be mindful of how discounting affects your brand.
Excellent customer service
Customers have come to expect a certain level of customer service from every business they interact with. These expectations include things like quick responses to customer inquiries and free shipping. You probably take these things into consideration when you do your own shopping, even without realizing it.
"A satisfied customer is the best source of advertisement."
G.S. Alag
Retention marketing allows you to take customer service above and beyond. Take Zappos for example, who offers their customers free returns for 365 days. This is an excellent demonstration of taking the customer's expectation and raising the bar even higher. These types of considerations help them be seen as a brand that's out for more than profits and has their customers' best interests in mind—it's a powerful, relationship-building incentive to continuously bring shoppers back.
Using customer service as part of a retention marketing strategy helps increase overall customer satisfaction. This encourages more referrals because customers like to share their experiences with friends both online and off. Customer service should be a tool you consider to enhance your strategy.
3. Personalization
Personalization pairs well with customer service because it directly impacts the customer experience. Shoppers appreciate brands who take the time to craft experiences that feel tailored specifically for them, and personalization lets you do that. This can be done through email marketing campaigns, product recommendations, and cross-selling.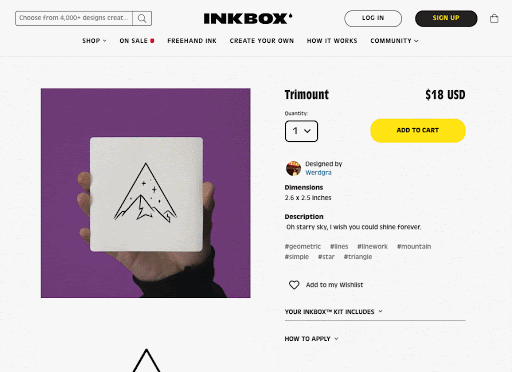 Inkbox does a great job of using customer data to recommend similar products. On any given page, they are able to recommend a large number of similar products based on items customers have looked at in the past or what similar customers have purchased. These recommendations make it easy to shop and ensure customers can always find what they're looking for.
By recommending products that are clearly related to your customers' earlier purchases, your customer satisfaction and referral rates will continue to increase as customers feel like your brand speaks exactly to who they are.
Loyalty and Rewards Programs
We've seen it time and time again, customer loyalty programs are the "crème de la crème" of retention strategies because they allow you to develop a relationship with your customers that extends beyond the purchase transaction. With the ability to reward customers for a wide range of actions and engagement, loyalty programs build relationships at every stage in the customer journey.
By offering a wide variety of both transactional and experiential rewards, you can help your loyalty program stand out from the crowd. You can push it even further by introducing tiers, incorporating referral programs, and branding your loyalty program to match the rest of your business.
Bringing it all together
The best way to understand the power of retention marketing is to see it at work!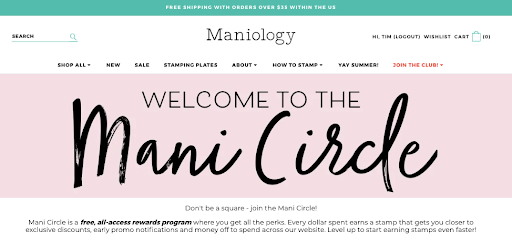 Maniology has done an excellent job of designing their Mani Circle rewards program that engages their customers throughout the entire customer journey. Customers are rewarded "stamps" whenever they place an order, on their birthday, for social sharing, and whenever they leave a product review.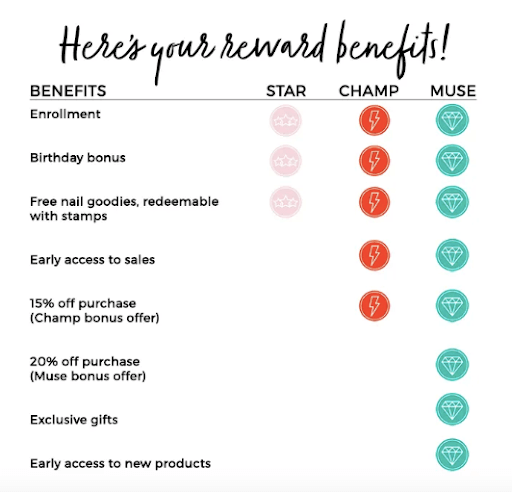 These Stamps can then be redeemed for a number of rewards ranging from discounts or free products to earning early and exclusive access to sales and products for members that reach the highest levels of their VIP tiers. By combining earning actions and redemption options that are valuable to new and long-term customers, Maniology puts several of the customer retention marketing tactics to use.
Maniology provides discounts to both new and loyal customers, and they have a wide variety of rewards and perks to make the Maniology brand experience feel personalized to each of their community members. Finally, they wrap it all together inside the Mani Circle rewards program to gamify loyalty and make every engagement customers have with them enjoyable.
As you embark on your own retention marketing journey, remember that it is not a one-size-fits-all solution: it requires a lot of hard work and commitment, but the results will be worth it. Retention marketing isn't a fad; it's the way of the future—and the future is now!