As the summer ends and we collectively start settling back into our regular routines, you might find yourself taking the time to step back and critically assess your business' performance.
With the holidays right around the corner and Q4 already underway, your store's success depends on each aspect of your business model operating at peak performance.  Your entire brand experience should be working together to deliver the best customer experience possible, including everything from your product line-up to your promotional campaigns.  Last but certainly not least on that list is your rewards program.

Whether you've been running a rewards program for a while or you're relatively new to rewarding your customers, it's important for you to make sure that the rewards and functionality you're offering are actually meeting both your needs and the needs of your customers.  So what do you do if that's not the case?  Sometimes, the rewards provider you're working with is no longer the best equipped to support the program you want to run.  In these cases, the question quickly becomes: how do you migrate your customers, your data and your entire rewards program to another provider?
Migrating a rewards program can present all kinds of challenges. Your customers might be used to a certain look and feel, and you yourself might be accustomed to operating and analyzing your program in certain ways.

While it might be a lot easier to simply stick to the status quo, running a rewards program that no longer meets your needs or fits your goals won't do you any favors in the long run. Making an investment in your brand and in your future by migrating to a new rewards provider is a decision that will set your brand up for success both now and in the future, and, as we're about to show you, pulling off a seamless migration is a lot easier than you might think.
Preserve and Prepare Your Data Before You Migrate Your Rewards Program
There are few things as important in your rewards program as your customer data.  From the number of points each shopper has received to the rewards they've redeemed, your customer data paints a picture of how your customers interact with your program. This data can help you better understand your customers and guides your decisions on how to improve your rewards program as a whole.

Additionally, your data ultimately represents the value that your rewards program holds for each of your customers.  If anything were to happen to it, your program members would lose theirs points balances, their VIP status, their referral codes, and the rewards they've worked so hard to earn.
No matter what kind of program you're running - points, referral, VIP, or a combination of all three - this disruption is an extremely negative customer experience that could ultimately cost you a lot more than data.  In the end,  it could cost you the very customers you've worked so hard to retain.

In order to migrate your rewards program data to a new rewards solution without major disruptions to your customers you'll need to create a .CSV file that lists each of your customer's emails and how many points they currently have in your program.  This data can be retrieved from your current rewards solution, and can easily be formatted for import.
With this spreadsheet in hand, you simply need to import it it into your new app to get your program up and running.  By the end of the data transfer, your customers will still have their points and you'll still have your time, making it a win-win.
Reassess Your Rewards Program's Structure After You Migrate
Migrating your rewards program to another provider is not always an easy decision to make - we get that!  However, it would be a mistake to not take this opportunity to seriously evaluate both the structure and function of your rewards program.  Like your customers, your program should evolve and change over time, adapting to suit your shoppers' needs and behaviors.

While it might be tempting to start imagining huge, structure-altering changes, keep in mind that these changes can be big or small.  Sometimes the smallest changes can have the biggest impact!  Not sure what we mean?  Here's a list of questions you can ask yourself as you migrate your rewards program:

With a tool as impactful as a rewards program, there's no wrong place to start.  It's also important to remember that the changes you make when you migrate don't need to be permanent, either!  If you make a change and find it's not working, iterate on that change until you find a solution that works for you and your customers.  In the end, your program will be stronger because of it.
Promote and "Re-launch" Your Rewards Program After Migrating
Restructuring your rewards program when you migrate will give you more opportunities to encourage and monitor customer engagement, but like any major change, transparency is key.  You'll need to make sure your customers are informed of the changes coming to the program.  There are few things more frustrating as a customer than discovering a program you loved and used faithfully is suddenly different.
So, how do you keep your customers informed?  Well the obvious answer is through promotion!  When you migrate your rewards program to a new provider (like Smile.io, as a completely random example), you're given a unique opportunity to "re-launch" your program to your customers and make a brand new first impression.  This is an opportunity that most brands only get once, so make sure you take it seriously!
There are a number of options for campaigns you can run at program launch.  Let's take a look at a few of them.
"We've Revamped Our Rewards Program"
As we already mentioned, migrating and restructuring your program means you need to re-educate your customers on how your rewards program works.  Updating your explainer page and on-site advertisements will help, but communicating these changes through email marketing campaigns is the most effective way to get this information in front of your customers.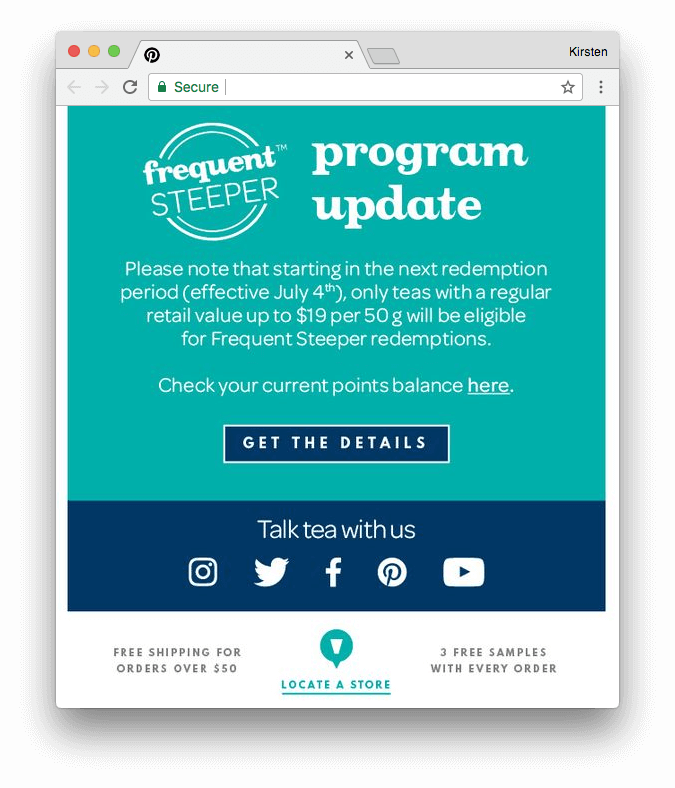 Through a 2 to 3 email series, make sure that you outline the new ways that customers can both earn and spend points.  You can also provide them a link to your explainer so that they can get a visual explanation of how the program works.
Introducing VIP Tiers
If VIP tiers is a new addition to your rewards program you will definitely want to introduce it, as this will be a new concept for many of your customers.  Take the time to generate some excitement by explaining the exclusive benefits they receive by moving up tiers; this is recommended even if your VIP tiers aren't a new program feature.  After all, it never hurts to get everyone back on the same page!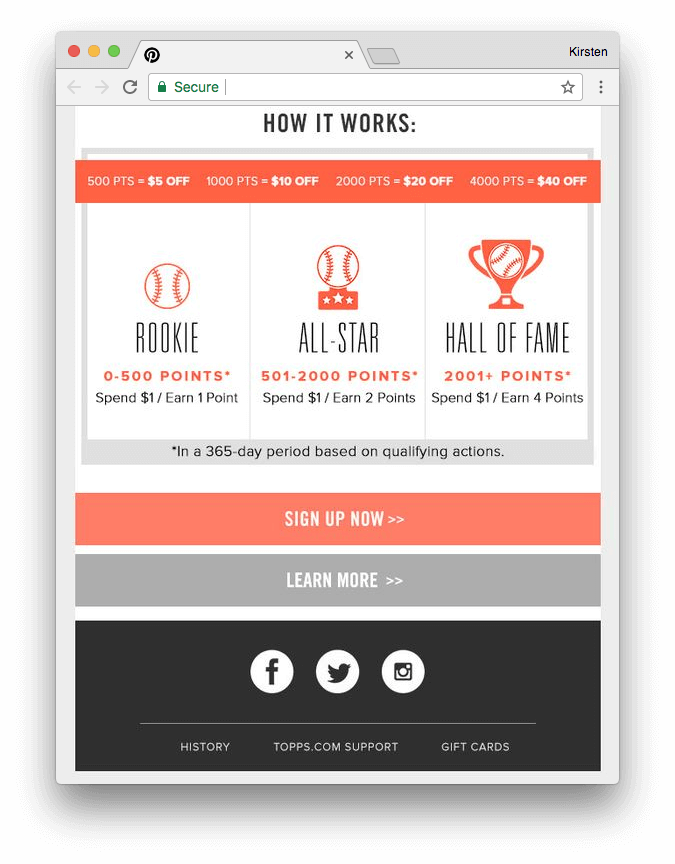 You should also consider whether your customers' previous points balances will apply to your VIP program.  By taking this option, your customers will automatically receive a triggered email that informs them that they've entered a specific tier.  You can take this even further by running an exclusive campaign to members of a certain VIP level.  This will not only set the expectation for things to come in your VIP program, but will also get them excited about their newfound status.
Referral-Specific Promotions
Like VIP tiers, a referral program could be a new feature that you introduce once your rewards program is migrated.  As a result, you want to make sure your customers understand how it works and what they can do with the referral links your program provides.

Providers like Smile.io (again, the most random of examples) have made it easy for customers to see how well their referral links are working with their customer-facing experience. You can then turn this into an ongoing part of your rewards program marketing strategy, keeping them updated on how many clicks their link has gotten and how many referred purchases have been completed.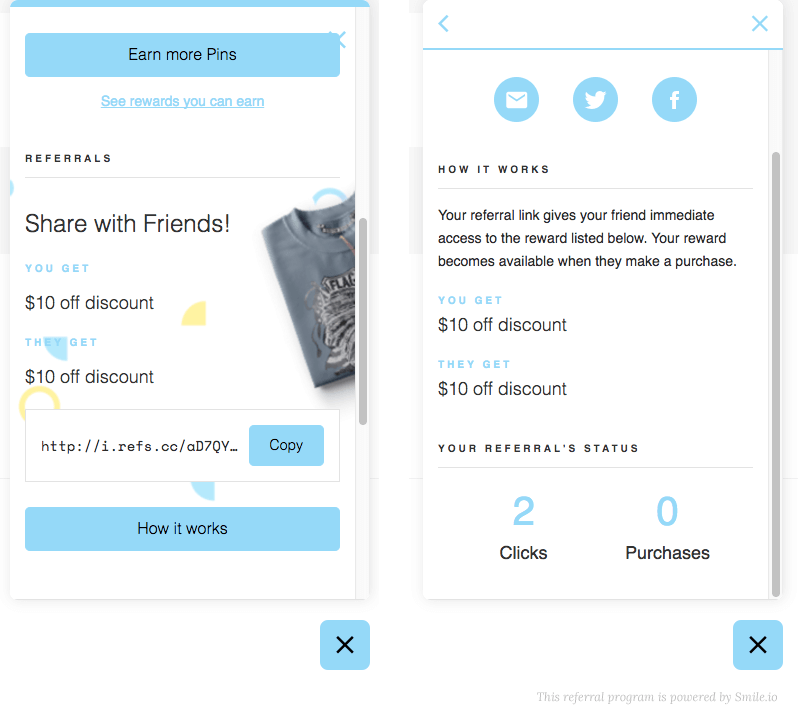 Plan an email campaign that sends each of your program members an update on their unique referral link activity.  These messages, combined with regular points balance emails and other promotional campaigns, will help integrate your program into your customer's day-to-day routines and keep them engaged before, during, and after each purchase.

Each of these campaigns are very easy to set up if your new rewards platform works closely with any email marketing tools.  Take Smile.io, for example: with the Klaviyo Smile App, you can automatically pull points balances from your program into your email messages.  This gives you the chance to accurately show customers exactly how many points they have, but hey - that's just one option!

Making the Move to Migrate Your Rewards Program
Whether you've been considering a migration for a while or are just getting excited about it now, we're happy that you've made the decision!  Finding the platform that's the right fit for you and your business is just another step towards developing the best possible customer experience for your new and returning customers.
So before you migrate your rewards program, remember:

With these three steps locked into your migration process, you can begin the exciting process of improving your rewards experience and developing even deeper customer loyalty.