Since I was small, I've loved going on adventures.  From rock climbing to white water rafting and everything in between, I'm always excited to try new things - especially if they're outdoors.  I just have one rule: I've got to have the right equipment.
As someone who always likes to be prepared, it's extremely important that I have the appropriate clothing and gear whenever I'm heading outside.  The biggest item on my "to buy" list is a new jacket, so like any other millennial I asked my friends for recommendations and many of them recommended The North Face.  You can imagine how delighted I was to not only discover that their outerwear both looks nice and is affordable, but that they also run a rewards program!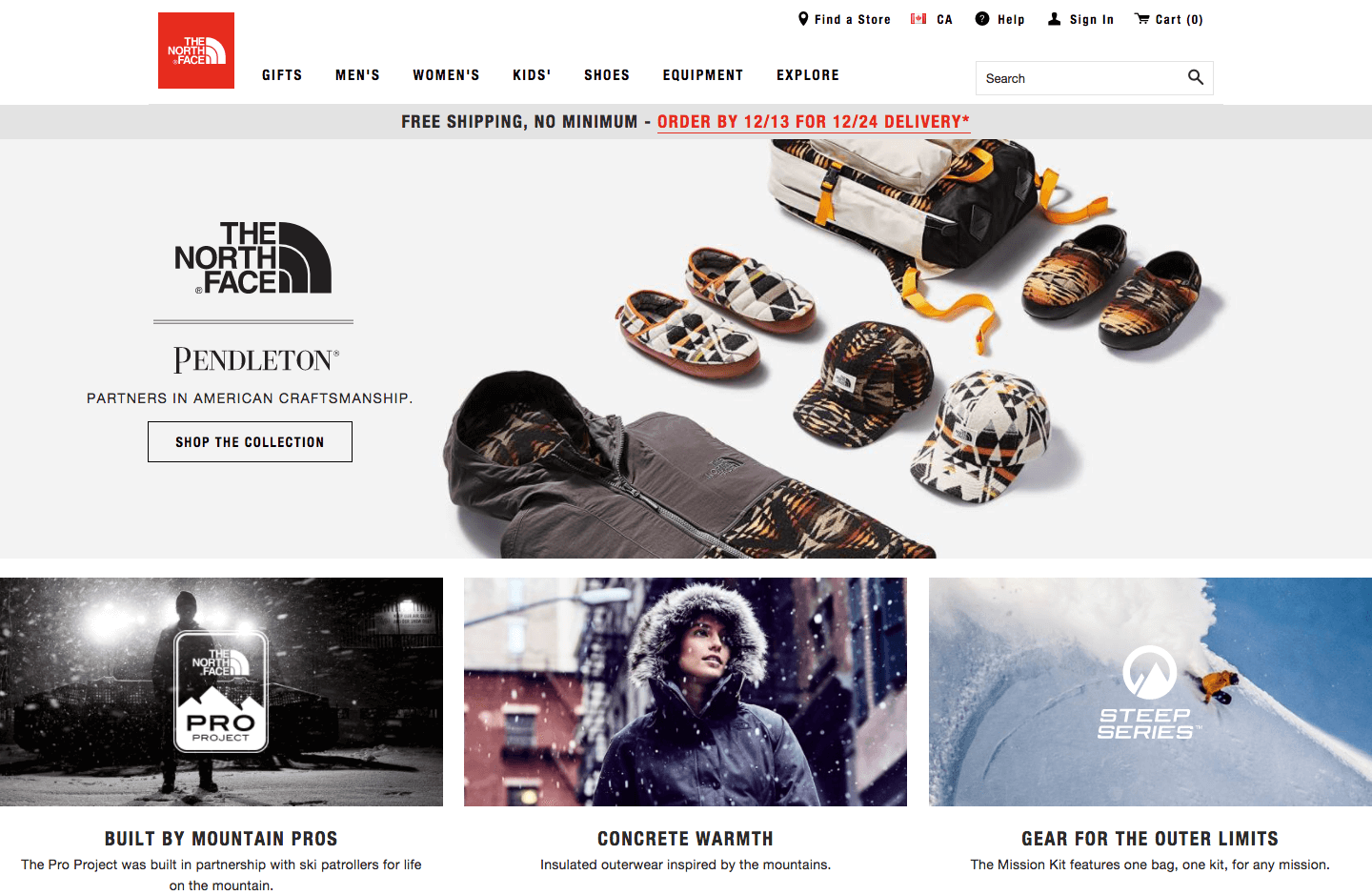 So while I can't wait to get back outside and start exploring, I decided to spend some time exploring the VIPeak Rewards program to determine whether it's the pinnacle of loyalty rewards or in the valley of poor customer experience.
Here's what I discovered.
How VIPeak Rewards Conquers the Loyalty Landscape
When you're hiking up a mountain, there's nothing as satisfying as reaching the top and enjoying the view.  With a couple of standout features, The North Face's rewards program has propelled their customer experience to the summit.
The North Face Understands the Power of a Clever Program Name
My first thought after navigating to the VIPeak explainer page was that The North Face has somehow crafted one of the most clever rewards program names in existence.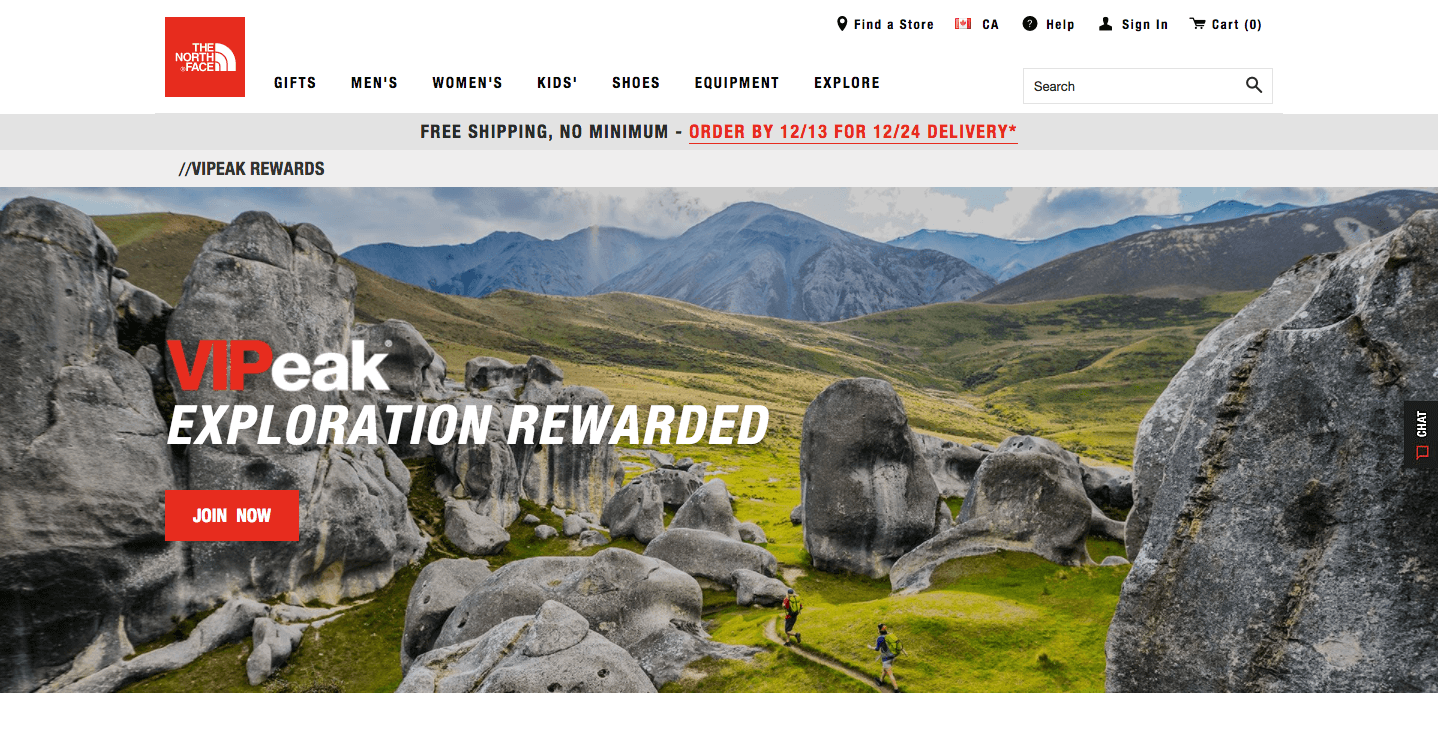 If you've ever read any of my other work on the subject, you're aware that there are few things I love more in a rewards program than a good pun or alliteration.  In this case, The North Face has hit a grand slam by combining both of these elements in a way that makes sense for their overall brand.  By including the word "peak", The North Face has clearly connected their program back to their larger brand vision - empowering customers to get outside and explore.  Similarly, including the phrase "VIP" makes it easy for customers to understand the additional value they gain from joining the program which makes it immediately more appealing.
They didn't stop there, though.  While many brands do a great job of coming up with a clever program name, they seldom follow through with a creative name for their points.  This is what really caught my attention with VIPeak - customers aren't simply earning points, they're earning Peak Points.  Once again the alliteration makes the points catchy and easy-to-remember, while still tying it back to the program's elite status.  It's smart, it's on-brand, and it's fun to say - what more could you want?
VIPeak Offers Members Generous Rewards
Nothing can sink a rewards program faster than bad rewards.  Whether it's cheap discounts or unrelated experiences, brands need to understand what their customers want in order to offer incentives that can actually motivate repeat purchases.
In VIPeak Rewards' case, this isn't a problem.  Following a program redesign earlier this year, customers can now turn their Peak Points into discounts twice a year: once in the summer, and one at the end of the year.  At a glance, this might seem a bit unfair - only two redemption periods?  How is that valuable?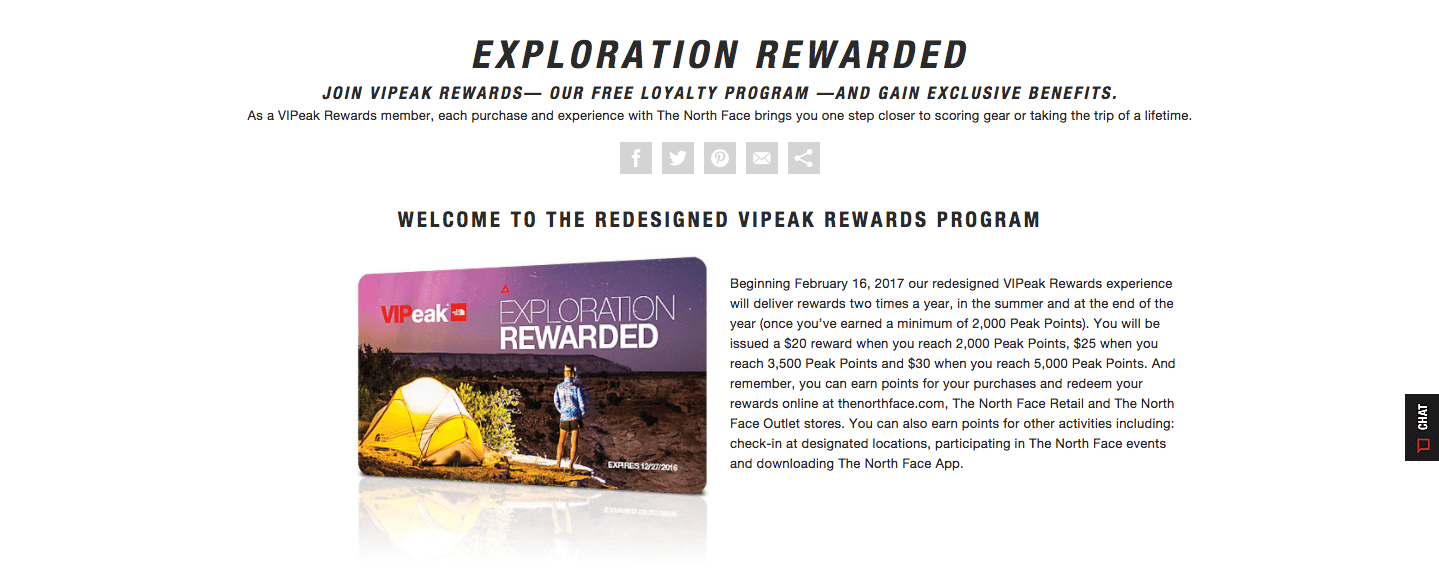 These are definitely questions I asked myself, but I quickly changed my tune when I realized that the rewards I stand to earn come in extremely generous increments of $20, $25, and $30.  As if that wasn't amazing enough, I'm also able to earn 8 Peak Points for every dollar I spend in-store or online in addition to bonus points for attending events or checking in to certain locations.  When you do the math, that means I only need to spend $250 in order to get $20 back.  That's a 12.5% return rate!
When you consider the price point of The North Face's products, it's easy for me to see how each of my purchases will turn into rewards.  If I buy the jacket I've been eyeing, I'll already have enough for the smallest reward, which is still in and of itself substantial.  This makes earning Peak Points easy and the payoff that much more rewarding.
The North Face Has Made VIPeak Visible to New Shoppers
I've said it before, and I'll say it again: if you want your rewards program to succeed, it needs to be visible.  Like a mountain on the horizon (just go with me here), your program needs to serve as a feature that roots your brand in the value you're offering your customers.
While there are a number of different ways to do this, The North Face chose to use one of the most effective methods: promoting it on each product page.  No matter which product a customer is looking at, they'll see a clear VIPeak callout directly beneath the ADD TO CART button.  These messages let them know how many points they can earn on each product, with a link to the VIPeak Rewards explainer page if they need more information.
This is an absolutely genius promotional tactic.  By the time customers have chosen to add something to their cart, they're already sold on the value of the product they're looking at.  As a result, the added bonus of reward points make them way more likely to sign up and engage with the program because it's directly in front of them.  I know this strategy has worked on me in the past.  After all, why wouldn't I sign up for a program that's offering me more benefits?
This small but impactful program feature makes it visible throughout the entire customer journey, keeping it close at hand and top of mind at all times.
Why VIPeak is Stuck at Rewards Basecamp
Although most climbing expeditions make it to the top of the mountain, they usually hit a couple of snags along the way.  With so many pieces of equipment and team members to keep track of, it's easy to understand how some things can get missed, and a rewards program is no different.  Even with a great-laid plan, VIPeak Rewards still hits a few snags.
VIPeak Rewards' Different Peaks Are Unclear
I mentioned earlier that one of the VIPeak Rewards program's greatest strengths is it's name because it evokes both brand identity and a sense of elite status.  While I still stand by this assessment, I found myself wondering if VIPeak was simply a great pun or if the program actually used customer tiers.
After doing a bit more reading, I was delighted to discover that they do, in fact, have three different tiers: Basecamp, Half Dome, and Summit.  However, while these are once again fantastic examples of branded, delightful names, the fact that I didn't immediately know about them is a huge cause for concern.  One of the greatest reasons that VIP programs are so effective is because customers understand what separates the top tier from the others, and as a result are motivated to get there to experience those peak (pun intended) benefits.

In the case of VIPeak Rewards, it looks like the only difference between each of the peaks is which reward you earn (either $20, $25, or $30 discount) at each redemption period.  As a result, the "benefit" of being in each tier isn't really that much better which demotivates me as a customer to spend more to reach that goal.  These levels were also somewhat hidden in the body copy of the VIPeak page, making them hard to see and make sense of.
With no real understanding of what I should be working towards, it's hard for me as a customer to care that much, making my desire to engage entirely separate from the tiers they're trying to use as a motivation tool.
The VIPeak Rewards Explainer Page Struggles for Footing
I've already kind of alluded to this, but it warrants getting into a bit more detail.  One of the most important and effective features of any rewards program is the explainer page.  Not only do they help you explain the ins and outs of your program to your customers, but it also gives your program more weight or importance in your overall brand experience.  With a dedicated explainer page, customers understand that your rewards program is important to you which, by extension, means that you value their loyalty as well.
The trick to a good explainer page, though, is being able to pass the Blink Test.  If customers can't understand how your program works (ie how to earn points and how to redeem them) within a couple seconds of looking at the page, the chances of you converting them into a program member go down significantly.  Customers want more value but they also want it to be quick and simple to get.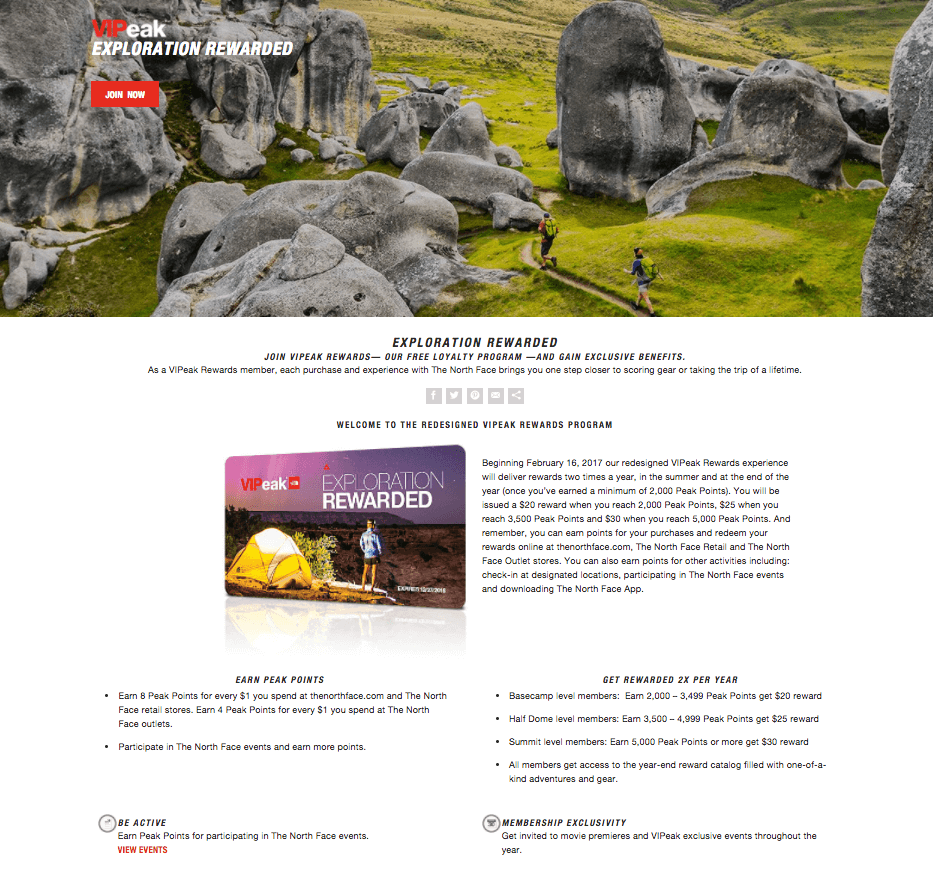 This is where The North Face really falls short.  Although their page is short and sweet, it relies too heavily on big blocks of copy written in small print.  This oversight makes it hard for me to really understand what I stand to gain by joining and, if I'm being honest, makes it harder for me to care.
At the end of the day, having great photography and clever names isn't the only thing that matters.  An explainer page needs to be on brand and informative, and without that follow through value is hard to see.
VIPeak Rewards Can't Be Seen From Every Vantage Point
Above all other issues I might have with VIPeak Rewards, this one irks me most.  Remember how I discussed how great their program promotion is on each of their product pages?  Unfortunately, that's about the only place the program is being advertised.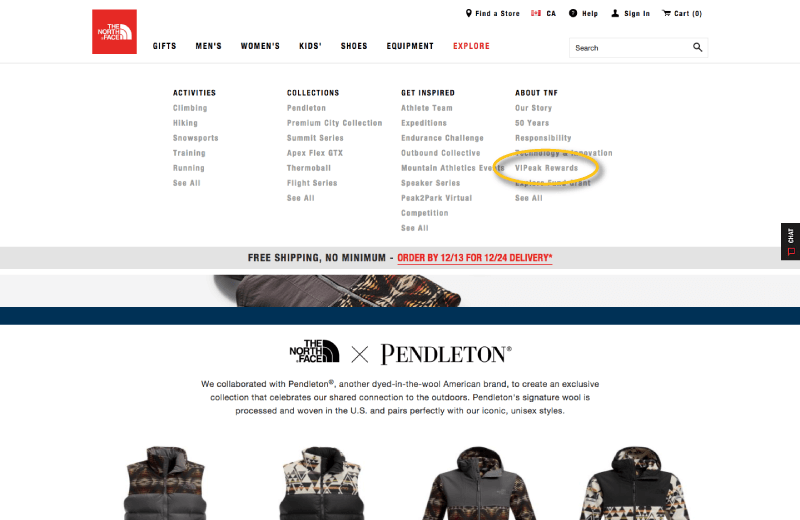 It took me a good five minutes to locate the link to their program information on the homepage, and I only found it after going through each of the tabs in the top navigation.  Finally, I was able to find it under the relatively generic "Explore" tab, nestled among general brand and event information.  As a customer, this organization was not intuitive.  What does VIPeak Rewards have to do with the larger ideas of exploration within their brand?  Without this context, I have no idea where to begin looking for the program and, as a result, probably won't find it.
If you're serious about your rewards program, you need to make sure people can find it quickly.  Like the age-old proverb asks, "if a rewards program is built but no one knows it exists, is it really valuable?"  The more prominent you make your program, the more important it becomes for your customers, leading to to more engagement and higher profitability.
Reaching the Top with VIPeak Rewards
When it comes to running a rewards program, you're bound to hit a few snags.  For VIPeak Rewards, those snags come in the form of an unclear explainer page, undefined tiers, and poor visibility - three things that put a dent in their brand's ability to deliver an unbeatable customer experience.
However, even though they hit a few rough patches on their way to the top, The North Face has developed a rewards program that puts their customers first.  With amazing currency and tier names, highly generous rewards, and quick calls to action on every product page, VIPeak Rewards helps every customer get the most out of every North Face experience (and find good quality coats, while they're at it).