When you hear the word "Sony", what's the first thing that jumps into your head? The mega studio behind the recent Spider-Man movies? The corporation that brought us the PS4 and some of the best games to go with it? Or maybe you think of the innovator that blessed our lives with technology like the Sony Walkman and one of the best virtual reality headsets on the market.  No matter what you think of first, the point here is clear: Sony does a lot. From music to mobile phones and all of the technology in between, the company is a multi-industry giant.
One thing you may not have known is that Sony actually has it's very own rewards program – Sony Rewards – and they bring the same intensity to their program that we see in the rest of their efforts.

Sony Rewards is a great example of the way we see the future of rewards programs and the future of retention marketing as a whole. A future where rewarding customers isn't just about a points based loyalty program. A future that instead involves a fully integrated reward strategy working together to improve the customer experience, build stronger relationships and yes, ultimately to make them smile.
Sony Rewards gives us a glimpse of that future, including some of the opportunities and challenges that come with it. What makes Sony Rewards a game changer? Where could the program step it up? We've got the breakdown below!
Where Sony Rewards Lives Up to the Hype
Sony Rewards proves that the brand is just as forward thinking with its retention strategy as it is with tech innovations. The brand gives us a fresh take on rewards by leveraging its scale to deliver a rewards program that lives up to the hype of the Sony brand.
1. Sony Rewards Has Something for Everyone
One of the benefits of building a rewards program as a multi-industry player is that your program gets to benefit from emergent properties. What are emergent properties you ask? Consider two employees who can each produce 10 units of a product a day on their own, but can produce 30 when they work together. That right there is the essence of emergent properties.

Saying something has "emergent properties" is kind of like saying "the whole is greater than the sum of its parts". This happens when interactions between different pieces or "parts" allow for a better result than could be achieved in isolation. These are the kind of synergies business minds talk about when they use expressions like "2+2 = 5".
The fact that Sony simultaneously participates in multiple industries allows Sony Rewards to benefit from emergent properties. Both the earning and redemption sides of the program take advantage of Sony's cross-industry presence by allowing customers to earn rewards wherever and whenever they interact with the brand.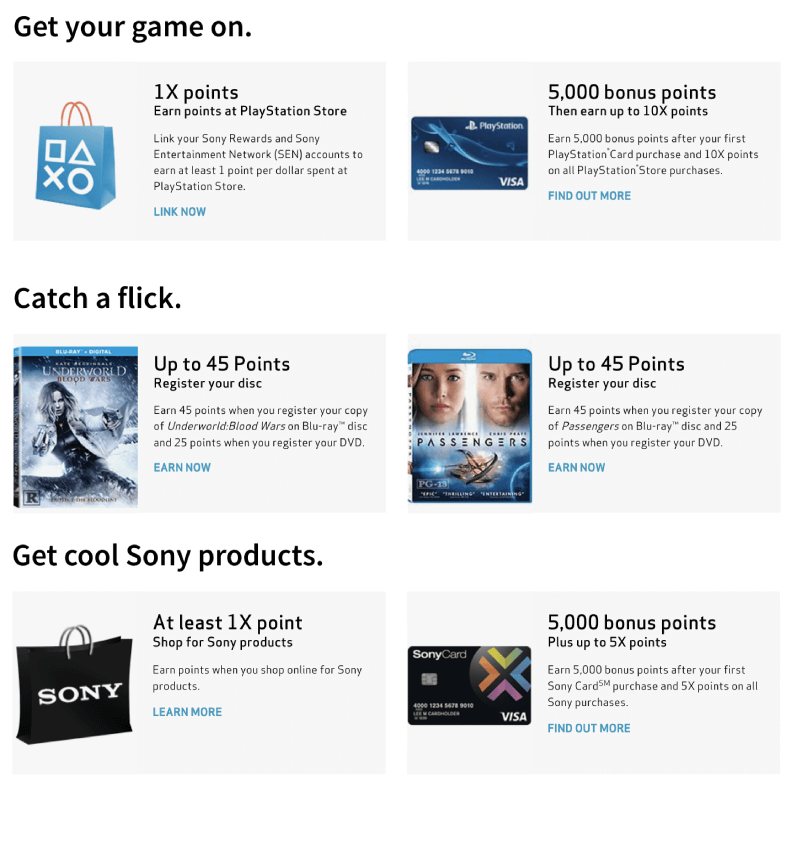 Customers can earn rewards for watching Sony movies in theatres (or at home), shopping at Sony's PlayStation store, buying Sony products online, and while making any purchase with a Sony credit card. Members even earn 5x the points when they purchase a Sony product with a Sony card. If the word Sony is starting to sound weird to you… I'm not surprised.  We just mentioned five different industries that are each involved in the same loyalty program!

By providing customers so many different ways to earn points, Sony makes their program extremely accessible to all potential members. Whether you're a movie buff, an elite gamer, a technophile, or just an everyday shopper you can rest assured that Sony's program lets you engage with it in a way that works for you.

When we check out the redemption side of things we find the same principle in effect, Sony Rewards members can redeem rewards in any and every industry that the brand operates in, making the program extremely valuable when customers cross the redemption threshold.

2. Sony Rewards Has Multiple Rewards Programs Rolled Into One
When discussing strong reward programs, it usually doesn't take too long for the conversation to turn to "My Starbucks Rewards". One of the things I really enjoy about the Starbucks program is that apart from the regular earning and spending schedule, they'll often throw in supplementary challenges or "sprints", as I like to call them. An example of one of these sprints would be something like earning bonus stars above the regular purchase value if you order five breakfast sandwiches within the next month.

Sony uses a similar feature with their Reward Pass and Movie Buff "mini" programs. These are rewards programs that operate outside of the points scheme and allow members to sprint their way to special rewards. Each works in a slightly different way while still providing unique value to Sony Rewards members.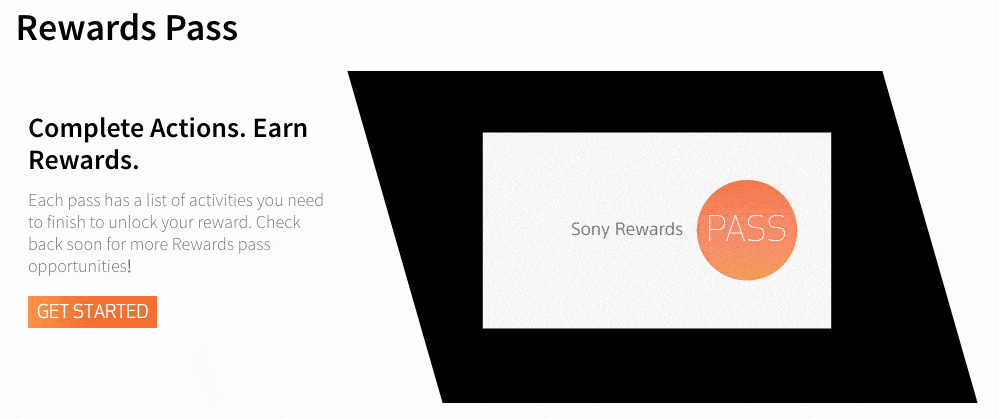 Rewards Pass allows members to carry out a few simple tasks and get an immediate reward regardless of their points balance. This keeps the rewards program fresh by switching up the combination of earning actions that lead customers to a reward.
Movie Buff, on the other hand, allows members to immediately redeem a free movie when they register five. So not only are customers earning points for their movie registration, but they're also receiving a bonus reward closely related to the actions that helped them earn it in the first place.
Movie Buff and Rewards Pass strengthen the Sony Rewards program for two key reasons. First, they keep the program evergreen for the customers who engage with it consistently by providing them with different ways to experience some quick gratification. In the case of Rewards Pass, this effect is increased by the fact that the actions are always changing, which keeps the excitement high at every turn.
Secondly, while the reach of Sony's huge rewards program is one of its strengths, I'd be lying if I said it wasn't a little intimidating at first glance. The program has so many moving parts that a new member could easily find themselves overwhelmed by all it has to offer. This is where Rewards Pass and Movie Buff are so crucial. They provide a bite-sized, easily understandable version of the program that members can engage with immediately as a stepping stone to the rest of the experience.
3. Sony Rewards Has Amazing Experiential Rewards
One more stand out feature from the Sony Rewards program would have to be it's ShowStoppers rewards. These rewards are larger than life experiences that take the idea of rewarding your customers to an entirely different level.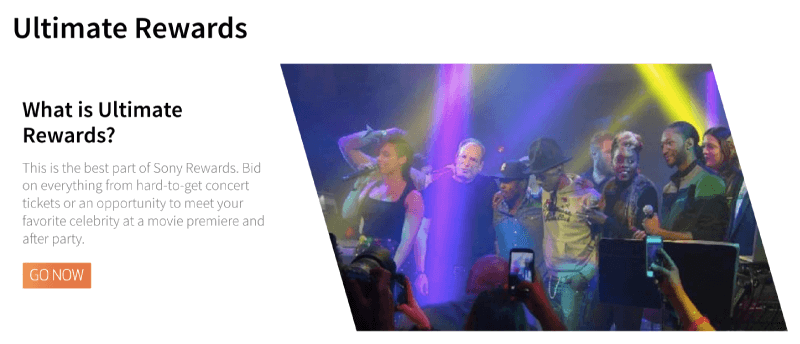 Drawing from the breadth of industries that Sony participates in, these extreme experiences can range from sold out arena concerts, to Hollywood movie premieres, to mega-conferences like E3, and even sponsored events like the Sony Open Golf Tournament.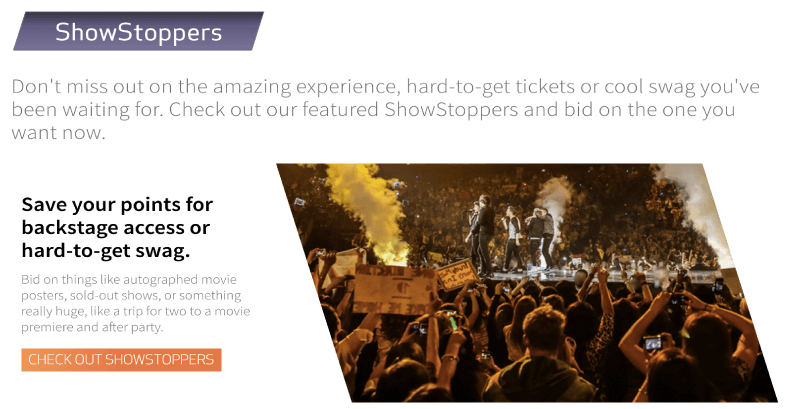 These "out of this world" rewards give members access to events and experiences that some could only dream of – all with the use of their Sony Reward points. This makes the program more valuable to customers who are willing to save up their points for a chance at meeting their idols.
The real genius of the ShowStoppers portion of the rewards program is in its structure. You see, ShowStoppers rewards work on a bidding system so there isn't a minimum number of points to guarantee a ShowStopping reward. Instead, Sony allows their customers to dictate the value of each individual experience in the open market.

This strategy allows each reward to be priced according to customer value and not by a marketer's best guesses. Additionally, if a customer doesn't have enough points to place a high bid on an experience they desperately want, they're able to top off their balance by purchasing "a limited number of additional points at a penny each". Amazing rewards at market values, what more could a customer want!
Where Sony Rewards Needs To Get Its Head In The Game
It's easy to see that Sony's rewards program has a lot going for it but sadly no brand is perfect. Even giants like Sony trip up sometimes, and like we're about to discuss, sometimes your greatest strengths come with some challenges of their own.
1. Understanding Sony Rewards Is Much Easier Said Than Done
The greatest strength of the Sony Rewards Program is its comprehensiveness. It spans industries and interests because of the power of the parent brand it represents. This strength can also lead to its greatest weakness because with so much going on inside the Sony Rewards program, a clear explanation is absolutely necessary to make sure customers don't get lost.

As far as I can tell, the Sony Rewards program is made up of more than seven unique actions that can earn customers points, two bonus rewards programs (Rewards Pass and Movie Buff), an additional special tier of showstopper rewards, six different categories of earnable rewards (not to mention the number of individual rewards themselves) and countless products that can earn a customer points. If it sounds like a mouthful, that's because it is.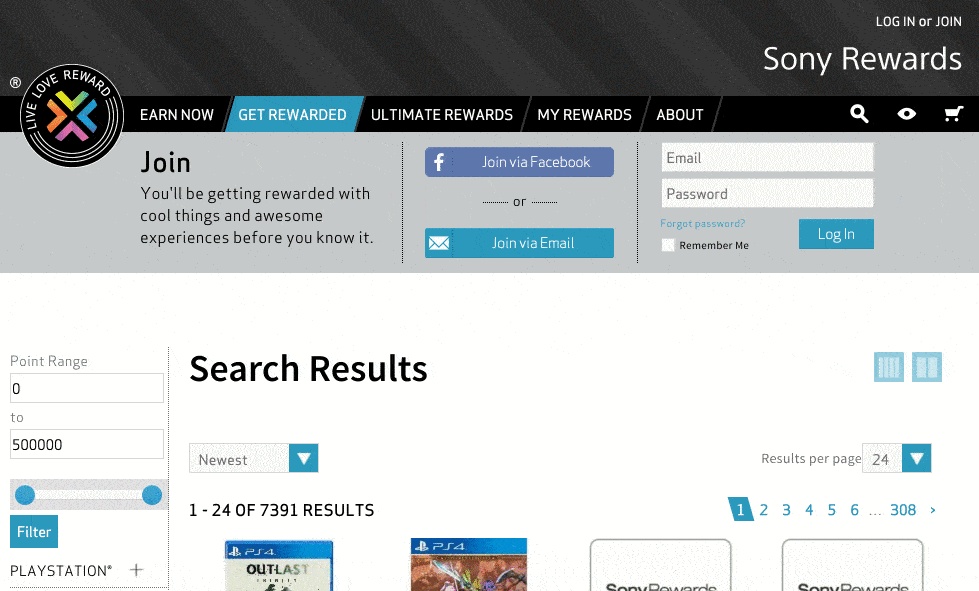 Just look at all of the different options in the dropdown menu, each of which goes to a different page on the site. A new customer might be wondering why "Ways to Earn" is different from the "Earn Now Home" or what the difference between an "Ultimate Reward" and a "ShowStopper" is.
I'll admit that one took me a bit to figure out. For anyone who's wondering – Ultimate Rewards are the category that contains ShowStoppers and the Winners Circle is where members who have won Showstoppers can share their experiences. Needless to say, the program could benefit from some simplification and a well structured explainer page.

2. Sony Rewards Doesn't Make Use of Social Media
I know what you're thinking… didn't you just say the program was too complicated and had too much going on? How can you possibly be suggesting another reward structure?" Yes, the Sony Rewards program is complex but no, complexity isn't necessarily a bad thing.

With a well structured explainer page, the program could be much more easily digestible and leave plenty of room for a social sharing reward. Sony Rewards is in a unique position to leverage social sharing because the program's rewards are built to share.
Entertainment is a very social phenomenon. Experiences like going to the movies with friends, recommending video games, and even providing tech reviews online all invite human interaction. Sony even seems to note its importance on their site by asking customers to stay connected with them on social media.

It's time for Sony Rewards to put its money (or points) where its mouth is and reward customers for engaging with the brand, and with each other, on social media. This addition would give customers yet another unique action to earn points with while also returning value for Sony in product recommendations and an improved Net Promoter Score.
3. Sony Rewards Treats Mobile Like an Afterthought
We've said it before and we'll say it again: mobile commerce is the future. Brands like Shopify and Smile.io are doubling down on their mobile experience because they know that an increasing number of transactions are happening in the palms of customers' hands.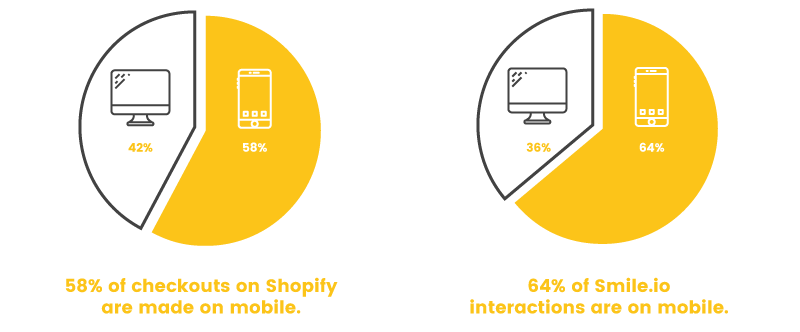 It'd be easy to assume a tech giant like Sony would be all over the mobile trend, but you'd surprisingly be wrong. Sony (one of the leading tech innovators on the planet and an actual manufacturer of mobile phones) treats its Sony Rewards mobile app like an afterthought.
The mobile app isn't even mentioned on the explainer page until a section they've called "What else?". If that doesn't say "afterthought", I don't know what does. Worst of all, the other things listed alongside the app are also featured prominently in other places on the site while the mobile app is suspiciously missing.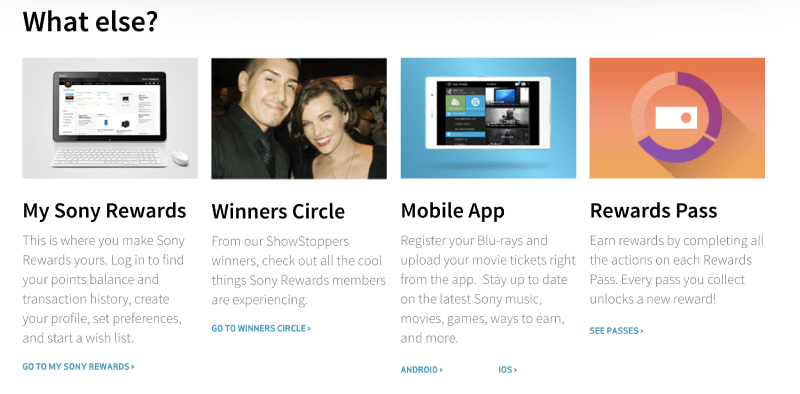 Sony has clearly put some resources into the development of this application but that investment gets wasted if the brand doesn't effectively promote the app to its customers. Sony could stand to benefit from stepping up the visibility of the mobile app on its rewards site so that when the future of mobile commerce arrives, they're waiting with open arms.
Sony Rewards Is In a League of Its Own
When it comes to cross industry rewards programs, I have yet to find one that rivals Sony Rewards. While Sony Rewards would benefit from an airtight explainer page, social rewards, and more focus on the mobile app, the benefits of the program far outweigh the downfalls.
Above all, the program makes excellent use of Sony's large presence to drive value back to their customers.The fact that the program uses earning actions and rewards from multiple industries to create value of all different kinds of customers make it a force to be reckoned with. Adding on the mini-programs and the experiential rewards makes the program a showstopper for new and existing customers and, quite frankly, puts Sony Rewards in a league of it's own.