These days it's hard to think of a large restaurant chain that doesn't have their own rewards program. With brands like Starbucks setting the customer experience bar high with punch cards and points programs, it's become an expectation for big food and beverage brands to offer some sort of reward for choosing them over others. However, what about the corner coffee shop you visit every day on your lunch break, or the smaller restaurants just breaking onto the scene?
That is where platforms like Ritual comes in. The Toronto-based service is focused on making the chore of going out for lunch both rewarding and social in a number of big cities in North America. The question is whether they've achieved their goal of "making lunch fun again." Let's take a look at how Ritual fares for its users.
How Ritual Rewards hit the spot
There's a lot of reasons to get excited about a rewards program, but it's not very often that one fills your stomach and gets you excited about rewards at the same time. Ritual is a rare exception.
Getting started is simple
A lot of reward programs show you what you can earn but don't give you a clear idea of how quickly you can actually earn points.
Not Ritual Rewards. Before I even sign up, I can see how rewarding being a member is with an order calculator that shows me how many points I can earn at any participating restaurant.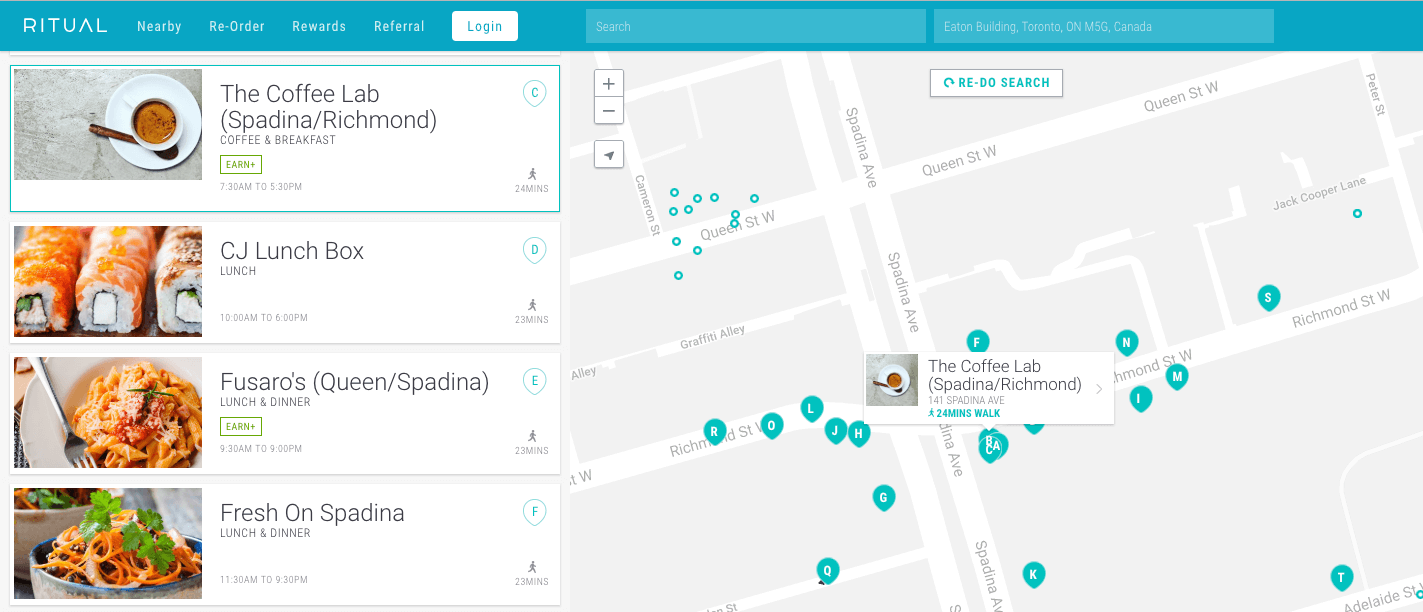 When I click on the prominent "Order Now" button on their homepage I'm taken to a map of the closest city they operate in, which in my case is Toronto. This map then shows me where each of Ritual's partner restaurants are and lets me:
Find a nearby restaurant
See their menu
Put items in a cart
Determine my tip amount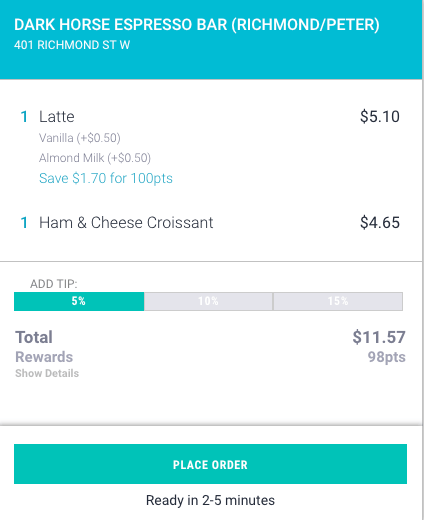 While this is already an incredible customer experience, the ultimate feature they include is that I can see the the amount of reward points I would earn if I followed through on my purchase, as well as how many points I could cash in for a reward if I was a member of the program. As a result, Ritual is clearly showing me value without asking me to commit to anything.
By making the value of their program easy to understand the barrier to entry is kept low, making it an easy decision to sign up.
Earning is easy
As if their map and points balance tools weren't enough incentive to join,  Ritual also immediately offers new members a 500 point welcome bonus. This, combined with a number of other ways to earn some quick points without having to make a purchase, make earning rewards incredibly easy.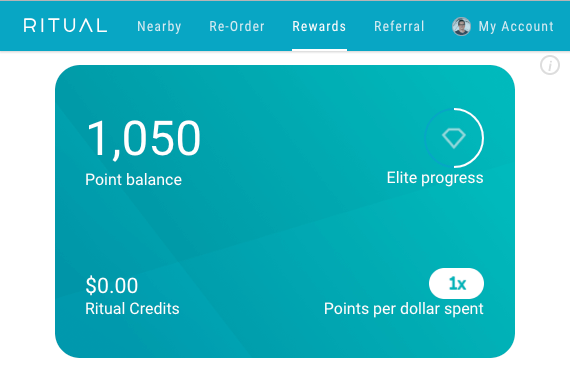 Not only did they reward me for signing up, they also gave me points for setting my profile picture and simply visiting the page to learn about their referral program. That means that I've already racked up over 1,000 points — all without spending a dime!
Each of these low-effort earning rules motivate me to make a purchase to keep my earning streak going. Any points I earn can then be applied to larger Ritual Credits or smaller discounts along the way, depending on how I choose to save and spend them.

I can also take advantage of Earn+, a feature that allows me to earn points even faster! For restaurants that have the Earn+ symbol, members earn up to 25 times the points on every order they place there. So if I a latte and croissant at an Earn+ establishment, I earn as many as 2,450 points! At that rate, I could redeem the biggest reward (worth 10,000 points) in only a handful of purchases.

The best part is that none of my credits or points ever expire! This not only keeps me hungry for points but my next awesome Ritual meal, too.
Ritual Rewards is made for sharing
If you're the kind of person who likes eating out for lunch but doesn't want to go out yourself, Ritual Rewards' Piggybacking feature is for you. With Piggyback, you and your coworkers can lump your orders together with a designated office hero that goes and picks it all up.
To make the solo trip even sweeter, whoever goes out and picks up the group order gets a bonus 1,500 points every single time. That way everyone who placed an order will be able to eat together, moving people away from just eating at their desk and increasing the social engagement around the office.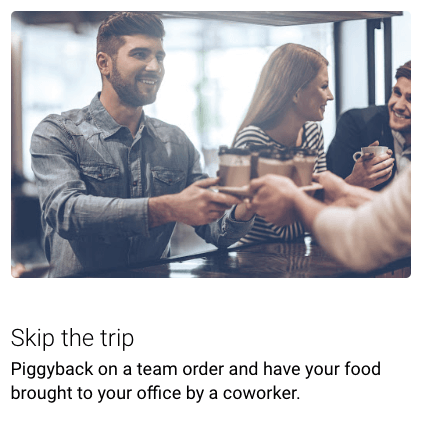 This is definitely one of my favorite elements of Ritual's program because it plays into the idea of sustainable, emotional relationships. Since Ritual brands themselves as a social ordering company and not a rewards program, this type of community-building is extremely important to upholding their company goal of helping customers form emotional connections.

Ritual has also committed to their member community by building a valuable referral program into their experience. For every friend you bring to Ritual you earn 1,000 points, while your friend gets a $10 credit to spend.
By making lunch about social connections and rewarding their customers for building community, Ritual makes mealtime a flavor we can savour instead of just a chore.
Where Ritual Rewards are out to lunch
While there's lot of reasons to take a bite of Ritual rewards, there are also a few things that taste more sour than sweet.
Limited locations
When I first heard about Ritual, I was excited to discover that it was a Canadian company. It's hard not to have a bit of national pride when a program this cool is "homegrown," but my excitement fizzled when I realized that the only Canadian city Ritual operates out of is their hometown of Toronto.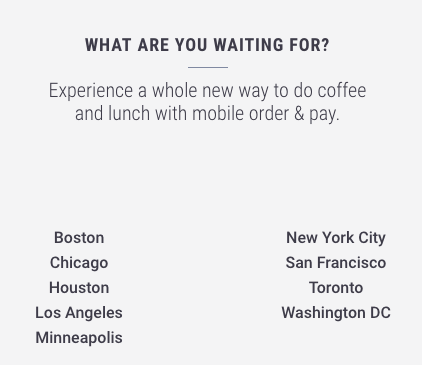 This limited availability extends to the U.S. as well. While your options are a bit better there, you're still limited to eight of the biggest cities in the country. As a result, there are millions of customers who simply can't reap any of the Ritual benefits.
Don't get me wrong — I understand why the program is so limited. As a program focused on business lunches, it makes sense that they'd build out their platform in some of the larger, business-dense cities. However, until they branch out into some of the other major cities in North America it's hard for me to get excited about a program I can't use unless I take a trip to one of these bigger cities.
This is even more disappointing when you consider that most of Ritual's partners are only open during lunch hours. That means it's almost impossible to use any Ritual Credits I might have for a more upscale dining experience, limiting my rewards to a specific use-case.
Limiting their restaurant partners to the lunch crowd eliminates a lot of users like myself who tend to do most of our meal purchases outside the typical 9-5. While their goals are clear, expanding the platform to be more usable for eating after work would open Ritual up to even larger community building potential.
Earn+ locations are few and far between
While the Earn+ feature is an awesome way to give you a much needed boost towards the program's best rewards, the restaurants that are part of that program aren't always the most convenient to get to.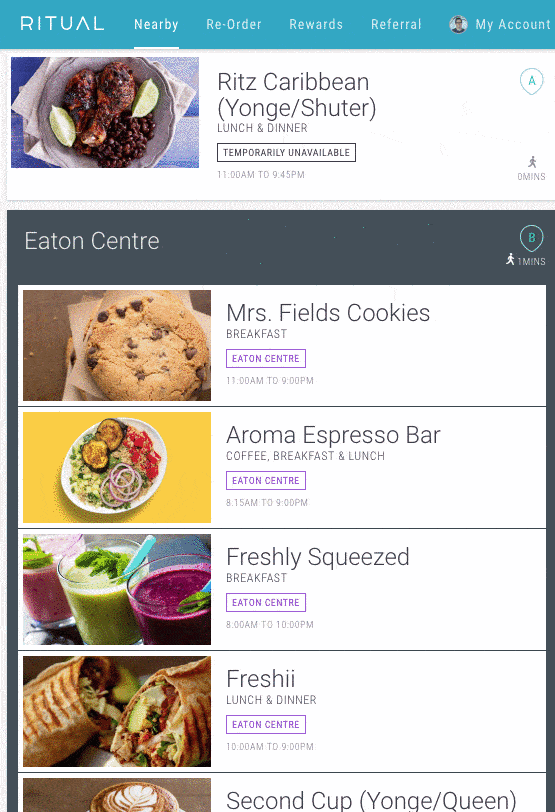 For instance, if I am at the Eaton Centre in downtown Toronto and want to grab a bite to eat, not a single one of the restaurants in the the mall are Earn+ partners. Sure, I could walk down the street to find a restaurant that will earn me a smorgasbord of points, but if I've got a bunch of bags and more shopping to do it's not at all convenient.
For the casual Ritual user who doesn't want to turn every lunch into an epic journey to find an earning multiplier, the inconvenience of finding an Earn+ establishment would be a big demotivator towards actively trying to earn their next Ritual Credit.
The Ritual Rewards aftertaste
In spite of a couple questionable ingredients, Ritual has created a program that is incredibly easy to get onboard with. By offering so much value up front and making it easy to earn some quick points right from the get-go, Ritual Rewards is a program that offers an incredible experience every time.
The service's community-mindedness really brings home the bacon, even if some location inconveniences may detract from the program's overall freshness. Social features like piggybacking make it great for getting your grub, and even better for building office community - something we would gladly take a bite out of!