Before there was Wayfair, there was Overstock.com.  Since 1999, the American ecommerce company has been the furniture and home decor destination for shoppers all over the world to find exactly what they want, for less.
With millions of products, Overstock is fully committed to their retail experience, and the Club O Rewards program is an extension of that.  From super valuable rewards offerings to heightened customer experiences, Club O seems to have everything but is it all it appears to be on paper?  We took a look under the hood (or, more accurately, under the couch cushions) to find out what really makes this program so noteworthy.
Why Club O Rewards is Bedder Than the Rest
Overstock's rewards program is loaded with a number of bells and whistles that are even more satisfying than finding that perfect rug to tie the room together.  From the rewards they offer to the way they've designed it, Club O is definitely a cut above their competitors.
Offers Rewards That Appeal to Everyone
No matter what you're looking for in a rewards program, Club O can deliver.  Overstock understands that if you want customers to participate in your rewards program, you need to offer rewards that they actually want to earn.  In their case, that means cashback on purchases, free shipping, and hassle-free returns.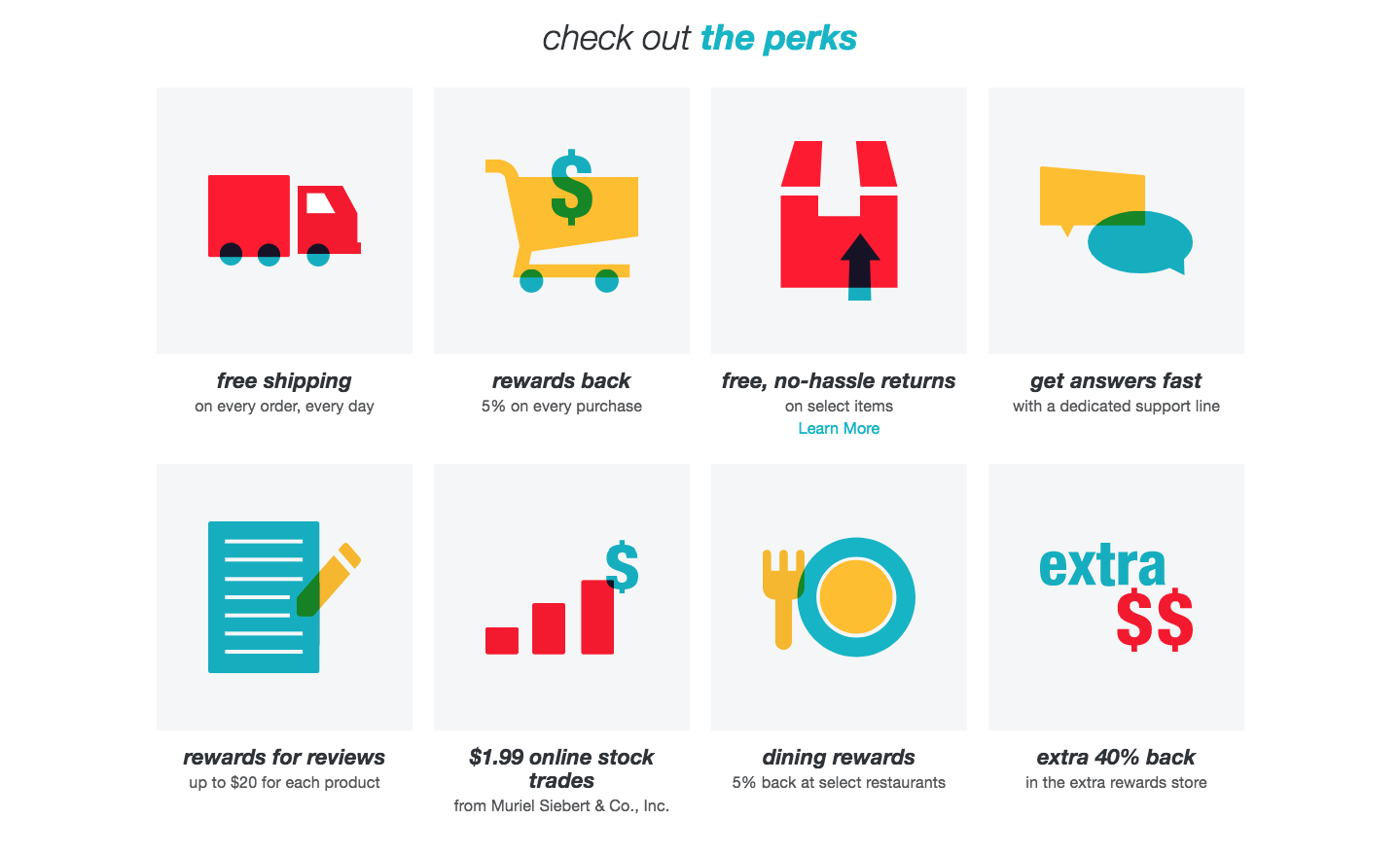 As a home-goods ecommerce company, the shipping and returns rewards are huge for their customers.  Nobody wants to order a new pair of shoes only to discover they don't fit and that they have to pay to have it returned.  By considering this type of experience Overstock delivers what their customer desires, making shoppers even more likely to join.

Overstock has also done a great job of marketing each of their program's perks.  Value is clearly communicated on their program's explainer page through a combination of text, icons, and images.  Everywhere you look, you're shown another benefit of joining the program. Each of these elements make it easy for shoppers to see what they're getting as a member of Club O, creating a stronger desire for the value they're being promised.
Rewards Can Be Combined to Maximize Value
Even though reward programs should be designed for the customer, it's rare to find a program that allows members to stack rewards.  I know I've found myself in positions where I have to choose between redeeming a reward or taking advantage of an in-store promotion, and that decision can be extremely frustrating.
Overstock recognized this as a pain point in their own rewards program, and as a result allows Club O members to combine their reward discounts with other storewide promotions.

This is a big deal!  Now, customers are no longer limited in how much value they can get out of every purchase, and with 5% back on every order rewards can stack up fast.  With no limitations on how they can spend them, customers have seemingly endless options for when and how to redeem rewards.
Members can even use their rewards to pay for their annual membership fee, which is already reasonably priced at only $19.95 per year.  This small but significant commitment to customer satisfaction is something other subscription-based programs like Amazon Prime don't offer, putting Club O in a different category.
Overstock Takes Their Members to Dinner
Even though free shipping and free returns on select items are already spectacular rewards, Overstock decided to take it even further.  As a Club O member, customers can also earn cashback for eating at certain restaurants. Overstock will even make suggestions of where customers can eat based on their postal code, once again going above and beyond the call of duty.

This is a supremely clever way of mimicking the offline shopping experience.  Customers shopping for home decor offline are likely to want to grab dinner or a snack after a long day of shopping.  While they can't replicate that exact experience, Overstock recognized that this experience is enjoyable to their customers and did what they could to make their rewards program and brand part of their customers' shopping routines.
This is simply another way that Overstock demonstrates intense awareness of what their customers want from their rewards program and, above all, their brand.
How the Tables Have Turned on Club O
Even with a number of stellar features working in Club O favor, there's still some room for improvement.  Here are a few ways Overstock could make their program even better than it already is.
Odd Rewards Expiry Windows
One of the reasons Club O is so appealing is that the cashback rewards you earn for making purchases never expire.  However, the same can't be said for rewards earned for leaving customer reviews or participating in other Overstock promotions.  Customers can earn up to $20 in credit for leaving product reviews, but only have 45 days to redeem it.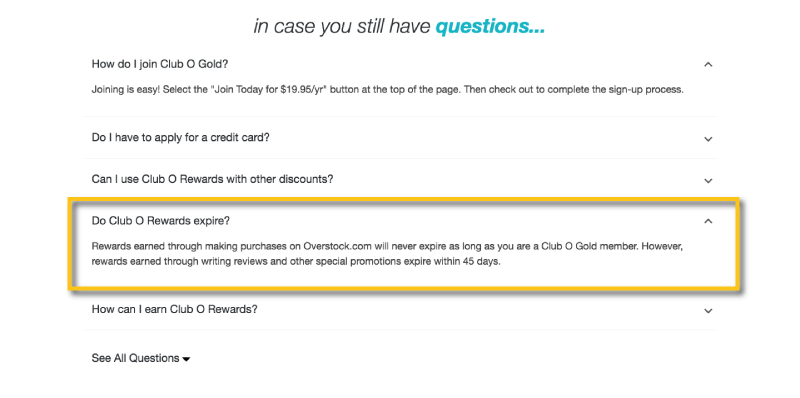 This wouldn't be so disappointing if this condition was stated clearly on their program page.  Unfortunately, customers need to click through several FAQ links at the bottom of the page in order to find it.  Setting an expiration date for these promotional and review rewards somewhat contradicts the "no expiration" message being communicated other places, creating some confusion for members.
Since reviews seem to operate with entirely different mechanisms and expectations than the rest of their rewards program, Overstock might be better off setting up reward reviews as a separate element of their brand experience.
By promoting it separately, it would allow Club O to retain all of its value while also equally incentivizing customers to generate social proof for the brand.  This not only allows them to set their brand up for continued referral success, but also gives them room to set clear review reward rules without bumping up against Club O's redemption conditions.
Club O Rewards Could Go Further
Overstock has done a great job of making their program name memorable.  It's on brand, creates a sense of community, and even makes customers feel valuable by using the word "Gold."  However, as awesome as each of these elements are, I think they could be pushed further.
Brands like Starbucks have created an expectation that terms like "gold" and "platinum" will deliver a heightened experience either with VIP tiers or additional benefits.  Since Overstock customers are automatically inducted to Gold level, it's a bit disappointing to discover that there's nowhere else to advance to.
Overstock could eliminate many of these issues by introducing VIP tiers to their rewards program.  Even as a subscription-based rewards program, they have the opportunity to use gamification to their advantage.  Introducing more fee-based membership levels or unlockable rewards will keep more customers engaged and heighten their customer experience further.  Since a rewards program isn't a set it and forget it tool, why not keep pushing the limits?
Overstock Delivers an Over the Top Rewards Experience
Despite a couple of sticky areas, Club O is by far one of the most valuable reward programs I've had the privilege of digging into.  From their simple but appealing rewards menu to their fantastic explainer page, Overstock has dug into what their customers value and delivered it in one perfectly packaged rewards experience.
With a rewards program this good, there's no way anyone's going to need a hassle free return for their membership.