When I was younger, there were few things my brothers and I argued over more than our Nintendo consoles.  From the original Nintendo Entertainment System my dad bought in the early 90s to the Wii U my parents gave my brothers for Christmas a couple of years ago, Super Mario and the rest of his friends have been a permanent fixture in my life, and few things brought me as much joy as winning a game of Mario Baseball or remaining the long-standing champion of Super Mario Bros 3 (no Warp Whistles needed, might I add).
Although my brothers and I no longer fight over who gets to play next, the three of us still harbor deep-seated passions for the Nintendo brand and its products.  Much like the Walt Disney Company, Nintendo is a master of creating dynamic customer experiences that are capable of developing brand ambassadors for life.  While their games and stories are definitely at the heart of their success, Nintendo has many other tools at their disposal – including an unbelievably slick rewards program.
Built like a traditional loyalty points program, My Nintendo gives customers the chance to integrate the Nintendo experience into more of their daily life.  According to their website, My Nintendo is a way to make "playing games and interacting with Nintendo even more fun", so you can imagine how I, as a lifelong fan, would find this program intriguing.  The question is: can My Nintendo actually deliver what it promises?  Or is it just another gimmick developed to keep them ahead of their competitors?  Grab your Tanookie suit and hang on to your plumber's cap, because we're about to find out.
My Nintendo's Super Mushrooms
Whether you're a gamer or not, there are many things to appreciate about the My Nintendo program.  As I explored its ins and outs it was difficult for me to narrow it down to a list of only three, but I think you'll agree that each of these features are more than a little bit magical.
1. Exceptional Explainer Page
From the second I clapped eyes on the My Nintendo website, I was immediately enthralled.  Greeted by none other than Mario himself, I was treated to a superbly-branded explanation of the program that included a customized logo, explanatory graphics and videos, and easy-to-read copy.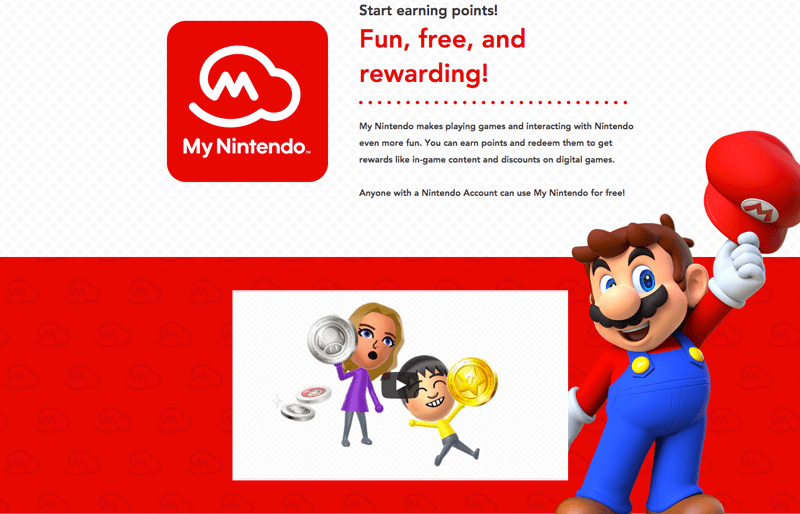 By combining simple text and brand-specific graphical elements, Nintendo was able to communicate the benefits of their program to me at a glance; with so many different ways to explore the program, it's extremely accessible to every type of customer – no matter how they learn.

However, I think the most important thing to note is how fun they made their program seem.  With bright colours, dynamic patterns, recognizable characters, and logically-organized text, My Nintendo feels like a program that is truly enjoyable to join, removing any hesitation a customer might have.  I mean, who doesn't want to join a program where Mario's involved?  Nintendo understands that at the end of the day earning rewards should be enjoyable, and capitalizes on this belief.  Combined, all of these considerations make their explainer page more effective while also making the program (and the value contained within) more desirable.
2. Gamified Ways to Earn
As a leader in the gaming industry, Nintendo is no stranger to taking risks.  In order to stay ahead of their competition, they constantly need to be pushing the envelope.  This passion for innovation is evident in their rewards program, too.

A typical points rewards program requires members to make a purchase in order to be rewarded.  This model has proved to be very successful for many, many years, but isn't necessarily best-suited for brands in every industry.  Nintendo recognized that this was not the best model for the My Nintendo program because they wanted to reward their customers for engaging with their brand at multiple touch points.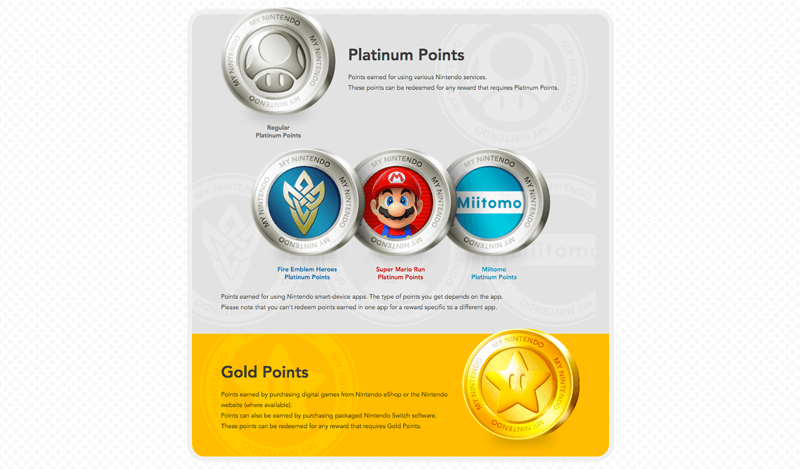 What better touch points to include than their games?  My Nintendo has been structured to reward customers for playing specific free-to-play mobile games, purchasing additional games, and using Nintendo services.  Each of these ways to earn have been broken out into a number of different "Missions" that members can easily browse from their account.  Once they accomplish any given mission, members are rewarded either Platinum or Gold points, depending on the type of mission they completed.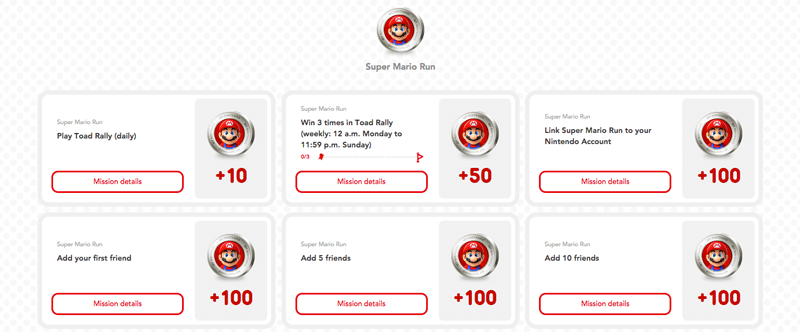 This is absolutely genius.  What better way to earn rewards with a gaming brand than by playing games?  To add to that, by building their program around a combination of free and paid products and services, Nintendo has ensured that literally anyone with a device can join and participate.  This consideration expands their brand community considerably, tying My Nintendo to Nintendo's larger vision of providing games and fun for everyone.  So whether you want to purchase or simply play, you can still earn rewards and see value.
3. Tailored Rewards
Since Nintendo chose to restructure the concept of earning rewards, it shouldn't come as a surprise that the rewards they offer members are also significantly different than a standard rewards program.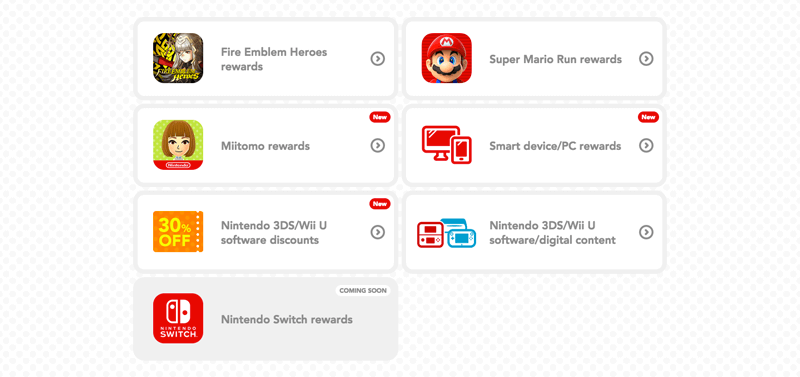 Much like the ways to earn, Nintendo has split their rewards into categories based on the different ways customers can earn points.  However, the rewards you find in the My Nintendo program are very different from what you might expect.

While other programs offer a combination of transactional and experiential rewards, Nintendo's are almost exclusively experiential.  From additional characters to badges, statues, and game discounts, customers are given many different ways to enhance their gameplay.  In addition, every single reward is digital, keeping the rewards and how to earn them firmly entrenched in the fictional worlds Nintendo has created.

This smooth transition from earning to redemption demonstrates a keen understanding of Nintendo's core customer demographic.  They understand that the most valuable reward for their loyal fans would be resources for playing more games, and providing those opportunities directly ties their customers' original interests to the value they're receiving.  This cohesive relationship is further enhanced by their dedication to expanding and revamping their reward offerings, giving their customers the chance to customize their My Nintendo experience while staying on top of the latest and greatest gaming experiences.
My Nintendo's Game Over Moments
In every game, there's almost always a section that discourages even the most experienced gamers.  While I would by no means consider myself an accomplished gamer (Super Mario Bros 3 successes aside), I am a loyalty marketing specialist.  With these credentials at my disposal, there are a couple of things about My Nintendo that demand a little less than Gold Stars.
1. One-Dimensional Brand Experience
Even though Nintendo's commitment to the digital gaming community is impressive, it's still a little short-sighted.  While their primary audience might have originally been gamers, the Nintendo brand has since expanded, diversifying their products to permeate more areas of popular culture that are more accessible to a wider range of customers.  Books, toys, and collectibles are only three of the additional types of content Nintendo is creating, and each of these products have the potential to attract very different types of customers.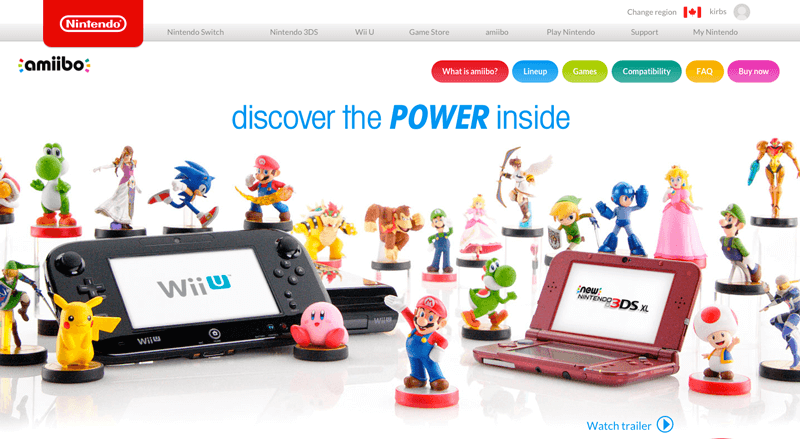 With this in mind, the way My Nintendo is set up presents a problem for these "marginalized" Nintendo customers.  As it stands, anyone who wishes to join but doesn't play games is offered absolutely no value in the program.  Similarly, anyone who wants to redeem rewards for other types of Nintendo products is out of luck.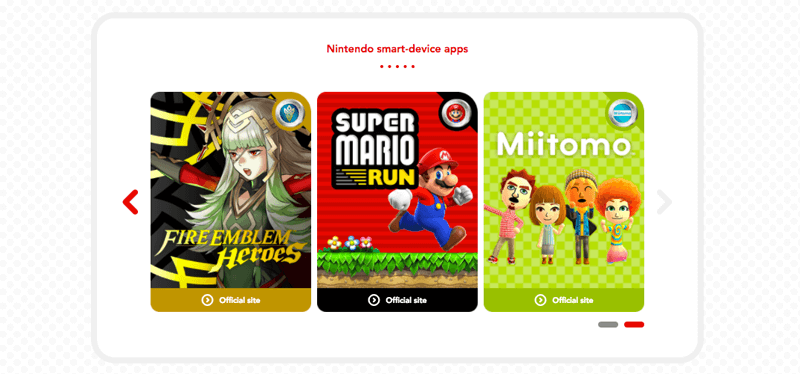 The same can be said for anyone who didn't actively stay on top of Nintendo's new games.  In order to participate in My Nintendo, customers need to be well-versed in a number of different Nintendo applications that are relatively recent, putting "old school" gamers like myself at a significant disadvantage.  By designing their program this way, Nintendo puts their customers into boxes that separate them from each other, fracturing the potential for a universally united team of brand advocates.
2. Short Expiration Window
I mentioned earlier that when it comes to Super Mario Bros 3, I'm an absolute champion.  Sadly, that gaming prowess did not extend to any of Nintendo's subsequent systems.  Since the age of 8, I've only been able to successfully beat one other Nintendo game, and this was after almost two years of frustration, determination, and toil.

My lack of success was two-pronged: for one thing, I'm just not very good at most games.  Secondly, my lifestyle doesn't allow me a lot of time for recreational gameplay.  These two factors put me at an extreme disadvantage within the My Nintendo program as points are set to expire fairly quickly.  Currently, a member's Gold points expire after 12 months.  While this might sound like a very short redemption window, it's nothing compared to the pitifully short 6 month window customers have for Platinum points.
As with the limiting ways to earn rewards, this expiration window makes it virtually impossible for members like myself to take advantage of our rewards.  With stunted knowledge of how to go about earning them and little time to learn, the pressure to earn and redeem points is more trouble than it's worth.  This mindset demonstrates the type of assumptions Nintendo has made about their customers' behaviors, and could result in a severe lack of engagement from large groups of customers.
3. Mandatory Reward Redemption
When I started exploring My Nintendo, I found it very difficult to pinpoint anything I didn't really like.  I can even concede that my issues with the brand experience and redemption windows are relatively minor in the larger scope of My Nintendo's customer experience.  What I cannot excuse, however, is the final piece of their onboarding process.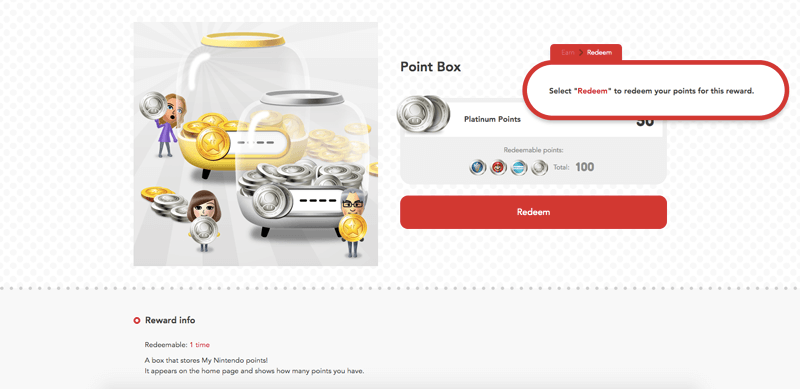 From the outset, the My Nintendo walkthrough is flawless.  Sharp graphics, easy-to-read text and subtle animations help customers explore and understand the program with minimal effort, making it a near-flawless customer experience.  Members are even given 100 Platinum points just for registering their account!  However, this enjoyment comes to an abrupt end when members are instructed to redeem half of their newly-acquired points to unlock a "coin bank" that shows a visual representation of how many Gold and Platinum points they've earned.

At first I was intrigued because I assumed the coin banks would unlock something else or enhance my experience.  Unfortunately, this was not the case.  While they look nice on my account home screen, they do nothing else to amplify the My Nintendo experience.  This disappointment completely devalues the original reward, and leaves the customer feeling cheated and under-appreciated.  Rewards should always leave the customer feeling better about their experience, not worse.  Customers are looking for value – not gimmicks.
Power Up with My Nintendo
In spite of my negative experience with the onboarding process and the finer details of their rewards cycle, My Nintendo is still one of my favourite rewards programs that I've ever come across.

By leveraging the familiarity and emotionality of their beloved stories and characters, they've created a rewards experience that connects with their target users in meaningful and beneficial ways.  From tailored rewards to their inventive ways to earn, Nintendo has created a rewards culture that meets customers in the middle, creating the potential for extensive program engagement and long-term customer satisfaction.

So whether you're team Mario, team Yoshi, or team Waluigi, there's no doubt that My Nintendo can meet all of your gaming and rewards needs – all without a Warp Whistle.