Whether it's a local pizzeria or a giant chain, everyone has their favourite pizza joint that they'll fight tooth and nail to defend. With that in mind, it's only fitting then that the biggest players in the industry have two of the best rewards programs to fuel that devoted loyalty.
With a combined worth of over $20 billion, Domino's and Pizza Hut both use rewards programs to power their incredible growth. Although they each might have some winning attributes, in the end it's Pizza Hut that ends up nailing the delivery. Let's find out why.
What is Hut Rewards?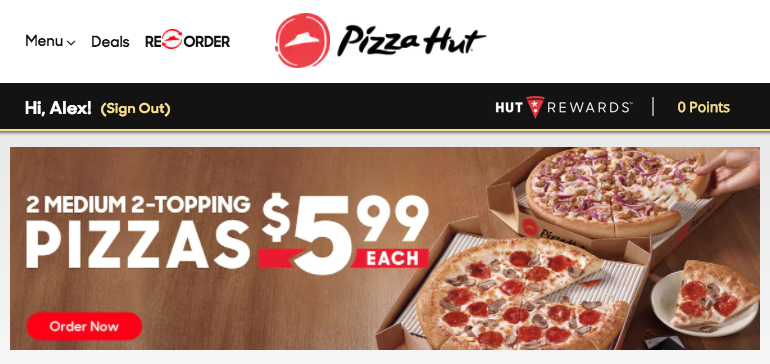 Being the largest pizza company in the US, Pizza Hut needs a strong retention strategy to maintain its number one spot. Hut Rewards does a phenomenal job at providing value to both the consumer and the brand through a great selection of rewards, premium branded content, and unlimited points earning.
What is Piece of the Pie Rewards?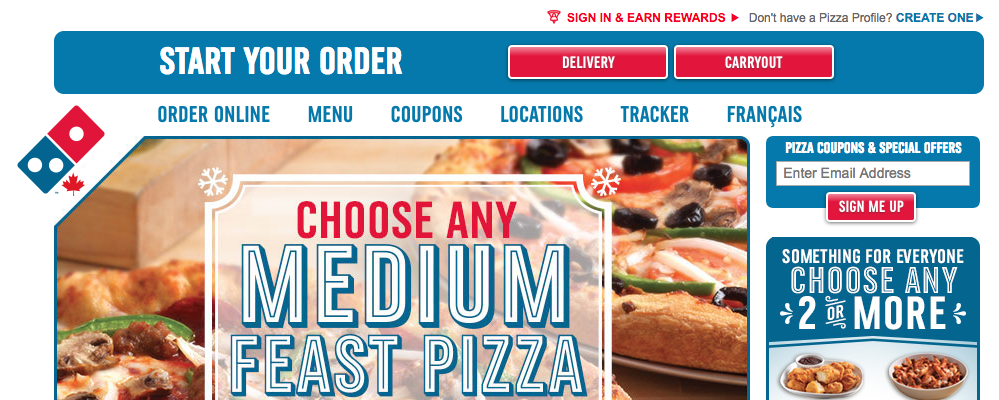 We've talked about Piece of the Pie Rewards quite a bit in the past, mostly because it's name is such a great example of a creative rewards program name. It has a lot of things going for it and definitely gives Hut Rewards a run for their money in terms of branding and value for the consumer.
Putting Hut Rewards and Piece of the Pie Head to Head
There are a lot of factors that make the difference between a stellar rewards program and a not so stellar one. From the types of rewards to how points are earned, all of these elements are important in their own way. We've looked at both programs with these factors in mind, and while Domino's might give Pizza Hut a run for its money, Hut Rewards is clearly the better program.
Pizza Hut's Explainer Page Provides More Value
The most important thing that Pizza Hut nailed with this rewards program is how it is explained. A rewards program cannot succeed if the customers don't know how to earn points, how to redeem rewards and why they should be excited about it. The key to a well explained program that gets customers enthused and ready to engage is a well designed explainer page.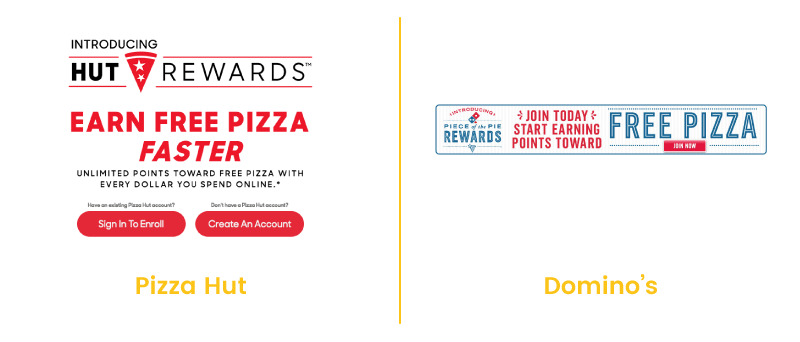 Hut Rewards' explainer page goes above the call of duty, even placing a brief video on their program page to make it nice and easy to get an idea of what the program is all about. They even use the video to take shots at the competing Piece of the Pie Rewards, which has a lackluster explainer page in comparison, and no video of any kind.
Besides the video, Hut Rewards' explainer page also has a well laid out FAQ section and is very easy to find on the main Pizza Hut website. It also shows a picture of each reward that can be earned in all of their cheesy goodness, as well as showcases the other benefits that come along with joining the program. All of these these factors add to up make Hut Rewards easier to understand and digest, than Piece of the Pie.
Pizza Hut 1 : Domino's 0

Piece of the Pie's Branding is More Creative Than Hut Rewards
As we always preach, awesome branding is a necessity for a solid rewards program. You want the program to resonate with your customers and act cohesively with your brand instead of feeling like a tacked-on afterthought. While we have a lot of branding tips, one of the best ways to ensure that your rewards program really hits home is by giving it a creative and catchy name.

Domino's hits it home on the creative names front with a witty name that's a whole lot more creative name than Hut Rewards. The reason a program name is so important is because powerful branding keeps you in the consumer's mind and encourages them to talk about the program with others. When it comes down to the battle between Domino's and Pizza Hut, the one with the stronger branding will definitely be top of mind when customers are craving that late night slice, giving Domino's it's first point in this head-to-head battle.
Pizza Hut 1 : Domino's 1
Pizza Hut Offers Limitless Points While Domino's Restricts Points Earning
We've discussed how Pizza Hut offers a lot of variety with their rewards program, but we've failed to mention that they also allow you to limitlessly earn rewards points whenever you want. Piece of the Pie Rewards actually limits you to earning points only once a day, meaning that even if you want to order pizzas for a huge party, Domino's will only reward you once.
The reason that this isn't such a great decision on Domino's part is because this fails to reward their most loyal and most passionate pizza lovers who have undoubtedly spent more with the restaurant. Piece of the Pie rewards is missing the opportunity to thank those fans, get them to keep coming back, and encourage them to buy more Domino's.
Pizza Hut 2 : Domino's 1

Domino's is the Better Deal For Customers On a Budget
If the only reason people are joining these programs is to get the best bang for their buck, then Domino's is straight up the better deal. To achieve a medium pizza with two toppings with Piece of the Pie, customers only need to spend $60. For that same reward at Pizza Hut, customers have to spend $75. Therefore, if all a customer wants from a rewards program is transactional value, any savvy consumer would automatically look to Domino's.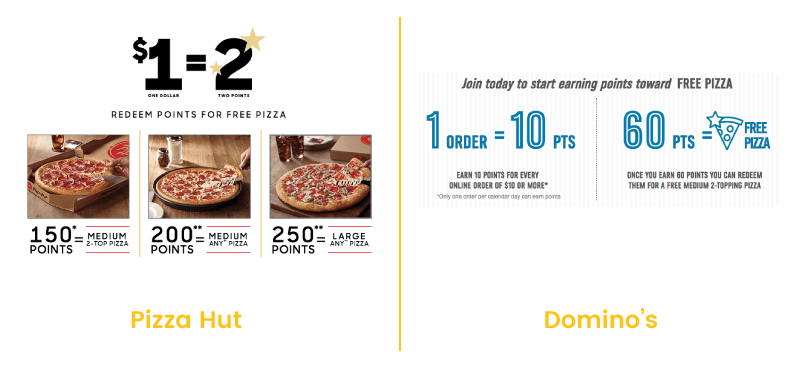 Although this type of discounting can be a slippery slope, Domino's has found a balance that keeps their customers fed, satisfied, and coming back for more. More importantly, they've got Pizza Hut beat, putting the heat on their most serious competitor.
Pizza Hut 2 : Domino's 2

Hut Rewards Offers Significantly More Rewards and Benefits
Nothing can get customers more excited about a rewards program than a variety of rewards. Providing your customers with plenty of reward options is a great way to increase program engagement by appealing to all potential customers and letting them choose rewards that match their values.
Hut Rewards beats Piece of the Pie here by offering a wider variety of pizzas. With Hut Rewards you can redeem your points for a medium with 2-toppings, a medium with any toppings, or a large with any toppings. When you compare this to Domino's reward of only a medium pizza with two toppings, it seems like Pizza Hut is the obvious choice for the consumer that wants just a little extra.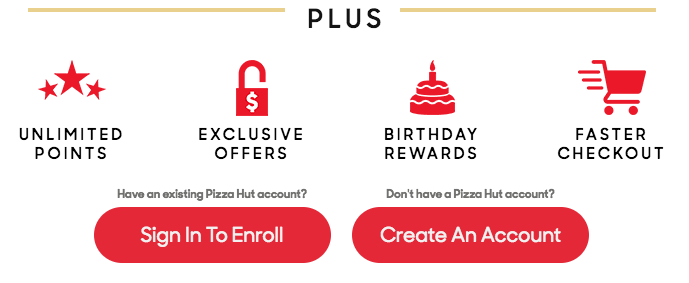 Additionally, Hut Rewards piles on other benefits on top of the already superior pizza options. Pizza Hut will not only send you exclusive offers but also give you a little surprise on your birthday. If that wasn't enough, you won't have to type in your info and address every time you place an order because you already have a rewards account. This makes the whole checkout process nice and fast, contributing to a fantastic customer experience.
Pizza Hut 3 : Domino's 2
The Dominoes Fall in Pizza Hut's Favor
As you can see, both of these programs have a lot going for them. Both programs are actually so well equipped that they made it into our top 10 rewards programs of 2017. Hut Rewards has a nice selection of offerings, different pizzas, and a really solid explainer page. On the other hand, Piece of the Pie Rewards has clever branding, and it offers savvy customers the better deal.
That being said, Domino's restricts points earning to once a day, they only offer one reward, and their Piece of the Pie page seems to have only a slice of the information that Hut Rewards has. So despite both of them having a decent rewards program and pretty delicious pizza, the next time I'm thrown into the pizzeria debate, I'll be fighting in Pizza Hut's corner.