Did you know that The Gap started out selling Levi's jeans and vinyl records? Once a hipster's paradise, The Gap quickly grew into Gap Inc. — a multinational clothing giant that includes retailers like Banana Republic, Old Navy, and Athleta.
With so many different types of customers shopping with the same larger brand, how could they possibly build a customer experience that appeals to everyone? Well, one way they're unifying their diverse customer segments is through the Gap Rewards Program.
The Gap Rewards Program is really easy to use but a bit hard to explain.  Basically, every major store in the Gap family (those being Gap, Banana Republic, Old Navy, and Athleta) has a credit card program. Each store offers 2 kinds of cards: branded store credit cards (GapCard, Banana Republic Card, Old Navy Card, Athleta Card), and branded Visa credit cards (Gap Visa Card, Banana Republic Visa Card, Old Navy Visa Card, Athleta Visa Card).
These credit cards can be used to make purchases and collect points across all Gap Inc. brands. Every cardmember receives 5 points for every dollar spent at Gap Inc. brands, while Gap VISA cardmembers also receive 1 point for every dollar spent elsewhere. In addition, members receive $5 for every 500 points earned, awarded by the brand that issued their card.
For the sake of simplicity, I'll be focusing mainly on the Gap Visa Card and GapCard throughout this case study.
How the Gap Visa Card Could Be A Perfect Fit
Gap has really evolved in the past few years. They've introduced premium products like Japanese raw denim and high-performing athletic wear at affordable prices, and have also implemented a very effective use of pricing psychology: any time I walk into the mall, there's a 50-50 chance Gap has a 40% storewide discount. This makes it an easy decision for me to go in and take a look around.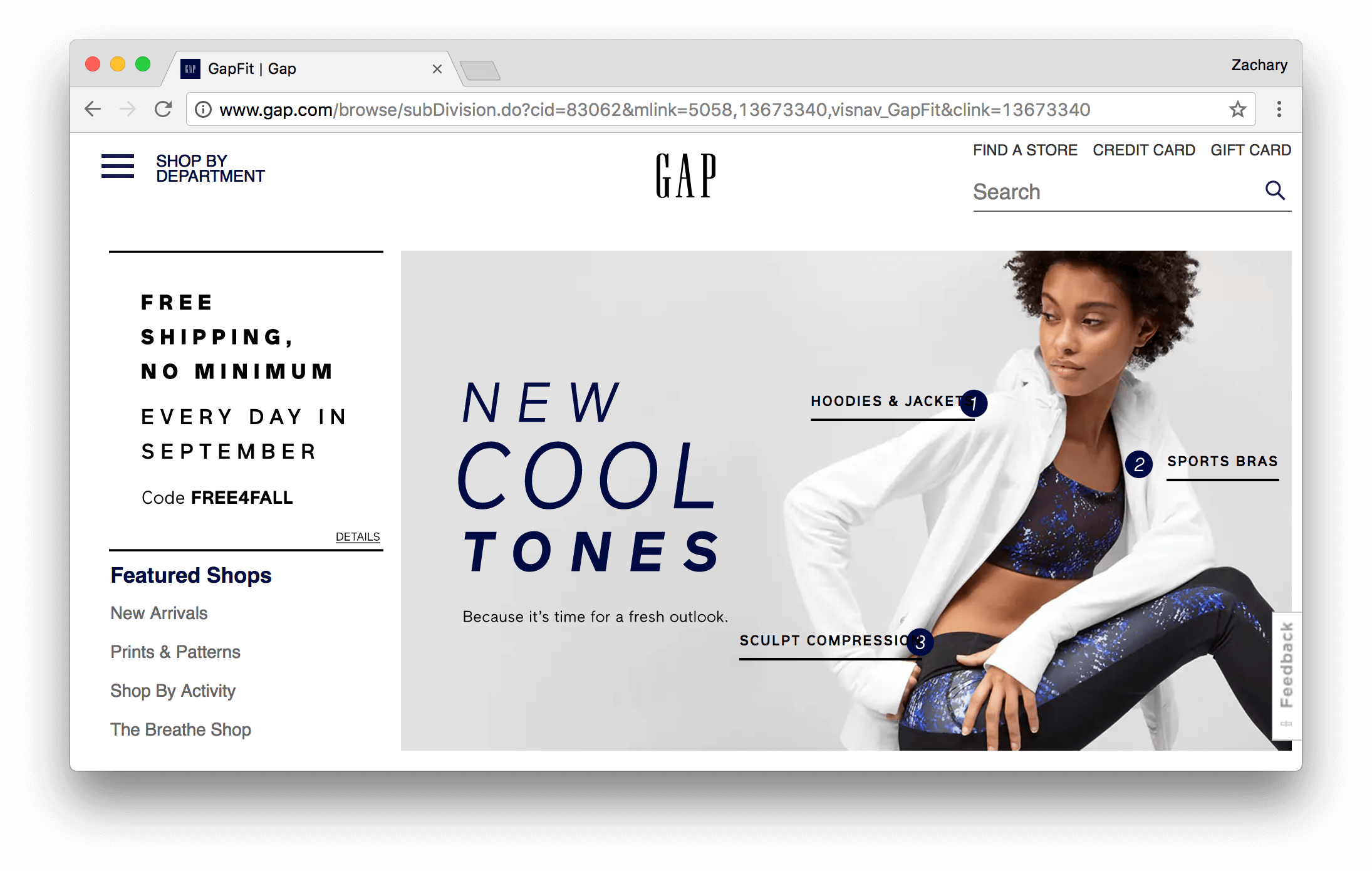 While this type of discounting would normally hurt a brand, Gap's inclusion of premium products still allows them to be seen as a high-quality retailer. Many shoppers leave a Gap sale feeling ecstatic because they believe they've gotten a great deal.
So if Gap is already delivering an awesome experience with regular store-wide discounts, what benefits do the Gap Visa Card and GapCard deliver?
Gap Visa Card and GapCard Silver Deliver the Ultimate VIP Experience
When you look at their rewards strategy, it's clear that Gap understands why VIP tiers are great for customer loyalty. For the diehard Gap fans out there, Gap offers Gap Silver membership — an exciting VIP tier with great benefits only available to those shoppers that earn over 5,000 points in one calendar year.
Engage brand loyalists
with a VIP rewards tier that offers exclusive access, special benefits, and surprise events.
While this might seem like an obscene amount of points, it sounds a lot more reasonable when you consider that the average American household spends $1,700 on clothing per year. With fashion solutions for every member of the family and a number of different retailers to earn with, Gap Inc. gives their loyal customers many opportunities to get points quickly - especially if you shop with the Gap Visa Card!   These considerations make it clear that Gap Silver is truly reserved for Gap brand loyalists.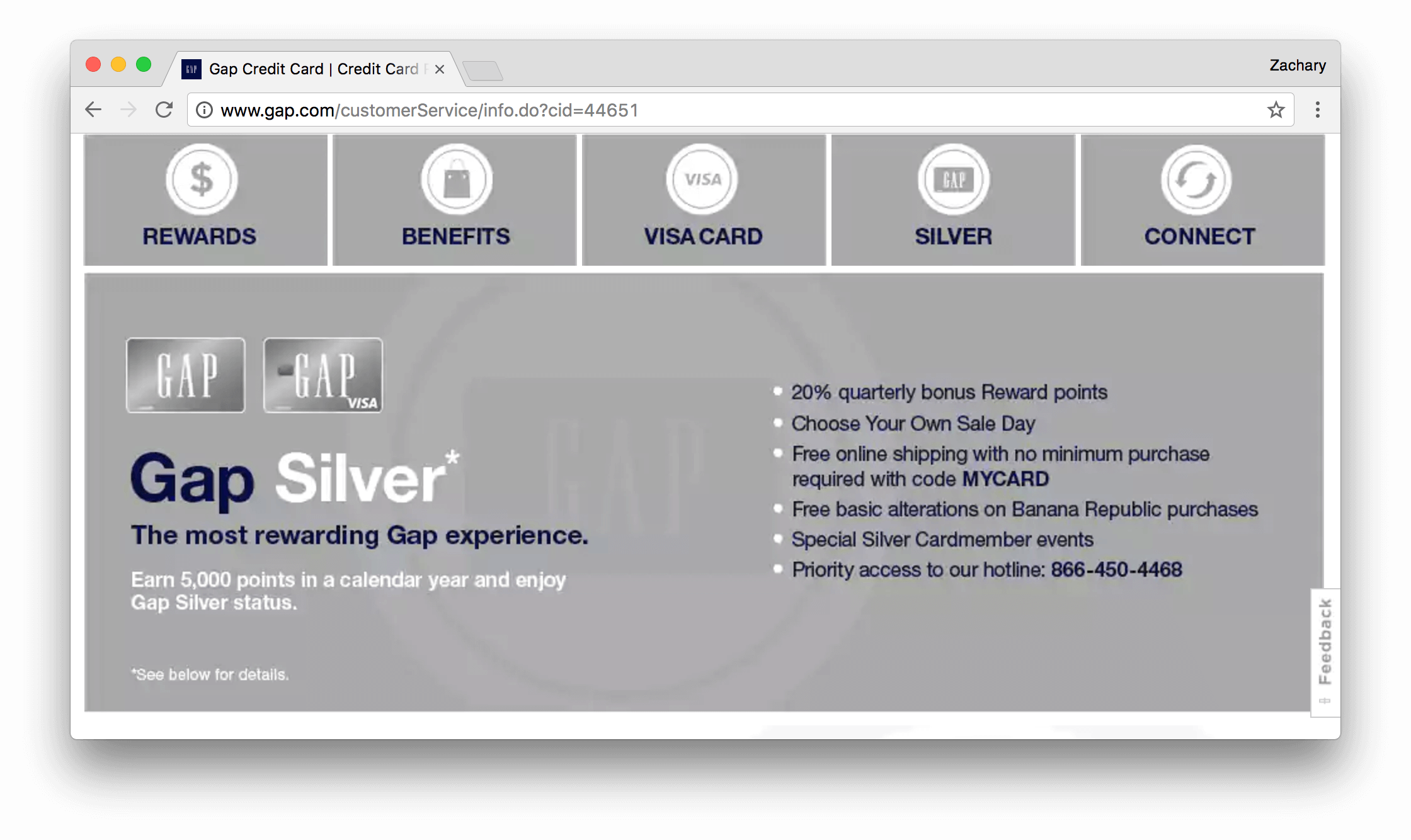 Gap Silver's exclusive status is for good reason, too, seeing as its benefits are quite generous compared to other rewards programs. Besides free basic alterations at Banana Republic and invites to exclusive Gap Silver events, members also receive a 20% quarterly reward points bonus.  In other words, a member who earned 1,000 points in a quarter would receive an additional 200 points. Since 56% of consumers buy clothes seasonally, the bonus points serve as a great incentive for members to freshen up their closets every few months, conditioning customers to adopt profitable buying habits.
Earning Points is Easy with the Gap Visa Card and GapCard
Gap encourages shoppers to keep their purchases in the Gap family by allowing Gap Visa Card and GapCard members to earn points at Banana Republic, Old Navy, and Athleta in addition to Gap retail locations. This makes the program extremely valuable for members when it comes time for a family shopping spree. Dad will get his suits at Banana Republic, Mom will get her yoga gear at Athleta, and the kids will head over to Old Navy — every purchase earning points towards the same rewards.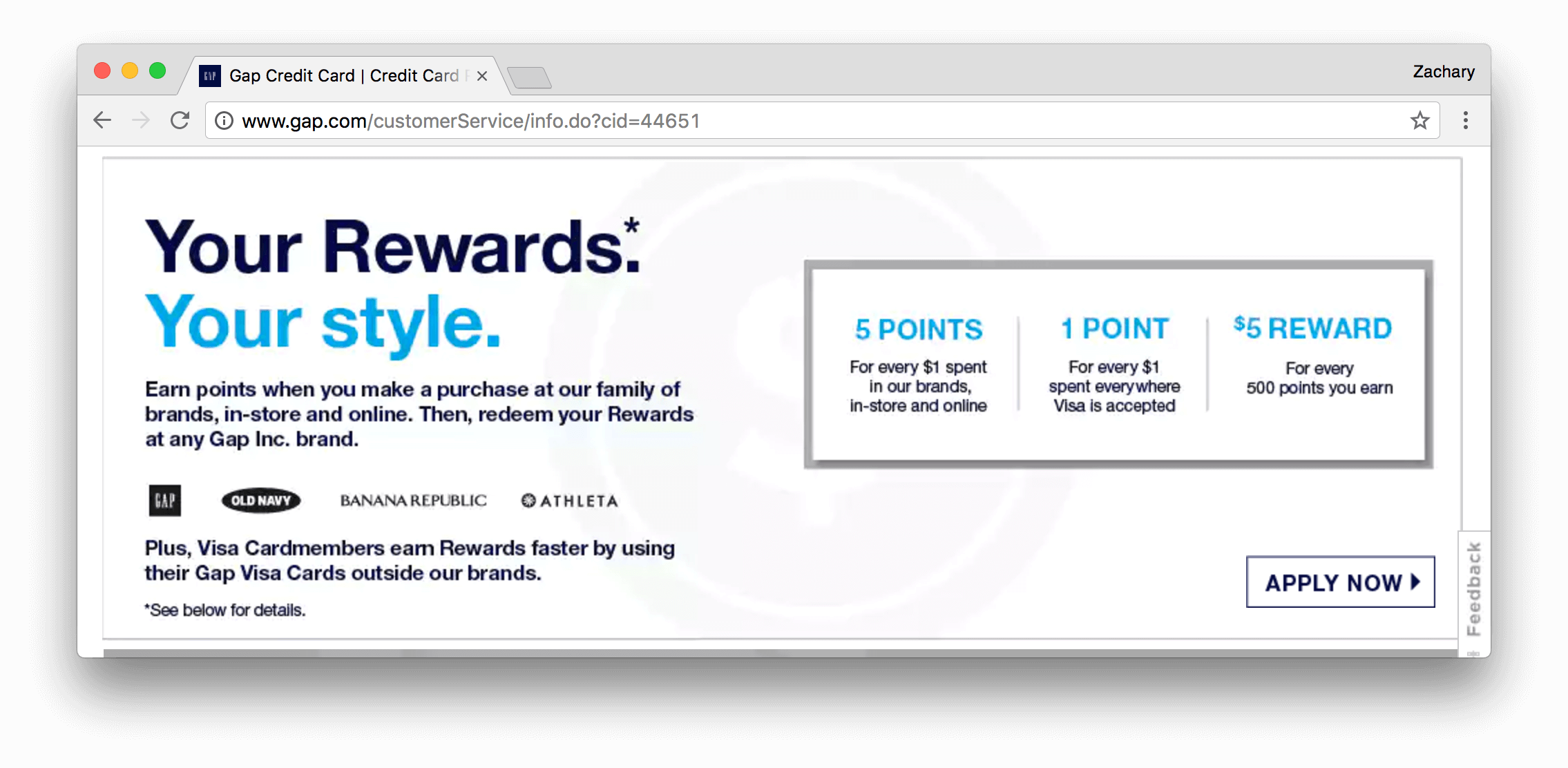 As if that wasn't good enough, Gap also attracts new members by offering welcome points. New Gap Visa Card members receive a whopping 3,000 points when they sign up; even though these points don't count towards membership in the Gap Silver tier, it's still a healthy shot towards their next great reward.
Gap also hosts bonus point shopping days to show their appreciation for their most loyal customers. Unlike other earning opportunities, bonus points days come as a surprise to members, making even the most normal day feel special!  Offering these kinds of member events are a fantastic way for Gap to nurture customer relationships and engage brand loyalists.
Use the Gap Mobile Application to Manage Gap Visa Card Payments and GapCard Rewards
Although mobile application engagement remains a challenge for some retailers, it is still one of the best ways to engage loyal customers. Mobile data analytics company Wefi found that retail mobile app users visited retailers 12 more times in a year than non-users.  Gap does an excellent job integrating their brand's attitude and feel into the Gap mobile app. Navigation is simple, easy-to-use, and matches Gap's timeless branding to ensure a consistent customer experience across all of their channels.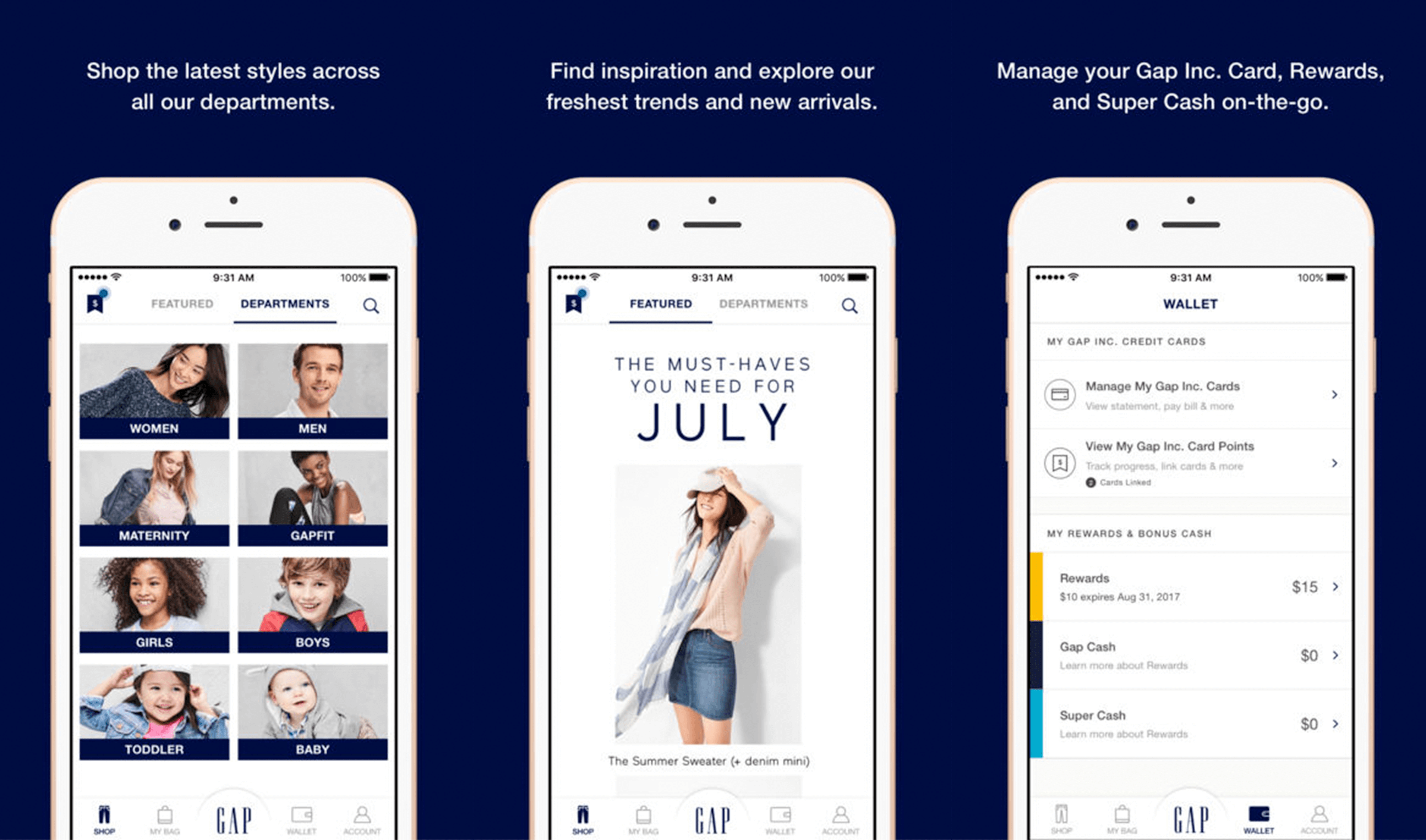 This consistent experience is largely due to the fact that the app effectively mimics the in-store experience. Users can shop at all Gap Inc. brands in one place, get inspired by style guides, and make payments on their Gap Visa Card or GapCard.
Best of all, users can also track, manage, and redeem rewards points!  These considerations add even more value to the customer experience while demonstrating a keen understanding of how to optimize a mobile experience for ecommerce.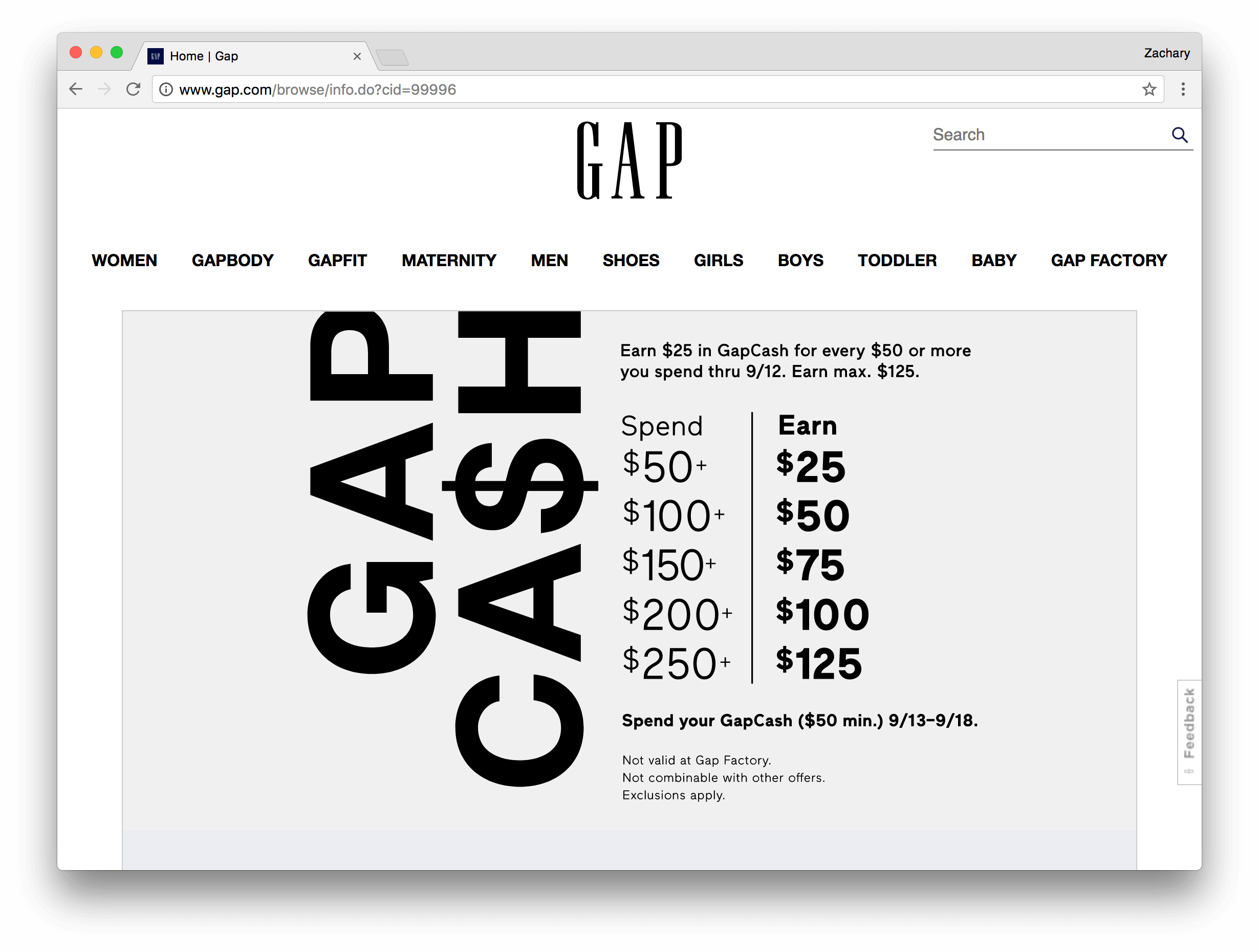 The application also allows users to manage their GapCash vouchers.  GapCash is a temporary loyalty program offered by Gap that allows customers to earn vouchers in increments of $25 based on purchase volume. These vouchers can then be redeemed towards a purchase at a later date.  Guaranteeing customers up to 50% savings on their next purchase, the GapCash program is the perfect accessory to Gap Rewards, and the absolute cherry on top of an impeccable mobile experience.
Where the Gap Visa Card Loses Some Credit
Sometimes it takes a few tries before you find the perfect fit - even with reward programs.  While Gap does offer an excellent rewards experience for its most committed customers, the program isn't a fantastic solution for everyone.
Customers Can't Earn Gap Rewards Without Committing to a Visa or Gap Store Credit Card
It shouldn't come as a surprise that customers will abandon a rewards program if registration is too frustrating or difficult. Unfortunately for Gap, registering for the Gap Visa Card and GapCard is not only frustrating but is also a huge commitment. Consumers take their credit scores very seriously, leaving many customers wondering if the GapCard is really worth the risk of lowering their credit score.
Both the GapCard and Gap Visa Card have relatively high interest rates of 24.99%, meaning any benefit gained from the program could be quickly offset by interest payments. You can bet a customer's loyalty will dwindle once their favourite brand becomes their debt collector.
Putting this type of limitation on points earning also excludes teens and credit-sensitive shoppers from the program. When you consider that clothing accounts for 19% of teen spending, it is easier to imagine how big of an impact this demographic could make on the success of a program.
Redemption Rules for the Gap Visa Card Remain Unclear
There are few things more important to the success of a rewards program than a simple redemption process. Customers are much more likely to abandon your program the moment they feel any friction when trying to redeem points.
KISS: Keep it Simple, Stupid.
Point redemption is your chance to delight customers and build loyalty.
Since Gap manages multiple brands with diverse customer segments, things can get very complicated very quickly.  The Gap Rewards explainer page claims that you can redeem "Rewards at any Gap Inc. brand," but things get murky once you dive into the fine print.
Gap Rewards Program Terms and Conditions state the following:
"Points are only earned on the Account used to make the purchase and are not based on the store in which the purchase is made."
The Gap Inc. Rewards Program Terms and Conditions
From what we already understand about the program, this makes sense. This is basically reinforcing the idea that if I use my GapCard at Old Navy, I'm still able to collect Gap Rewards Points in my Gap account.  However, that's when Gap throws the real curveball:
"Rewards will be issued by the same brand as the Account… if you earn 5,000 Points on your Banana Republic Account, you will receive a $50 Banana Republic Reward; and if you earn 1,500 Points on your Old Navy Account, you will receive a $15 Old Navy Reward."
The Gap Inc. Rewards Program Terms and Conditions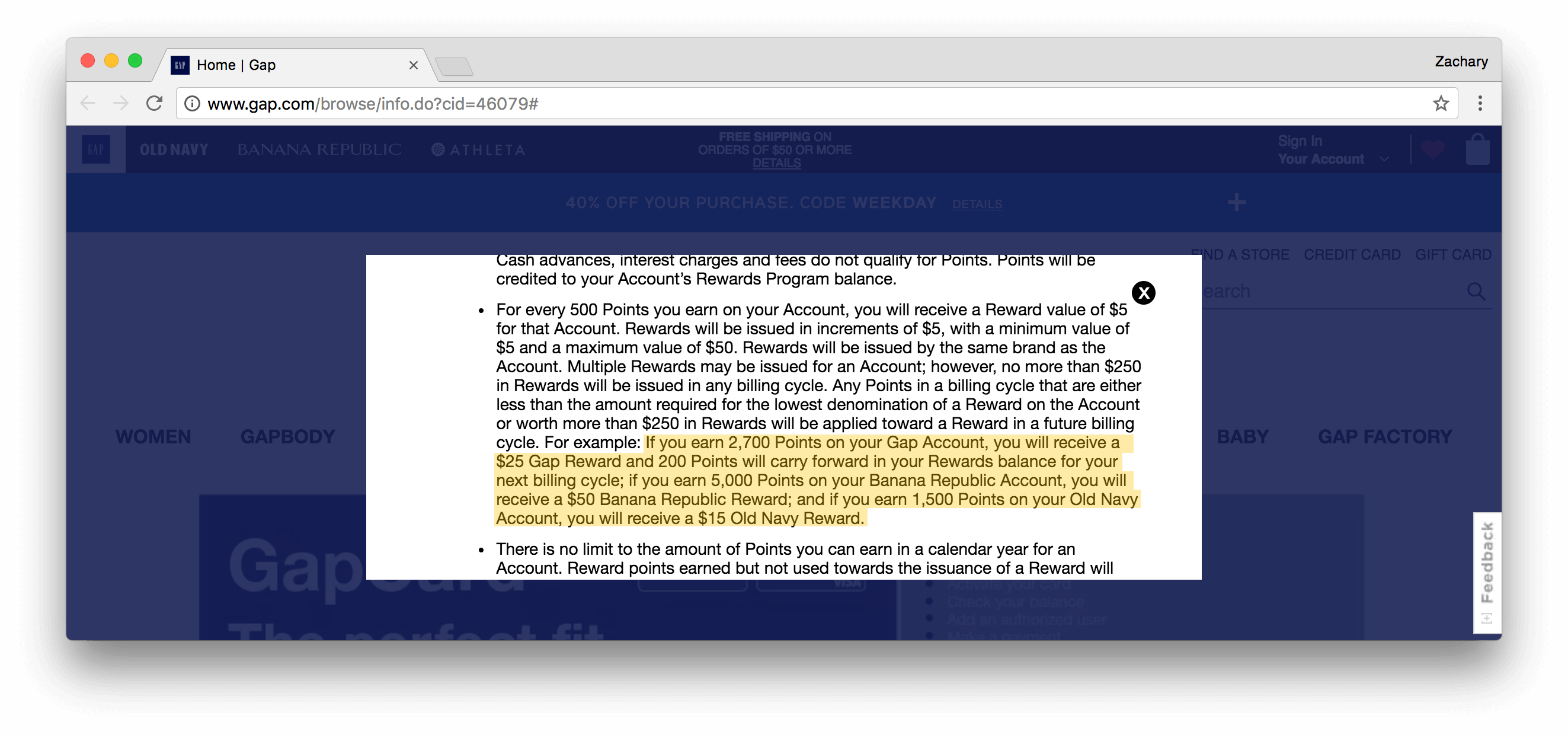 From what I can understand, this fine print reveals that everything is not necessarily what it seemed.   Even though customers can earn rewards at whichever Gap Inc. store they prefer, they can only redeem their points at the store which manages their account.  In other words, if you signed up for your account with Old Navy, you'll only be able to redeem rewards at Old Navy locations - regardless of where you earned all of your points.  This type of "double standard" drives customers away from rewards programs, and can even harm the credibility of the brand.
Gap Visa Card Forgets About the Power of Emotions
Whatever way you slice it, the Gap Rewards Program doesn't come across as a priority. Both the low-resolution explainer page and the inconsistent program terms give the impression that Gap is not very committed to the program's mission to reward their customers. In fact, when users go to the Gap.com homepage, there is no clear indication that the Gap Rewards Program exists at all.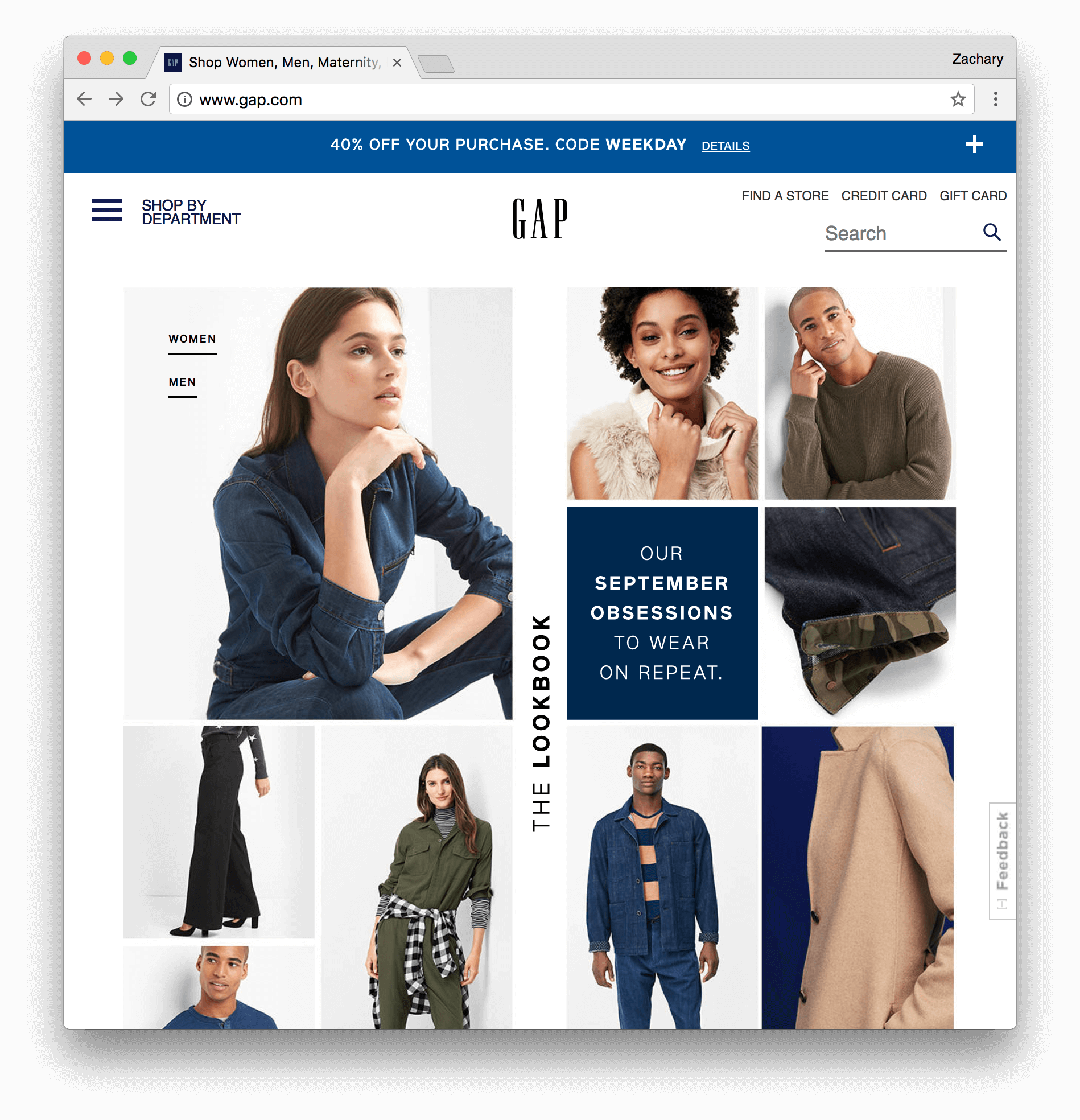 Although they do include a link to the "credit card" section of the site, Gap doesn't make any real effort to let customers know that this credit card is the key to earning rewards.  Yes, Gap is a public company and thus has an obligation to shareholders to improve its bottomline, but this feels like a missed opportunity to foster a long-term commitment with its customers. After all, this emotional commitment is the true backbone of lasting customer loyalty.  Indeed, the beauty of rewards programs is that they "give you the chance to appeal to both the head and the heart."
"Personalize messages wherever possible and take special care to highlight how your product makes a customer feel."
Demi Oba
Gap does an excellent job presenting the rational and functional appeals of the Gap Visa Card and GapCard, but seems to lack the passion to evoke a positive emotional response from customers. Ultimately, Gap is overlooking the fact that their credit card is simply an accessory to the end goal of loyalty and respect — not the final look.
Gap Visa Card is a Tough Sell for Casual Consumers
At the end of the day, Gap does an excellent job rewarding and delighting their most loyal Gap customers with the Gap Visa Card and GapCard. With generous rewards, multiple ways to earn points, and a rich mobile experience, dedicated customers will likely be pleased with the program. As a whole, the Gap Visa Card appears to be well-balanced once customers are signed up.
That being said, the marketing, registration, and presentation of Gap's program could use some polishing. In order to make this brand feature even stronger, Gap should consider introducing a non-credit version of the program in order to foster the loyalty of a broader customer segment. If they combine this with stronger emotional appeals, and Gap may just have a winner on their hands.