Everyone loves getting a new pair of shoes, but nobody ever wants to pay full retail price.
That is where Designer Shoe Warehouse comes in! With a massive inventory that includes casual, running, and formal shoes, DSW is committed to helping you  get the shoes you want at a great price.
Part of that commitment is their DSW VIP rewards program, which was recently launched to replace their previous program that had been running for the past 20 years! With over 500 locations, this was an exciting change with the potential to impact a lot of customers.

Let's take a look at the Designer Shoe Warehouse VIP program to see if they really treat their customers like VIPs and figure out where the program might be missing some sole.
Where DSW shows customers the real VIP treatment
Since DSW is known for their convenience and awesome prices, it makes sense that their new rewards program also reflects that ease of use and great value. With the right amount of perks to keep their customers coming back, it's clear that Designer Shoe Warehouse has taken the time to try to make participating in their program as rewarding as possible.
Explainer page is easy to understand
Whether you're revamping an existing program or launching a new one, an explainer page is the best way to introduce customers to everything your program has to offer. The DSW VIP program page does this exceptionally well, with clear descriptions of the program's tiers and simple graphics to show off all the perks.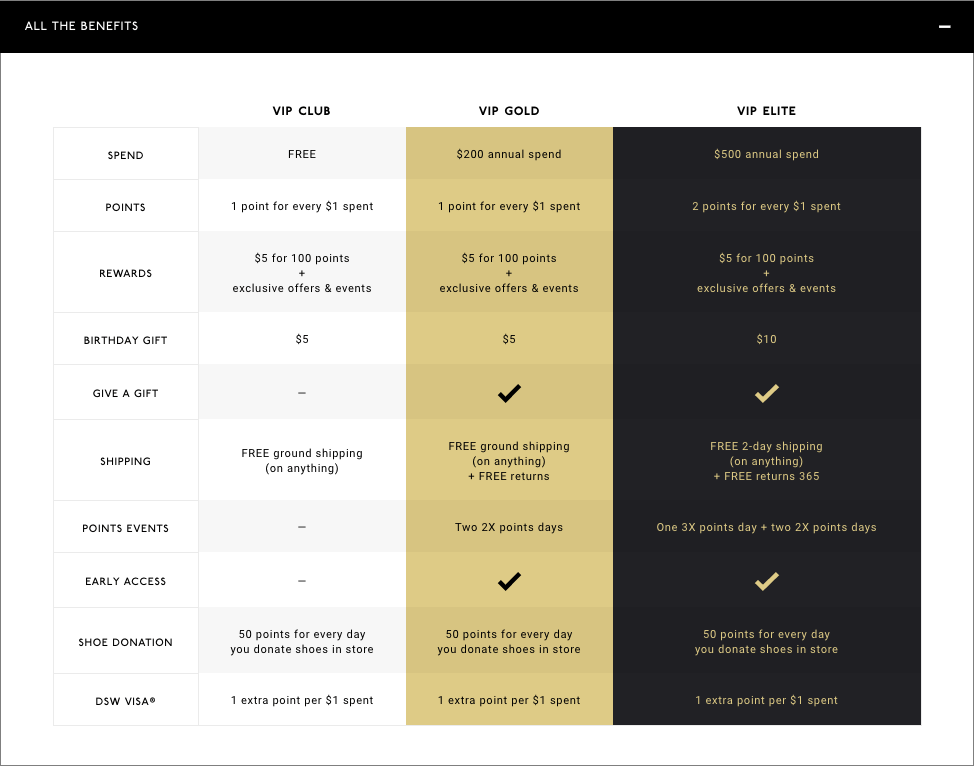 Displaying VIP information like this is a great way to make sure that your customers can quickly understand the value of each tier of the program. They need to be able to see that there is a benefit to reaching the higher tiers of the program and feel motivated to work for it. DSW does a great job of combining their rewards with simple presentation to show the increasing value of their VIP Club, VIP Gold, and VIP Elite tiers.


To top it all off, DSW has made it extremely easy to sign up for the program. After checking out all of the program's benefits, they've put an eye-catching banner at the top of the page with a clear call-to-action to either sign up for the program or sign in if you're already a member. Clearly directing them to what they should do next is important — after all, if they can't see how to sign up to your program, then they won't sign up at all! This small but powerful detail ensures more customers will join their brand community and engage with their program as a whole.
Generous perks at every level
The minute you join the VIP program, DSW provides great perks to their members. The free VIP Club tier includes benefits like free shipping and a gift on your birthday. Even if you don't plan on spending a lot on shoes each year, the beginning tier has enough benefits to encourage customers to sign up.
One of the most interesting perks is the "Shoe Donation." Through a partnership with Soles4Souls, DSW VIP members can earn points for donating used shoes that are then distributed around the world to people in need.
By adding this layer of social responsibility, DSW is moving away from a simple transactional experience and creating an emotional, experiential connection with their customers.  This can change how customers view a brand like DSW; they are no longer just the place you go to purchase a pair of shoes, but a community of shoe lovers making a positive impact on people's lives. Who wouldn't want to be a part of that‽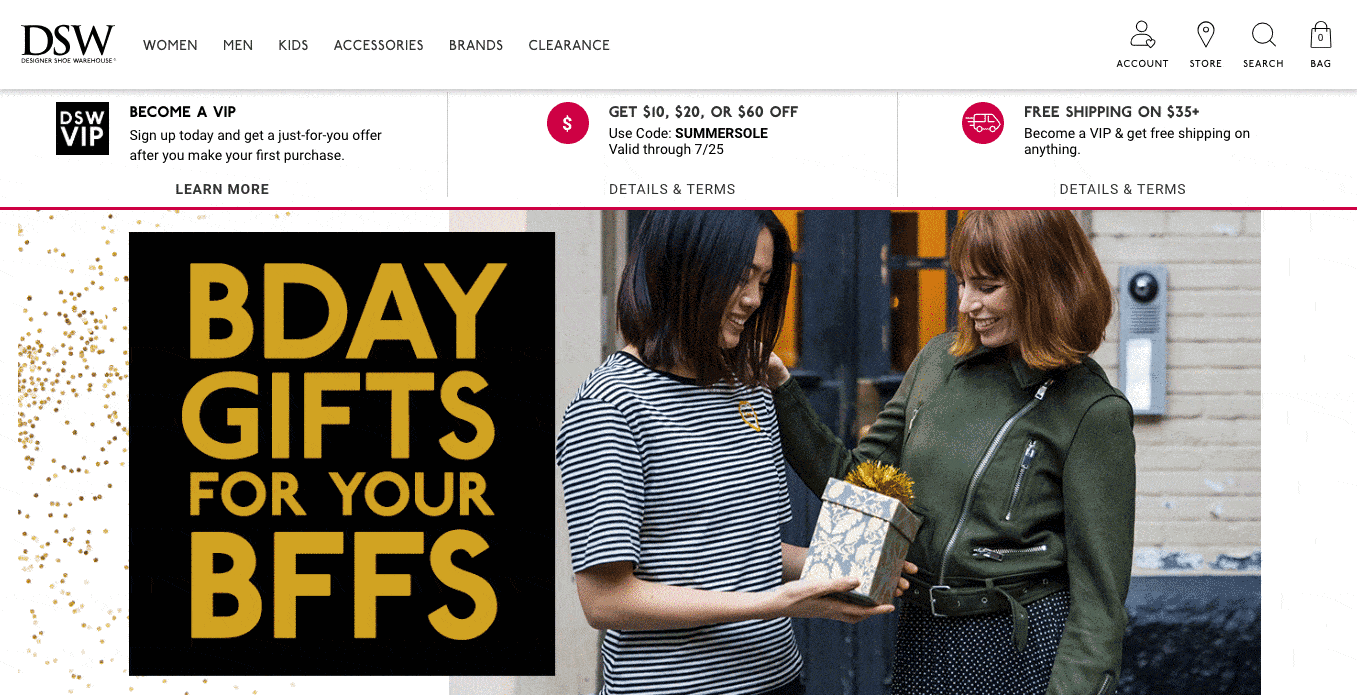 DSW keeps the generosity going with another interesting perk called Gift Giving. Available to Gold and Elite tier members, this benefit allows customers to send their friends $5 discounts on their birthday.
This referral-style reward allows program members to share the joy of the DSW community with friends who might not be a part of it yet. This is a great way to expand DSW's marketing reach and encourage new customers to join the rewards program themselves. By combining the emotional concept of gift-giving with a thriving brand community, DSW has created an effective loop that encourages customers to join, engage, and share their brand over time, a strategy that undoubtedly leads to sustainable growth and an active social community.
Exclusive top tier with unique benefits
If you're a designer shoe fanatic, the VIP Elite level might be just the place for you. In order to reach the Elite tier, program members only have to spend $500 which, for shoe aficionados, isn't all that much. After only a couple of purchases, DSW customers can consider themselves part of the DSW Elite — a rather luxurious title!
"Our customers are very important people, so we want every member to feel like a VIP when they shop at DSW."
- Michele Love (DSW Chief Operating Officer) for PRNewswire
This exclusive status is made even better by the fact that VIP Elites can earn points twice as fast as every other tier. While Club and Gold tier members are only earning 1 point per dollar spent, the Elite VIPs earn 2 points. When you combine this earning rate with DSW's "Points Events" (special days where members can earn double or triple the points per purchase), it's easy to see why dedicated shoe lovers strive to be part of the Elite club.
Depending on where you live, you might also have the exclusive benefit of accessing one of DSW's concept stores. This growing list of special locations lets members have their shoes repaired or polished in store and, at their flagship Polaris store in Columbus, OH, even get their nails done at the W Nail Bar —  all while earning VIP points!
Experiential rewards like this help make DSW more than just a shoe store, and ensure that all of their customers view them as a shopping experience they simply can't get anywhere else.
Where DSW misses the mark
While the DSW VIP Rewards program looks great at first, a few things come to light once you dig a little deeper that indicate the program might require some sole-searching.
Mismatched program branding
When designing a rewards program, its important to make sure it seamlessly integrates into the rest of your online experience. This helps position your program as a valuable extension of your brand as opposed to a last minute add-on.
What you choose to name your program and VIP tiers has a huge impact on this cohesive experience. You want each part of your program to relate to your company, values, or industry to create a consistent experience at every touchpoint.
Unfortunately, Designer Shoe Warehouse chose to call their program simply "VIP Rewards," with "Club," "Gold," and "Elite" tiers. While these names are easily understood, they say nothing about who DSW is as an organization. Considering they've been carefully building a valuable brand for over 50 years, this naming convention seems completely separated from the image they're trying to present.

They also seem to have missed the mark with how they chose to design the program visually. While the black and gold color scheme for the VIP program is fresh,  it doesn't really jive with the rest of the DSW website. Looking through their website, the color palette generally consists of pastels, with subtle pops of color; a far cry from the glitz of the VIP color scheme. This leaves their program feeling like a beautiful stand-alone feature as opposed to a fully integrated part of the DSW brand.
Program is hard to find
Having a great explainer page doesn't mean anything if customers can't find it. When I first arrived on DSW's homepage, it was difficult for me to find more information on their VIP program.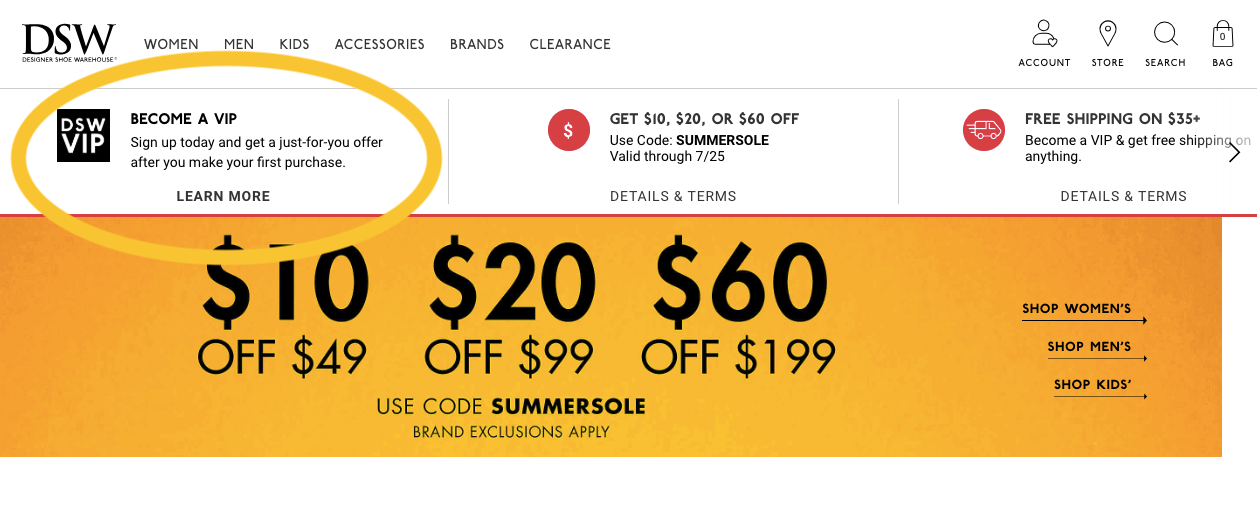 Sure, there was a generic "Become a VIP" callout at the top of the page, but there is really nothing about it that tells me what the program is or how it works. For all I knew, I'd just be signing up to receive their newsletter, not joining their fantastic rewards program.  


Even knowing that they had a program, it took a lot of sleuthing to find other mentions of it. To get to the main VIP program page you have to scroll all the way to the very bottom of the site, where a "DSW VIP" link is buried in the footer. Even moving through the main menu navigation there is no reference to the VIP program, so unless you know exactly where to look you're going to have a hard time finding more about it.
For a program that benefits their customer experience and could easily attract new customers, you would think this information would be more widely and readily available. Instead, the chances of brand new customers finding and joining the program are extremely slim.
Unmotivating middle tier perks
If you're looking for a great de-motivator in a rewards program, look no further than rewards that don't pack a punch. Even though DSW's VIP members have the opportunity to accumulate points rather quickly, most families don't purchase enough luxury shoes per year to make it to Elite. In the meantime, they're stuck in the less-than-inspired Gold tier which doesn't give them much to get excited about.
While Elite members can get $5 for every $50 spent, Gold tier members are stuck with the same spend-to-earn ratio of the Club tier. Apart from free returns and being able to give birthday gifts to your friends there is not much value in spending the $200 to reach the Gold tier except as a stepping stone to Elite.
An effective VIP program needs to offer exciting rewards at every level in order to properly motivate customers to reach the next tier.
Even though these benefits reflect a member's status in the program, the value seems to be stacked in DSW's favor, leaving customers wondering if the program was really meant to benefit them. As it is, there might as well be only 2 tiers, with Club and Gold combined into a single tier and Elite as the luxurious end goal.
The lasting impression of DSW VIP rewards
When creating a rewards program for over 25 million customers, there are bound to be some hits and misses, but overall I would say that DSW has more of the former.
DSW's VIP Rewards program has some great features built into it to make the program less about buying shoes and more about bringing people together and creating a community of shoe-lovers. Their shoe donation program is particularly noteworthy, and this combined with the other luxurious in-store perks available makes being an Elite member a truly valuable experience.
Perhaps the best thing about a newer program like this, is that there is always room to improve as they get feedback from their members. Having just launched in June, they are likely to have a lot of user feedback (both positive and negative) as their long time customers voice their opinions about the new program.