When I was younger, there were few stores my brothers and I enjoyed as much as Costco.  With an incredible variety of products down every aisle, Costco had everything my little heart desired and my parent's Costco Membership became the most exciting card in my dad's wallet. Now as adults, many of my friends have purchased memberships of their own and frequently rave about the benefits of shopping at Costco.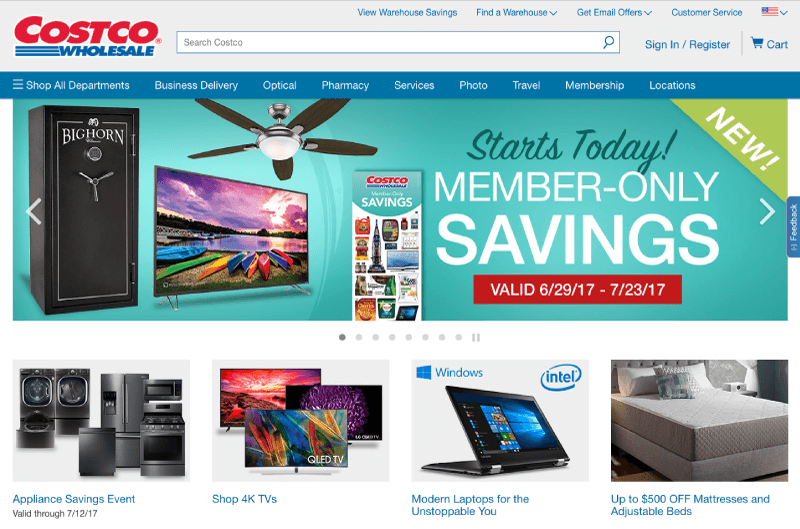 Although I'm not in the market for a new favorite place to shop, I am always in the market for new rewards programs to discover.  Now I know what you're thinking: "Costco doesn't have a rewards program!  If it did, I'd have joined by now!"  Well, in the same way that Amazon offers customers a pay-to-join loyalty program in the form of Amazon Prime, a Costco membership gives shoppers access to a host of perks they couldn't enjoy otherwise.  This, combined with the fact that Costco memberships are offered in a tiered rewards model, make the discount giant the perfect addition to our case study library.

So is a Costco membership worth the price tag?  Let's find out.
Why a Costco Membership is Worth the Cost
With Gold Star and Executive memberships available at $60 and $120 respectively, a Costco membership isn't exactly cheap.  The perks, however, definitely soften the blow.
1. Costco Memberships Make Bulk Shopping Affordable
Whenever I've asked any of my friends why they're Costco members, they always give me the same answer:"it's cheap". This value-saving mentality isn't unique to Costco, with 40% of customers citing discounts as the most appealing reason to join a loyalty program. However, where Costco really shines is in how much money they're able to save their program members.

Costco memberships give customers the chance to save money on hundreds (if not thousands) of everyday household and grocery items.  The difference?  Everything is offered in bulk.  From giant tubs of salad dressing to large packs of toilet paper, Costco gives shoppers the chance to stock up on essential items their families need on a day-to-day basis, making grocery shopping a lot easier.

These discounts were the reason my parents were members when I was younger.  With three small kids, my parents couldn't always afford to shop at a "higher end" grocery store every week, making Costco the perfect solution to keeping the house stocked with food, clothes, and other everyday items.  This mentality is echoed now by my friends who, as young professionals, are always trying to make wise financial decisions. Between my parents and my friends it's easy to see why a Costco membership is appealing to a number of different demographics, resulting in a program that's relatable, relevant, and beneficial.
2. Costco Delivers an Unbeatable In-Store Experience
Besides being affordable, Costco has created a customer experience that is hard to replicate anywhere else.  With a Costco membership card, you're given access to giant warehouse stores filled to the brim with products for every area of your life, from appliances to groceries to fashion.  With so many products for purchase, it can be overwhelming for shoppers to know where to start or which specific product to purchase.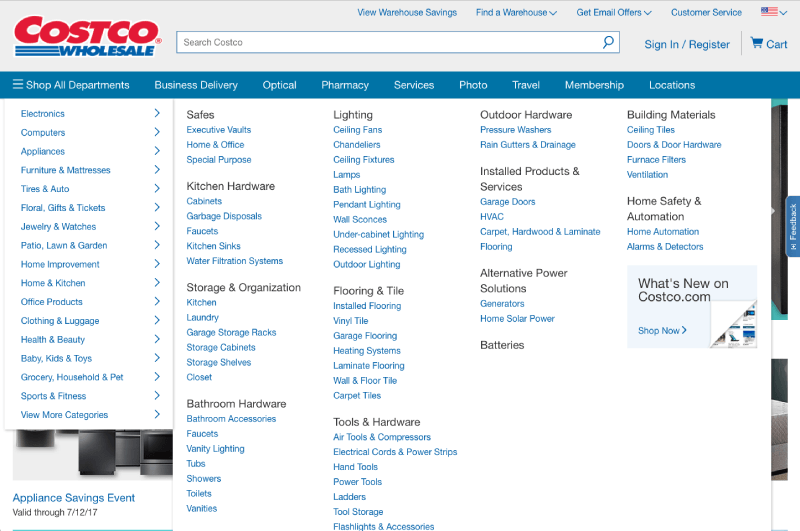 In an effort to ease these concerns, Costco treats their members to a wide variety of free samples and product demonstrations throughout every area of the store.  As a kid, this was the main reason a Costco trip was worthwhile.  Every grocery aisle was dotted with Costco employees offering me samples of frozen pizza, hot dogs, and chicken wings, prompting me to tell my mom which ones I liked and which ones I didn't.   This was extremely helpful for a mother of three who wanted to be sure that the product she was buying in bulk were things her kids would actually want to eat.
These samples - and the product demos in their electronics and home sections - are an absolutely genius way of getting Costco's value in front of their customers.  With the product in their hands, customers feel free to explore the ins and outs of every brand and choose the ones that will actually meet their needs.  You could almost argue that as a pay-to-join program, these samples are the rewards customers reap for purchasing a Costco membership, and if my younger self is any indication it's a small reward that packs a big punch.
While most adults might not have quite as passionate a reaction to tasty samples, these benefits - along with the 90 days return policy - ensure that customers are always purchasing the products they will enjoy the most entirely risk free.  If you don't like it, bring it back.  If you do like, have another sample.  In both cases, the customer comes out on top.
3. Costco Memberships Make Shopping Convenient
When it comes to shopping, convenience is often the reason someone will choose a particular brand.  Whether it's online or offline, customers are looking for stores that fit into their busy lifestyles, giving any store with quick and handy services a leg up on the competition.

Costco took the challenge of becoming a one-stop-shop to a new level.  When customers purchase a Costco membership, they get access to a vast range of services you wouldn't necessarily expect to find in one place including an optometrist, gas bar, mechanic, cell service provider, pharmacy, and a restaurant.

For customers like my parents who were always traveling with little kids in tow, each of these services represented one less trip they'd have to make to get everything done, saving them not only time but also significant amounts of stress.  I'm sure this feature alone made the membership fees worth it because it doesn't get much more convenient than getting your eyes checked while your tires are changed.
How Costco Memberships Could Improve
As I mentioned earlier, a Costco membership is far from free.  While there are many reasons to consider purchasing a membership, there are a few aspects of the program to keep in mind when making your decision.
1. A Costco Membership is Required to Shop
When Amazon premiered the Amazon Prime program in 2005, they made it clear that customers could continue to shop the marketplace like they always had - for free.  They simply wouldn't have access to the exclusive products or services Prime members paid to unlock with their membership.

Costco, on the other hand, requires every single customer to purchase a membership in order to even set foot in their store.  I can remember the traumatizing day my parents told me they weren't renewing their Gold Star Costco membership.  That meant no more free samples, no more joyous afternoons spent wandering the aisles, and no more Costco hot dogs.  For Costco, it meant two less paying customers.
By limiting their store to only paying members, Costco is essentially holding their whole brand experience hostage.  In an effort to make their brand feel exclusive and valuable, they've closed the door on customers who would be willing to shop with them and are risking severely damaging their brand's reputation in the process.  While program participation rates are important, isolating customer demographics is something everyone should avoid.

2. A Costco Mastercard is Needed to Maximize Benefits
If  a customer wasn't already frustrated by the fact that they can't shop at Costco without a membership, the fact that you need a Costco Mastercard to get the most out of their rewards program might do the trick.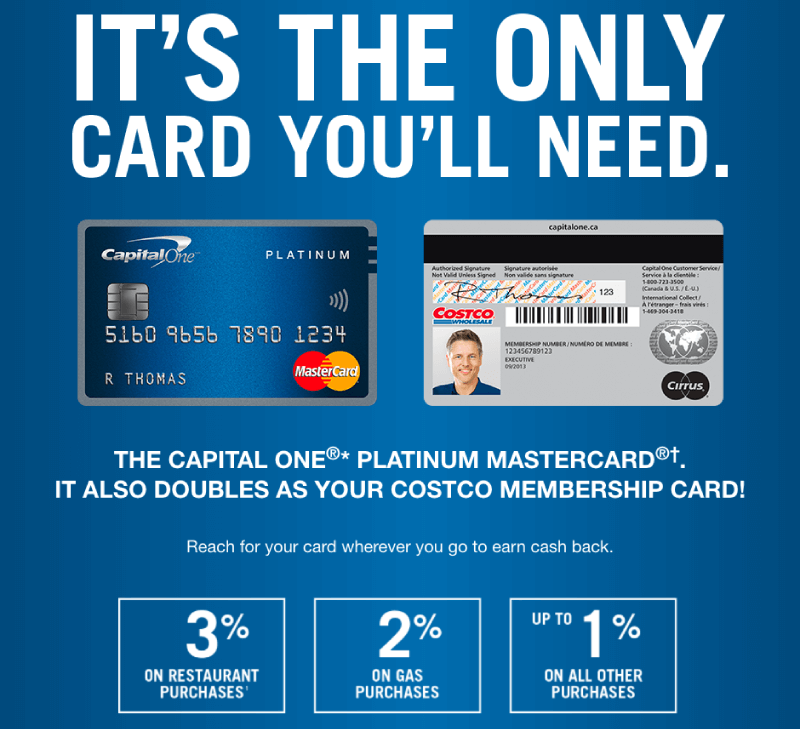 When customers sign up for a membership, they're given the option of becoming a Gold Star or an Executive member.  As an Executive member, customers receive 2% back on their Costco purchases in addition to the perks of being a Gold Star member for only $60 more per year.  However, this isn't the highest tier of benefits customers can experience.  Costco also offers their customers a Capital One Platinum Mastercard that allows customers to earn even more benefits with each purchase, including restaurants, gas, and everything in between.
As a rewards marketing specialist, there are several reasons that this setup bothers me.  For one thing, in order to make the Costco card more appealing, Costco has created a purchase system that prevents customers from shopping with any credit card that isn't a Mastercard.  Customers must pay with Mastercard, debit, cash, or cheque in order to complete a purchase, keeping customers with pre-existing rewards credit cards from benefiting at the bulk warehouse.

As if this wasn't discouraging enough, the Costco Mastercard application process isn't immediate; like all credit cards, the application process could take several weeks, meaning customers aren't able to reap the benefits immediately even if they do agree to sign up for it.
These types of "lock-in" requirements dictate the purchase process in a way that can be extremely off-putting for many customers.  Very few people are looking to add cards to their wallet, and the idea of opening another line of credit to maximize rewards is very unappealing.  These unfair reward conditions create obstacles for customers to participate, and make a poor first impression that some customers won't ever get past.
3. Information on Costco Memberships is Hard to Find
There are few things I love more than a good explainer page.  They use images, text, and other communicative aids to walk new and returning customers through the benefits of their program, wooing them to the idea of participating without leaving any stones unturned.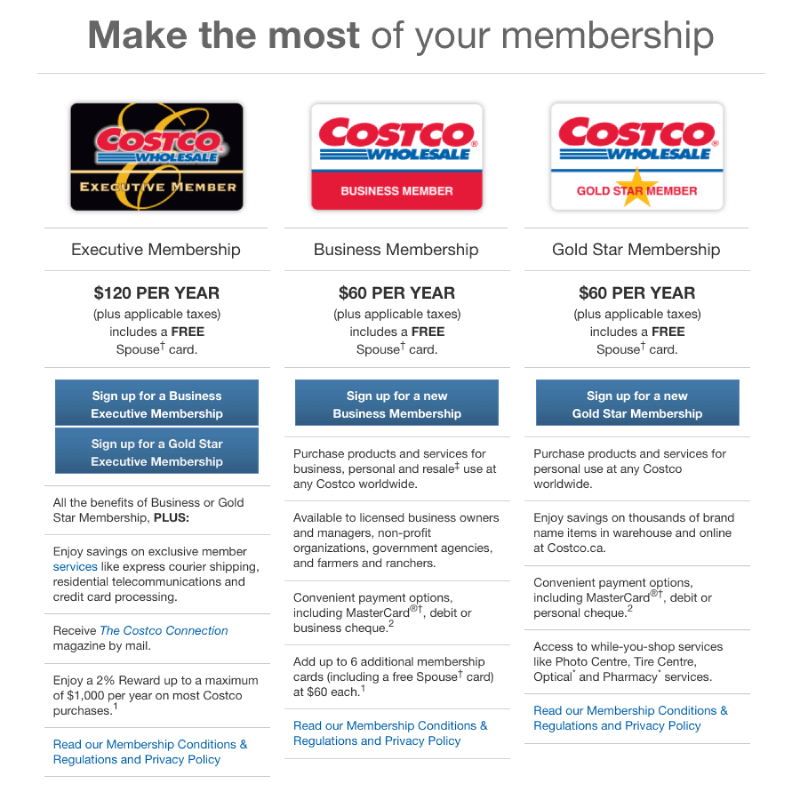 Sadly, it doesn't look like Costco's read our our post on how to explain a rewards program to their customers.  With lacklustre membership card images and a plain white background, the Costco membership page feels a bit like an afterthought.  Additionally, there is very little information as to what the benefits really are, or why I should care as a customer.

Without helpful program information at their disposal, customers are much less likely to part with $60 a year in order to gain access to Costco's services and products.  For a store that requires shoppers to have a membership this should be extremely troubling - after all, how do they expect non-members to become members if they can't find any information on the program?
The Ups and Downs of Costco's All-in-One Value Proposition
With the pros and cons of a Costco membership laid out in front of me, I asked myself once again: is a membership worth the price?  While I understand the benefits, (bulk discounts, convenience, and a wonderful in-store experience) I personally have a hard time looking past the negative features of this particular pay-to-join rewards program.  With very little information provided about each membership tier, a polarizing "pay or stay away" membership fee, and the requirement of a new credit card to maximize its benefits, Costco's membership program is not an appealing program that I would want to join.
This is not to say it's not effective, though.  Quite the contrary, in fact!  As I mentioned earlier I know many people who have and love their Costco membership, and would never consider not renewing at the beginning of the year.  These steadfast customers have proved that Costco's business model is extremely effective, meaning the program's structure is unlikely to change anytime soon.  At the end of the day, if people are willing to pay more for more value, you let them.