It's predicted that online apparel and accessories sales will grow by up to 17.2% over the next year.  While some people may still be uncomfortable buying clothes online, the majority of shoppers are gaining confidence as apparel continues to take centre stage in the ecommerce marketplace. Many brands have been instrumental to this shifting mindset, and Zappos is definitely helping lead the charge.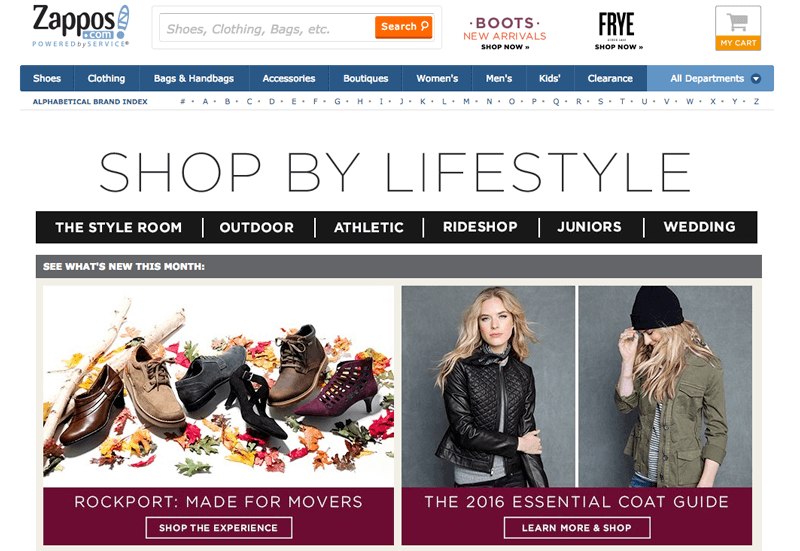 With products for men, women, and children, Zappos offers a shopping experience that fits every family's lifestyle – especially with the introduction of their new Zappos Rewards program.  However, before I let myself get too excited about it, I wanted to explore this program and find out what exactly it has to offer.  So without further ado, let's take a look at the good, the bad, and the ugly of this highly-anticipated loyalty program.
Trend-Setting Attributes
Fashion's all about anticipating the next big trend, and with more apparel loyalty programs popping up every day, Zappos knew they needed to get ahead of the pack.  These elements help ensure that Zappos Rewards stands out among the crowd.
1. Visible Call-to-Action
One of the first rules of designing a loyalty program is making sure your customers know it exists.  After all, if they're not told about it how can they join?  There are a number of ways you can promote a rewards program on your site, but one of my favourites has got to be a call-to-action.  They're attention-grabbing, direct, and help ensure your loyalty program is always top-of-mind.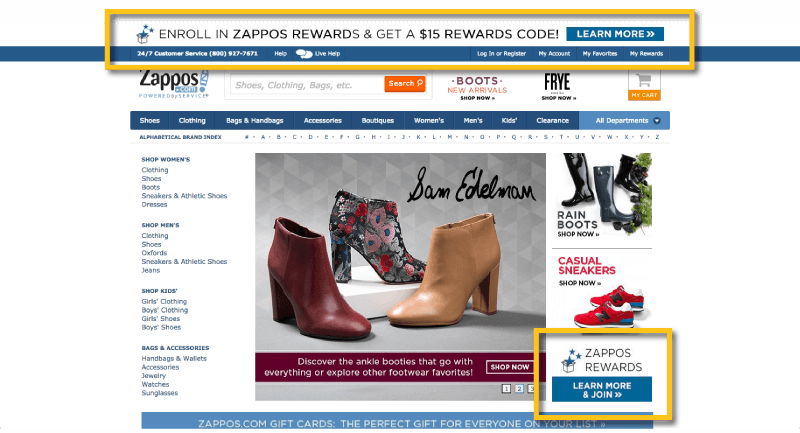 Zappos absolutely nailed this method of promotion.  With a large button on the homepage and a banner located along the top of every page, it's highly visible and clearly communicates why the customer should enroll.  They've also provided a prominent "Learn More" button which makes it easy to explore and engage with the Zappos Rewards program.

The best part is, they've accomplished all of this without overwhelming the rest of the page's content.  This gives customers who aren't interested the option of ignoring the banner while they continue shopping, and this type of consideration means that every shopper's preferences are considered throughout the entirety of the customer experience.
2. Motivating Tiers
There's nothing worse than being teased with something you want but can't have.  While it's good practice to reserve the greatest rewards for your most loyal customers, some programs make it nearly impossible for customers to ever become eligible for those rewards.  This type of structure is extremely frustrating and demotivating, resulting in lower participation and engagement rates.

Zappos takes the opposite approach.  Divided into three tiers, Zappos Rewards makes it easy for customers to move through each level by offering three highly-profitable ways to earn rewards.  Customers are able to perform each of these actions multiple times per year and with the highest tier only requiring members to earn 6,000 points, reaching that milestone is super feasible.
3. Emphasis on Experiential Rewards
If you want to grab people's attention, you need to do something different.  Building on the pre-existing Zappos VIP program, Zappos Rewards offers all of its members rewards that many customers have come to expect from other fashion retailers, such as free shipping and free returns.  This is where the similarities stop, though.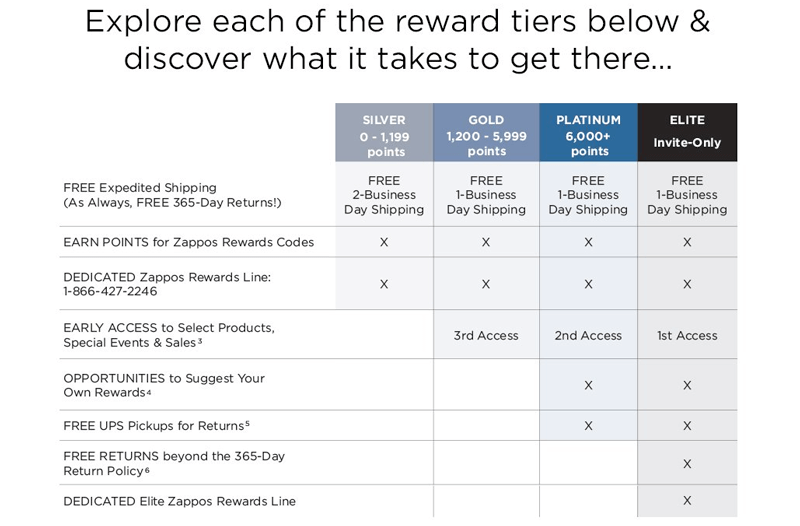 Taking a cue from cosmetics companies like Sephora and e.l.f., Zappos places their emphasis on experiential rewards that extend the customer experience beyond the point-of-sale.  The most loyal customers are able to give input on the rewards they'd like to earn, receive free UPS pick-up for returns, and shop from an exclusive line of Zappos products.

These rewards are incredibly attractive to prospective program members because they demonstrate a commitment to heightened customer experiences, which will massively affect the program's engagement and membership rates for the better.
Loyalty Faux-Pas
Even the best fashion designers miss the mark sometimes, and Zappos Rewards is no different.  While this loyalty program makes a great first impression, there are a couple of things worth mentioning that aren't quite fashion-forward.
1. Lacklustre Explainer Page
For a program that emphasizes the customer experience, they've done a very poor job of presenting their program.  After navigating to the Zappos Rewards program page, shoppers are met by a bland webpage that is weighed down with extensive terms and conditions text.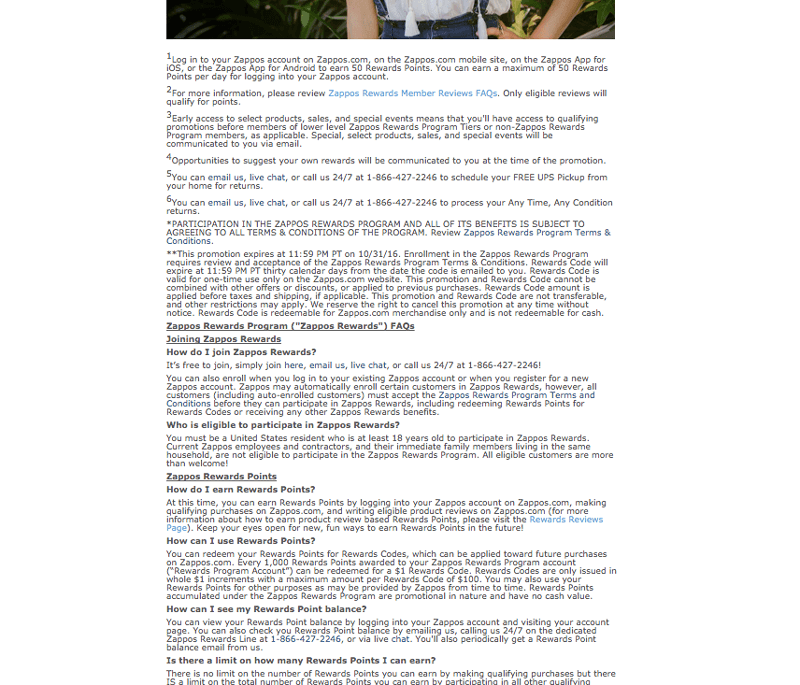 This small text is accompanied by generic blue icons and section headers that don't seem to be specifically designed for Zappos Rewards, giving the whole page a cluttered, disorganized, and slapdash feel.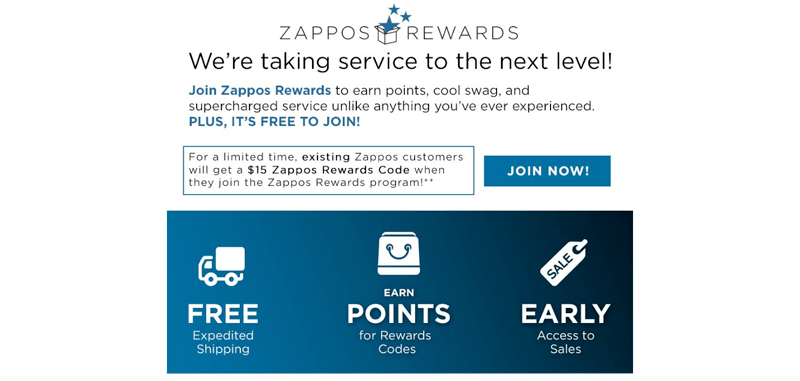 After the initial excitement of discovering the rewards program, these elements do nothing to engage or excite me as I look for more information about rewards and how I can earn them.  A well-designed explainer page should incorporate branded visuals and minimal text in order to quickly and simply explain the benefits of the program to customers.  Without these elements, I believe Zappos Rewards sells itself (and its amazing rewards) short.
2. Cryptic Elite Tier
As a competitive person, I love a loyalty program with tiers because it gives me something to work towards.  That being said, I also am looking for programs that clearly communicate how I can achieve each level.

Zappos Rewards is divided into four customer groups: Silver, Gold, Platinum, and Elite.  Customers are automatically enrolled at the Silver level, and are then encouraged to strive for Elite by logging into their account, making purchases, and writing product reviews.  Seems simple enough, until you see that Elite status is "Invite Only".
When their explainer page didn't provide any additional information on this mysterious level, I dove into their frequently asked questions in search of answers.  Unfortunately, this only reiterated that you had to be invited to join and didn't give any indication as to who has to extend the invitation.

These types of cryptic program structures are extremely aggravating for customers and can be very demotivating.  Without the knowledge needed to understand every aspect of the program, customers lose their enthusiasm to join and may stop actively participating in the future.
3. Exclusive Enrolment Requirements
As a Canadian, I'm used to ecommerce not being skewed in my favour.  With most stores operating with American dollars, I often pay more for products and shipping than many other shoppers purchasing similar items.  That being said, I choose to continue doing business with certain brands because I like their products and appreciate their services.

Unfortunately, Zappos Rewards is one ecommerce offering that I am not able to participate in.  As a purely ecommerce merchant, their decision to exclude international shoppers is very surprising because many of their best customers could live outside of the United States.  It's very frustrating to make the decision to join a loyalty program only to be told that you're not eligible to participate.

This type of polarization can very easily discourage customers from purchasing in the future if their business can't and won't be rewarded, making the loyalty program an exclusive program that offers disappointment instead of delight.
Loyalty is Always in Season
Despite some poor communication and customer conditions, Zappos Rewards is a program that offers real benefits to its eligible members.  With a strong focus on experiential rewards that are easy to earn and go beyond dollars off, Zappos is well on their way to creating a loyalty experience that makes a positive impact on the customer experience.  In these ways, Zappos Rewards reminds us that well-designed loyalty programs are always in fashion.