You have been sharing your thoughts on what loyalty programs we should analyze. We have listened and we now have the newest loyalty case study, Wyndham Rewards. we generally focus on ecommerce loyalty programs, but this was highly requested one to review.
Wyndham rewards recently went through revitalization earlier this year. They focused a lot more on the branding behind the program, differentiating rewards from competitors, and really making it a source of competitive advantage. The program has started to take a top spot in many loyalty related rewards, like US News' Hotel rewards 2nd spot.
So here is what I believe are the best and worst parts of Wyndham's revolutionized loyalty program. Without further ado here is the "Wyndham Rewards Loyalty Case Study."
What Wyndham Rewards Does Right
Wyndham Rewards has gone through a big transformation and has started to pump more advertising dollars into showcasing the program. You may be familiar with the Wyndham Wyzard who has been popping up on tv.
This new focus on loyalty marketing has created a very interesting program. Here are the 4 things I like most about Wyndham Rewards.
1. Early Rewards or Pre-Rewards
Wyndham Rewards allows members to redeem 15,000 points for a free stay. This allows you to stay at any Wyndham location which includes 15 different brands. The 15,000 points allows you stay at any of them … any of them regardless of the price. This is know as "go free" an amazing benefit that is uncommon in the travel industry. But what makes this program more interesting is their "go fast" feature.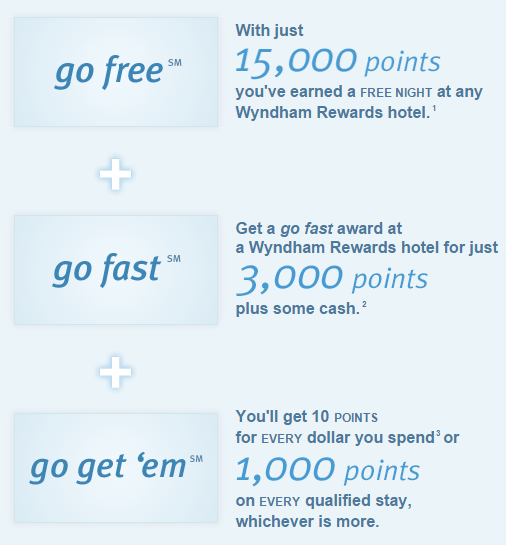 "Go fast" allows members to accelerate a reward by discounting a room rather than getting it for free. If you read this blog frequently you know that I am a huge advocate of getting a reward in your customers hands as soon as possible, it establishes a strong positive connection with your program.
The amount you have to pay in cash is dependent on the hotel, so the redemption is not as seamless as the "go free" reward. This is to be expected though from a business standpoint. What I do love about  "go fast" is that it is different. You don't see many other loyalty programs offering "early" or "pre-rewards" which makes Wyndham Rewards a very intriguing program.
To sum up I love "go fast" because it encourages a customer to actually convert points into a reward fast. A customer sees value in a loyalty program when they feel the emotion of getting a reward, not while they save up points.
2. Good Strategic Partners
There are two reasons for staying at a hotel. You are either away on business, or you are away on a vacation. Wyndham know this and that is why they have partnered their loyalty program to offer ways to earn and redeem with some very strategic partners.
Partnering with airline companies and car rental companies ensures that Wyndham Rewards is offering the total package. The loyalty program does not just provide you with a hotel, it can provide you with everything you need for your trip. You can currently earn 100 points a day when you rent with AVIS or Budget.

There are also many ways to redeem Wyndham Reward points at strategic partners. You can currently redeem points for airline tickets with United and car rentals with AVIS and Budget. This allows Wyndham Reward members to redeem points on things that will help make every trip a memorable one.
I like this because any trip can quickly become expensive and time consuming. The fact that this loyalty program can help make a member's trip easier and less expensive is a win in my books.
3. Easy Redemption and Earning
The travel industry is full of loyalty programs for both hotels and airlines. In my opinion they all have one thing in common, they have extremely confusing redemption and earning. Try to figure out how many points it will take you to book your next flight with your airline points, almost impossible. It is one of the biggest flaws I found in my JetBlue Loyalty Case Study.
It is very hard to get members of a program excited to earn points when it is hard to associate how many points you need to get a reward. Wyndham Rewards makes it very easy to see when you will get a reward and it is easy to redeem. At 15,000 points you get a free night at any hotel.
This easy to understand redemption is welcomed change in an industry that is masters of confusion on redemption. On the flip side Wyndham Rewards also makes it easy to determine what you will earn for each stay. You will get 10 points per $1 spent or a 1,000 point flat rate (whichever is more). I like that Wyndham gives you at least 1,000 points per stay, it makes you feel like they actually care about your patronage.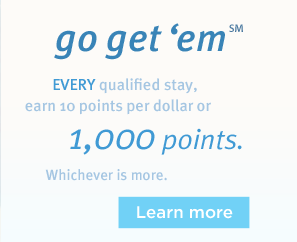 The combination of easy to understand earning and clear redemption levels makes Wyndham Rewards easy for members to understand. This makes it much more likely for customers to join the program and stay loyal in the long run.
4. Creating a Loyalty Brand
A loyalty program works best when you either incorporate it into your brand like Sephora does, or when you give it a brand identity of its own. This makes it easier for customers to identify the program and makes your program much more shareable.
Wyndham Rewards has done a fantastic job branding their loyalty program. They have created a brand around demystifying loyalty in the travel industry. The mascot is a "wyzard" that always explains that the magic comes from the member, not from him.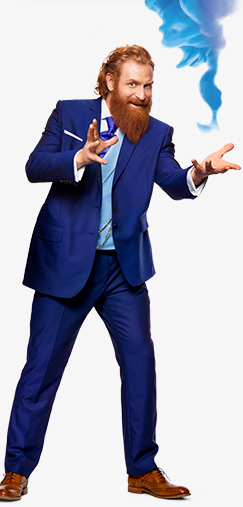 This mascot and brand identity make it much more fun and relevant for members and more importantly potential members. If you are looking to join a hotel loyalty program you are going to use the one that is most familiar to you… the one with the wyzard.
What Wyndham Rewards Does Wrong
It is important to note that I think that this is one of the best examples of loyalty in the travel industry. The below are things I think that Wyndham could improve on. They are my personal opinion.
1. Buying Points
The Wyndham loyalty program allows members to buy extra points or gift points to friends. The site claims this is for those who are just a few points short of a reward. I do not like this from Wyndham's standpoint and I don't like it from the customer's standpoint.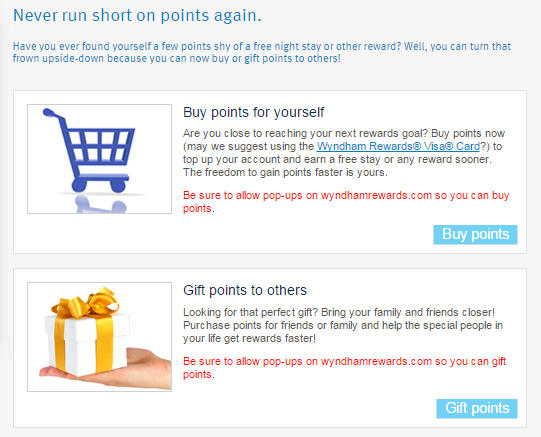 From Wyndhams perspective they might be leaving money on the table. A customer who is 300 points short of a free stay may have booked another business trip to claim the reward. But, when they have the option they can possibly spend less to pick up a few points. I would rather have members purchasing stays and interacting with my brand, rather than simply buying more. I think they are missing out on a revenue opportunity here.
From the customer's perspective this is not as engaging an experience. You want your customers to be spending and earning points as a stand alone currency. That is why people love loyalty programs so much, they have value that is different from money. When you allow members to change regular currency into points, you are destroying the allure and value of your points.
2. Redeeming Points for Gift Cards/Points
Wyndham has clearly put a lot of time and money into restructuring and reviving their Wyndham Rewards program. That is why it seems odd to me that they have done so many things right with their rewards (strategic partners, easy redemption, early rewards) that it really surprises me that they use a coalition style program. What I mean is that you can use your Wyndham points to redeem for giftcards from other companies and even turn them into points of other loyalty programs.

Don't get me wrong a coalition program is great for smaller brands and even brands who don't have the strongest brand identity, but Wyndham has sunk some serious resources into this program and brand. I think that Wyndham would have a stronger program by not allowing members to convert points into gift cards at other stores. Their rewards are good enough!
3. Not Clear on What Hotels Are Wyndham
The average person can maybe name a few of the hotel chains that fall under the Wyndham brand, but I bet you can't name them all. Knowing what hotels you can redeem your points at is important for existing and potential members. Currently Wyndham has this graphic on the loyalty site.

This graphic is located below the fold of the page, I would love to see this moved up into the feature banner so potential members know all the places they can redeem a free night at. This way before anyone even plans a trip they have an idea of whether they want the rewards the loyalty program is offering.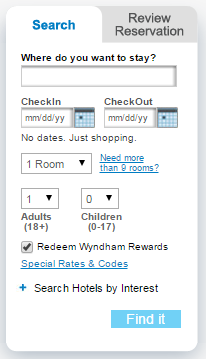 Wyndham does have a trip planner feature on the site to help you find a hotel that you can use your points on, in the location you are going. This is great for members looking to spend their points when they travel but does not help to entice a customer to join the loyalty program.
The Wyndham Rewards Program
I am actually very impressed with Wyndham Rewards, they do a lot of things right and a lot of things different. They are operating a loyalty program that I like in an industry full of terrible and poorly executed loyalty programs.
The simple redemption and earning rules combined with the amazing loyalty brand and visibility make this loyalty program super effective. They have all the basics of a solid loyalty program covered and then some! There are a lot of things you can learn from Wyndham Rewards that you can apply to your loyalty program.
If you are looking into a loyalty program of your own please checkout our "resource center" it is full of free books, cases, and videos to help you build an effective loyalty program. You can also download "Is A Loyalty Program Right for You" which is an assessment of whether a loyalty program will work for your store's individual needs and circumstances.