On average, the cosmetics industry brings in $56.8 billion dollars per year in the United States alone. With thousands of brands competing for a piece of the cosmetics pie, it takes a company with a unique strategy to stand out in this rapidly expanding market.
tarte Cosmetics has discovered how to do exactly that. The trendy, environmentally conscious beauty brand has stolen the hearts of consumers all over the world, turning them into loyal brand advocates sweetly known as  "tartelettes". So how did this company build such a loyal following of customers surrounded by so many competitors?
tarte's new customer retention program, tarte Rewards, is a large piece of the brand's loyalty puzzle. Featuring VIP tiers, countless ways to earn points, and Instagram-worthy rewards, it's no secret why Tartelettes have taken this brand to the top of beauty ladder. To better understand the ins and outs of tarte Rewards, we're going to put the program in the spotlight. Are you ready for the close up?
The Highlights of tarte Rewards
As a self-proclaimed tartelette, the introduction of the tarte Rewards program had me running for my credit card faster than I could say "sign me up." As someone who frequently purchases tarte products, having the opportunity to earn points for the things I already fill my makeup bag with is a dream come true. Among the many program highlights, the most dazzling features include the tarte brand experience, the exclusive VIP tiers, and the loyalty program samples.
tarte Rewards' tartelette Brand Experience
With so many makeup brands to choose from, it takes a stand-alone company with a unique differentiator to keep customers coming back. As a makeup connoisseur, one of the things that always brings me back to tarte is the incredible brand experience. Their stunning website, luxurious product packaging, and friendly brand voice make shopping with tarte a treat from start to finish!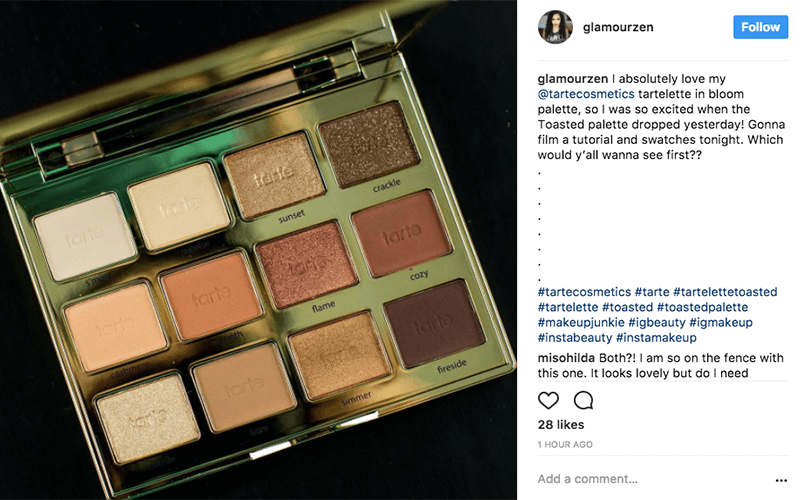 With this attention to detail in mind, it's no surprise that the tarte Rewards program has been carefully integrated into the overall brand experience. A quick visit to the tarte website invites customers to join a "loyalty program that loves them back," with visuals that make the call-to-action look as appealing as the products tarte sells.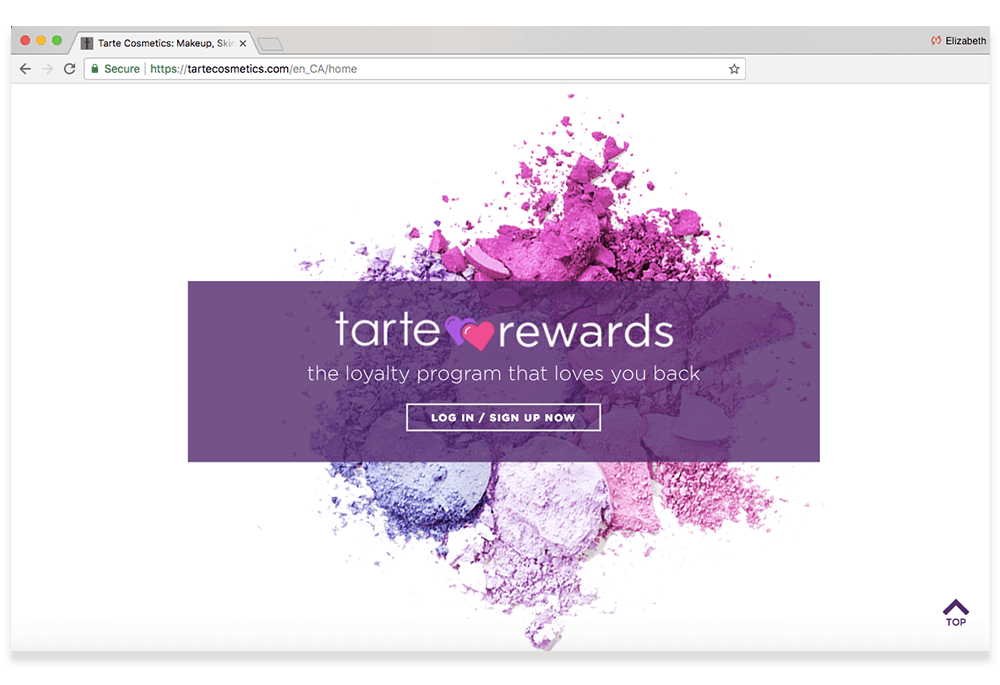 The tarte Rewards explainer page continues this trend, featuring the signature tarte brand palette, customized icons, and and a consistent voice that makes customers feel as though they're in conversation with the brand itself!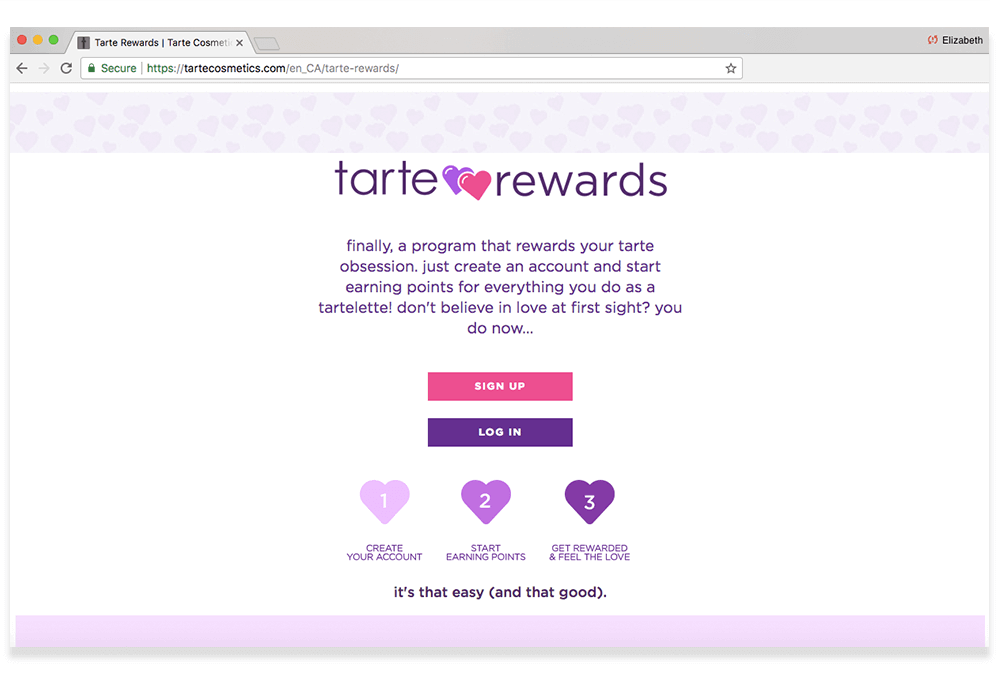 All over the website, joining the program is referenced to as "falling in love" — an experience synonymous with joy and excitement. As a proud tartelette, this program has me head over heels!
tarte Rewards is Tiered to Perfection
Like all the best cosmetics rewards programs, tarte offers a tiered VIP program that allows the brand's biggest fans to work their way to the top. Since a cosmetics customer is likely to become a lifetime customer after 4 purchases, a VIP program is the perfect way to incentivize each of those purchases.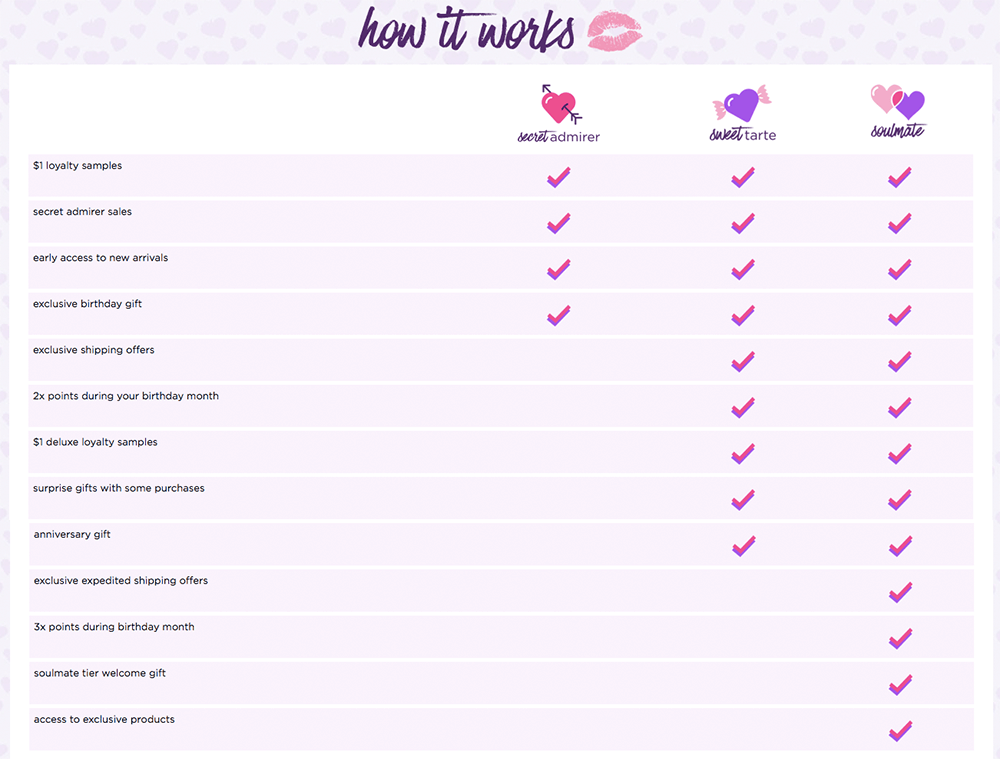 The tarte Rewards program boasts three tiers that allow members to unlock a little more luxury with each level: secret admirer, sweet tarte, and soulmate. All new program registrants are automatically entered into the secret admirer tier, with immediate access to $1 samples, exclusive sales, early access to new arrivals, and a birthday gift. Moving up the ranks to the sweet tarte tier means better shipping options, deluxe samples, and surprise gifts!
However, it's not until a member has reached the soulmate tier that they get the full tartelette treatment, including the addition of expedited shipping, 3x the points during their entire birthday month, exclusive products, and a gift just for reaching the top.
The exclusivity of these benefits sweetens the deal for tarte customers. Not only do members have the opportunity to earn points that can be redeemed for a variety of rewards, they also have access to multiple benefits from day one.
Customers who feel valued are more likely to become brand advocates.
VIP tiers are a great way to show your best customers that you care about their business.
Luxury is a major driver of the cosmetics industry, and tarte successfully takes this concept beyond their high-quality products by incorporating tiers into their VIP program, saving the best rewards for their best customers.  As a secret admirer VIP, I'm extremely motivated by the shipping perks and free gift that comes with soulmate status, and can't wait to upgrade my program status every time I upgrade my makeup bag.
tarte Rewards Offers Samples to Keep Makeup Bags Full
One of my favourite features of the tarte Rewards program is the loyalty samples! Purchasing makeup products online can be kind of risky, and tarte mitigates this risk by offering a free sample with every purchase. This allows members to try out the products they're interested in before purchasing, so they can be sure they're going to love everything that lands in their mailbox.

It gets better, though: as a member of the sweet tarte and soulmate tiers, customers are entitled to $1 deluxe samples with every purchase. These samples are much larger than those offered to secret admirers, meaning members can spend more time trialing a product before choosing to order the full size.  While I am not a member of the top tiers yet, the free loyalty samples have already been my saving grace. This feature of the program has saved me from buying full size products that don't work with my skin tone, while also getting me hooked on some of my current must-haves (after all, you can never have too many skincare products!).
Where tarte Rewards Needs Spot Treatment
There's a lot to love when it comes to tarte Rewards, but nothing is flawless —  we all have those pesky areas that need a little bit more attention, and so do certain aspects of this loyalty program.
tarte Rewards Doesn't Advertise Rewards to Non-Program Members
As someone who purchases tarte products regularly, I was over-the-moon excited to get started as a tarte Rewards program member. Unfortunately, my excitement was stifled when I visited the website and was met with a lack of information about the rewards that were available to members. Before committing to another program, I want to be sure that it's going to add value to my experience as a customer. If I don't know what kind of rewards I have access to, there's less incentive for me to join the program.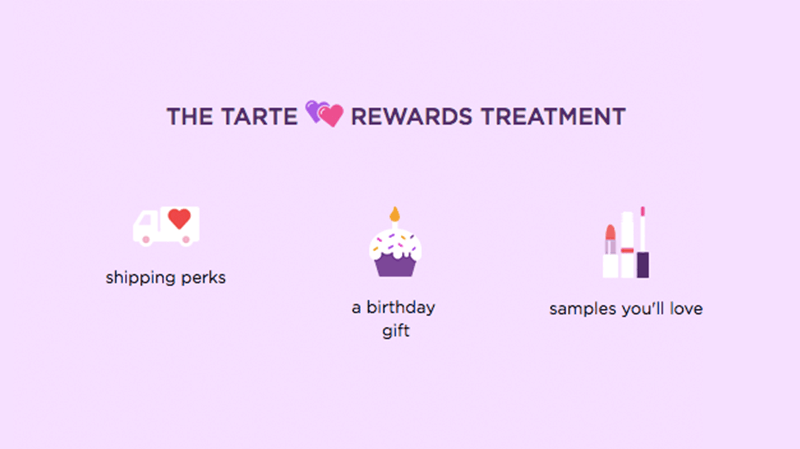 While the tarte Rewards page clearly communicates the differences between each of their tiers, there is no section that showcases the rewards themselves (or their worth in terms of points). Instead, the tarte Rewards treatment is described as simply offering shipping perks, a birthday gift, and samples "I'll love".
This description of the program is extremely limiting. By choosing not to provide a clear picture of the types of rewards members have access to, tarte is working against the effectiveness of their program. The benefits you offer customers needs to be the hallmark of your strategy, and should be properly showcased to communicate why your program is valuable to customers. Had I not chosen to register for tarte Rewards, I wouldn't have seen the beautiful catalogue of products, discounts, and unique rewards that members can redeem.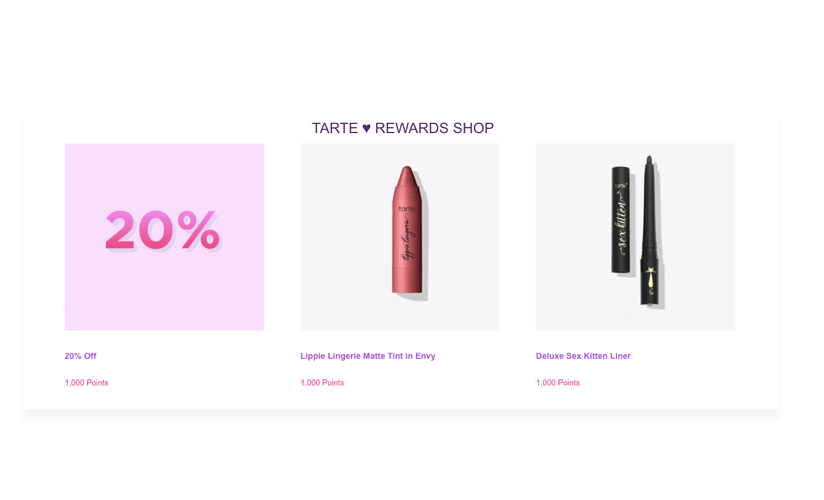 Thankfully, there's a simple fix to this: instead of limiting the rewards catalogue to program members, tarte should showcase the products, benefits, and experiences on their explainer page. A glimpse of these benefits would make the decision to register as easy as it is to fall for tarte's incredible brand!
tarte Rewards Has Unclear Earning Rules
One of the biggest pain-points for rewards program members is unclear earning rules. The tarte Rewards explainer page states that points can be earned when members are "a social butterfly", shop tarte products, click emails, visit the tarte website, and complete "more" actions that are not explicitly stated. While the number of points issued for the purchase of makeup products is defined, it's unclear how many points customers will earn for the other actions listed. For example, what does being a social butterfly mean to tarte? How can this behavior be quantified, and what is its value?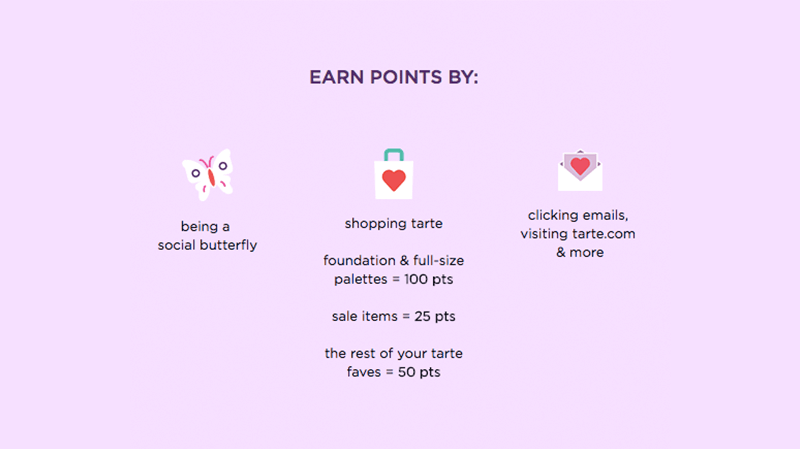 Personally, I appreciate when brands clearly state the point value of each qualifying action on their explainer page. Before deciding to sign up for a rewards program, I want to know that rewards are within reach! If being a social butterfly only results in 1 point and the first reward I can redeem is worth 1,000 points, the earning scale would discourage me from joining the program. When I can't see this information before registering, I fear that it's being withheld intentionally — does the company know that the number of points per action will discourage customers from joining?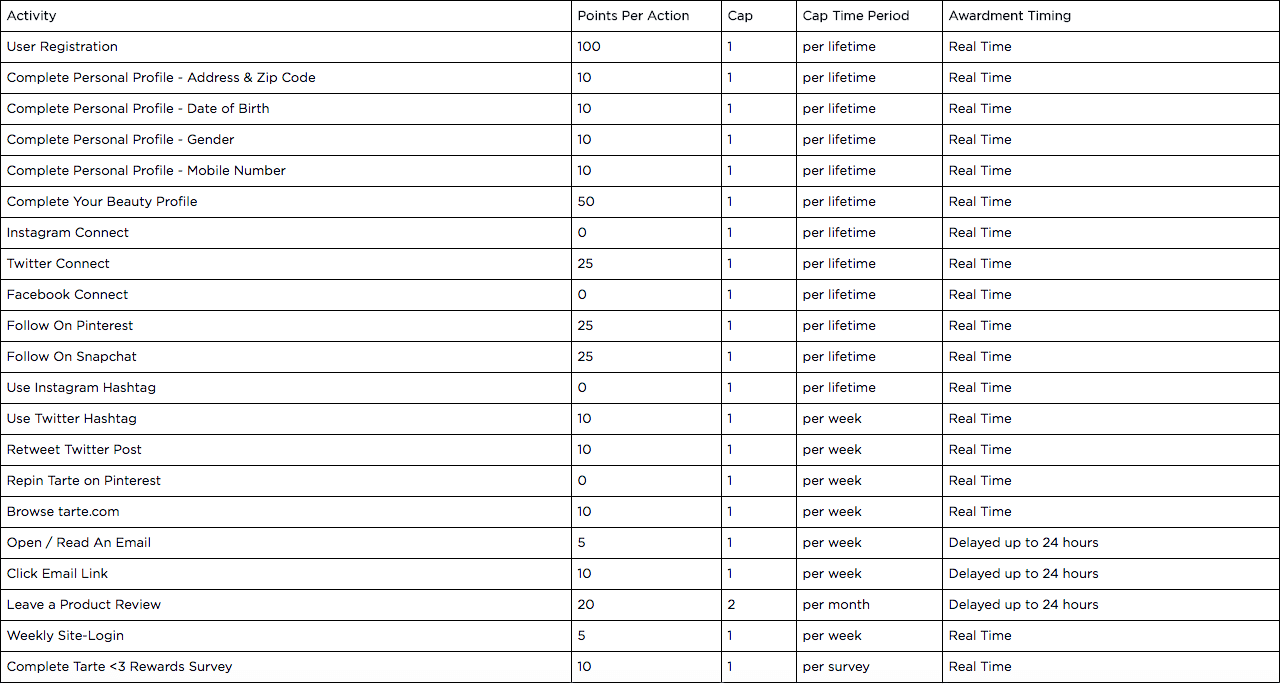 In tarte's case, the lack of disclosure about point value is not malicious. The company simply rewards so many actions (each with its own set of guidelines) that the information would overwhelm the explainer page! An easy fix could be making a description of what "more" means accessible through a "learn more" button in the rewards program section of the website.
Don't bury rewards program information in the fine print of your website.
Give your customers the transparency they deserve!
While tarte does recognize the importance of providing customers with multiple ways to earn points, their lack of transparency made me question the value of the program. It's a good rule of thumb to make any and all program information accessible from the rewards program page so that no customer is left wondering.
tarte Rewards Has Not Clearly Communicated Program Changes
If this is the first you've heard of the tarte Rewards program, you may be surprised to know that it's not brand new! Prior to the re-launch of tarte Rewards in September 2017, tarte ran the "Pretty Perks" program with an entirely different set of rewards and earning rules. Before rebranding, the Pretty Perks program provided 1 point for each dollar spent on tarte.com, 1 point for product reviews, and 10 points for each successful customer referral. Additionally, for each 500 points earned members were entitled to a $50 gift card!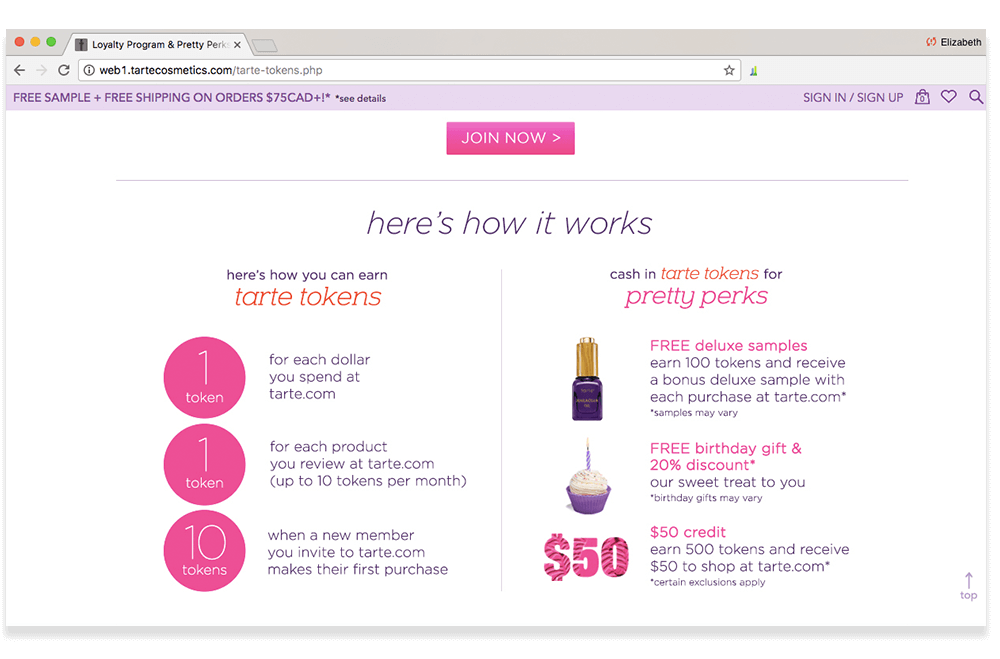 This program format received criticism from international tarte customers who were disappointed to find that points could only be redeemed by American members. As a Canadian customer, I'm excited that the program re-brand is now inclusive of tartelettes worldwide. This means I'm now eligible to redeem rewards for my hard-earned points as well.
While you can find a great deal of information about the previous program through a quick Google search, there is no information about the Pretty Perks changes where I expected to find it: on the tarte website.
"Almost 94 percent of all consumers are more likely to be loyal to a brand when it commits to full transparency."
Label Insight, Transparency ROI Study
As a fairly new program member, I'm not sure how or when the company chose to inform customers about the transition from Pretty Perks to Tarte Rewards, but I still expected to see some sort of notice on the brand website. As a customer who values transparency from the brands I choose to shop with, I would have really appreciated a genuine apology from tarte to customers who were negatively impacted by their inability to redeem points.
In addition to a public response, it would also be valuable for tarte to provide some background on the transition from Pretty Perks to tarte Rewards, including a breakdown of the new points scheme and details as to why this new structure is beneficial to customers.
Although I do appreciate tarte's decision to incorporate and consider customer feedback,  there are a few things they could have done to better communicate their choice to re-brand.
tarte Rewards: Kiss and Makeup
Despite the areas that need some primping, I'm still a die-hard fan of tarte. For all lovers of beauty, their rewards program elevates the customer experience with 360 degree branding, the opportunity to climb the makeup ladder, and plenty of free samples.
With the beauty industry set for steady growth, tarte Rewards ensures that tarte is on track to grow along with it! I'm ready to put the past in the past and move forward with tarte and the tarte rewards program.