Redemption rate is the best leading indicator of whether your loyalty program is healthy or not. That's because it measures how many points are actually being redeemed by your members.
Put another way, your program's redemption rate helps you see whether your program is engaging enough to encourage members to return and shop more often.
Redemption rate = # of points spent on rewards / Total # of points issued
If a customer actively participates in your program and finds it valuable, they will be spending their points on rewards as a way of experiencing that value and staying engaged. This means that if your customers are not redeeming points, they are not actually engaged.
How do you know if your redemption rate is low?
One of the best ways to gauge your success is by comparing your business with one that's similar. Since this information is hard to find, we did some digging into the thousands of merchants running Smile.io to find some averages for you to compare to!
The average rewards program has a redemption rate of 13.67%.
Based on our data, the average loyalty program has a redemption rate of 13.67%. As a result, if your current redemption rate is less than 13.67% your program is performing below average.
While there are a number of factors that can influence your redemption rate, the age of your program is the most important. At Smile.io, we recommend giving your program at least 6 months to evaluate its effectiveness. This is because your shoppers require time to adjust, accumulate points, and get rewards.
You should allow your program to run for at least 6 months in order to accurately evaluate its effectiveness.
Once those behaviors are established, you can more accurately assess the health of your redemption rate.
Improving a low redemption rate
If you just discovered that you have a low redemption rate, don't worry – you can still fix it! Since a low redemption rate is usually the result of a low participation rate, solution is to build a program that gets people more excited to engage.
1. Offer multiple ways to earn points
Improving your program participation starts with how exciting it is to earn points. After all, that's how customers start to see the value in becoming a member!
A program that has more ways for a shopper to earn rewards is more exciting and therefore more engaging. When you offer customers the opportunity to earn points beyond simply registering an account and making a purchase, you make it more desirable to become a member of your rewards community and engage over time.
One of the best ways to do that is with actions that expose a customer to your brand more often. Our research even found that programs who encourage social follows have higher than average redemption rates. With more regular opportunities to earn points, your customers start to integrate your brand into their daily routines and quickly find more reasons to stay engaged.
Rewarding customers for following you on Instagram, Twitter, and Facebook can increase your redemption rate by more than 16%.
Smile original research
You also want your program members to feel valued. After all, loyalty is a two way street! The best way to do this is by showing them that your program is not just about getting them to spend as much as possible. A great way to show your appreciation is with a birthday reward.
No matter how you choose to do it, more ways to earn points is a surefire way to create a bigger buzz  around your program that both new and returning customers will want to get involved with.
2. Offer different rewards
The majority of loyalty programs out there offer the gold standard: redeem a certain amount of points for a discount off a purchase. While these rewards are incredibly effective, they're not overly exciting. Much like how customers can earn points, you want to offer them options for how to redeem those hard-earned points in order to make program membership more appealing.
Diversify your rewards menu with perks like free shipping, exclusive products, and experiential rewards.
There are a ton of different rewards you can offer as part of a loyalty program. If you're running a VIP program, why not offer experiential rewards or exclusive products to your top-tier customers? You could also offer incredible perks like free shipping or store credit alongside straight discounts to cover all of your reward bases.
Offering a diverse menu of rewards make sure that ever loyalty member will be able to redeem their hard-earned points for something valuable to them. When every reward they redeem is a valuable one and feels tailored to their individual needs, they'll be much more likely to pursue that experience in the future.
3. Use onsite cues
Sometimes your customers might forget that you offer a loyalty program, especially if they can't find it on your website.If they can't find it, they can't engage with it!
Thankfully there are a number of onsite cues you can use to remind them how awesome your loyalty program is. The first is your program Launcher and Panel. As you can see with this example from Littlest Prince, a Launcher makes your program easily accessible anywhere on your website, ensuring more customers can find it whether its their first visit to your store or their third.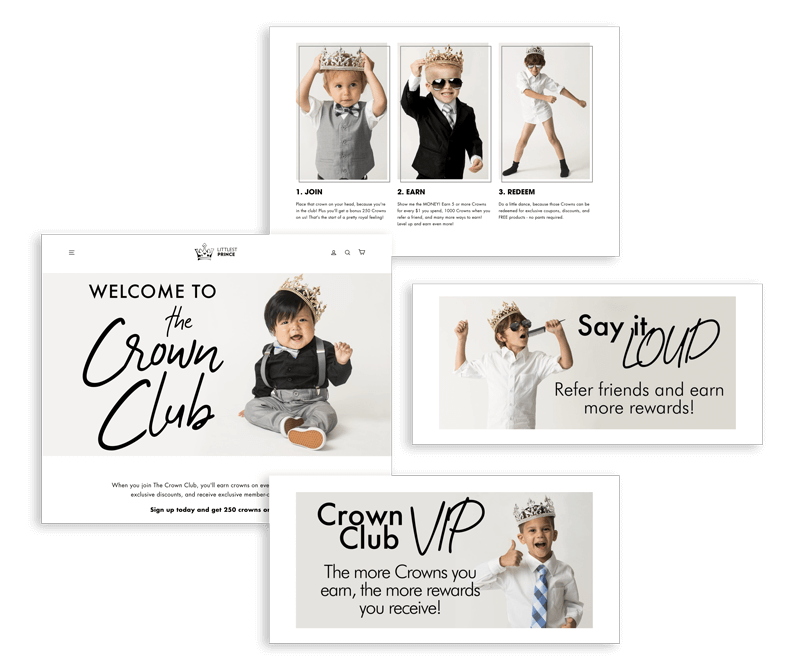 An explainer page is another effective and easy way to incorporate onsite cues into your customer journey — something else Littlest Prince has done really well. With a clear link in their navigation bar, customers can quickly find more information about how to join and earn as part of their program, making it more appealing to do both.
Finally, you can keep the rewards your customers have already earned top of mind with Nudges. These messages prompt customers to redeem rewards on your cart page when they're most likely to use them, keeping the connection between earning and spending points top of mind.
4. Send redemption campaign emails
Email is one of the most effective program engagement tools you have at your disposal. This is especially true when you use it to remind customers how close they are to a reward or that they already have a reward available to redeem!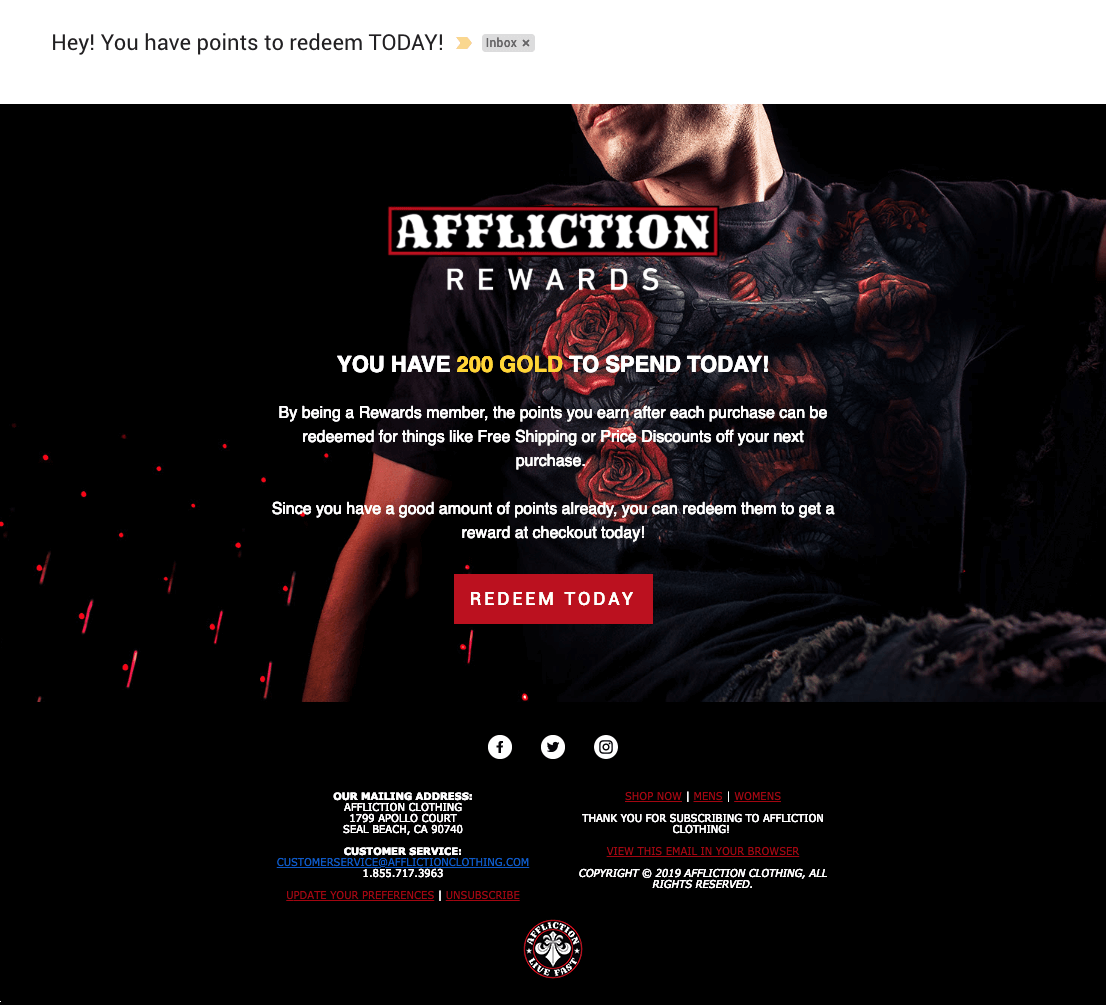 Brands like Affliction Clothing use this strategy very successfully. By letting customers know how many points they have and crafting a subject line that clearly communicates what's inside the email, Affliction is able to motivate them to return to their store and take advantage of the value they've already earned.
These emails can easily be incorporated into your existing campaigns, making them the perfect complement to your other program marketing strategies.
Redemption rate is a product of your effort
Your redemption rate is a direct result of the work you put into your loyalty program, which means you should not just expect it to improve over time by itself. A loyalty program is not a set-it-and-forget-it tool, which means you get out of it what you put into it.
Keep an eye on your redemption rate and be prepared to make changes to your rewards and earning rules. These small but powerful changes will make all the difference to your redemption rate and set you well on your way to the results you want to see!