At some point in your life, you've probably realized that they've run out of a basic necessity like milk or toilet paper.  Thankfully you can get yourself out of these dire straits by running over to your local drug store, and around here most people are running to Shoppers Drug Mart.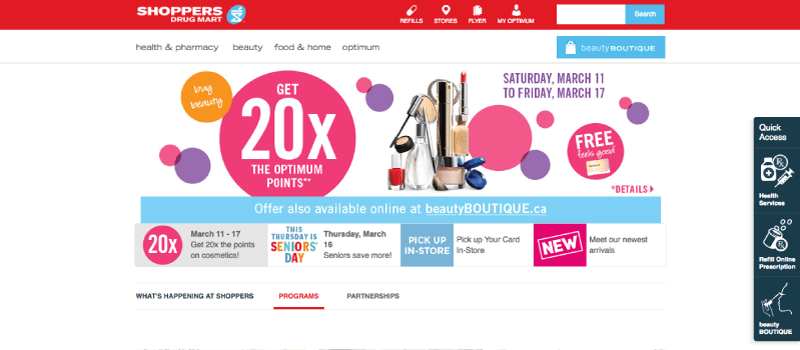 While drug stores used to be primarily for refilling prescriptions, pharmacies have been rapidly expanding to compete with other one-stop-shop department stores.  With additional amenities such as postal services andphoto development labs, Shoppers has been leading the restructuring charge, with much of their success due in part to their overwhelmingly popular Shoppers Optimum rewards program.
Optimal Elements
Most of my friends have been Shoppers Optimum members for years, and are often shocked to discover that I never signed up.  Tired of their dismay and (at times) outrage at my lack of participation, I decided I needed to educate myself and was pleasantly surprised to find that their intense enthusiasm is well-deserved.
1. Big Rewards
When most loyalty programs offer points per purchase, they're typically only offering their customers between 10 and 100 points per dollar.  Shoppers on the other hand decides to go big or go home, offering their customers up to 10000 points at a time, simply for purchasing a specific item.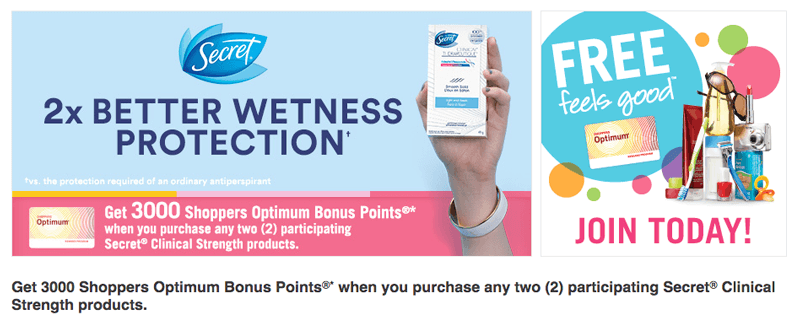 When I first saw these promotions on the Optimum Offers page I couldn't believe it.  In fact, I actually found myself thinking that there had to be strings attached because never have I ever seen this many points offered just for buying a stick of deodorant.  But upon further investigation, it became clear that this wasn't a scam – it's simply the way they do business.
This type of points marketing is unbelievably effective because it does nothing but highlight the value for the customer.  These huge points promises play directly into the "more is more" mentality of many customers, fostering their excitement and increasing their desire to participate in order to see those types of numbers in their account balance.
2. Mobile Experience
With over 50% of ecommerce traffic coming from mobile phones, it's no surprise that mobile optimization and accessibility are huge selling features in any loyalty program.  Shoppers Drug Mart has taken this to heart by providing their customers with an app that allows them to fully customize their shopping experience.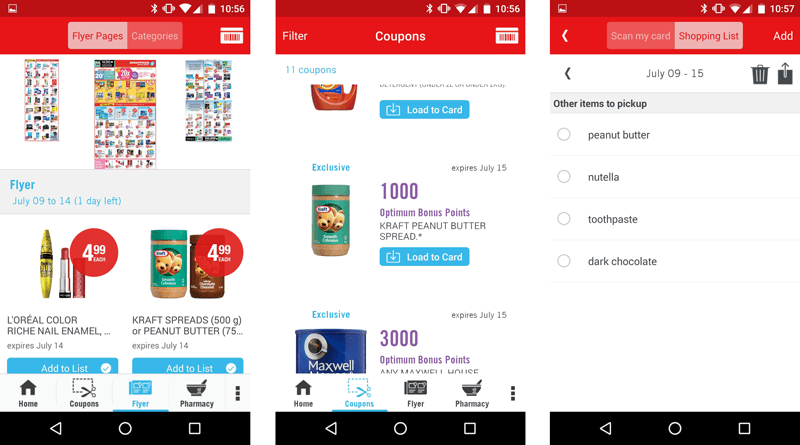 Just look at all of the stuff it can do!  Not only can I look through their flyer page by page, but I can also browse available coupons and add them to my card or create a shopping list so that I don't forget to pick up the most important items (like peanut butter).

In addition, the app can help you locate the closest store and track any prescription refills you might have.  These features demonstrate a consideration for customers' needs and a desire to improve the entire experience with their brand.  The Optimum app is also available on both Android and iPhone, eliminating virtually all barriers that may prevent shoppers from using it.
3. Donating and Transferring Points
This element of the Optimum program was what impressed me most.  As a member of the Shoppers Optimum rewards program, customers are given the option to transfer points to another member or donate them to a charity of their choice.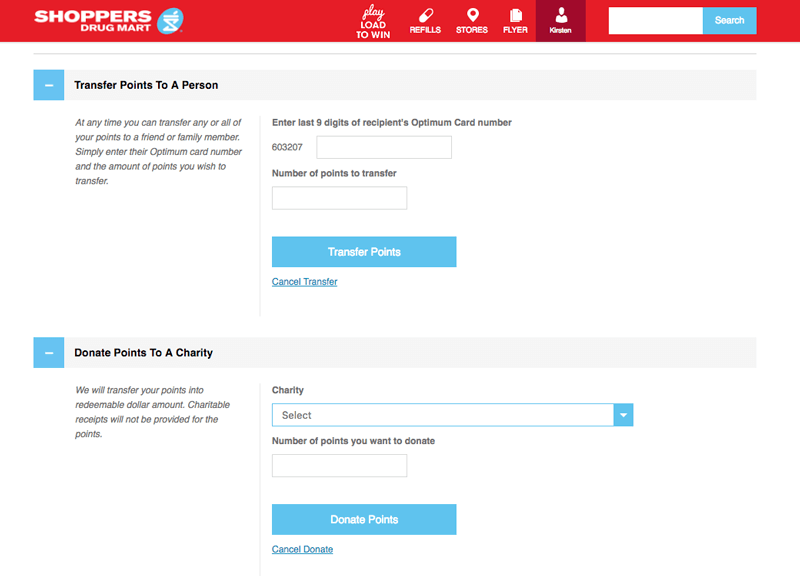 This feature adds social value and takes family dynamics into consideration.  You might recall the points fiasco my mom and I had earlier this year – this type of social exchange would alleviate that problem, and helps build a community around participation in the program.
These communities are expanded even further with the option to donate to charity.  With more customers looking for philanthropic businesses, this is a brilliant offering that helps customers feel like they're part of social change.  This is a diverse alternative to redeeming points for yourself that helps shoppers feel good about their purchases and confident in the positive change sponsored by the brands they're supporting.
Less Than Optimal Elements
It's not all sunshine and roses, though.
1. Weak Explainer Page
As a new member I wanted to find out a bit more about the program, and decided that visiting the Optimum pageon the Shoppers Drug Mart website would be a good place to start.  Alas, I was wrong.  Instead of being greeted with information, I found this: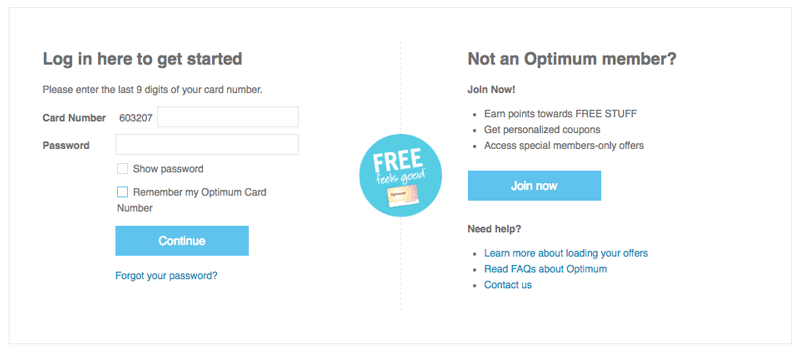 Even though words like "offers", "points", "coupons", and "free" are used, no information is really provided here.  A well-designed explainer page should clearly outline the benefits of the program and inspire customers to sign up.  In this case I had to sign up in order to fully explore what the program has to offer, which isn't great for hooking new customers.
2. Unclear Rewards Redemption
This issue is very closely related to the poor explainer page.  Once I finally made it to information about the program, I was overwhelmed with promises of thousands of points per purchase but was never really told how I can redeem them or what I can redeem them for.

As the first thing you see once you log into the account, their explainer video does a great job of getting me excited for the personalized, high-earning experience I can expect to see as an Optimum member.  Sadly, I'm never told how I can turn those points into rewards, making it hard for me to make participating in the program a priority.
3. v.i.b (Very Important Baby)
Disclaimer: I have no problems with babies.  So rest assured that my issue is not with the benefactors of the v.i.b program, but rather with the structure of the program itself.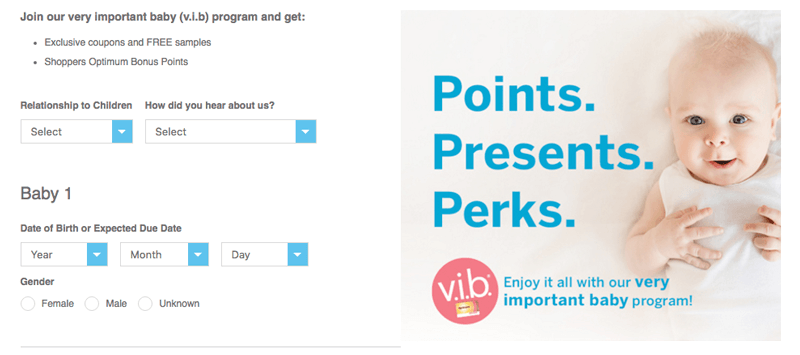 v.i.b was established to provide mothers and expectant mothers with essential baby products.  This is an absolutely amazing idea…but not as part of the Shoppers Optimum program.  With such an important goal, I think this program is more suited to operate as a stand-alone.  That way, more energy and focus could be placed on the targeted customer demographic in order to make them feel special and truly rewarded for being a member.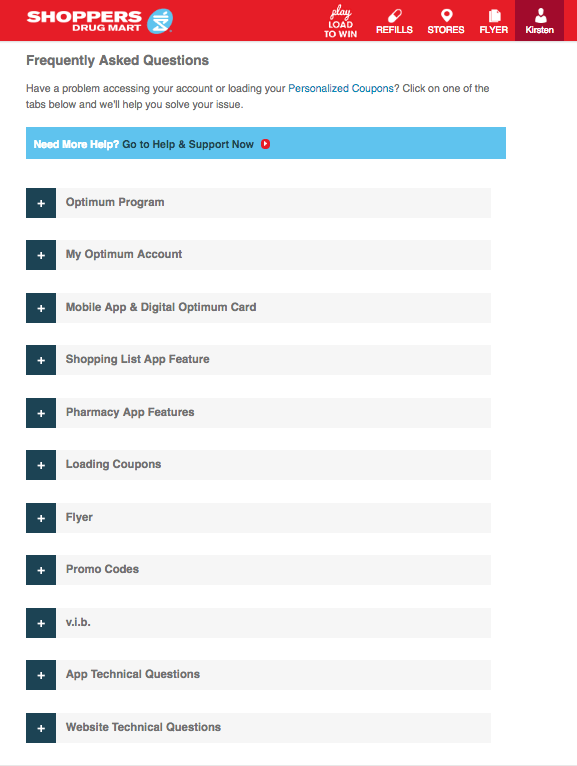 There are also communication issues within v.i.b.  As with rewards redemption it's very difficult to understand what rewards v.i.b members are actually receiving for participating, and the frequently asked questions section is buried within the larger FAQ page.  After you've done all of this digging, it seems to indicate that the only perks members receive are additional coupons, leading me to wonder how it differs from the rest of the Optimum program.
When you offer an additional group or tier in your rewards program, it's integral that you ensure that it actually provides additional benefits for your customers.  Offering more of the same doesn't create a greater sense of loyalty – instead, you're more likely to have customers asking "why bother?"
Optimizing Shoppers Optimal Rewards
Regardless of how I feel about their poor communication and v.i.b promotion, Optimum is a great example of how to cater to your customers' needs to provide an exceptional customer experience.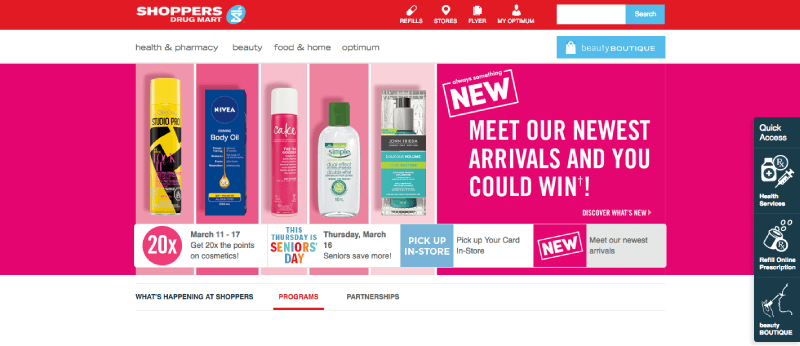 Using large points rewards and an unbelievable mobile app, Shoppers has identified many of the elements that make up an excellent rewards program.
The cherry on top?  Peanut butter coupons.