There are few things more Canadian than a trip to Canadian Tire. I can't count the number of times my dad bundled my brothers and I into the car for "a quick trip" to this mecca of Canadian department stores.  Amidst the aisles of hardware, car parts, and appliances, my dad always found exactly what he was looking for at the price he wanted and my brothers and I usually got a pack of gum.
However, the best part of any Canadian Tire trip was the Canadian Tire money.  As an act of appreciation Canadian Tire rewards every purchase with this special currency, giving customers the chance to rack up those bright coloured bills.

Being Canadian, I figured it was about time I looked at a program that was made in Canada, for Canadians.  Since he's the seasoned Canadian Tire shopper in our family, I asked my dad to help me with this case study,.  Let's see what this savvy shopper had to say about his experience with one of Canada's oldest loyalty programs.
Praise-Worth Elements of My Canadian Tire Money
When I approached my dad about contributing to this article, he had more than a few reasons for why he loves this program.  Unfortunately I don't have the time to share them all with you, but Dad was kind enough to give me the Cole's Notes version.
1. Oodles of Reward Possibilities
My Canadian Tire aims to help customers "earn on the things you need towards the stuff you really want".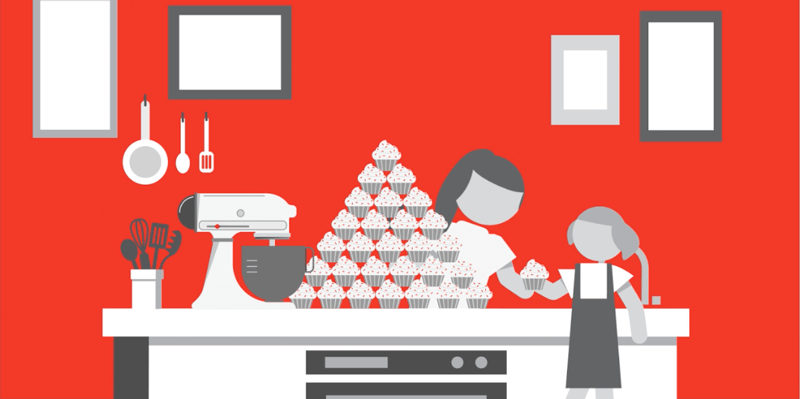 While this might be an empty promise with other rewards programs, Canadian Tire allows their customers to redeem Canadian Tire money on virtually anything in store.  Boasting the option to collect and redeem on over 90,000 items, every customer knows they'll benefit.
The best part?  Canadian Tire Money doesn't expire, meaning customers can save until they have enough to purchase something they actually want.  There are few things more satisfying than being able to get something expensive for free, and giving customers the opportunity to experience just that is largely what makes the My Canadian Tire Money program so successful.
2. Optimized Mobile Experience
Currently, 90% of Canadians live within 15 minutes of a Canadian Tire store.  Clearly, they're serious about making their brand accessible and their mobile app is key to this mission.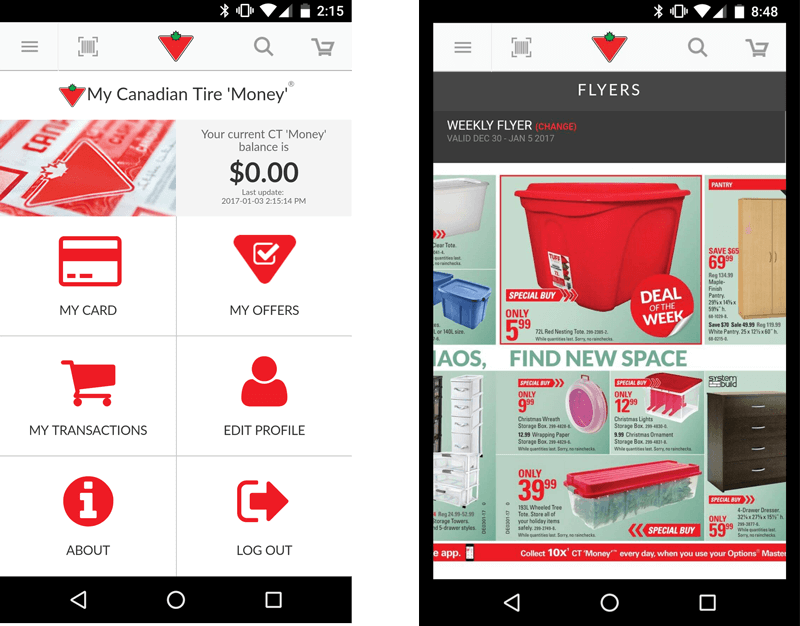 Like Shoppers Drug Mart, Canadian Tire has built an app that allows customers to build shopping lists, browse products, and access their rewards account all at once, no matter where they are!  The interface is clean and easy to understand with big, branded buttons that make navigation easy.  They've also included the customer's account balance on the home screen, making it easy for customers to see how much more Canadian Tire money they need to get that dream mixer they've had their eye on.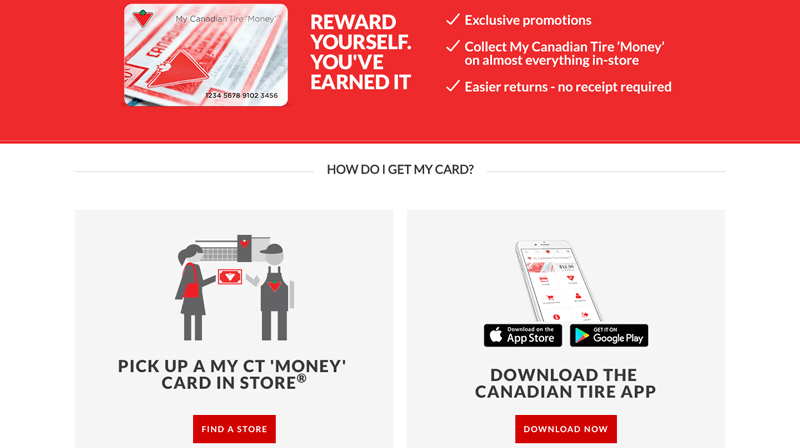 As if that this wasn't already fantastic enough, the mobile app also gives customers the opportunity to sign up online.  Now instead of having to go to a store to pick up a physical card, they have the option to sign up in seconds on their mobile device or home computer.  This makes it possible for customers to start earning right away, and eliminates the need to carry another card around in their wallet.
These considerations go a long way to improving the customer experience, and boost engagement with the My Canadian Tire Money program.
3. Canadian Tire Panel
As a loyalty specialist, this is definitely my favourite component of the My Canadian Tire Money program.  I've said it before and I know I'll say it again: loyalty is not a "set it and forget it" tool.  In order to maximize the value and effectiveness of a loyalty program, it needs to be reviewed and maintained on a regular basis.  A huge component of this process is customer feedback, and Canadian Tire has made it profitable for customers to join these conversations.

On the account page, My Canadian Tire Money members are invited to become Canadian Tire Panellists.  In exchange for participating, customers are rewarded with Canadian Tire Money and entered to win a $100 bonus card every month, simply for answering a few questions about their experience with the brand.  This not only opens an active feedback loop but also adds an extra layer of appreciation to the rewards program, showing customers that their experience is important.
Elements That Need a Tune-Up
No matter how much you love something, there's always something that could be improved.  Amidst my dad's effusive praise of the Canadian Tire Money program, he did let slip a couple of things that leave him less than satisfied with his experience.
1. Unclear Earning Model
When I made my first purchase at Canadian Tire, I was handed my receipt and a bright green paper bill with the denomination of 5 cents.  This seemed like a pretty arbitrary amount, but I assumed it would be some percentage of the purchase I had just made.  However after examining my receipt, I was still unable to draw any conclusions as to how this rewards amount was determined.
Promotional content doesn't indicate the rate of return customers can expect to receive with each purchase.
Years later, I'm still confused as to how Canadian Tire Money is awarded.  Nowhere on their explainer page do they clearly outline how reward amounts are determined, making it very hard for customers to visualize the earning and redemption process.  Knowing how much they need to spend in order to cash can be extremely motivating for customers, and making this information unavailable depletes their desire to engage.
Telling customers how to "spend more to earn more" is a critical part of boosting program engagement, and without this information customers are unlikely to value the reward currency they're receiving.
2. Earning is Difficult
Even though Canadian Tire Money can be earned and spent on virtually anything in store, rewards are handed out in such small denominations that it's very difficult to earn anything worthwhile.  Most customers aren't spending hundreds of dollars on auto and hardware supplies regularly, making it hard to measure the value they're earning.
Even when they do start earning, customers who make purchases in store are being handed paper bills that are easy to lose.  If they do misplace their hard-earned rewards, they have to start the laborious process all over again.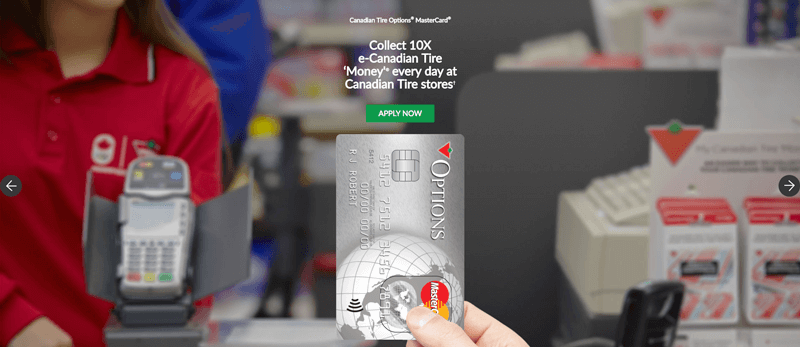 Additionally, customers can't earn points on gas they purchase at Canadian Tire locations unless they're paying with a Canadian Tire Mastercard or have a physical card.  This is frustrating for two reasons: first off, the convenience of the mobile app is completely erased by requiring customers to carry a physical card in order to actually earn on every purchase.
Secondly, many customers aren't looking to sign up for a new credit card.  Even though the card is offered as a way of increasing the rate of earning, many customers aren't willing to sign up for a credit card for this reason alone.  With so many other points credit cards available, Canadian Tire's offering isn't a big enough draw to get people to sign up, creating an earning experience that's challenging and extremely limited.
3. Lack of Context
The earning model cons continue with a complete lack of context.  Canadian Tire has done a great job of combining videos and visuals on their explainer page to introduce members to the program, but no real information is provided.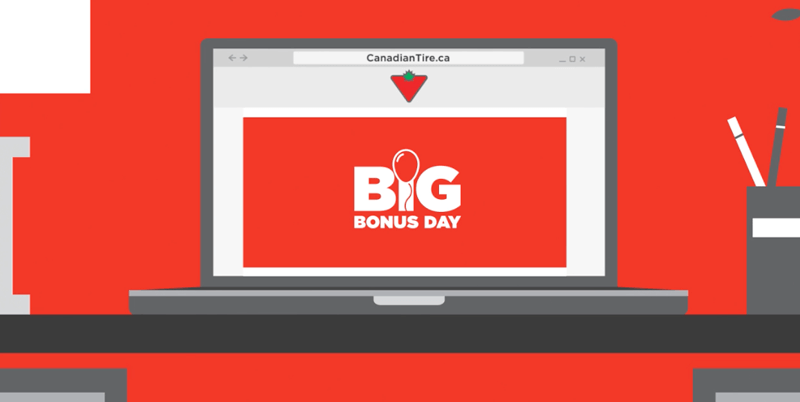 The first video mentions Big Bonus Days and Redeem to Earn Days where customer can earn more points…without explaining what those days are.  Similarly, other images promise 50x the CT Money per purchase without providing a benchmark of what a customer can expect to earn.  If a customer wants more information, there's no indication of where they can get it, inserting a wedge between the program's accessibility and their desire to participate.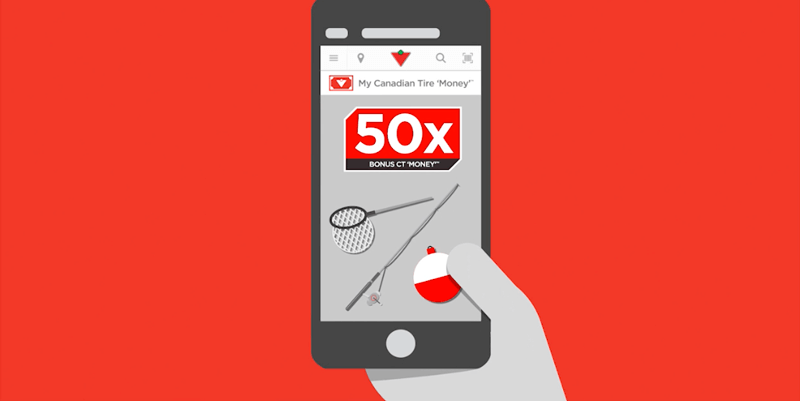 A program's value and all associated information should always be immediately evident.  When customers need to go looking or asking for additional information about things you've already mentioned, your program begins to look vague and undefined.  Better education leads to better engagement, making this an issue that Canadian Tire should assess and address sooner rather than later.
Leading Loyalty in the Great White North
In spite of some issues with the earning and redemption process, My Canadian Tire Money is still a shining example of exceptional loyalty.  Customers continue to participate in the program long after their parents' influence has passed, and look forward to feverishly counting the large stacks of coloured bills waiting patiently in their closets.
None of this would be possible without the power of the Canadian Tire brand.  There's a reason two out of three Canadian men read the flyer every single week, and the brand's nostalgia and nationalistic heritage has a lot to do with it.  By leveraging this appeal, Canadian Tire has built a loyalty empire that has the power to span generations and provinces alike.  It truly is a brand built for life in Canada.