The first frequent flyer program was launched in 1981, and started what would quickly become an arms race for the best airline rewards program or "frequent flier program" in the industry. Fast forward 30+ years and every airline has a rewards program but one stands out above the rest.
According to U.S News Travel, jetBlue has the best travel rewards program in the industry. This is a claim that is backed on many other lists including Yahoo Travel and Life Hackers. So lets investigate the good and the bad of this popular airline rewards program.
What True Blue Does Right

1. No Point Expiry Date
Normally I am an advocate of having a point expiry period. It gives customers a sense of urgency to spend their points and gives you an opportunity to connect and market to them when those points are about to expire. There are benefits to both expiry options!
In this jetBlue example, I believe no point expiration date is making the airline's reward program more effective. Rewards in the airline industry have a large price-tag associated with them. Reward program members have to be a very frequent flyer, or continue to save for a long period of time.

By not introducing an expiry date jetBlue is able to keep a broader audience motivated to continue using the True Blue program. More motivated members in the program means more repeat customers, which of course means more revenue for jetBlue.
2. Customers Can Earn Points Fast
One of the best uses of a loyalty program is to motivate customers to perform actions that go above what is usually expected. Successful programs reward customers extra points when they do more than the average. This could be extra points for an order that is higher than the average order value, or an order size that is greater than the average. jetBlue has positioned its reward points to do this beautifully.
jetBlue found that the average customer was booking just a flight (even if they were vacationing), and sitting in economy. Knowing this they have given customers options to earn additional points to get them to become a more profitable customer.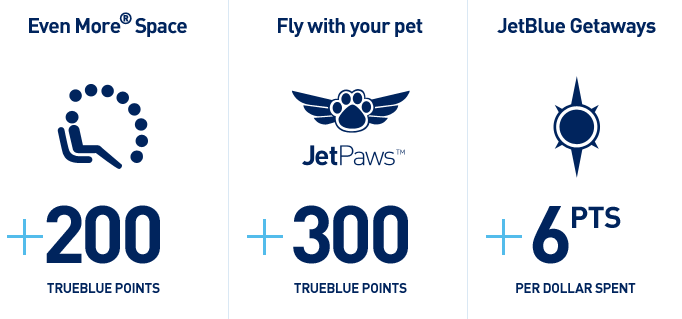 Additional ways to earn
jetBlue now entices flyers to purchase an "even more space" seat, bring their pet along, and book their entire vacation with jetBlue. These are fantastic ways to leverage the rewards program to increase overall profitability. jetBlue even takes it one step further by introducing badges.
Badges are jetBlue's way of adding a gamification element to their program. In the badges section customers are challenged to complete tasks that will give them a badge as well as additional points.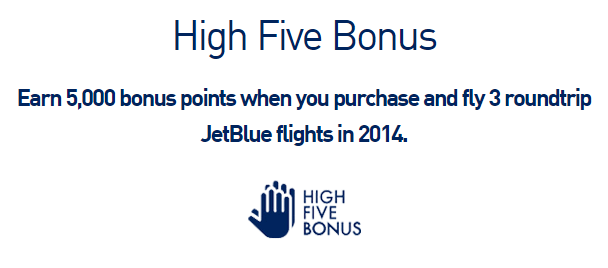 Example badge from jetBlue
Badge and gamification elements are a fantastic way for an airline rewards program to increase usage. If a customer has purchased 2 round-trips with jetBlue and are looking to book a third, you can bet that they will be looking to book with jetBlue, even if it costs more than a competitor.
3. Customers Can Donate Points
jetBlue allows customers to donate points to charity, which I am a big advocate of! Allowing customers to donate points to charity gives your program increased exposure and additional marketing benefits known as cause marketing. While i'm not sure how many frequent fliers are going to be giving points to charity it does have benefits.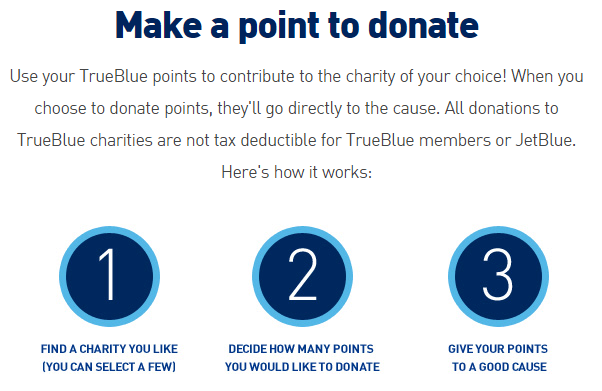 jetBlue allows you to donate points
Shoppers today are looking for companies that are supporting a cause. Companies like jetBlue that support a cause are more likely to be recommended by their customers. In fact, there has been a 39% increase in the amount of customers recommending social brands since 2010.
By including donations, they have set themselves up to be recommended more often and get more publicity than other airline rewards programs.
What True Blue Does Wrong

1. Does Not Explain Point Redemption Well
One of the easiest ways to kill a rewards programs momentum is to not explain how customers can redeem their points. Customers want to know to claim a reward and the points required to do so. jetBlue's program does an inadequate job of explaining the reward, which is the strongest program motivator. Here is what is on the site.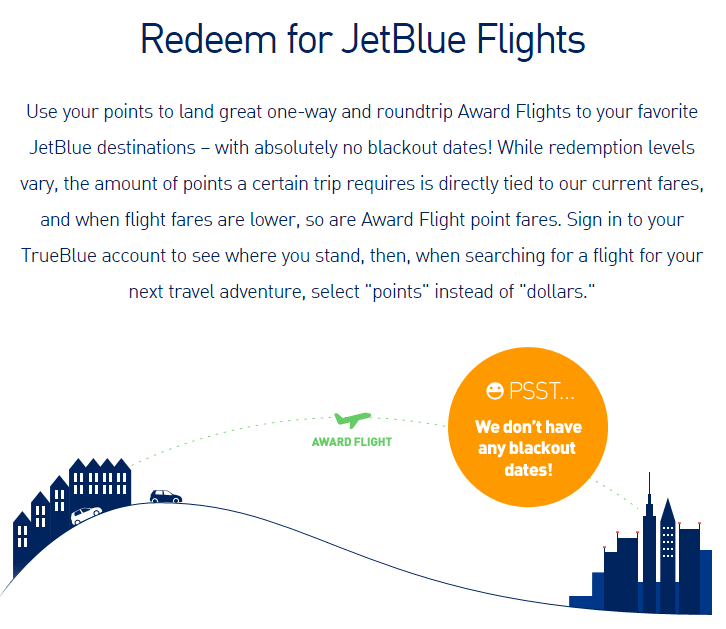 Poor point redemption explainer
They make it very difficult to determine what the points you are earning are worth! If a customer can't determine what the points are worth they are less motivated to join a program. A customer sees value when they spend points not when they earn them, so make it clear for the customer to see the value.

I know there are a lot of variables involved when using points to book a flight, but they should aim for a bit more visibility. I would recommend having an image similar to a flight board that shows the 5 most popular routes and what the current rate would be in points, or some other form of an explainer page.
2. The Tiered Program is Not a Strong Motivator
The True Blue program currently has two tiers, the basic membership and the mosaic membership. A customer can earn mosaic status in one of two ways, which are listed below.

Requirements for the mosaic tier
Segments are individual flights, so you can earn mosaic by flying 30 times and getting 12,000 points or by accumulating 15,000 total points. The mosaic tier also comes with additional benefits.
A mosaic member gets an additional 15,000 points when they enter the tier which is a nice incentive, but they get few more key benefits. Mosaic members also get an expedited security line, early priority boarding, 2 free checked bags, and earn an additional 3 points per dollar spent.

Extra rewards in the mosaic tier
While the rewards are useful and are likely a strong motivator for members, I think the tiered program could be done better. The mosaic tiers 15,000 point entry requirement equals $2,500 spent on flights if we use a $300 flight that means you would need to fly about 8 times a year. This tier is actually relatively easy to obtain. Easy to obtain tiers are not always effective.
In my experience tiered programs perform best when they play on exclusivity. Customers work harder to get something that others don't have. jetBlue could benefit from adding a tier above mosaic for the elite flyers.

Proposed third tier
Creating a hard to reach "elite tier" would motivate the most frequent fliers to choose jetBlue even more often. The status the final tier creates would drive customers to pursue it and promote it. Just look at how Starbucks and Sephora have leveraged exclusivity in their tiered programs.
3. Points Are Not Consistent Across Partners
The final problem I see with jetBlues rewards program is inconsistent earning through partners. jetBlue currently partners with other airlines including Hawaiian and Emirates but they offer different earning rules than jetBlue.

How to earn points on partner airlines
When booking on these other airlines you will earn points based on miles flown rather than dollars spent (True Blue). This can be very confusing for customers looking to book on these partner airlines, which likely leads to a significant amount of customer support hours. Which leads me to my final recommendation.
jetBlue should look to make earning points at partners a more consistent experience. I would recommend implementing a points calculator. Customers would input where they are flying to and from as well as the class of service they booked, and the calculator would convert that into a True Blue rewards number.
The True Blue Rewards Program
Many lists have the True Blue rewards program listed as the top in the industry for consumers. I would say it is also a top program in terms of effectiveness. With a couple of tweaks to the explainer page, tiers, and partner program this airline rewards program could really take off (too much?).