They say that life's all about enjoying the little things, like crisp white sheets, fluffy pillows, and sample size shampoo bottles (to name a few).  Although I could go and buy my own travel size cosmetics and painstakingly make my bed every morning, hotels give me the opportunity to enjoy each of these pleasures without doing any of the work.
Based on the sheer number of hotels out there, I think it's safe to say I'm not the only one who feels this way.  I also know that no matter how convenient hotels may be, people are always looking for the best deal.  Hotels.com has been helping customers find affordable travel accommodations since 1991, and their Hotels.com Rewards program has been a large part of their success.
The Amenities
With over 254,000 hotels internationally, Hotels.com is no stranger to outlining the amenities, or desirable features, of each of their available accommodations.  I'd like to take the same approach and let you know why Hotels.com Rewards is an excellent addition to your loyalty portfolio.
1. Beautiful Explainer Page
If you didn't already know, we here at Smile.io go bananas for a well-designed explainer page.  Explainer pages are important because they demonstrate the value of your program to customers, highlighting what makes them different and how the program functions.

Hotels.com has this in spades.  The first thing you see is a typical loyalty program punch card with text explaining the mechanics of the program.  Customers are informed that for every ten nights they purchase through Hotels.com, they'll receive a free night in one of the many eligible hotels.  They're also invited to "Unlock Secret Prices" (more on that later), demonstrating additional value within their loyalty program.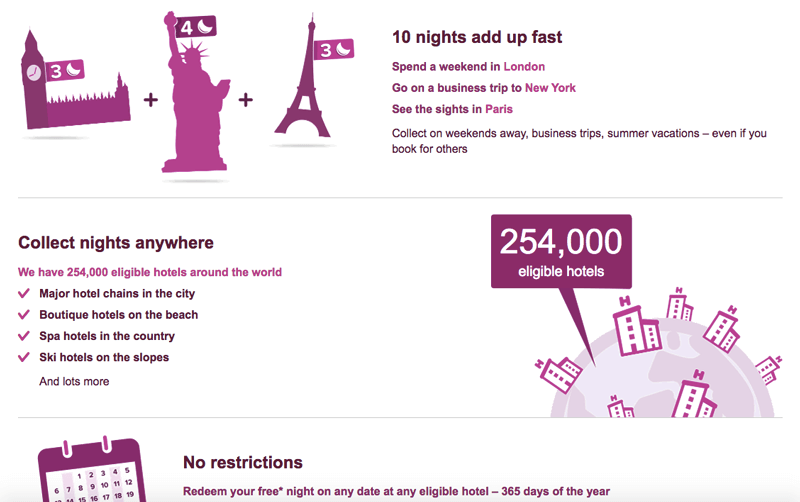 I love this for a couple of reasons.  For starters, it's a clever homage to the origins of loyalty programs – cards carried in wallets.  Secondly, it ties into the overall feel of the program instead of overwhelming the other elements being presented.  With beautiful colour coordination, engaging visuals, and easy-to-digest sections, their program is presented as easy-to-use and desirable to join from start to finish.
2. Easy Onboarding Process
One of the elements that caught my eye on the explainer age was the following promise:

While offering a free loyalty program isn't unheard of, boldly claiming that your processes or services will only take a specific amount of time is.  As it turns out, they aren't lying.  Customers are able to sign up for Hotels.com Rewards in no more than five fields.  They're also given the option to sign up with Facebook, further expediting the process while also fitting into their social media lifestyle.
This registration process is also extremely smart.  While signing up, customers can clearly see what they have to gain by joining the program.  They're also able to click a link to find out more about the loyalty program, which opens the program's explainer page in a new browser window.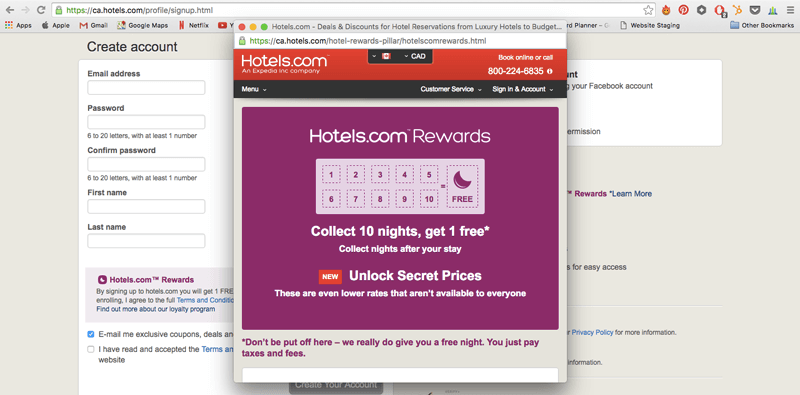 By opening the explainer page in a new window, customers aren't being rerouted from the commitment page while they get answers to their questions.  This is a great way to ensure customers stay focused on signing up without ignoring their need for information (and also gives them the opportunity to see that beautiful explainer page again).
3. Secret Prices
As promised, I'm going to address that oh-so-intriguing promise of Secret Prices that I mentioned earlier.  Secret Prices are essentially additional discounts that aren't available to every customer.  These prices also aren't advertised on other hotel discount sites, elevating the value of the reward.

If this isn't a genius marketing tactic, I don't know what it is.  As soon as anyone hears the word "secret" they automatically want to know what it is because it promises exclusive information.  Therefore, using it as part of their rewards program gives Hotels.com the power to make their customers feel special, increasing the exclusivity of their program.
The Baggage
Anyone who's ever done any traveling knows how frustrating lugging around suitcases and carry-ons can be.  In the same way, Hotels.com Rewards has some baggage of its own that can put a little wrinkle in their impeccably neat 300 count Egyptian cotton sheets.
1. Misleading Rewards
I've never been a fan of hiding restrictions in fine print.  As a customer, I feel cheated when the value I expect to receive is overwritten by hidden rules and qualifications.  In this case, Hotels.com doesn't have any fine print.  On the contrary, the font they chose is actually quite large and highly visible on their explainer page, as they announce to their customers that they are still required to pay taxes and fees when redeeming their "free night".

This doesn't sit well with me.  I understand that nobody wants to give anything away for free, but promising a free night's stay at a participating hotel and then requiring the customer to put money down feels like a huge mis-claimer.  Diminishing value in this way runs the risk of making your best customers feel that their business isn't truly appreciated, which may result in customer churn.
2. Redemption Hiccups
Choosing to pay for things in person as opposed to online is a way for people to maintain a more human connection with the businesses they frequent, and is still preferred by some customers.  Unfortunately, Hotels.com does not allow customers to pay at the hotel for the incurred fees and taxes when redeeming their rewards.  Instead, customers must pay online ahead of time.
This wouldn't be as aggravating if the earning and redemption processes were 100% fool-proof, however once again Hotels.com Rewards falls short.  In the event that a customer forgets to book a room using their account, they are unable to collect the night as one of the ten required to earn a free one unless they log in before completing their stay.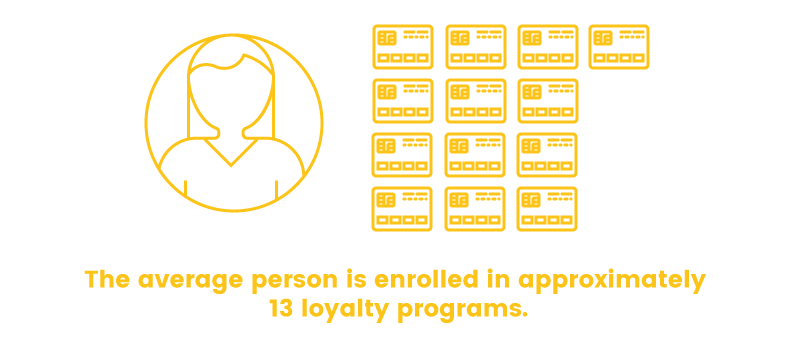 The reality is that many people forget they're members of rewards programs, which isn't surprising considering most people belong to an average of 13.  Failing to provide a fool-proof way for customers to earn their rewards isn't great customer service, particularly when they're spending so much to earn the reward in the first place.
3. Limited Ways to Earn Rewards
My previous point is directly related to my final concern.  Maybe it's the loyalty expert in me, but I was very surprised to find that customers are only able to earn rewards by booking hotel rooms.  It's never a good idea to reduce the ways customers can earn rewards, but to simply not offer them in the first place?  Definitely ill-advised.

What's most surprising to me is that customers have no incentive to leave reviews.  Considering this type of industry thrives on consumer feedback and social sharing, it's astonishing that they're not motivating their customers to do so.  This type of limited interaction disallows the program from evolving into a fully-integrated lifestyle experience, stunting its impact significantly.
The Long and the Short of It
Hotels.com Rewards is a very different type of loyalty program from the others we've highlighted on the Smile.io Blog in the past.  With only one way to earn and redeem rewards, it can seem very limiting and unaccommodating, especially with the misleading nature of the reward in question.
In spite of these concerns, though, they've managed to design a simple, quick-to-start program that understands the mechanics of customer loyalty, and have mastered the art of making their customers feel special.  Now that's what I call hospitality.