Gilt revolutionized the fashion industry when it debuted in 2007. The online fashion retailer uses high end flash sales to pique customer interest and generate demand. The site grew rapidly in its first few years before their growth fell stagnant.
Gilt Insider was launched in 2013 and was part of a strategy to help revitalize the brand. The Insider loyalty program matches the brand fantastically and is designed very well. The Insider program is helping bring loyalty to a business model that struggled with increased competition.
Here is an in depth look at what Gilt's Insider program is doing well, and some areas that they could improve upon.
What Gilt Insider Does Right

Flash sales historically were associated with cheap and low quality goods, but Gilt changed all that with their high class and trendy flash sales. The "high class" brand image is one of the most important aspects of Gilt's site and their loyalty program is aligned perfectly.
1. Explainer Page
One very important aspect of a successful loyalty program is a good explainer page. This is the page that showcases how a shopper will interact with your program. This includes ways to earn points, ways to redeem points, and tier explanations.
Gilt's explainer page is visually appealing, simple in its design, and explains all aspects of the program. An explainer page like this one helps drive program enrollment, customer engagement, and above all profitability.
It is also important to match your explainer page with the brand image you are trying to portray. Gilt does a great job of this by having high quality images of models wearing Gilt clothing. The use of black cursive text on a  white background also adds to the perception of high quality.

The Gilt explainer page is one of the best in the fashion industry, and the loyalty world as a whole.
2. Welcome Points
Another important component of a loyalty program is giving your shoppers points to spend. Shoppers generate an attachment to your program when they spend points. It creates a psychological attachment to the points and your store.
Gilt gives shoppers 500 points when they sign up for an account. This puts a new shopper well on their way to receiving their first reward which comes at 1,500 points.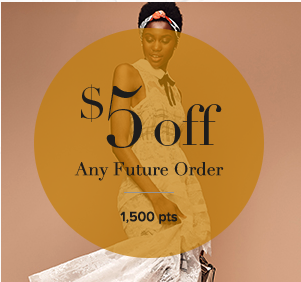 A common mistake of many loyalty programs is not encouraging shoppers to spend points. That first purchase with points is what gets shoppers returning again and again, be sure you encourage that to happen as early as possible.
3. Tiered Systems
The tiered system that Gilt uses is my favorite part about the Insider program. I'm a big advocate of tiered programs because they encourage customer engagement, increase profitability, and work great for luxury brand loyalty programs like Gilt.
Gilt has 4 tiers in their loyalty program. Customers enter the program as part of the Starter tier, and have the chance to progress to Select (5,000 pts), Premier (10,000 pts), and Noir (25,000 pts).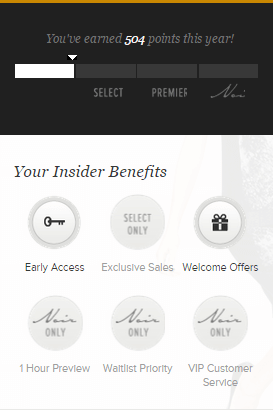 Tiers establish a status in your program, which luxury brand shoppers love! The tiers introduce gamification which is a powerful motivator on its own, but if you also introduce tier rewards it becomes even more powerful.
Tier rewards are incentives you offer to encourage customers to progress to the next tier. Insider does a great job of this, they give rewards that are relevant and tailored to their business. The tier rewards are presented underneath the status slider in the image above. As you can see, I have unlocked "early access" and "welcome offers". As I progress up through the tiers, I'll be able to unlock more benefits as well.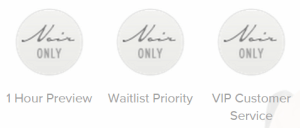 The upper tier benefits include "exclusive sales" and "1 hour previews", which are very valuable rewards on a site that offers flash sales. It increases the likelihood that you will get the item you want and exposes you to more great deals. Gilt's Insider program has done an amazing job aligning rewards with customer needs/wants.
What Gilt Insider Does Wrong

1. Referral Reward is Confusing
Rewarding for customer referrals is a fantastic way to increase your programs reach and increase profitability. The fact that Gilt has a referral program as part of their loyalty strategy is great. However, the reward itself is a little confusing.
On the explainer page Gilt shows all the ways that you can earn points. This includes consecutive visits, site visits and referrals. This section displays the reward in terms of "points" for 3 of the 4 but is displaying a "dollar" reward for referrals.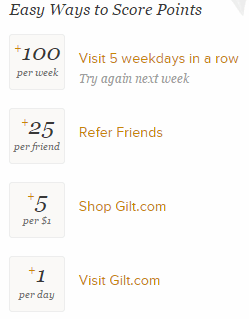 Referrals are incredibly valuable to an ecommerce site, which is why I was having difficult time determining why they were rewarding more for consecutive site visits than for a referral. Earning in different currencies is a surefire way to confuse your customers and decrease engagement. Simply converting the $25 amount into a point total would solve this problem, and might even be a more effective motivator than the $25. Many customers would prefer to earn non-cash rewards, making this referral reward dilemma irrelevant.
2. Short Expiration Date
Gilt currently sets an expiration date of 6 months without a purchase. This is a short expiration period in my experience, a standard point expiration period is a 1 year rolling expiration. A rolling expiration means that the clock is reset anytime a customer spends or earns points.
Gilt's decision to run a short expiration period may lead to some disgruntled fans. Many shoppers use Gilt to make an expensive order that they may only do once or twice a year. Gilt likely has set this expiration as a way to get shoppers to make repeat purchases they may otherwise not make. The problem is that if a customer loses all the points they accumulated they're unlikely to stay engaged with the Insider program.
There is a lot of debate over what the best expiration period is, or if points should expire at all.  Regardless of what camp you're in, it doesn't change the fact that Gilt's point expiration timeline leaves a lot to be desired.
3. Tier Status is Based on a Calendar Year
The last problem I see with Gilt's Insider program is another expiration problem. Insider's tiers are based on points accumulated, once you achieve a tier you will be in that tier for the next calendar year. You will need to accumulate the number of points required in that next year to stay in that tier for the following year.
The problem with this is that the points reset on a specific date, February 1st to be exact. This means that as of February 1st every customer is on the clock. From a company standpoint I understand the reasoning behind this, but it hurts the program from a customer experience standpoint.
A solution for this is to allow customers to keep their status if they acquire the required amount of points within a 365 day period. This lets customers shop when they want without feeling like they are under pressure to shop at a certain time.
The Insider Program
Gilt's Insider program is a great example of a loyalty and rewards program. The program is beautiful in its design and practical in its application. The explainer page is one of the best examples I have ever seen, and the tiers are also designed incredibly well.
The two major problems I see with the program have to do with their points expiration period. It is always important to strike a balance of what is good for you as a business and what is good for the loyalty program user.  Otherwise, you lose sight of who the program is actually for!
Overall, the Gilt Insider program does a terrific job of addressing their customers' needs. They're an excellent example of how rewards programs can be used effectively for luxury brands to motivate their customers to engage more frequently with them. With only a couple of changes to their expiration dates, the program could be next to flawless!