How does an energy gum that most people don't understand build and grow a brand?
This is the question Run Gum was faced with. Several years ago Olympic runner Nick Symmonds decided to channel his passion for running into a new and exciting avenue: caffeinated gum.
Fuelled by a desire to give back to the running community, he and his coach designed an innovative new product called Run Gum that helps athletes at every level get the energy boost they need to achieve their personal best with every workout.
However, while the Run Gum team was passionate about what they had created they knew it would be a tough sell for many customers. According to Nathan Woods (COO at Run Gum):

"The idea of having an energy gum is, for most consumers, unheard of because they just don't know that there's gum out there that's functional beyond nicotine."
This challenge led the team to start considering how they could get their brand out there without sinking unnecessary costs into ad spends, and it was around that time that the idea for Run Gum Rewards started to take shape.
Increasing word-of-mouth marketing with rewards
From the very beginning, Run Gum knew that traditional advertising would not work for their brand. Since caffeinated gum isn't a common concept, they needed something more powerful than expensive, traditional ads to help them create a demand.
"We could share our story on our own. We can pitch our brand as much as we want, but it always sounds better when your friend tells you that they use our product for their runs or in their afternoon hustle at work."
Run Gum knew that their existing customers were an army of sorts that could be taken advantage of. By rallying the troops, they had the opportunity to reach a huge untapped audience they couldn't possible get to with other common acquisition strategies.
From here, the idea to combine rewards and referrals came about quickly. The team recognized that they could use rewards to motivate their customers to become comfortable enough with their product to advocate it to their friends and family.
This inspiration was largely borne from Run Gum's desire to do more for their customer experience.
"For a long time we would say things internally like 'people matter' but wouldn't really do anything to engage with them or build connections. We got excited about the concept of being able to create awesome experiences for people with rewards because that's what we really enjoy — engaging with our customers and being recognized as a really engaging brand."
Run Gum Rewards became the perfect vehicle for accomplishing all of their goals. With rewards, it became easier to get new customers excited about their brand, joining their community, engaging on a regular basis, and sharing their experiences with others.
Spreading the word with Smile
If their referral program was going to succeed, Run Gum knew that they had to build lasting relationships with their customers. These relationships would be the key to ongoing success, which is why they wanted to work with a provider that valued the same things.
"Of all the different apps you can have, there are very few that I feel are deliberately trying to make sure you're successful with it. The Smile team has always gone out of their way to not only make sure that you're a customer but that you're a successful customer. From the beginning I've felt like they understand there's a person behind the brand and work to establish a real connection as a result."
Since rewards were a new idea for the Run Gum team, they were looking to work with someone who thoroughly understood their desire to be actively engaging with their customers in new and exciting ways. Once they discovered Smile, they knew they had found the people who could help them empower their brand advocates to keep spreading Run Gum to the rest of the world.
"We wanted to be a really engaging company while bringing a referral program into the picture, which is what led us to more of a total rewards program."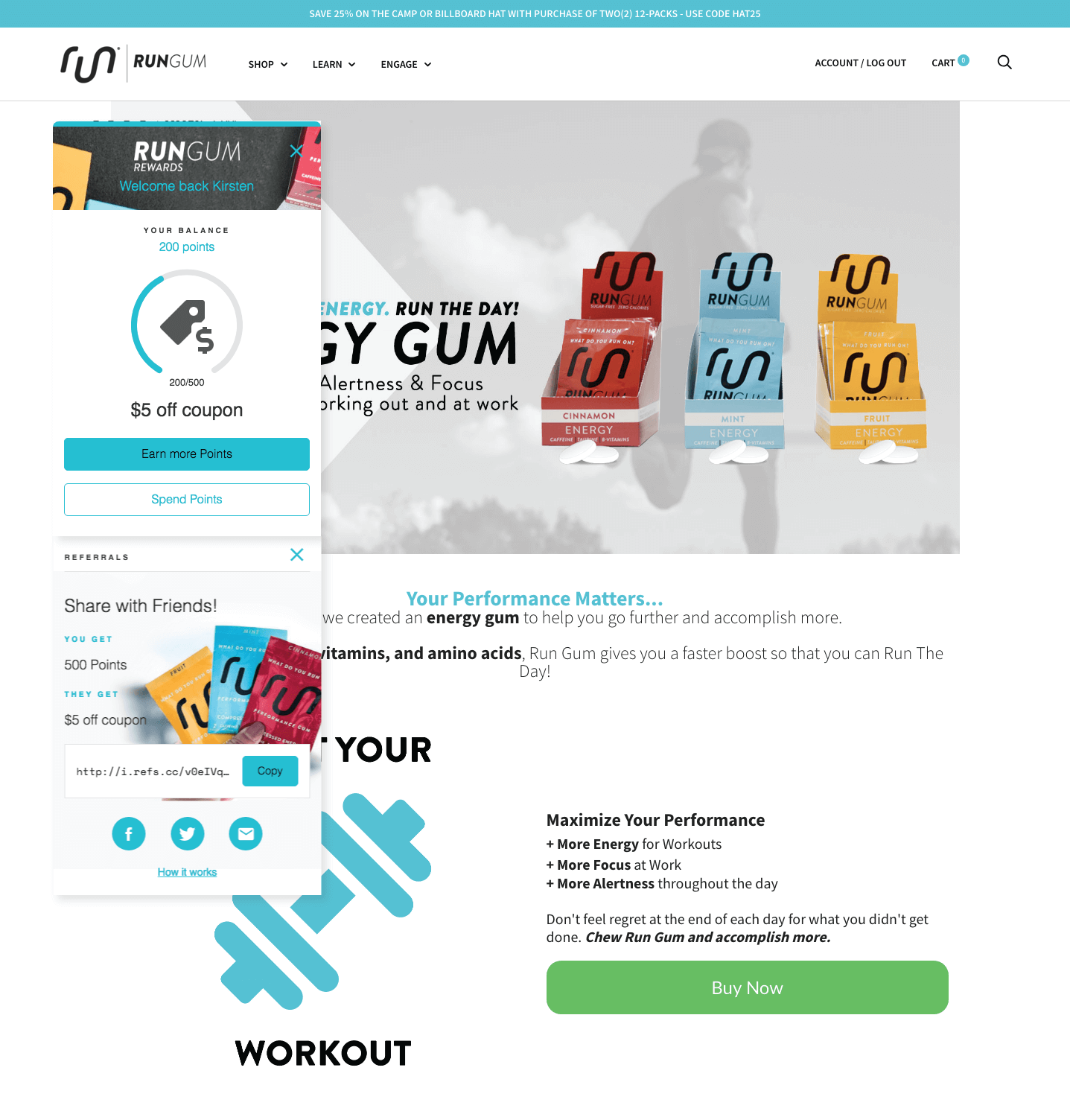 By giving their customers more ways to engage besides making referrals, Run Gum delivered a complete rewards experience that deepened their existing customer relationships and set them up perfectly to develop new ones.

These relationships were responsible for their 200% increase in repeat purchase rate — a stat that validates their desire to enrich their customer experience.
"From our first conversation with the onboarding team through every engagement with others at Smile, it's felt like a reciprocal relationship. We're not just an account number, and together we can collaborate in a way that's genuine."
Run Gum is proof that customers can be your best marketers. By focusing on building reciprocal relationships with their customers and the platforms they work with, Run Gum was able to build the exact type of customer experience they wanted — all without compromising what makes their brand unique.