This is part of our #SmileABCs series, highlighting and going in-depth with small businesses and ecommerce brands. Check out the full series here.
Any dog lover out there knows that your furry friend is more than just a pet. They can be your best friend, your sibling, and sometimes your only children. That's why puppy supply brand, Lucy & Co. is committed to supplying beautiful, high quality dog goods.
Lucy & Co. is your one stop shop for walk gear and cute apparel for your pups. You can even snag some cute accessories for yourself!
Their most popular product is their Reversible Harness, which comes in so many different cute and festive patterns. "It's the cornerstone of so many collections and matching sets! We generally build capsules around our harnesses and walk sets and pull from the success we see with different prints and patterns to expand into other product types like our Puffer Vests and other apparel and our Everyday Gear Collection colorways," explains Anna Knutson, Director of Marketing.
When it comes to buying goods for your pups you want them to be comfortable and functional but adding a dose of cuteness doesn't hurt, does it?
How Lucy & Co. built a community of pet parents
Dog lovers are arguably one of the strongest communities off the bat. But it takes a great brand to bring them together. And that's where Lucy & Co. comes in.
The brand was inspired by the owners' 10-year-old Bugg (Pug + Boston Terrier), Lucy. "The '& Co' is a nod to all the dog lovers that make up the Lucy & Co. community. Our team, our customers, and the organizations and brands we partner with," states their About Page.
Lucy and Co. takes their community very seriously and it shows. Their Instagram profile is flooded with images their customers take of their own pups wearing Lucy & Co. products. This is not only a great way to make your customers smile, but user-generated content is a great way to build trust for future customers who come across your profile.
Lucy and Co believes 'dogs are deserving'
These 3 words fuel everything behind this charming brand. Lucy and Co. was built on the idea that dogs are deserving. Of homes. Of love. Of the world.
Any devoted pup parents out there would agree with this philosophy, which is why they immediately feel emotionally connected to this brand. Lucy and Co. does more than talk the talk–they walk the walk as well. With a wide range of products for their four-legged friends, they make sure that their furry customers can get everything they could ever want, need, and deserve.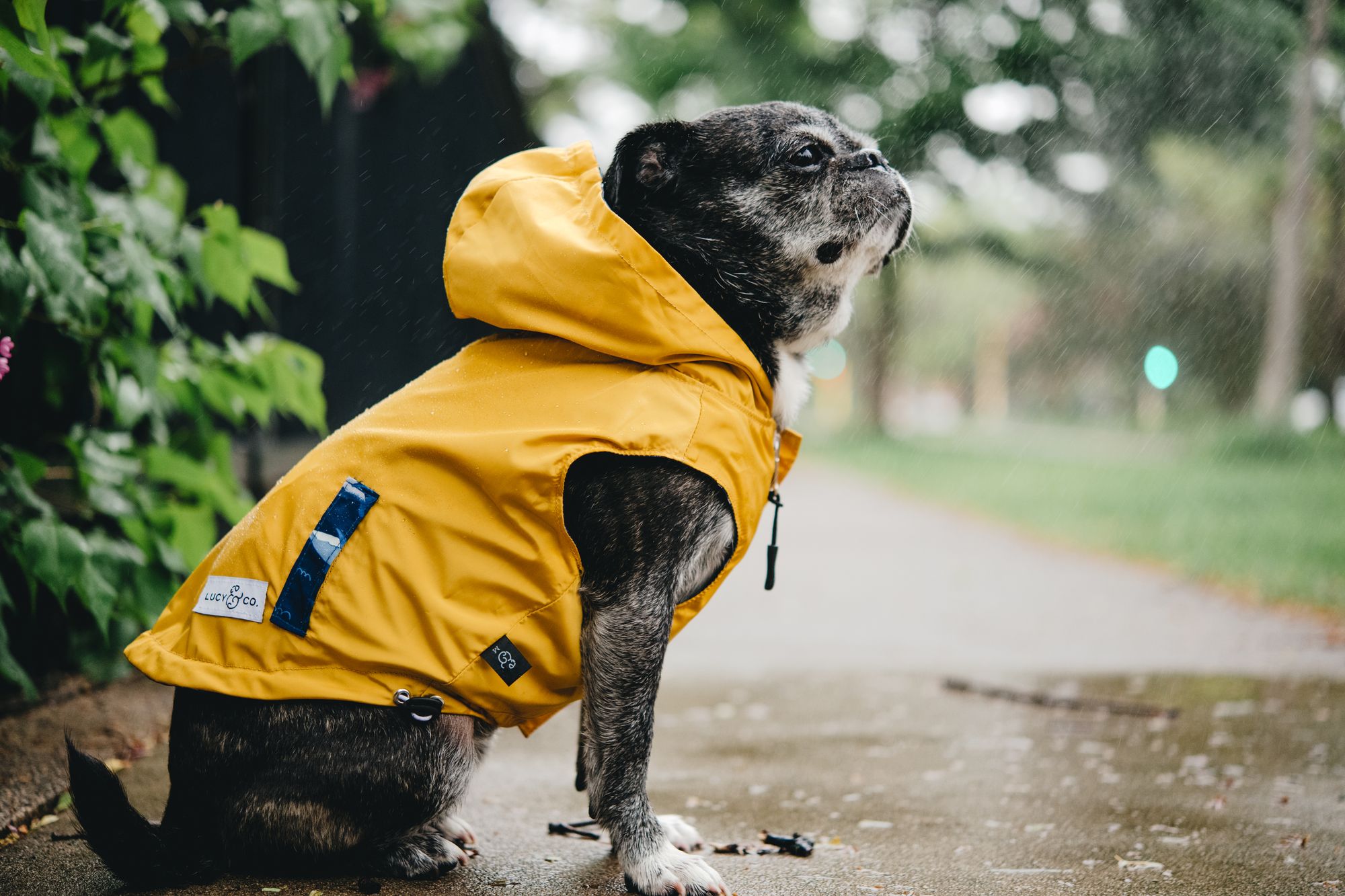 Lucy and Co. may have started with their Reversible Harness but now they offer a wide range of accessories including leashes, collars, and even eco-friendly poop bags. They've also got dog apparel like reversible raincoats, vests, hoodies, sweaters, pajamas, and bandanas to keep their customers fashionable. Their two-legged customers can also purchase cute hats and crossbody treat bags to proudly show their puppy love.
Expanding your product line can be intimidating, but whenever you choose to do so, take some inspiration from Lucy & Co. and ensure you're offering products that your customers will actually find valuable!
Lucy & Co. Pup Perks Rewards Program
Members of Lucy & Co.'s Pup Perks loyalty program earn 5 points for every dollar spent. But they can also earn points for following the brand on social media, leaving a review, or celebrating their dog's birthday!
"We take our community at Lucy & Co. very seriously and our rewards program is one way that we continue to nurture customer loyalty and keep them coming back year after year. Customers can earn rewards with us anytime they shop, when they refer friends and when they leave reviews," Anna tells us.
"We are currently looking at what expanding our loyalty program looks like in 2023. We see so much potential it's just a matter of capitalizing on it."
There's no doubt that customers benefit from this program with the ability to save money on their next purchase and advance through 3 different VIP tiers.
Lucy and Co. has also recognized the value of their rewards program as a brand. "Outside of initial revenue, it really helps us nurture our community. We value our customers so much and we want them to feel that way! Once the set up with Smile.io was done it's relatively low lift for us to maintain."
Whether it's rewarding their customers, showing them love on social media, or offering the cutest, high-quality goods for their most loyal pups, Lucy and Co. has built an incredible community and they're showing no sign of stopping.
Subscribe to Talking Shop
LEARN FROM LOYALTY PROGRAMS STRAIGHT TO YOUR INBOX