There are few things better than borrowing a sweater from a friend.  As soon as you put it on, you feel cozy, connected, and safe, and probably never want to give it back.
This is the feeling Amy Miraflor built Evy's Tree around.  After embellishing some of her family's clothing by hand, her business took off as blog followers from all over the world asked how they could their hands on one of her beautiful, well-loved creations.
Flash forward and Evy's Tree is an internationally recognized business with an extremely passionate brand community, but that's not where their story ends.  According to Sam Donohue (Business Management at Evy's Tree), the brand took off faster than they could have imagined.

"Evy's Tree started as hoodies being sold out of the founder's garage, but things grew quickly. As we continued to grow, it became very clear that our customer experience is what would propel us forward."
It was from this desire that the Who's Hoo Rewards & Referrals program was born.
Enriching a Brand Community with Rewards

From the very beginning, Evy's Tree knew they wanted to work with points and customer referrals.  That's because they have an incredibly engaged audience backing their brand, and know how important that community is to their ongoing success!
"Creating a sense of community around our brand with points was the ultimate goal."
Adding a rewards program encouraged existing shoppers to spend more and shop more often, while providing real value in return. This two way exchange of value has established a strong relationship with customers - a relationship that makes them want to buy and share their experiences with friends!
The Evy's Tree team knows it is much easier to get an existing customer to buy again than it is to go find new ones. On top of that, it's also much more personal!  Since their brand is built on the idea of designing fashion for every woman, it (and all of their cozy hoodies) is the perfect fit.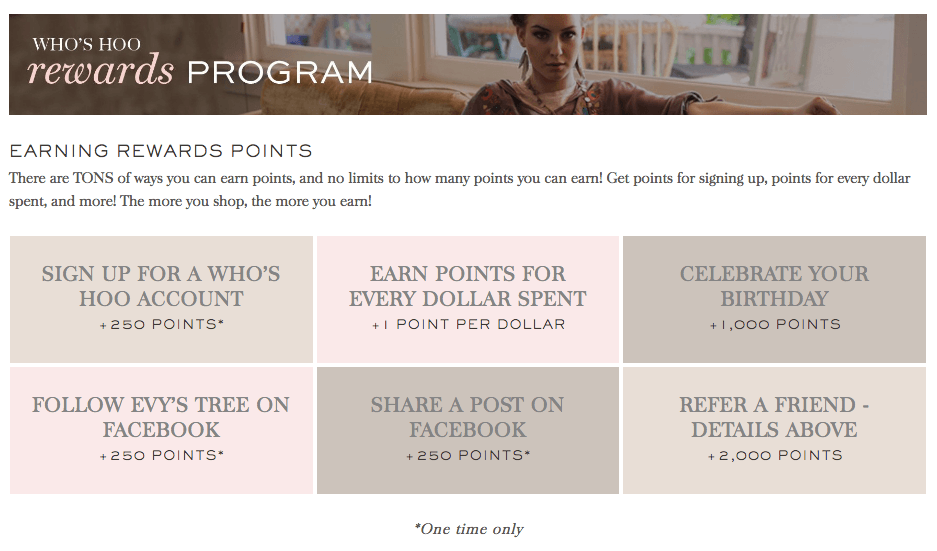 Providing additional value to customers who refer their friends, make purchases, and engage on social media are all ways that Evy's Tree uses rewards to acknowledge their community. A rewards program also makes the community more attractive to future shoppers, who then become repeat loyal customers themselves.
This way of thinking played directly into measuring their success.
"We measure our success in two ways: customer engagement and repeat customer rate. Engagement is a bit tough to measure, but we get compliments all the time from our customers on the rewards they can earn and the program in general."
With these goals fuelling their customer retention strategy, working with Smile was an easy decision.  From the beginning, Evy's Tree was confident in Smile's ability to keep up with their growth as their excited fans continued to multiply in number.
Building Rewarding Experiences with Smile
With more customers to reward and a brand that evolved at a larger and larger scale, Evy's Tree's Who's Hoo Rewards program was set up for success from the very beginning.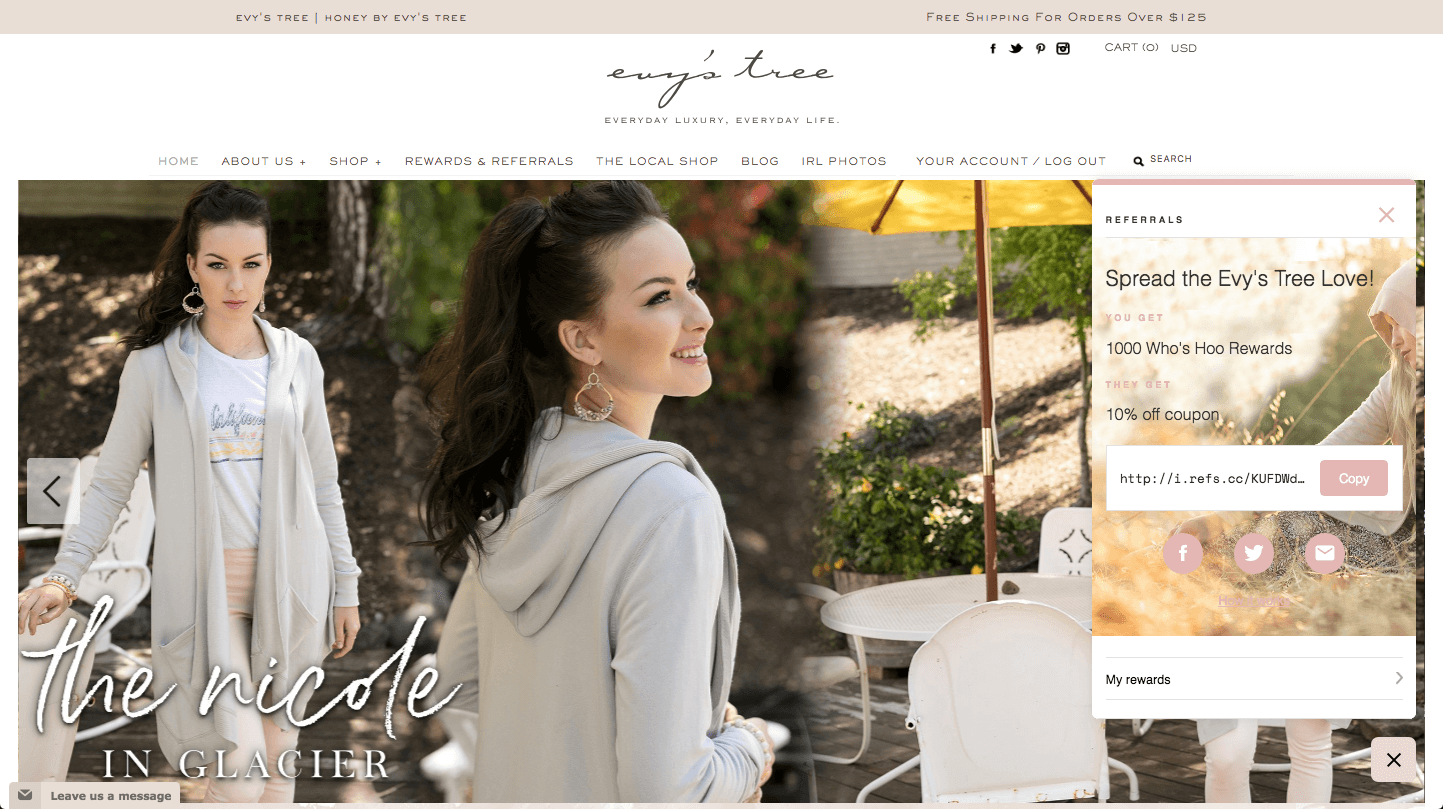 As a fashion retailer, branding and presentation are critical to the Evy's Tree team.  From the way it looks to how it would fit into their existing marketing strategies, they knew they needed to work with someone who shared their values and made it easy to maintain and enrich the community they had worked so hard to build.
"Smile gave us a way to create a program that was on brand (which is super important to us), simple to implement, and easy to use."
From fully customizable panels, cards, and launchers to unique program-specific emails, Smile helped Evy's Tree integrate their rewards program into the rest of their brand experience.  Through a combination of email messaging, onsite display, and social promotions like Facebook Live videos, customers quickly fell in love with the program and began to earn and redeem points as part of their regular interactions with the brand.
"The ability to reward our customers in a multitude of ways has made Smile a key component of our growth over the last few years. We are able to reward customers for more than just transactions, and can incentivize for things like referrals and social activity. This has created a relationship with our customers that we view as a sustainable way to grow."
The Who's Hoo Rewards program is undeniable proof that these types of customer relationships are powerful.  Since starting their program in 2015, Evy's Tree has seen 83 times their return on investment and saved them a whopping $1,032 of monthly ad spend.  Not only that, but their customers have loved having more opportunities to engage with their customer-centric experience. These positive reactions has helped encourage a 58% repeat customer rate that shows no signs of getting smaller.

While these results might sound unbelievable, they're all thanks to the undeniable connection between rewards and real, emotional connections with customers.
"Our customer experience is what really sets Evy's Tree apart from our bigger and more established competition. We look to create a real relationship with our customers and Smile has played directly into that strategy."
Evy's Tree recognized that a rewards program can close the loop between passionate customers and the brands they love.  By recognizing their customers' valuable behaviors, Evy's Tree has strengthened their vibrant community by demonstrating a commitment to making their customers happy with each interaction.  It's this commitment, combined with their beautiful products, that keep customers coming back time after time.