In today's competitive market, it's not enough to simply offer your customers a good product at a fair price.  People have come to expect a mind-blowing experience, making it important to consider the customer experience as a whole.
Customer Experience is measured by the individual's experience at every point of contact with a business, tracking interactions over the entire course of their relationship.
This makes it pretty important, and just like everything else some people are better at it than others.  By understanding their customers and their needs, these brands are providing exemplary customer service and creating purchasing environments which excite, inspire, and motivate their customers to engage with their products time and time again.
Frank + Oak is an excellent example of this business model.


With a desire to fuse the worlds of art and technology, childhood friends Ethan Song and Hicham Ratnani joined forces to design a men's fashion brand that seeks to provides its customers with "only the good stuff" and a desire to provide "progressive style for the moments that matter".

Frank + Oak is based out of Montreal, Quebec, making it an easy favourite for many of us Smile.io (you know, national pride).  Since its inception, Frank + Oak has opened several brick and mortar locations across Canada, while also spreading to the United States with locations in Chicago, Washington, and Boston.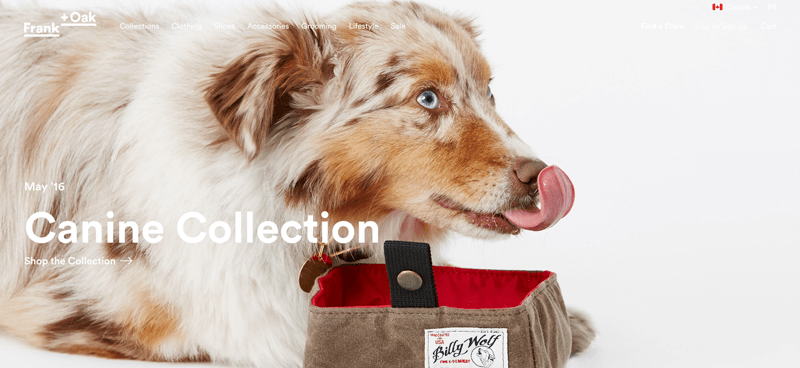 While the who, when, and where of a company helps establish what they do, the products and services they offer are what truly define them.  With a wide selection of offerings, Frank + Oak are making themselves relevant and desirable to a large demographic of consumers.
Established first as a men's clothing retailer, Frank + Oak provides both dress and casual fashion solutions for the trendsetting man.  All of their products are designed and manufactured in-house, with new collections released every month in limited quantities.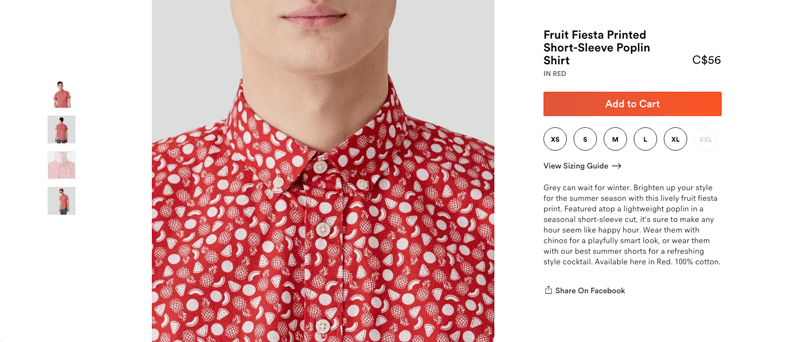 This "limited time" marketing is actually the first thing that jumped out to me in regards to their total customer experience.  Too often, companies rush to assure their customers that their favourite products will always be in stock, thinking that if it's always available consumers will always want to buy it.  This isn't the case, though.  Nobody wants to feel like they're wearing last year's leftovers because that defeats the purpose of buying something new.  People want their clothing to be fresh, stylish, and desirable.

Creating this "scarcity element", then, works for both the brand and the customer.  While it encourages customers to engage with the brand frequently, it also allows shoppers to feel as if they are members of an exclusive club after purchasing them.  By having pieces of the latest F+O collection hanging in their closet, they're aligning themselves with other fashion-conscious individuals who remain relevant and engaged with the larger world of style and trends.
Frank + Oak's products are also sustainable, being manufactured and packaged with recycled materials.  This is increasingly appealing to millennial shoppers whose focus on environmental awareness continues to increase, and feeds the rest of the customer experience.  Many millennials are bound to choose eco-friendly brands over others, putting Frank + Oak miles ahead of other fashion retailers as their customer experience takes the surrounding environment into consideration.

Catering to their customers' lifestyle choices and belief systems works to strengthen the relationship between the brand and the consumer on a level that is not typically explored by larger retailers.  This connection – combined with the company's humble beginnings – makes the brand that much more relatable and personal.
Personal Styling
If Frank + Oak's exclusivity element was the first thing that grabbed my attention, their personal styling service was an immediate second (if not tied for first).  Throughout every area of their store, F+O encourages their customers to pursue a higher standard of living, putting emphasis on the finishing touches.  Nowhere is this more obvious than with their styling service.

Provided both in-store and online, customers are treated to curated styling suggestions for free after completing a short survey about style preferences and needs.  These questionnaires are then matched with a suitable Frank + Oak stylist who selects products based on the customer's answers and mails them to the customer to try.  The customer may then purchase what they like and return what they don't – once again for free.
I don't think I really have to say this, but this service is an exceptional customer experience for several reasons.  For starters, it makes trying on clothes enjoyable again.  There are few social situations I dislike as much as waiting in line to try on clothes because not only am I waiting, I'm also on display.  By shipping items directly to their customers, Frank + Oak is allowing individuals to try on their clothes from the comfort of their home, eliminating a lot of the urgency and stress typically associated with understaffed and overpopulated change rooms.

This service is also exceptional because it is entirely tailored for each individual.  With clothes only being sent when requested, the customer calls the shots from beginning to end, determining the transaction's timeline and communicating what they like and what they don't like throughout the entire process.
Customers are also encouraged to contact their stylist directly, which basically makes the whole experience just like shopping with your best friend.  Frank + Oak's personal styling places the customer in control of the interaction and allows them to create a personal relationship with the brand and its products on their terms.
Elevate Loyalty Program
Like many other successful brands, Frank + Oak understands that a well-designed loyalty program is nothing but beneficial.  At $20 annually, Elevate gives customers access to free express shipping (two to four day delivery) and 5% back in store credit on every purchase.  With a 90 day free trial available and the option to opt out at any time, customers are once again given the power to control the entirety of their customer experience while receiving an easily-measured benefit and additional value.

This is another home run customer experience element.  Frank + Oak's products are all manufactured in-house with sustainable materials which means their production costs are bound to be higher, resulting in higher pricing.  Since this is a common pain point for many of their potential customers, offering a way to save money over time encourages customers to try their products and make repeat purchases when it suits them financially.  The company retains their business and the customer is able to buy into a lifestyle experience.  Win-win.

On top of that, this all ties back to the exclusive status of the brand's clothing.  By purchasing items only available for a limited time and joining a program that not every customer is a part of, F+O's loyal shoppers are made to feel elite as they are raised to a higher shopping status.
Blog & Oak Street Magazine
As a team of designers, creators, and technologists, it comes as no surprise that Frank + Oak provides cultural products besides clothing and styling assistance.
With its limited number of physical stores, Frank + Oak is most accessible online.  Boasting beautiful full colour photography, the brand's website is reminiscent of classic fashion magazines and provides users with an effortless browsing experience.  They also have a mobile app which allows customers to easily access, experience, and incorporate the brand into their everyday lives.

It's important to note that this in itself is an exceptional customer experience.  In today's technological age, businesses that don't exist in the digital realm place themselves at great risk of being ignored and overpowered as more customers demand online shopping solutions.  With great attention paid to the feel and design of their website and mobile applications, Frank + Oak's omnichannel approach makes it easy for customers to incorporate the brand into their daily routines.

But they don't stop there.  Not content to simply provide fashion solutions to their customers, Frank + Oak offer yet another mind-blowing experience through their Oak Street and blog publications.  Focused on providing resources on topics that interest their average buyer, F+O contributors curate weekly mixtapes, write art and technology articles, interview art practitioners, and comment on style trends.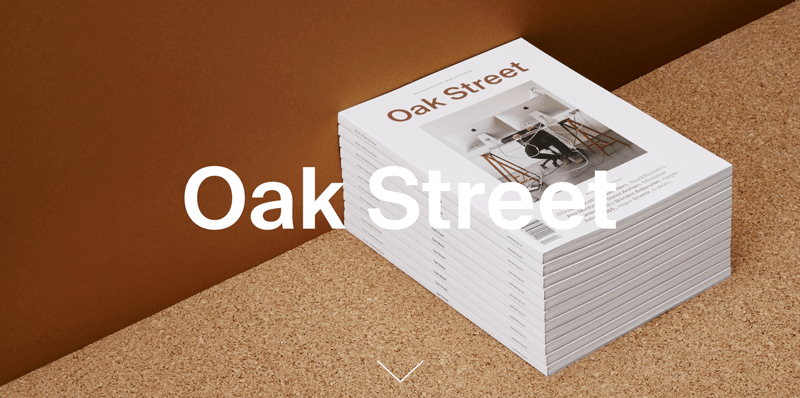 By existing in both the physical and digital realms, Frank + Oak once again demonstrates their ability to adapt to their customers' lifestyles.  While many customers prefer accessing this type of content digitally, others appreciate the tactility of a magazine publication, creating parallel customer experiences that service very different customer needs with the same outcomes: accessibility, information, lifestyle, and awareness.


Frank + Oak is built on a hotbed of inspiration.
Fusing engineering, art, and fashion?  Inspired!
Building brick and mortar stores that are more than a clothing store?  Inspired!
Designing products for every aspect of a customer's life?  Inspired!
The fact that this list could go on and on demonstrates how Frank + Oak is truly committed to pushing the boundaries of what it means to provide an amazing customer experience.  This success is built upon three values:

Acting as the company's pillars, Frank + Oak has established itself as a company committed to service and building relationships with their customers.  With 24 hour support offered via instant chat online, customers are able to engage with customer service representations regarding any of their products or services anytime, allowing Frank + Oak's team to continually work on improving the customer experience and inspiring their audience.
Frank + Oak has even written a manifesto for their customers: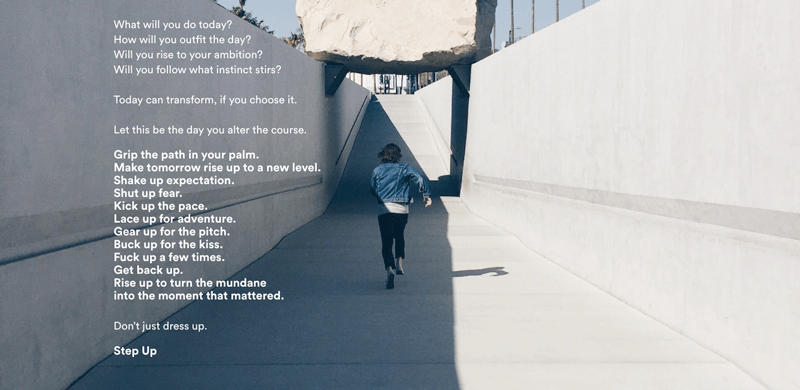 These types of social products function as a means of promising a specific experience to their audience.  Through the conversational tone of voice, energetic imagery, and simple text arrangement, this manifesto will appeal to the innovators and adventurers who are looking for new, relevant experiences.
Oak Street and the brand's blog are two other great examples of this appeal at work.  Providing current, relevant information and creating connections between their customers and new cultural experiences embeds Frank + Oak into every aspect of their customers' lives: music, film, art, design, technology, and associated interests are all taken into account and curated specifically for the Frank + Oak customer.  Combined with the sustainability of their products, Frank + Oak has tailored a customer experience that understands their customer's needs and lifestyle choices.

With a desire to inspire and provide a total lifestyle experience, customers' reactions are the best demonstration of Frank + Oak's customer experience success: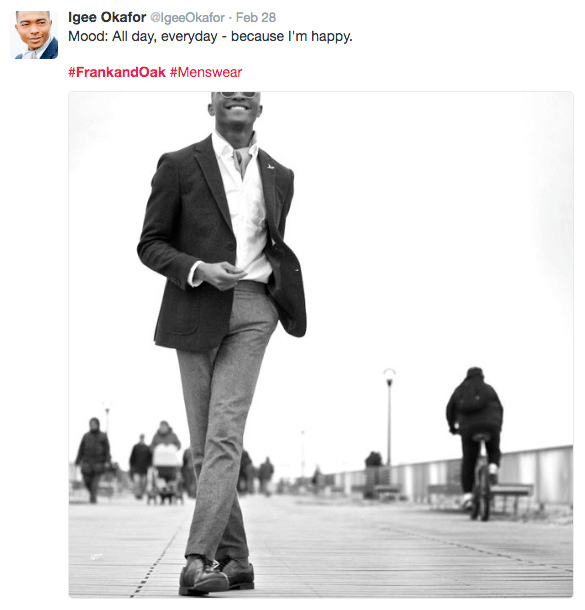 The extraordinary success of Frank + Oak's customer experience could be talked about for days on end, but in the interest of time it can be summed up in three ways:
Personalization
All good customer experiences start with personalization.  Customers don't want to feel like one of many but rather like one in a million, and Frank + Oak go to great lengths to ensure their customers leave each interaction feeling special.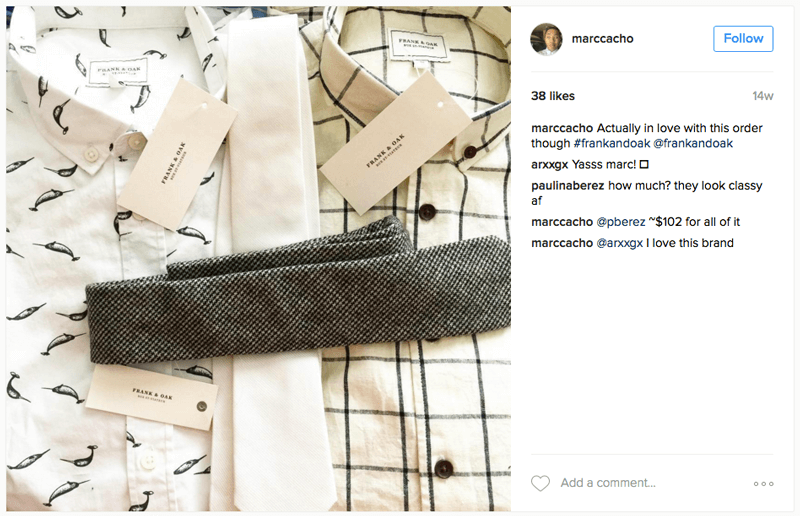 Besides their personal styling service and ever-changing collections, Frank + Oak also includes hand-written notes with each purchase.  Little touches like these go a long way with customers, building relationships and demonstrating that the brand's success is only as good as their customer service.
Inspiration
As a company started by two friends, the backbone of Frank + Oak is entrepreneurship.  With inspiration at its root, this entrepreneurial spirit filters through each of the decisions Frank + Oak makes as a brand.

From sustainable materials and packaging to curated content to brand redesign, Frank + Oak pushes its own boundaries on a daily basis and challenges its customers to do the same.
Status
Above everything else, Frank + Oak wants their customers to feel good about their lifestyle choices.  This motivation has resulted in them outfitting several of their brick and mortar locations with barber shops and cafes and prompted them to premier several of their collections through high quality, movie trailer-esque videos.
Through each of these offerings, the tone is classy, well-kept, and quality-oriented, leaving customers with a high opinion of Frank + Oak's products, themselves, and their chosen lifestyle.  It's customer experience design at its finest.