There are few brands today that can truly claim to be iconic. Every once in awhile, however, a company is able to set itself apart.  For more than 30 years, Apple has been redefining the tech world and the ways in which we consume tech products.  With a clean and simple logo, an instantly recognizable design strategy, and products which ooze beauty and sophistication, Apple is a leader in the customer experience revolution.

In April 1976, Steve Jobs and Steve Wozniak developed an idea that would change the face of technology forever.  What started as a series of hand-built computer kits has evolved into the first U.S. company to be worth over $700 billion and is heralded as the world's largest international technology company.

Boasting an impressive array of personal electronic devices (including MP3 players, laptop computers, tablets, and smartphones) and a slew of custom-designed software and associated apps, Apple has been able to instil a strong sense of brand loyalty in its customers and shows no signs of slowing down.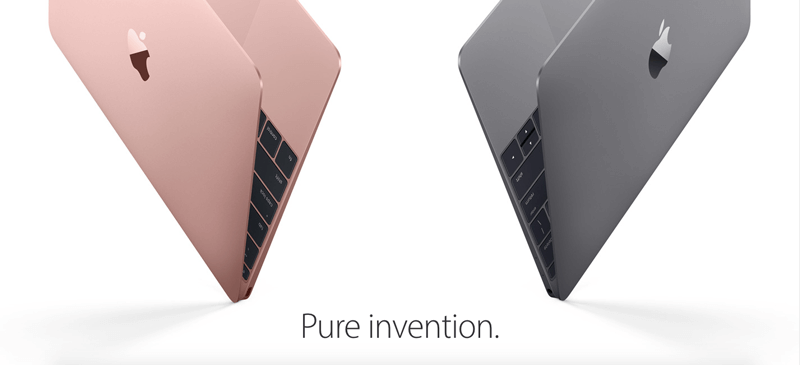 Since the company's inception, Apple has been asking questions.
What Should Our Products Look Like?
Who is Going to Use Our Products?
What Are Our Competitors Doing?
While these and many other related questions have been important to the company's development as a brand, I would argue that the biggest questions Jobs and Wozniak asked themselves were:
How Can We Push Technology Even Further?
How Can Technology Improve Our Lives?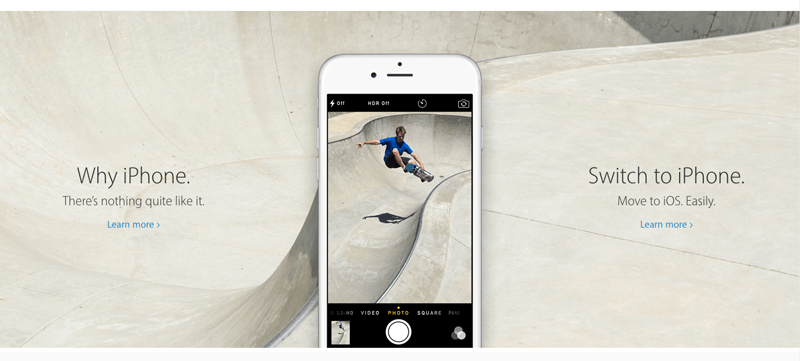 From everything that's been publicized about Steve Jobs, it's clear that he was an intelligent, passionate man who was always itching to push boundaries and explore new avenues of development.  It's not surprising, then, that the continued development of his brand's products are driven by curiosity and a desire to always be new, exciting, and trending.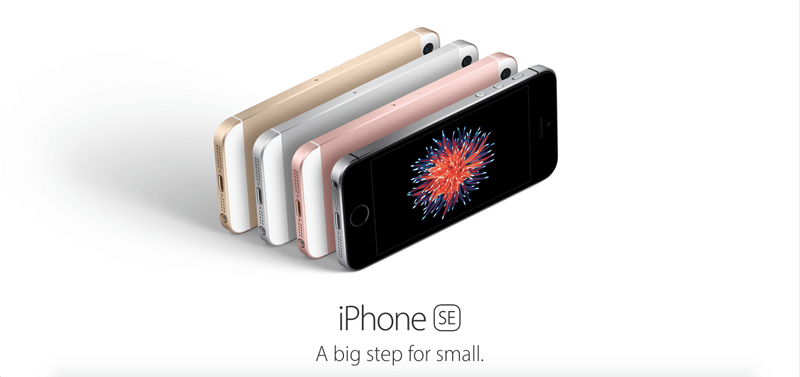 While it may be hard to imagine in light of Apple's dominance of tech retail, there was a time when Apple was not the obvious choice for technology solutions.  Following the success of Apple's first and second iterations of the home computer, they attempted to break into the business market with Apple III in 1980.  This iteration ultimately failed, but it didn't slow the company down as Jobs made the decision to keep pushing forward.
That's what innovation is, after all, and this determination to succeed is now rooted within the company's infrastructure and clearly communicated in all that they do.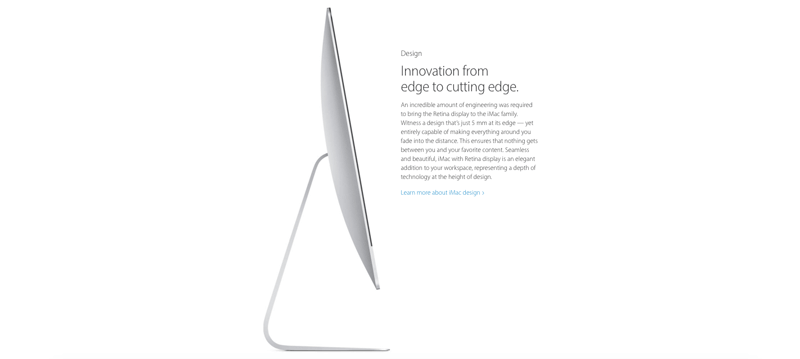 Marketing & Promotion
With a steady stream of new products and services, Apple is constantly in the public eye.  While the temptation may be to use marketing campaigns that have worked in the past, Apple's thirst for innovation continues to push them in new, surprising directions.  While Apple's promotional team has come up with many different successful campaigns, the two that stand out in my mind are the "Get a Mac" and "Silhouette" series.
Running from 2006 to 2009, "Get a Mac" used two well-known actors to portray a Mac and PC computer having conversations.  Each of the thirty second spots released throughout the campaign focused on a different element of Mac computers that made them a better choice for consumers than a PC; as the product evolved, the campaign shifted to include new features.
"Get a Mac" marked a dramatic transition from the "Silhouette" series that premiered in 2004.  While the silhouette ads featured vibrant colours and stark contrast, "Get a Mac" placed its actors in a white space with muted colours and no jarring camera movements.  This continual effort to remain current and to provide consumers with fresh, new ideas is further proof of Apple's commitment to innovation.
Personalization
Apple has very carefully designed their ads in such a way that it's easy to picture yourself using and benefitting from their products.  By highlighting a broad range of features and showing people enjoying many different genres of music, the two aforementioned campaigns make it clear that Apple has something for everyone and can meet your personal style and taste.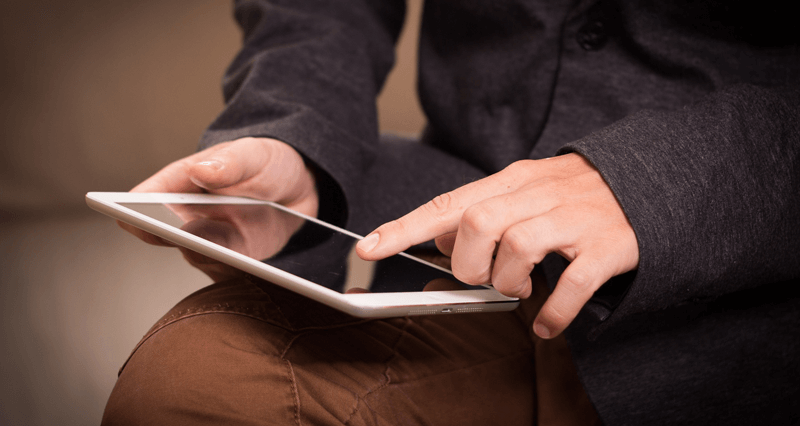 In a society preoccupied with customization, this goes a long way.  Not only is Apple developing a product that is easy to use and looks good, but they're also making it clear that your experience with their brand will always hold center stage.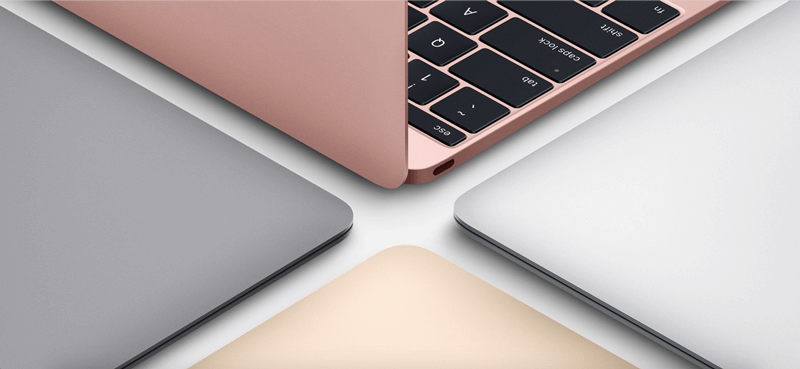 Take the general design strategy: everything is either metallic, white, or black with smooth lines and curved edges, taking up as little space as possible.  This minimalist approach allows you as the user to put your data front and center, making your use of the technology its most dominant feature.  Apple has even made it possible for customers to have their products engraved with their name, further emphasizing each unique customer's ownership in their brand.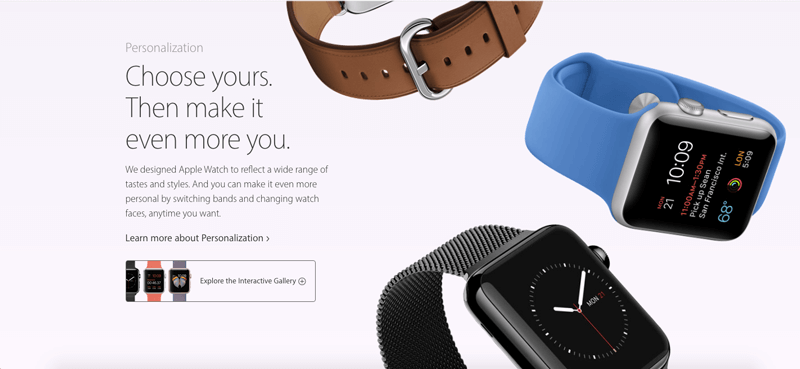 These examples make it clear that Apple understands everyone's desire to be unique, as they should – they're also striving to stand apart!  By using words like "you" and "your" in their interfaces and marketing messages, Apple is able to address their customers directly and create a dialogue that is missing in many other customer experiences.
These conversations, combined with the ability to personally curate the software, applications, and settings customers would like to run does not go unnoticed.  It's these types of considerations that help build a strong experience that impresses consumers and fosters a deep sense of brand loyalty that will only continue to grow in the future.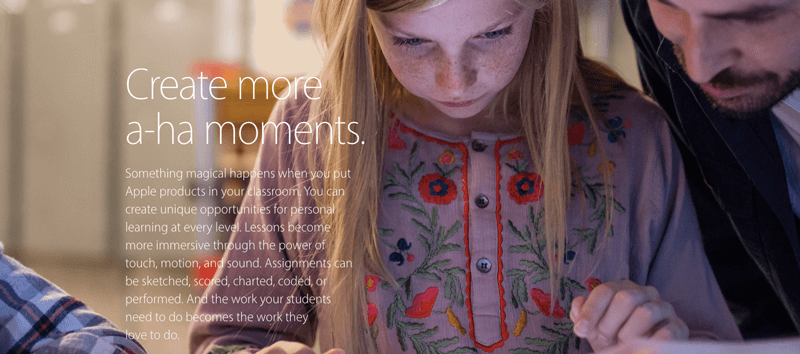 "No matter who you are, Apple is for you."
This is the message that speaks louder than any other campaign statement Apple has put out since its inception.  With different varieties of products that are all readily available at a variety of details both on- and offline, Apple has made it easy for everyone to own a piece of their legacy.
The easy-to-learn, easy-to-use interfaces highlights Apple's desire to make every aspect of their customers' journeys as easy as possible.  With their tools, Apple hopes that others will be able to experience and feel the same exploratory fire that gripped Steve Jobs and Steve Wozniak in a Californian garage.
By encouraging their customers to explore and challenge the world around them, Apple is building a collaborative community that thrives on the exchange of information and ideas.  The most obvious manifestation of this philosophy is the Genius Bar.  Implemented in offline Apple stores, the Genius Bar is a service which allows customers to make appointments with Apple employees to troubleshoot performance issues and resolve problems the customer may be having.
Giving their customers the opportunity to have casual conversations with certified experts opens a dialogue between the larger company and the consumer, building trust and relationships that foster the idea of Apple as a "people helping people" brand.  This alignment of company and customer emboldens consumers to push the technologies to their limits in the pursuit of something new.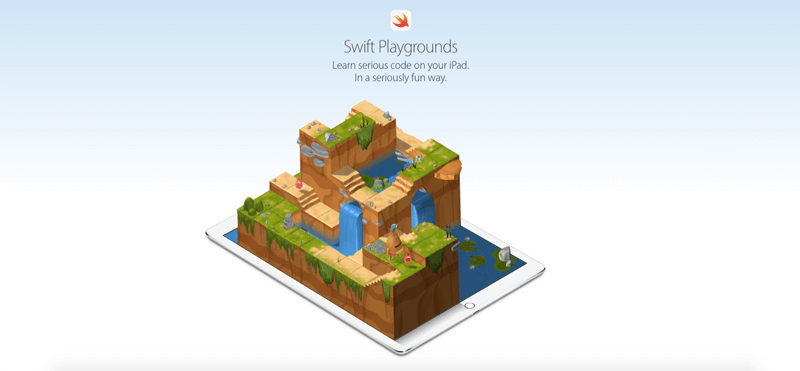 Apple's most recent empowerment tool is the perfect example of this ideology.  The company recently announced an app that will help children and adults alike to learn the Swift coding language.  This reveal follows closely on the heels of organizations like Girls Who Code, which are working to promote computer coding as a necessary, collaborative skill that explores every person's potential to add to the ever-growing realm of technology.
These revolutionary tools, among a myriad of other educational programs, demonstrates a commitment to the programs and causes that matter to many of Apple's customers.  This shared passion fuels a stronger loyalty to the brand and once again aligns Apple's pursuit of innovation with their ability and passion for encouraging their customers to be different and pursue greatness.

With the average person relying on technology as they go through their typical day, Apple has the opportunity to make a big impact on customers all over the world.  If social media is any indication it looks like that impact has been made, as multitudes of people have made Apple part of their daily routines.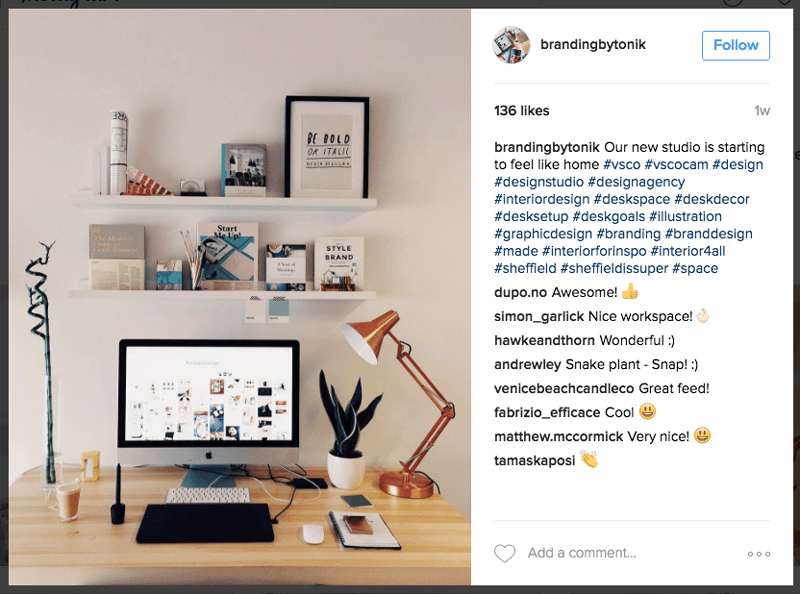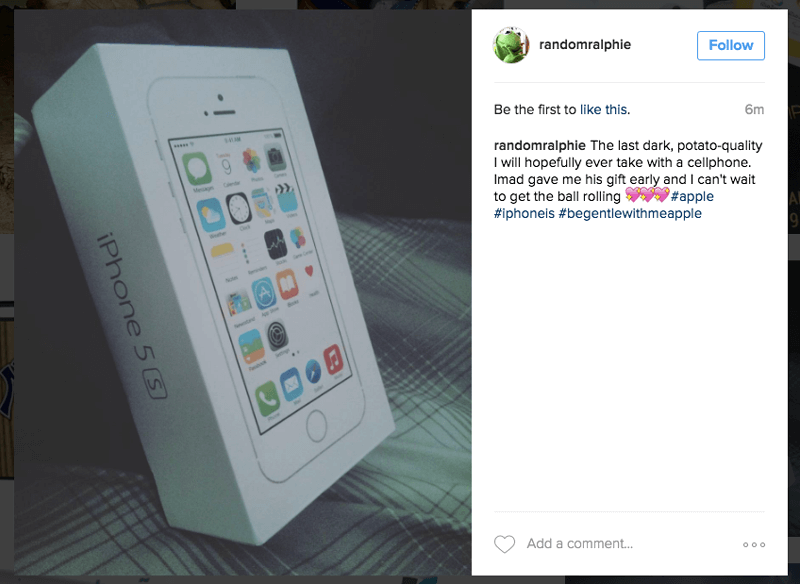 I was resistant to Apple products for many, many years, largely due to the fact that my dad vehemently opposed the "cult of Apple".  However, upon entering university I found myself ordering a brand new Macbook at my professor's suggestion and have never looked back.  As I've become more familiar with Apple and its products, three things leap out at me to explain their customers' fanatical loyalty:
Functionality
Apple's determination to remain the leader of any and all technological revolutions has ensured that each of their products is equipped with the most up-to-date software and technologies available on the market.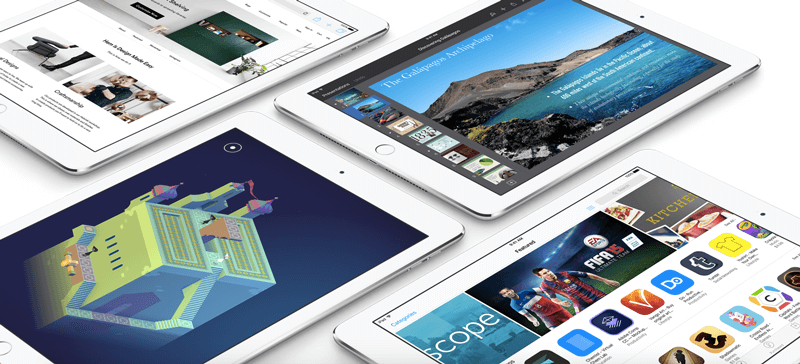 All Apple products have also been optimized for size and weight, making them easy to slip into a pocket or bag to take with you on the go.  Gone are the days of clunky, heavy personal computers and devices, and Apple's streamline designs are a contributing factor to those changes.  These changes have made their products a great solution for customers looking for ways to incorporate technology into their busy lives, and emphasize Apple as a brand for everybody as opposed to specific individuals.
Synchronization
The apps, software, and products Apple continues to improve have all been designed to make the modern man or woman's life easier, and a key component is synchronization.  No matter how many Apple products you have, they can be synced together in order to keep yourself organized and focused on the task at hand.
This is a clear demonstration of Apple's commitment to creating personal experiences for their customers.  No two people's Apple interactions are alike, and the ability to control these experiences from top to bottom makes each customer's use of their devices meaningful and personalized.
Status
While this deliverable may seem trivial or shallow, it can't be ignored.  In a world preoccupied with how we're perceived by others, status is extremely important and Apple has understood this from the beginning.  I remember the first time that I opened my chrome Macbook.  In that moment, I found myself thinking "Now I really look like a design student".  The fact that Apple's products can elicit this type of emotional reaction is a strong motivational buying factor, and people will chase it for their entire life.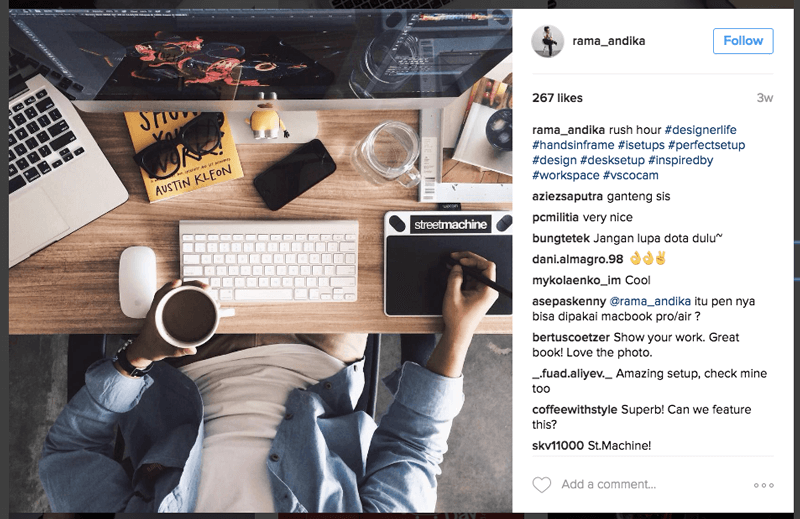 Through minimal, sleek design and luxurious colour palettes, Apple has created a world of products that is now associated with a passionate, driven community of creators and visionaries The best part?  This world is open to everyone.  One visit to an Apple Store demonstrates how desirable this vision is, as people of all ages flock to the bright white spaces in order to learn something new or explore new products.
Above all, Apple has created a brand which challenges its customers to look to the future and reach for it, and the exciting thing is that with their products, we might just be able to.