No small business owner would ever say that they're okay with losing their existing customers to a competitor, but their marketing budget suggests otherwise.
The average business spends roughly 80% of their marketing resources on acquiring new customers.
When you consider the chance of selling to an existing customer is at least 3X higher than selling to a new one, you can't help but wonder why acquisition marketing is get all the attention.
Why aren't businesses focusing on customer retention?
When you have a strong sense of the type of content that converts site visitors into first-time sales, putting more money towards advertising can help create a short term increase in revenue. So, boosting your acquisition spend can make you feel like you're really doing something to grow your business.

Customer retention can seem considerably less alluring because the path to retaining a customer isn't quite as straightforward as the path to acquire one. The quality, quantity and variety of customer engagements that it takes to retain your customers can unfortunately be slightly more difficult to measure and influence. But, it's worth it - as little as a 5% lift in customer retention can boost your revenue by up to 95%.
How to set your customer retention baseline
Building your retention strategy really starts with taking a look at your current customer base. Let's walk  through the five most important retention metrics you should look at for your existing customers, what they mean, why they matter, and how to improve them.
1. Figure out how many customers never return to make a purchase
Often referred to as customer churn rate, the number of customers that never return to make another purchase will give you a sense of just how engaged the customers you've acquired are.
What is customer churn rate (CCR)?
The percentage of customers who stop purchasing from your brand
How to calculate customer churn rate
(Number of unique customers at the beginning of the month - Number of unique customers at the end of the month) / Number of unique customers at the beginning of the month
What's a healthy customer churn rate?
It's natural for your store to lose some customers over the course of the year, so it's nearly impossible to have a perfect churn rate. One report suggests that the average annual customer churn rate for B2C brands is around 8%, but every industry will be a bit different.
Why customer churn rate is important
You can't build a retention strategy if your customers are leaving to shop with a competitor. If this number is higher than 10% it means that customers aren't emotionally invested in your brand and are happy to shop around.
How to improve customer churn rate
Create a switching barrier with rewards. If customers feel like there is nothing to lose when they shop with a competitor, they've got very little reason to purchase from your store again. If you add enough tangible value to their shopping experience, customers will be more likely to stay committed to your store avoid losing out on this value.
Example: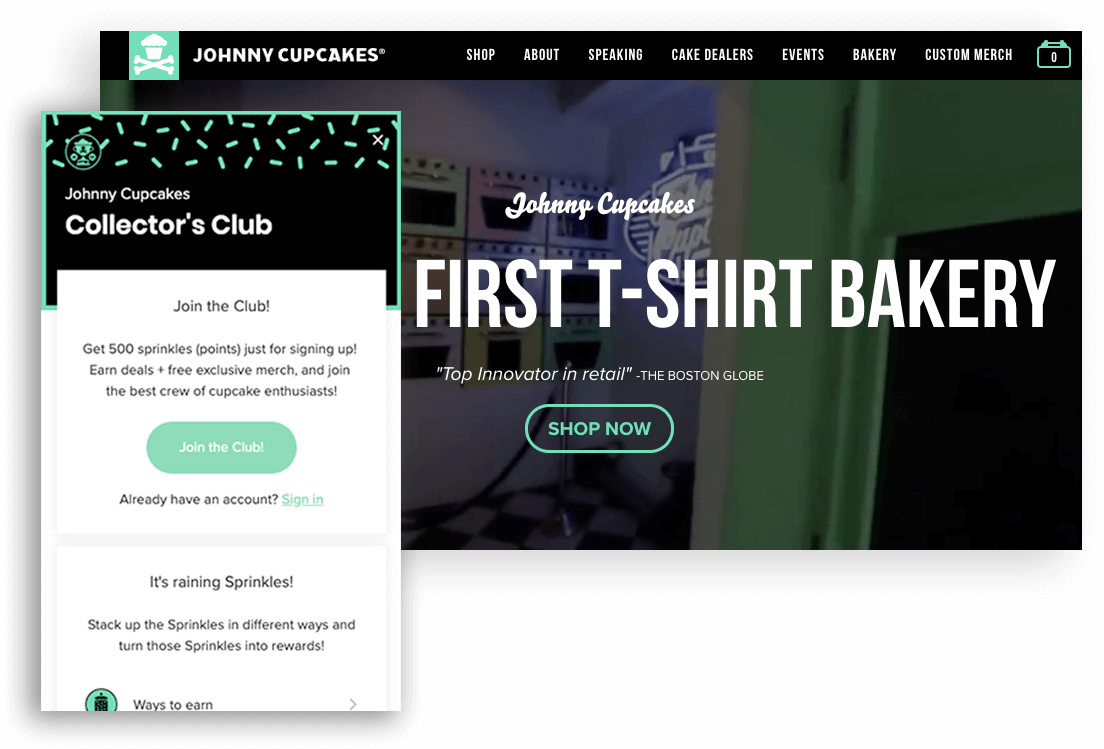 Apparel is one of the most competitive ecommerce spaces with so many merchants for customers to choose from. Johnny Cupcakes differentiates their shopping experience with a rewarding and completely on-brand loyalty program. Each time a customer places an order, they earn sprinkles that can be applied towards a future purchase. Customers are then more likely to return to make a purchase to avoid forfeiting the value they gained from their initial purchase.
2. Determine what percentage of customers purchase from you more than once
Once you know what your customer churn rate is, the next logical number you'll want to have a good grasp on is your repeat purchase rate.
What is repeat purchase rate (RPR)?
The percentage of customers that have made more than one purchase at your store.
How to calculate repeat purchase rate
Number of customers that purchased from your store over one year / Total number of customers in one year
What is a healthy repeat purchase rate?
A good repeat purchase rate will vary by industry, but usually falls somewhere between 20 and 40%.
Why repeat purchase rate is important
A repeat customer is 54% more likely to make yet another purchase with your store. An existing customer has also already been acquired, so there's no additional acquisition cost each time they make a purchase, making them  more profitable for your business with each order.
How to improve repeat purchase rate
You can improve repeat purchase rate by adding value to every customer's shopping experience with points. When customers feel like they have something to gain with each purchase, they'll be more motivated to return to place another order.
Example: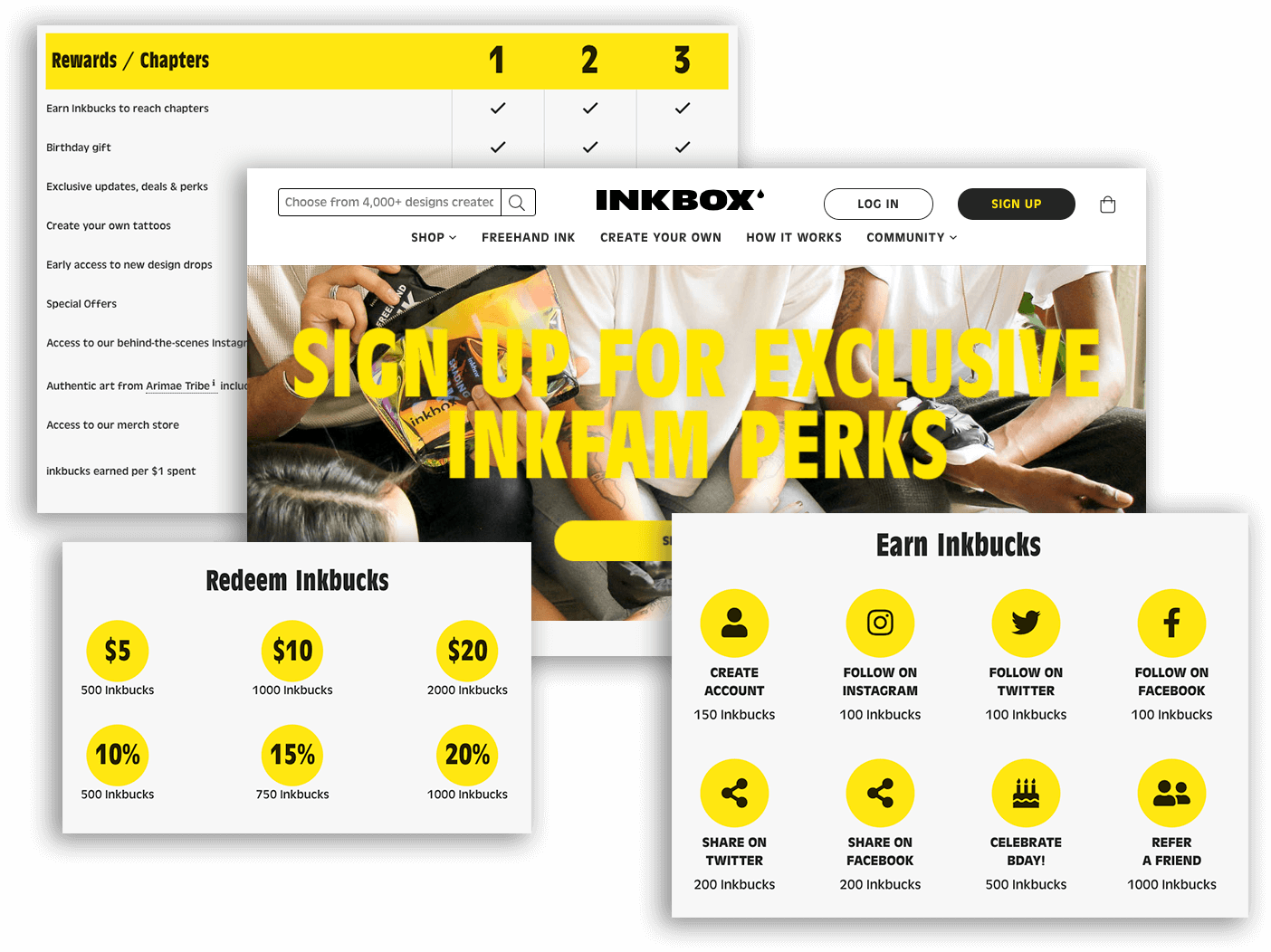 By rewarding customers every time they place an order, temporary tattoo brand inkbox grew their repeat purchase rate by 28% year over year. Their inkfam loyalty program makes their most valuable customers feel highly appreciated, helping strengthen the emotional connection they have with their brand while adding to inkbox's bottom line.
3. Calculate how much customers spend on each purchase
After you've figured out how many customers are making multiple purchases from you, you'll want to take a look at how much each customer spends when they place an order, also known as their average order value.
What is average order value?
The average amount of money customers spend on each purchase.
How to calculate average order value
Total annual revenue / Total number of orders placed in last 365 days
What is a healthy average order value?
The average order value for a Shopify merchant is estimated to be around the $70 mark. Of course, this number can be higher or lower depending on the type of items you sell.
Why average order value is important
Repeat customers spend roughly 7X more than their one-time purchase counterparts, making them a highly important part of your growth strategy. The more your average customer spends, the less you'll need to spend to acquire new customers to earn the same of profit.
How to increase average order value
Offer a VIP program to encourage your best customers to engage in valuable activities, like spending more at your store. When customers have the opportunity to unlock exclusive perks and rewards, they'll be more motivated to spend more to access them.
Example: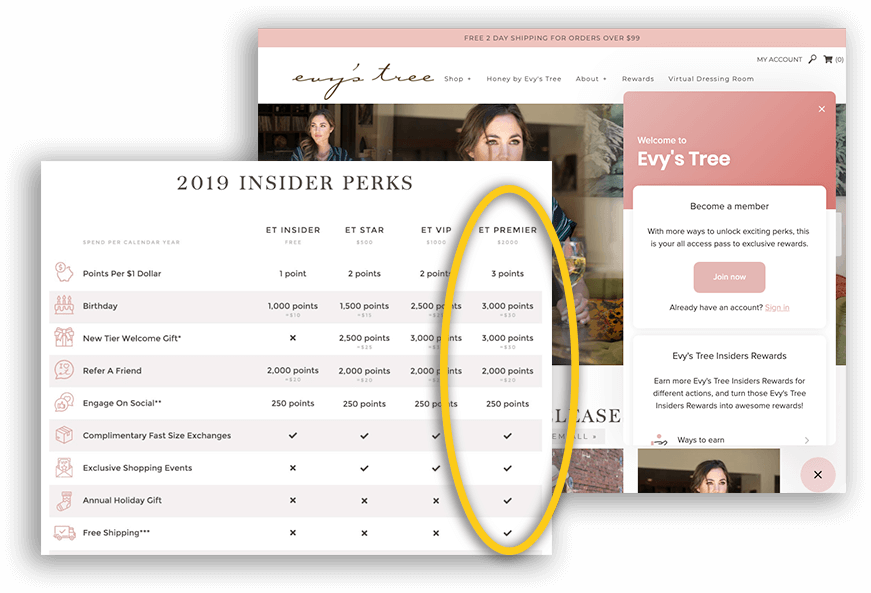 Premium fashion brand Evy's Tree's top VIP tier is stacked with lucrative perks like accelerated points earning, bonus points for referring new customers, and early access to select releases and collaboration. Accessing exclusive perks goes a long way in making their most loyal  customers feel valued, increasing their chances of keeping them engaged with purchases over time.
4. Look at how much your customers spend with your brand overall
Average order value on its own won't be enough to paint a full retention picture. Layering that in with the number of times a customer purchases will help you understand the total value of your customer to your brand over time, often referred to as customer lifetime value.
What is customer lifetime value?
Estimated revenue the average customer will contribute to your business over the course of their relationship with you.
How to calculate customer lifetime value
(Average order value x purchase frequency) / store lifespan
What is a healthy customer lifetime value?
One report estimates the average ecommerce customer lifetime value to be roughly $60. This will look a little different across industries.
Why customer lifetime value is important
This metric will help you predict how much value your existing customers will contribute over time. Acquiring a customer can be 5-25 X more expensive than retaining an existing one, which is why showing your existing customers a little love is so important. If your customer lifetime value is close to your average order value, it means you're not attracting the type of customer that will help you grow your business sustainably and If it's less than what you're paying just to acquire your customers, you're really in trouble.
How to increase customer lifetime value
Build an experience that extends beyond the purchase with value-add marketing. Value-add marketing is an incredible way to build trust with new, existing, and prospective customers. When customers feel like you're invested in all of the little moments you have with them between purchases, you'll keep your brand top of mind when its purchase decision time.
Example:
Beauty leaders Moroccan Oil offer an amazing set of tutorials that teach customers how to get the look they're after using their products. These beauty tips help build an experience that extends beyond simply making a purchase by providing additional value before or after a sale. By regularly giving their customers new content and letting their brand community know about it, they strengthen their emotional connection to the Moroccan Oil brand. It's this connection that will bring them back to make another purchase again and again.
5. Learn how many customers you've already retained
You've likely already got a loyal group of customers that have naturally stuck with you, even if you don't realize it. Understanding who they are and why they've stuck with your brand can help you unlock lots of great insights to build your retention strategy. Measuring your overall customer retention rate is a valuable way to get a snapshot of how engaged and ready to buy your customers currently are.
What is customer retention?
The total percentage of customers that have stayed with you over specific period of time.
How to calculate customer retention
(Number of customers at the end of the year - Number of acquired customers throughout the year) / Number of customers at the beginning of the year
What's a healthy customer retention rate?
Here at Smile we believe that a healthy retention rate should be somewhere between 80 and 90%.
Why customer retention is important
A small lift in customer retention can go a long way. Boosting your existing retention rate can increase your annual revenue by as much as 95%. Customers you've already converted are also more likely to place another order, and refer their friends.
How to improve customer retention rate
Creating a customer experience that makes customers feel valued and appreciated can go a long way to improve your retention rate. An estimated 67% of customers are serial switchers, meaning they are not loyal to the brands that they shop with. One of the top reasons customers opt for a competitor is they didn't feel appreciated. Showing customers that you value their business can be as simple as offering them a reward each time they engage with your brand in a meaningful way.
Example: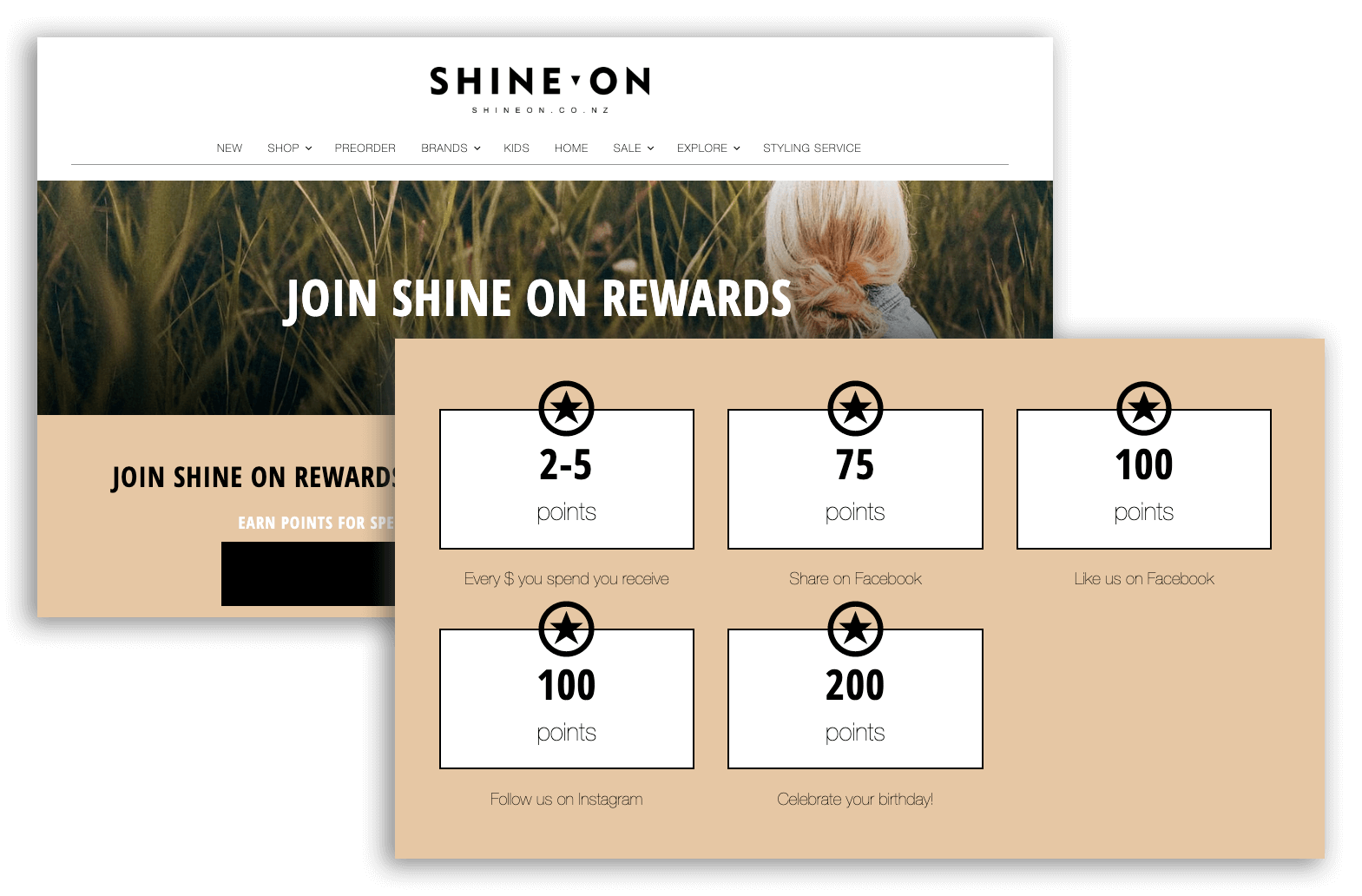 New Zealand fashion brand Shine On offers a variety of rewards for customers that engage with their brand. When customers know that they can get something out of engaging with Shine On it builds a reciprocal relationship that makes customers feel valued. Putting the importance of delighting their customers into practice, Shine On saw a 35% increase in customer engagements after launching their rewards program, moving every customer closer to a repeat purchase.
Putting it all together
While it may seem like there's a lot of numbers to look up, sift through, and calculate, its more than worth the effort to build a customer retention baseline. Every plan has to start somewhere, and a bird's-eye-view of your retention metrics is the perfect place to start creating your overall customer retention strategy.