Anyone interested in ethical fashion and/or ecommerce has undoubtedly heard of Everlane. For the past few years, the online clothing brand has been steadily growing and retaining a loyal customer base by rallying customers around their two main values — high quality products and ethical business practices.
With this steady rise to the top to show for it, Everlane is clearly a leader in how to design and execute an effective and sustainable customer retention strategy, but how are they doing it?
By making deliberate business decisions that echo the values that define them as a brand.
Social responsibility is a powerful motivator
Everlane's target demographic is described as "conscientious young people", with an emphasis on the millennial market. As a generation increasingly concerned with sustainability and social responsibility, a commitment to these ideals is important for any brand looking to build lifelong relationships with these customers.
This is especially true when you consider that millennials are projected to outnumber Baby Boomers by the end of 2019, making them the biggest consumer demographic. Without their support, brands won't be able to unlock the type of sustainable growth they're after.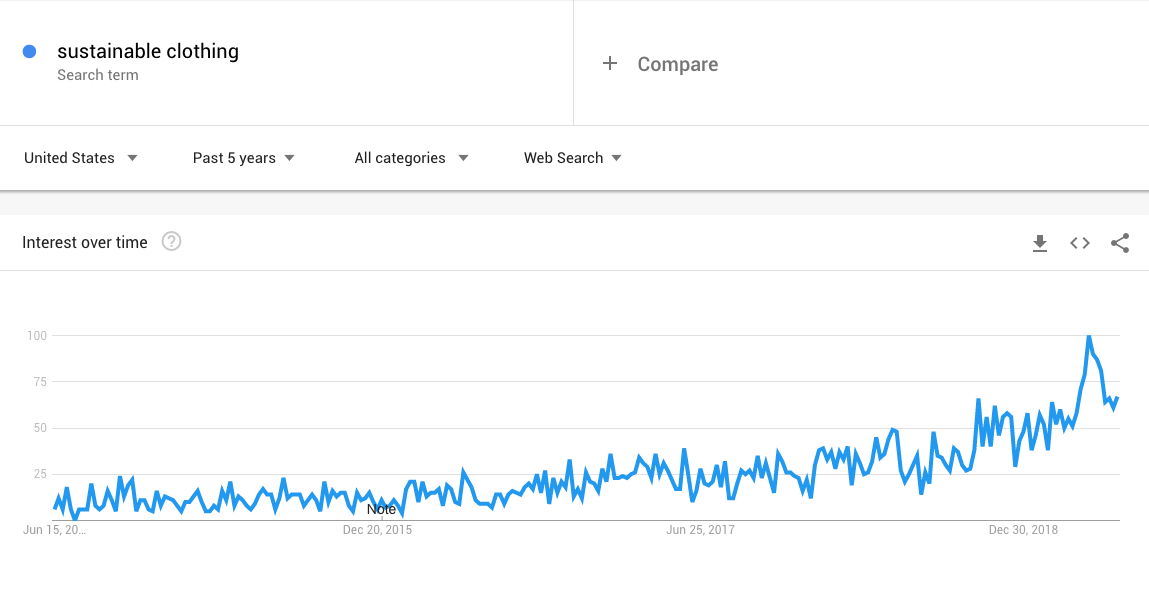 While there have been ethical and sustainable fashion brands like Patagonia around for decades, Everlane recognized the importance of visibly adopting these values when they first launched in 2010. Since then, they've made their commitment to social responsibility a key piece of their customer experience, using "the ethical choice is always the right one" at the heart of their branding strategy.
Making this part of their brand statement makes it easy for customers to identify shared values and remain confident that every purchase decision is a good one. Not only that, but activities like the release of the ReNew outerwear line (which is entirely made from water bottles) shows that they value environment/social responsibility more than their own success.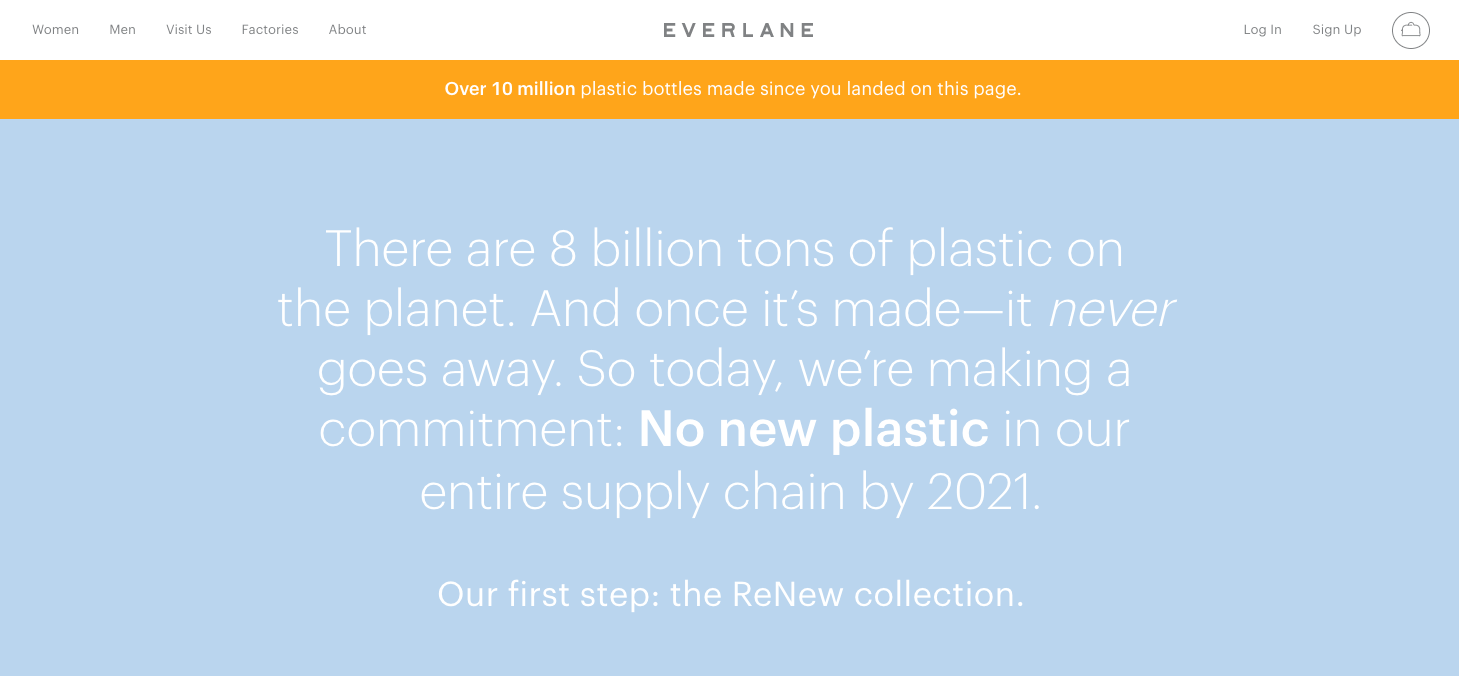 By appearing as the one-and-only stop shop for socially conscious shoppers, Everlane makes customer retention something that happens all by itself. They have painted themselves as a brand that values what their customers value, so for their sustainability and ethically motivated target customers, there is no real alternative when they are deciding where to shop.
Transparency builds trust
Trust is arguably the most important emotion in a buying decision, but it can't be bought — it has to be earned. Thankfully, this is actually surprisingly easy. The easiest way to earn a customer's trust is by being honest with them. Sharing not only what you value as a brand but ALSO how your business is run and how customers play into business decisions goes far in building public trust.
Everlane has made trust a pillar of their brand identity by building on their commitment to social responsibility as a way to deepen their emotional connection with every customer. They refer to this value as "radical transparency," and have built this into the fabric (pun intended) of their customers' purchase decisions by openly stating how much every item cost them to make, where it was made, and how much it was marked up.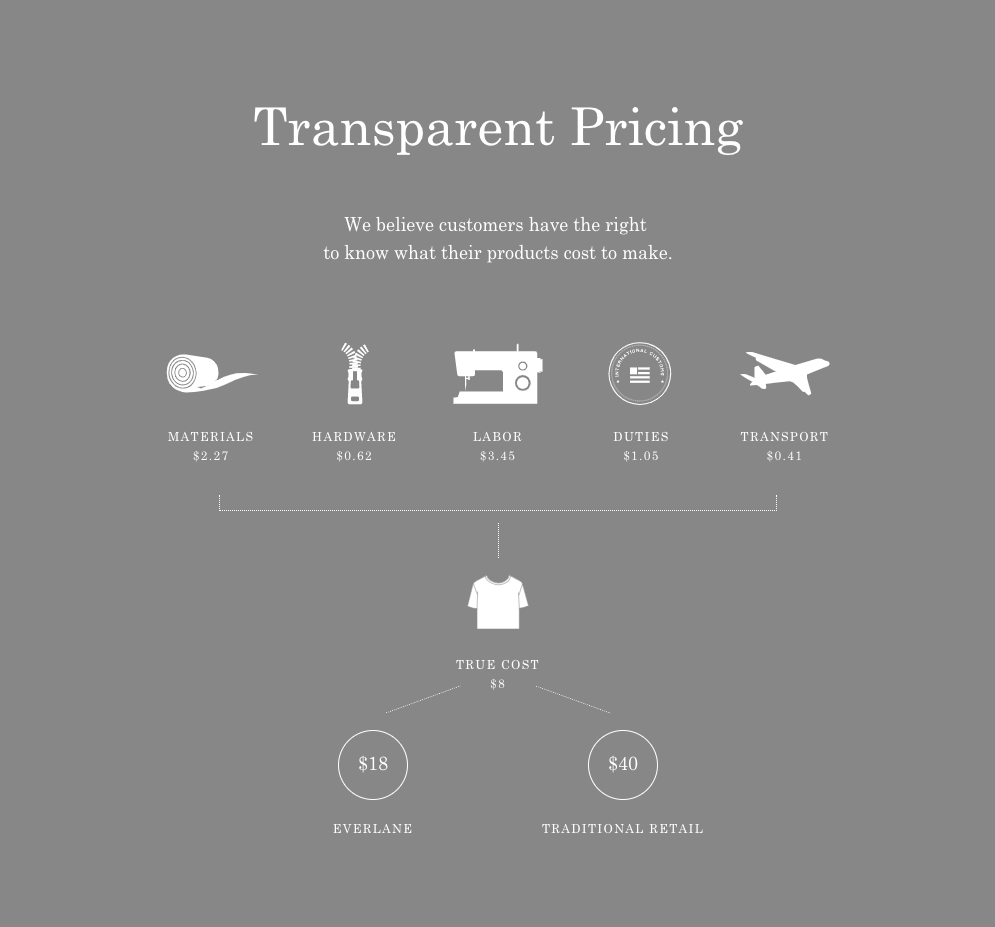 Everlane complements this strategy with "Choose what you Pay" sales where shoppers can choose how much over the cost-of-goods they pay for overstock product. These sales are also advertised by showing customers what extra profits are going towards, closing the loop between what customers see and are told about Everlane's business strategy.
All of this goes to show the great lengths Everlane goes to in their desire to let shoppers know there is nothing being hidden. As this transparency builds trust, customers put faith into every aspect of Everlane's business and are more likely to shop with them again in the future.
After all, who would you rather make another purchase from: someone you barely know with the lowest price, or a trusted brand that always lets you know exactly what you're going to get?
Adding value enriches the customer experience
When you think about it, the type of transparency Everlane is built on is actually a form of value-add marketing. Taking shoppers behind the scenes to learn more about the products they purchase and the brand that sells them is an exciting experience for anyone, regardless of whether they're a paying customer yet. That's because it feels like you're being let in on a secret — something other customers don't have access to.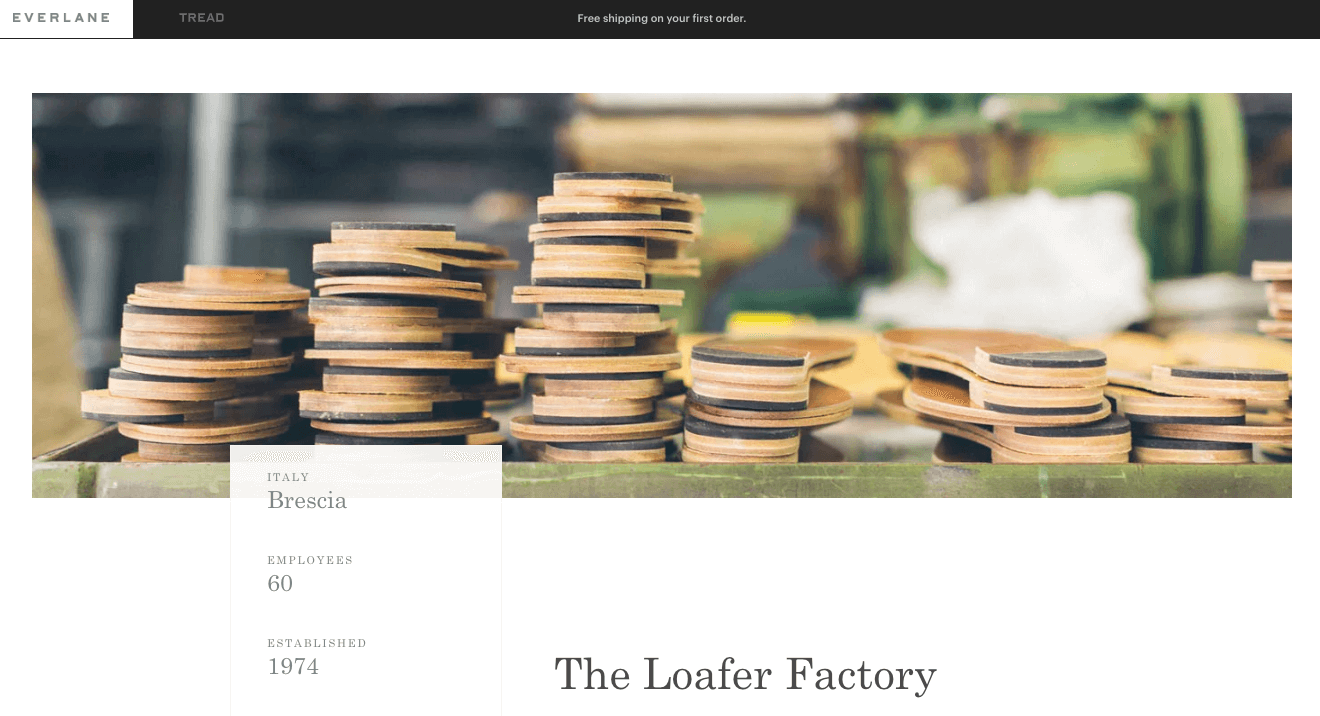 Everlane creates a lot of "transparent value" in a number of different ways throughout their web experience. In addition to their explicit pricing breakdown, the "factories" section of their website lets customers learn more about each of the factories Everlane works with. Everlane explains why they work with them, how they found them, and more.
While this might seem unorthodox, it's just another example of how well Everlane understands their customer demographic. At its core, value-add marketing is a brand's demonstration of their commitment to more than just a purchase, and is a way to extend every customer's experience with the brand beyond only the transaction.
By providing this additional information, Everlane has created valuable content that their customers will be interested to read and explore as they shop for their next fashion-forward outfit. in this unorthodox form of value-add content.
This isn't the only form of value-add marketing Everlane does, though. They also extend their brand experience through more traditional outlets with beautifully curated Instagram and Twitter accounts, and an uplifting YouTube series called "Human Heroes" that take full advantage of video's storytelling capabilities.
Each of these forms of content are specifically tailored to their audience, meeting customers where they are and sharing common interests to forge relationships based on their core values that keep customers coming back again and again.
Calculated risks are worth taking
Taking risks with your business don't always pay off, but when they do your customers will be even more invested in your brand and what you stand for.
While risks look different for every business, Everlane took a huge leap when they decided to expand their presence to the traditional offline retail space. After doubling their sales annually for a number of years online, they decided to try reaching more customers in the physical world. As a strictly ecommerce brand, this was a huge risk — what if customers found their brand less convenient or gimmicky in a physical space?
Luckily, Everlane had already worked through these risks. Before leases were signed and renovating began, Everlane knew exactly how they would make these new locations work despite the risk.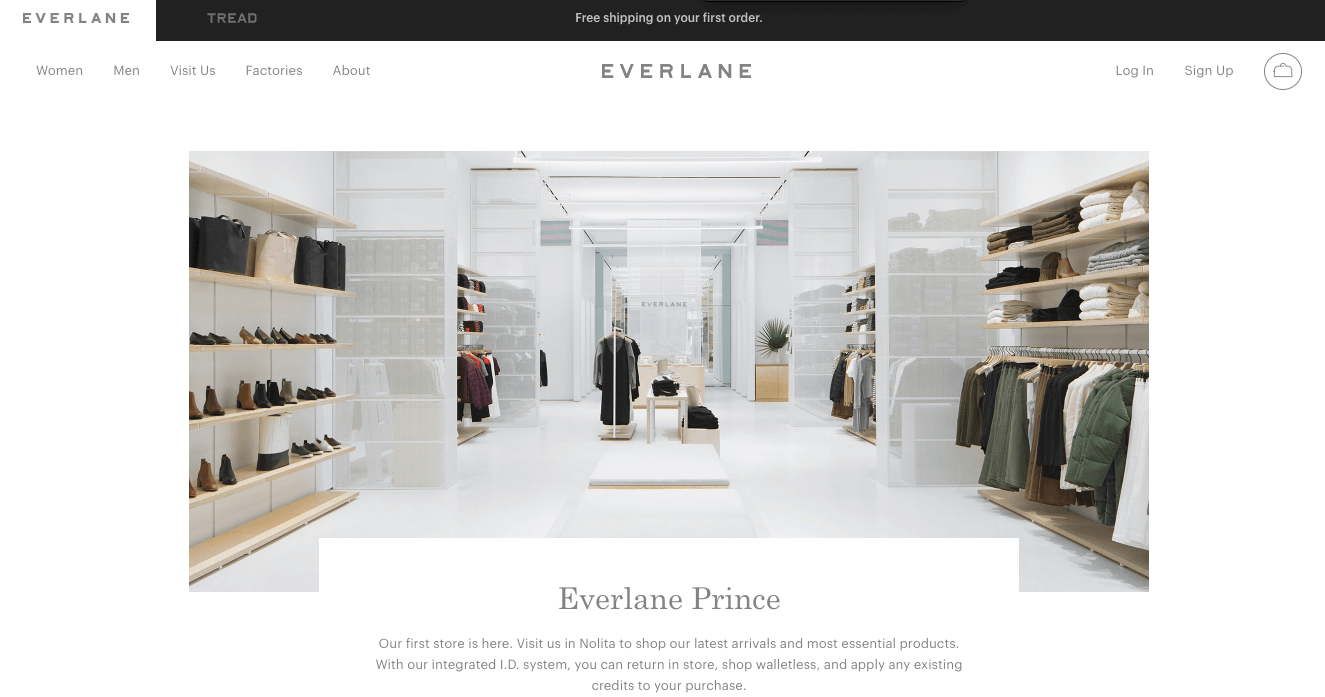 The most important thing they did was make the new offline locations minimalist, simple, and functional — in other words, a mirror image of the experience they had already created online. Plus, being independently allowed them to avoid being part of another brand's wholesale offering, giving them full control over every aspect of the shopping locations.
Ultimately, the risk paid off and they successfully launched 2 physical locations with plans for 2 more by the end of the year.
Calculated risks like this are opportunities to improve your customer experience and demonstrate your commitment to every customer. By carefully observing what they love about your brand, you can transform how customers feel about you by highlighting the areas they value the most. For Everlane, their commitment to simplicity and function allowed them to design a store experience that perfectly complemented what their customers had come to know and love about them. This translated into more happy customers both on and offline who were willing to engage with them no matter where they are.
When you take the right risks, you too can show your customers the lengths you're willing to go to make their shopping experience the best it can be every single time.
Retention never goes out of style
Everlane's commitment to high quality products and ethical, sustainable business practices echoes across every business decision they make. From their transparent commitment to social responsibility to their value-adding customer experience and the risks they take on behalf of their customers, Everlane consistently proves that they are always willing to put their customers first.
Adopting this approach will help you build similarly strong emotional connections with your own shoppers. At the end of the day, the relationships you build on trust are what will turn shoppers into devoted, repeat customers.
No matter what you sell (or what you're wearing), effective customer retention is always the right choice.