Product returns can have a serious impact on a retailer's bottom line. In fact, according to the National Retail Federation, returns accounted for over $400 billion in lost sales for U.S. retailers in 2020 alone. Ecommerce brands are particularly impacted by product returns—with 20% of online-bought products returned on average, compared to just 9% at brick-and-mortar stores.
The most popular time for returns? December, January, and February—following the holiday shopping season. Many shoppers tend to overbuy during the holiday season, resulting in a surge of product returns in the weeks following the holiday shopping frenzy.
While there's no way to get around returns as part of the cost of doing business, there are steps you can take for your ecommerce store now to help reduce returns in the new year.
Why do customers return products?
First, it's helpful to know why customers return products—specifically products purchased online. Take a look at the most common reasons why customers return ecommerce products:
Received wrong product
We all know that sometimes mistakes just happen. From warehouse mix-ups, to inaccurate sizing information, 23% of ecommerce returns are due to the customer receiving a different item than the one they ordered online.
Product looks different
You know the feeling when you're really excited to receive something you ordered online, but when it finally arrives it just isn't quite what you thought it would be? Whether it looks different from the product photos, doesn't match the product description, or just isn't what the customer expected, this experience accounts for 22% of ecommerce product returns.
Damaged product
While no ecommerce retailer ever wants their customer to receive damaged products, it happens more than you would think. In fact, customers receiving a product that is damaged upon arrival accounts for 20% of ecommerce returns.
6 Strategies to reduce ecommerce returns
Let's face it. Returns are something that all ecommerce retailers have to deal with. The good news is that there are steps you can take to handle them. Let us break them down for you.
Craft detailed product descriptions
Your product descriptions should include as much information as possible—especially when it comes to describing the product's materials, ingredients, and dimensions or sizing. Apparel items should always be accompanied by a size chart with accurate measurements that customers can use as a reference when deciding on a size.

Your product descriptions don't have to read like an information manual. In fact, you should be using your product descriptions as an opportunity to really sell customers on your product. As an ecommerce retailer, you don't get the same opportunity that brick-and-mortar stores do to give customers a sales pitch while they're right there in front of you. So your description will have to do the work of a stellar salesperson by helping customers learn all about your awesome product and why they should buy it.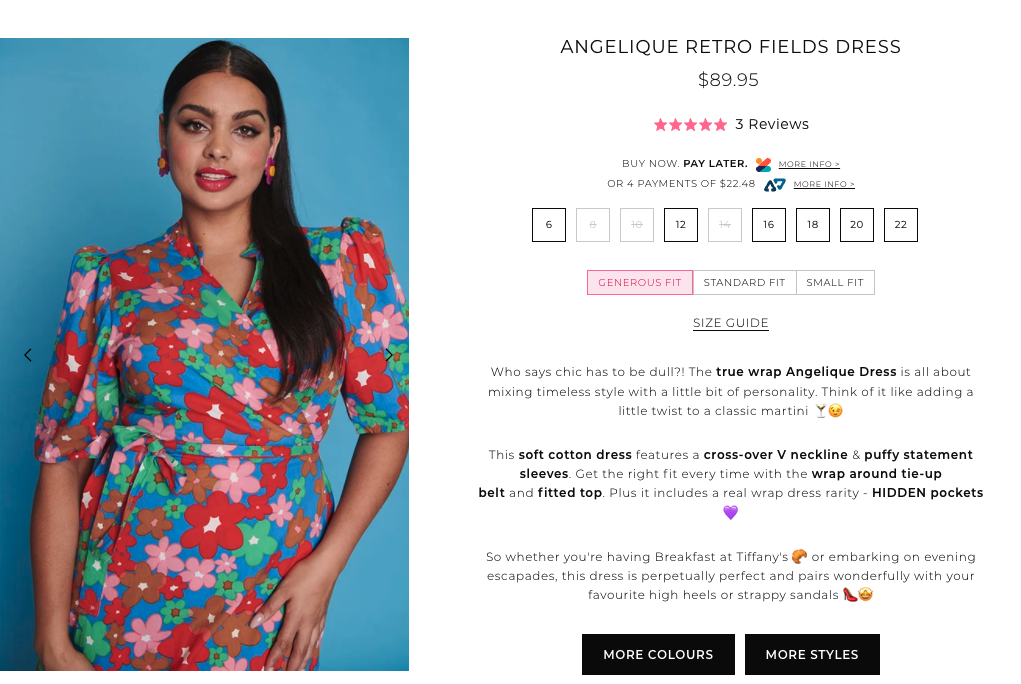 We love how Little Party Dress includes information about the features, fit, and fabric of their dresses along with an easy-to-follow size guide. We really love how they use storytelling in their descriptions to help the customer envision themselves as the proud owner of a new Little Party Dress. Bonus points for providing some helpful styling tips too!
Include multiple product images
As we said before, ecommerce retailers don't have the same advantage as brick-and-mortar stores do when it comes to the customer actually being able to see the product in front of them. This means that ecommerce brands have to work a little harder to make sure they're giving their customers all the info they need to finally hit the "Add to Cart" button.
Including different views of the product from varying angles gives customers a better sense of what it will look like IRL (in real life) so they know what to expect in the mail once they've placed their order. Product photos should be high quality with natural lighting and minimal background.
If you're an ecommerce retailer selling apparel, try to showcase your apparel items in different settings or on different models with diverse body types. Make sure to include the models' measurements and respective sizes to give your customers a better understanding of how the items fit.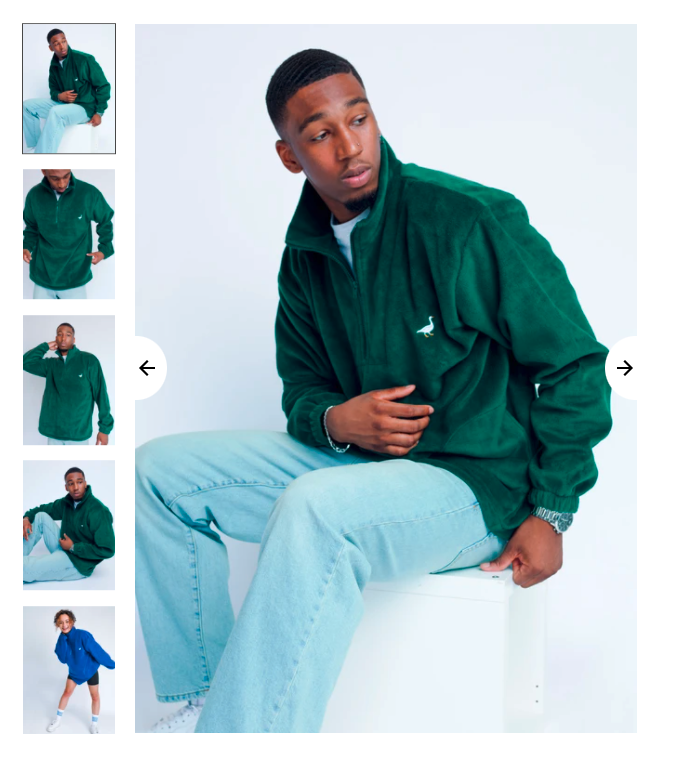 Check out how UK-based apparel brand Goose & Gander shows off their product from multiple angles and in different poses to help their customers understand how it wears in real life. Since Goose & Gander is a unisex clothing brand, we love how they've included photos of their products on models of different genders.
Encourage customers to leave reviews
Customers often prefer to learn more about a product from their friends and peers than they would from the brand itself—especially if it's their first time ordering from that retailer. Nothing personal. Sometimes customers just want some proof that the product is as great IRL as it looks online.
Let customers learn more about your product from other real-life customers who have now received their order and can vouch for how awesome it is! Want to take it a step further? Ask customers who have recently placed an order from you to include their own photos with their reviews. This not only works as some amazing social proof, but helps you gather even more product images to really give your customers a sense of what your product looks like.
How do you get your customers to leave honest reviews? All you have to do is ask. Send them an email soon after they've received their order and ask them to share their feedback on your website. This is a great opportunity to use a customer loyalty program that rewards your customers for leaving reviews.

This email from Smash + Tess is a great example of how to ask your customers to leave reviews. Customers who are a part of Smash + Tess' rewards program are further incentivized to review their recent purchases by receiving points that they can cash in for rewards.
Invest in quality packing materials and shipping services
Once an order's left your warehouse, it's typically out of your hands. But a product that arrives damaged on a customer's doorstep contributes to a disappointing customer experience that you can be on the hook to fix.
Invest in quality packaging (especially for products that are easily breakable) and research your options when it comes to shipping carriers. Make sure to ask about their policies for damaged product during shipment.
Not only does PEI Preserve Co package their products securely in a box marked with a "FRAGILE" label, they also create a fun unboxing experience with personalized photo gift boxes. Talk about delivering (literally) a delightful customer experience!
Establish a flexible return policy
It may seem counterintuitive to reduce returns by making them easier, but a whopping 92% of customers will buy something again if returns are easy. Having a flexible return policy in place contributes to a better customer experience and increases the likeliness of repeat purchasing.
Your return policy should clearly lay out the process for customers to submit a return and the timeframe by which a return must be received. Not sure how long to make your return window? 62% of customers expect retailers to allow them to make an exchange or refund within 30 days of purchase.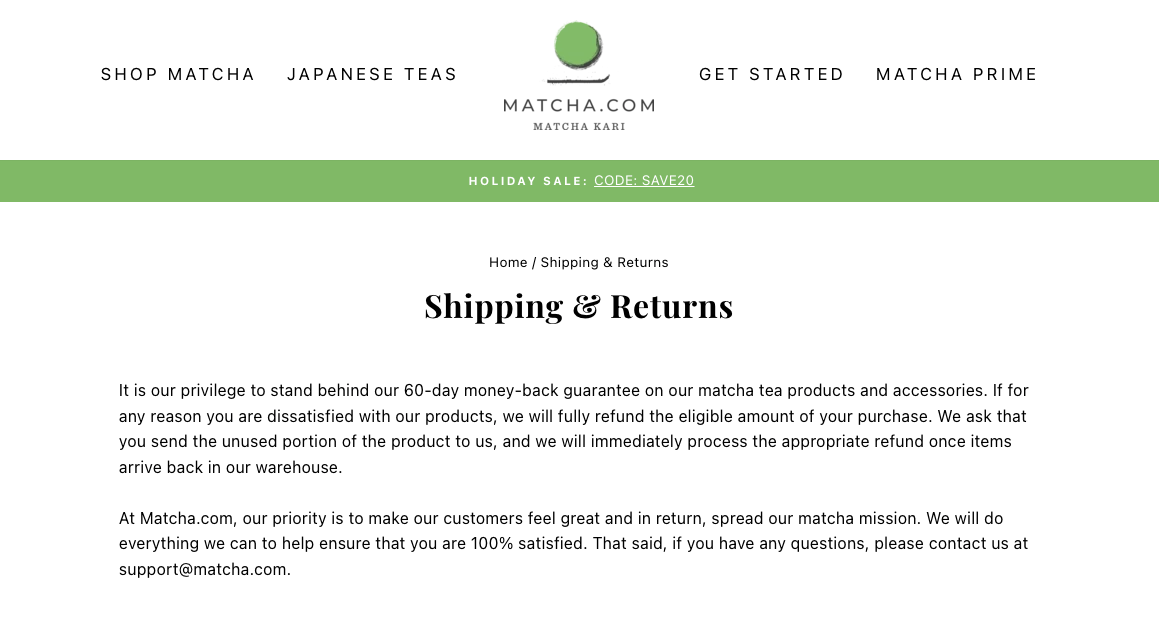 We love this 60-day money-back guarantee return policy from Matcha.com. It reinforces how strongly Matcha.com believes in the quality of their product, while putting their customers' satisfaction first.
Ask customers why they're making a return
Ask your customers to indicate why they're returning a product as part of your brand's return process. This allows your customers to know that their feedback is being heard, while also providing you with valuable data to identify areas of improvement.
Whether it's adding more product photos, double-checking sizing information, or looking into new packaging options, use your customers' return feedback to continually improve your business. Actively implementing customer feedback can help you to reduce your return rate over time. It also helps you stay connected to your customer and continue the customer relationship post-purchase—encouraging them to come back and purchase again.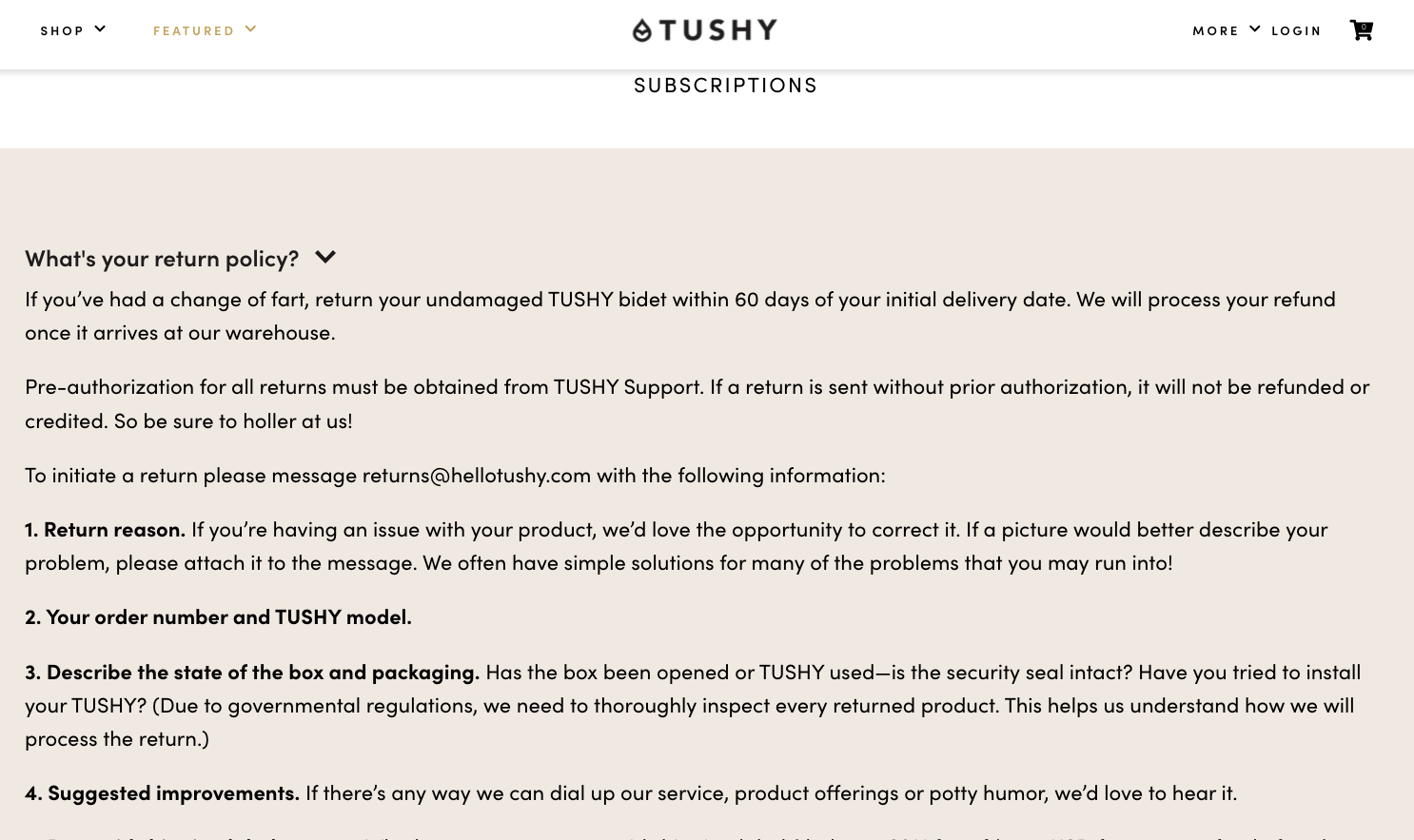 Tushy asks customers to indicate their reason for returning the product as the first step in their returns process. They also use this opportunity to remind customers that they can help solve many issues they might run into with the product before a return is necessary—potentially preventing the return all together.
Well, there you have it. 6 strategies you can implement for your ecommerce brand now to reduce returns and deliver a better customer experience. Remember, a seamless purchase and return process could turn one-time customers into repeat buyers and loyal brand advocates. So what are you waiting for?