When it comes to household brand names, Samsung isn't just a great example it's almost the very definition. From washers and dryers to TVs and alarm systems, Samsung offers products that fit into a number of different industries, and also fit in most homes. However, when it comes to their rewards program, this broadspread brand chose to narrow in on only one of the devices in their impressive portfolio: mobile phones.
Samsung has developed a rewards program that works specifically to complement their mobile payment service - Samsung Pay. Customers can earn points for every purchase they make using the service and can then exchange these points for rewards from an extensive catalogue of products, gift cards, experiences, and more!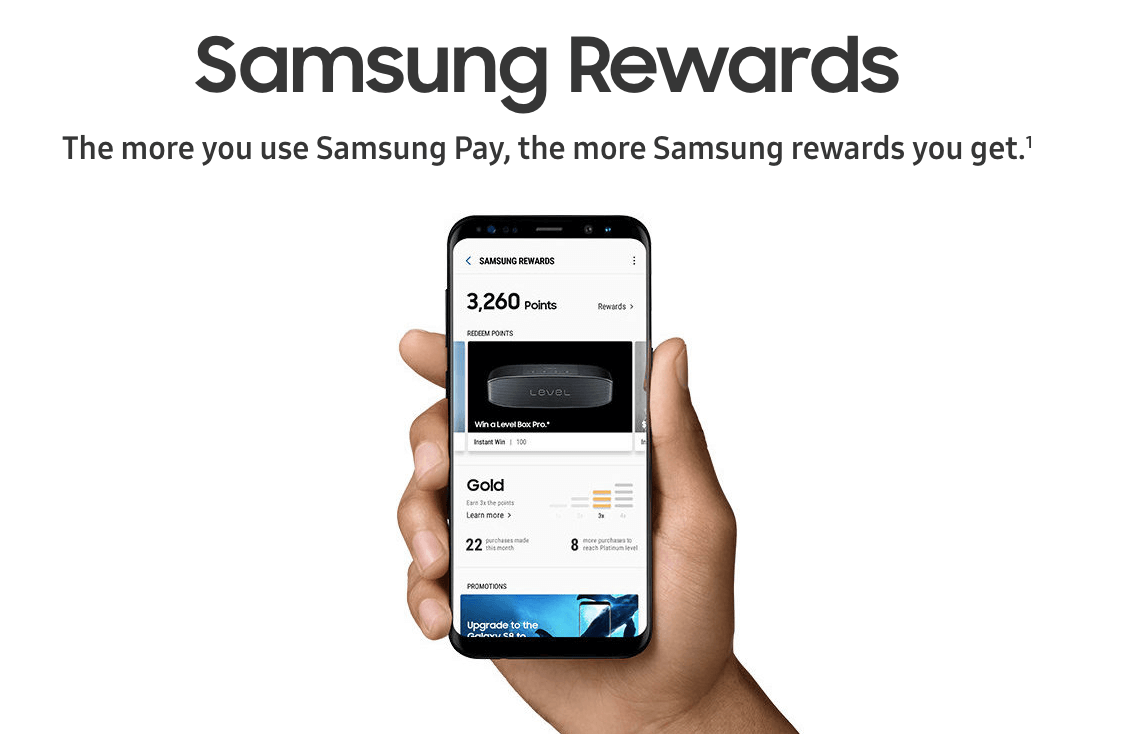 So the question is: does Samsung's focus on mobile payments pay off, or is the household brand getting left at the door? We've got the ups and downs of the Samsung Rewards program in this week's rewards case study.
Where Samsung Rewards Really Pays Off
Samsung didn't get to be a multi-billion dollar organization without learning how to deliver quality products and services to their customers, and Samsung Rewards is further proof. From an impressive implementation of VIP tiers to a program that allows for earning multiple rewards on a single purchase, Samsung Rewards is making sure that mobile payments really do pay off!
1) Samsung Rewards Makes Great Use of VIP Tiers
When you make your way to the Samsung Rewards explainer page, one of the first things you're shown is the program's VIP structure. Using simple visuals, customers are shown how to move through each of the four rewards levels: from Member, to Silver, to Gold, to Platinum.  As a Member, customers are rewarded 10 points per Samsung Pay transaction - an earning threshold that doubles, triples, and quadruples as they move up through each of the successive tiers.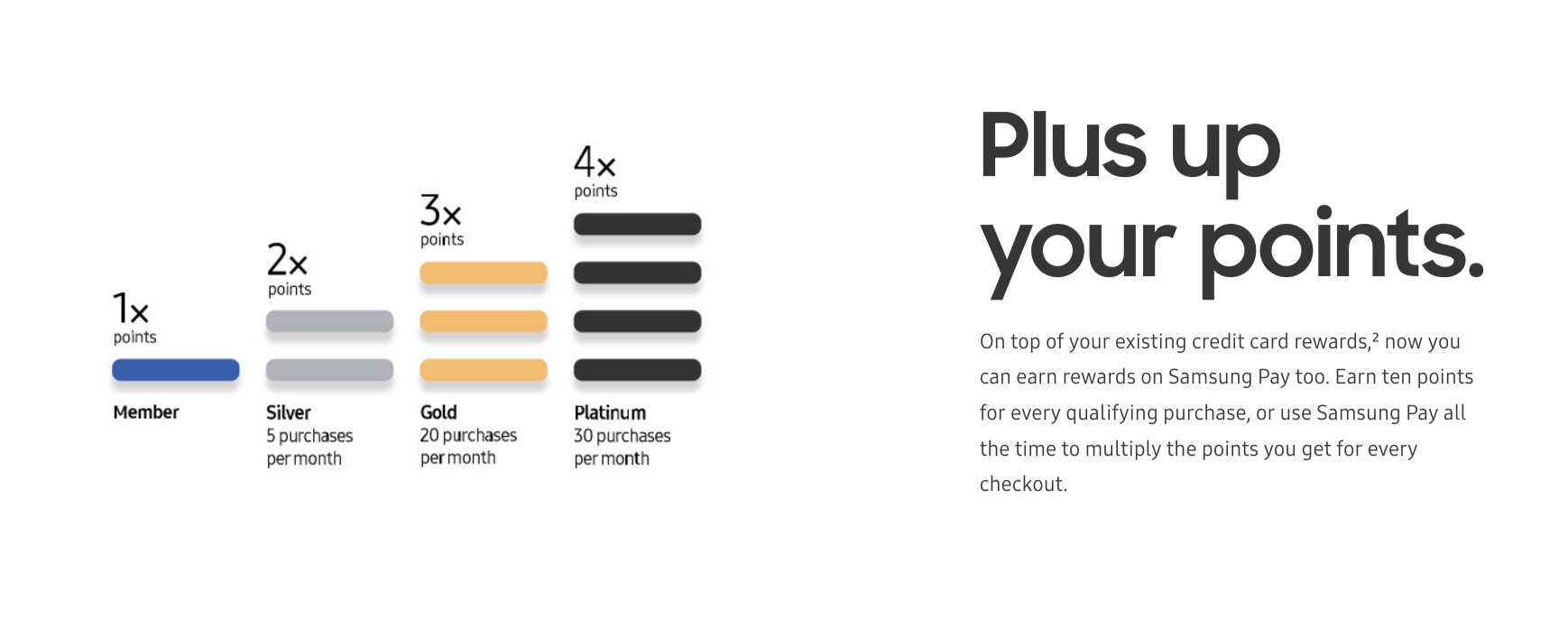 The mechanics of the Samsung Rewards VIP structure are simple, and this simplicity is one of the program's greatest strengths. Since a customer's standing within the program is based on purchase frequency per month, it is much easier for customers to mentally keep track of their status as opposed to other VIP dividers like dollars spent in the past year or points earned per week.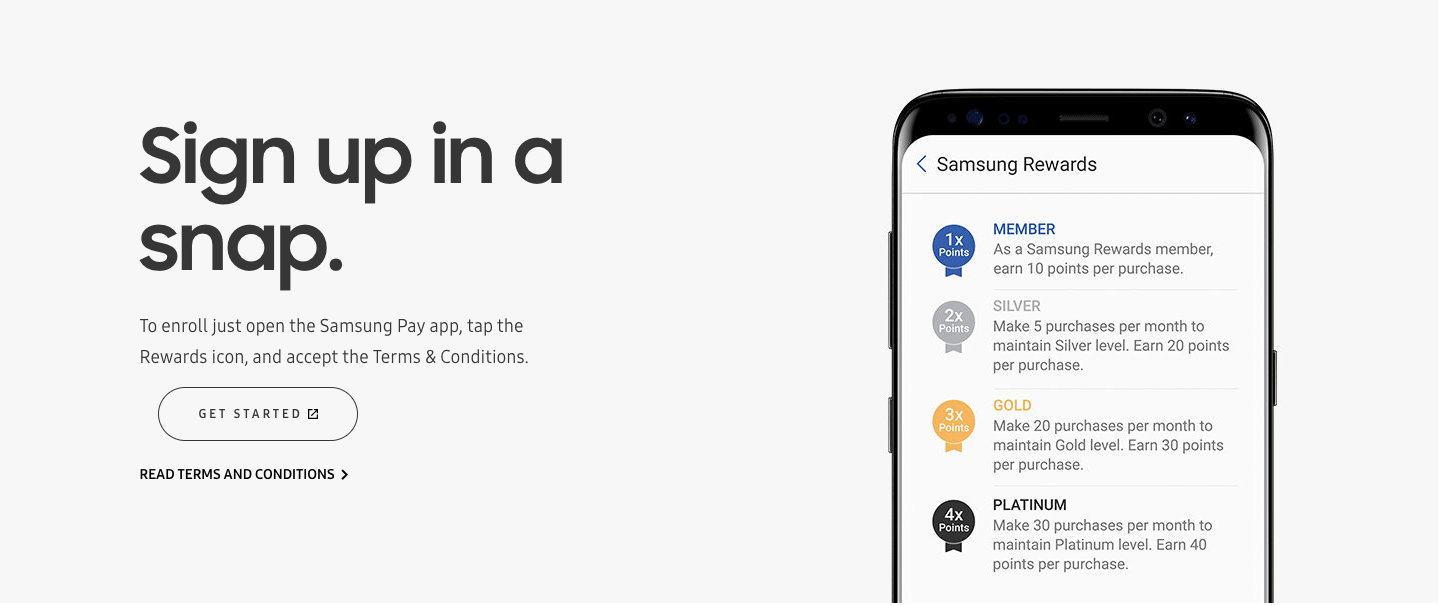 Every time a customer taps their phone to pay for a product, they know they're one step closer to a higher VIP tier - simple as that. The reward perks aren't complicated either because customers are wired to understand scalable benefits like double, triple, and quadruple points. When there's no confusion there's no friction, and the Samsung Rewards program benefits greatly from this design.
2) Earning Points With Samsung Rewards is Remarkably Convenient
Samsung's program is structured so that customers earn Samsung Reward points by paying with their Samsung devices - anytime, anywhere, for anything. Many other contemporary rewards programs require customers to jump through hoops to try and earn points, but Samsung has reversed this dynamic to make earning points as easy as…well, shopping!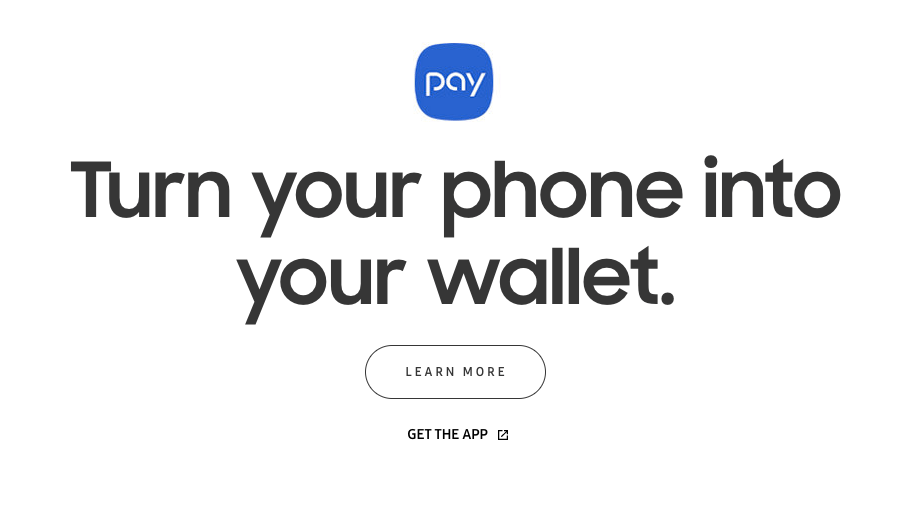 I'm going to use two other very strong rewards programs to illustrate just how convenient Samsung's earning process is. PC Plus, a great grocery rewards program, rewards customers with substantial discounts on their groceries but customers only earn rewards on specific items. Air Miles, one of the largest rewards programs in the world, is only available at specific retailers and if you forget your membership card, you'd better have your 11 digit account number memorized or you'll be walking away empty handed.
Samsung, on the other hand, allows customers to earn points no matter what credit card they're paying with as long as they pay with their phone. This means any merchant that accepts tap payments is a potential earning site for a customer. Even if the customer forgets their entire wallet, they can still earn as long as they have their phone. At this point, it's almost more difficult to find a way out of earning points with Samsung Rewards.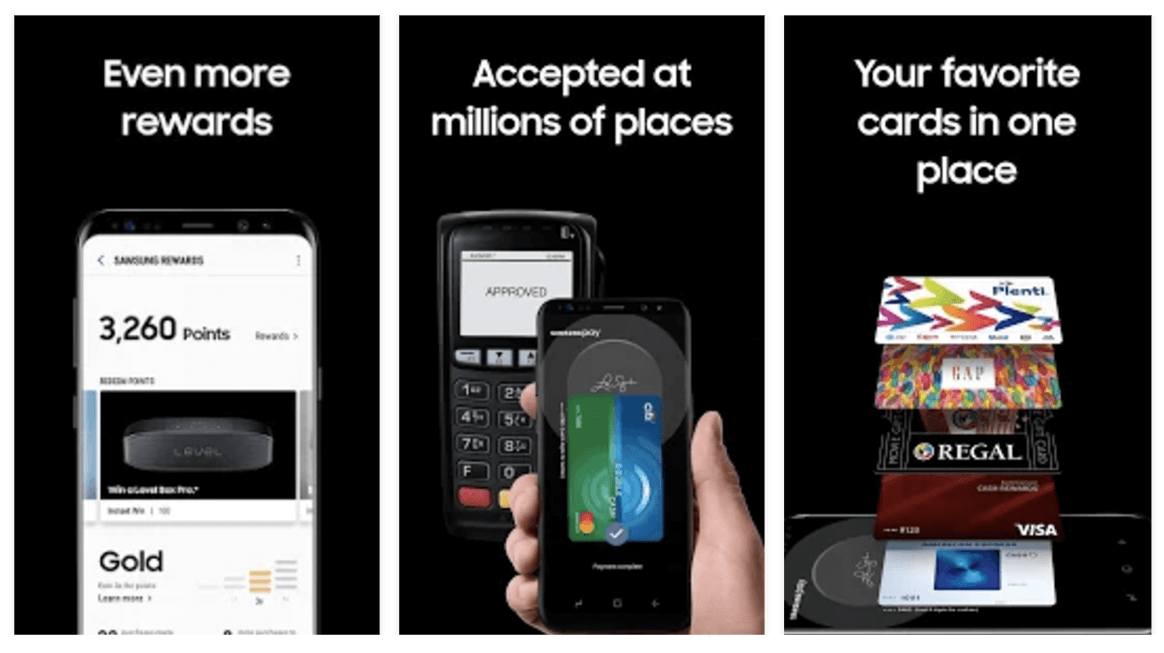 Lastly, since you're paying with a credit card through your phone, you'll still earn any cash back/reward points from the credit card in addition to the Samsung Rewards points for Samsung pay. In other words, single purchase, double earnings! Essentially, Samsung has created a more convenient way for customers to engage in commerce and is also seamlessly rewarding them for using a genuinely better solution.
3) Samung Rewards is Leading the Charge on Mobile Commerce
In the past we've talked about the importance of mobile commerce and why it's more important than ever to have a mobile friendly customer experience.  We even praised Target for going one step further and designing an experience that uniquely leverages the on-the-go capabilities of mobile phones in their REDcard rewards program experience. That being said, when it comes to combining mobile commerce and a rewards program, Samsung Rewards stands alone.
Samsung isn't just ready for an increase in mobile commerce - they're using their rewards program to actually create it! By setting up their VIP tiers based on mobile purchase frequency, they're ushering in the age of m-commerce by changing customer behaviors and patterns.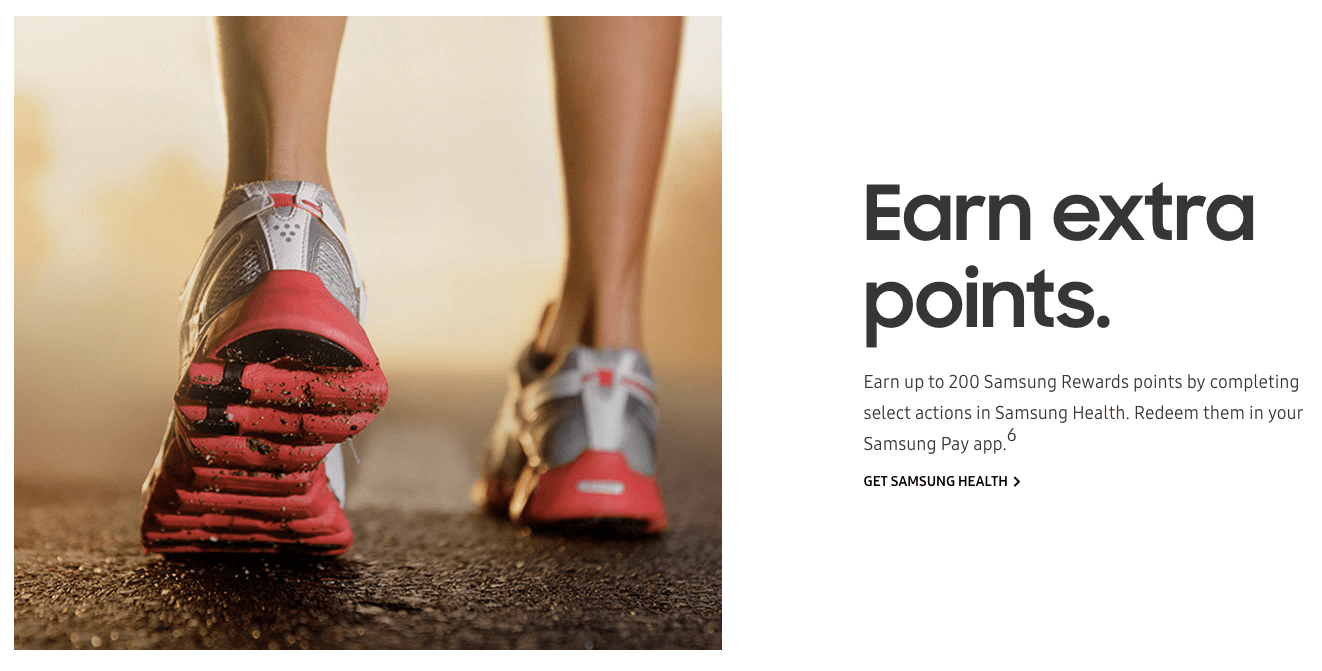 Samsung doesn't stop there, though. To complement Samsung Pay, they also provide users with a Samsung Rewards app where they can track their points and even earn more by engaging with apps that are recommended specifically for the user. The brand also allows users to earn bonus points by completing actions in Samsung Health another app that comes standard on Samsung devices and works to help users live a healthier lifestyle. Samsung's powerful network of mobile services proves they know mobile commerce is the future and are leading the charge.
Where Samsung Rewards Doesn't Quite Pay Up
Samsung is a great example of an innovative rewards program, but just because the brand is forward thinking doesn't mean it doesn't get held back sometimes. When you take a closer look, there are a couple elements of Samsung Pay's Rewards that don't quite pay up.
1) Samsung's Rewards Are a Little Disconnected
Samsung plays in as many tech industries as possible. From virtual reality goggles to microwaves and everything in between- if you're talking tech, Samsung is a part of the conversation. With such a widespread presence, you'd think they'd be able to offer a nearly infinite catalogue of rewards without leaving their brand experience.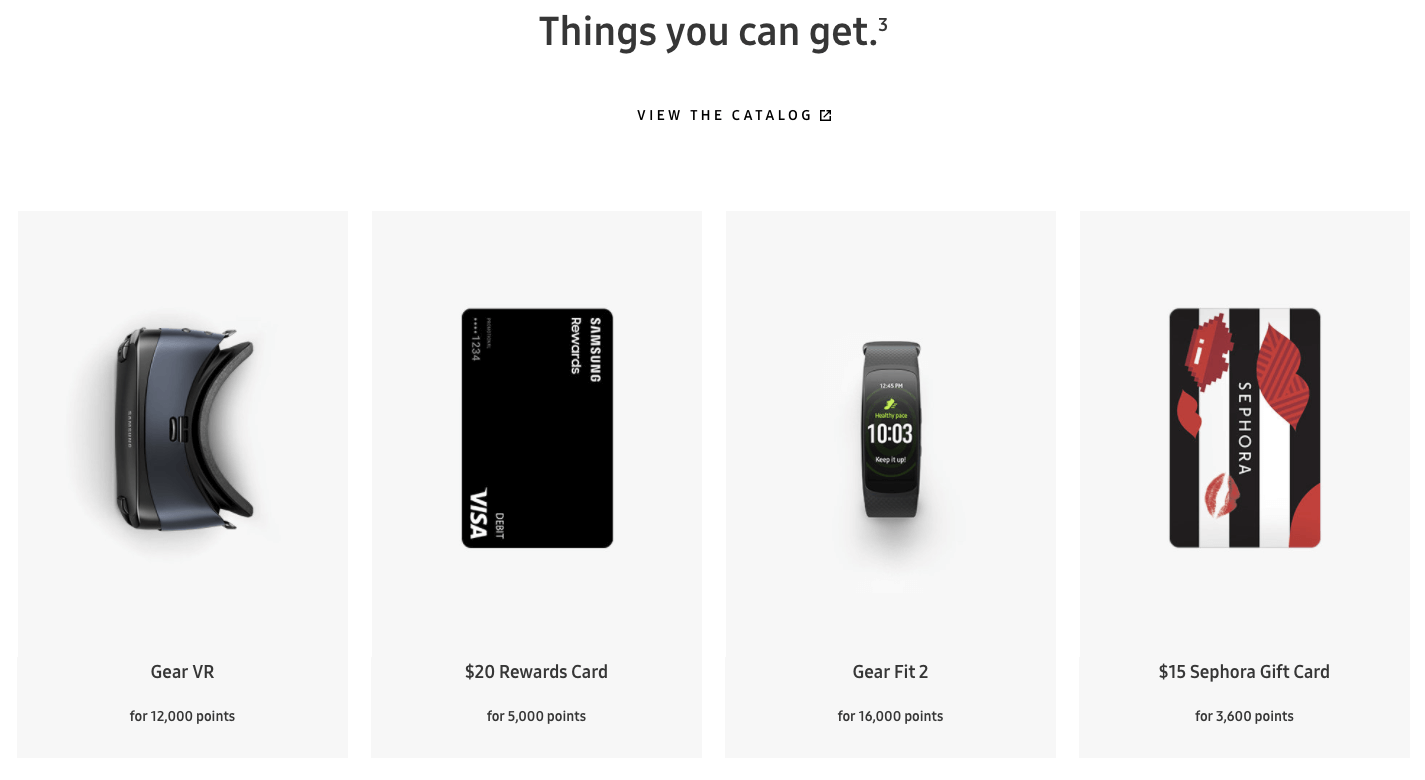 Unfortunately Samsung diversifies its rewards a little too much and ends up actually disconnecting the rewards from the brand that is providing them. While Samsung does allow customers to redeem their points for many different Samsung products and services, it also provides gift cards to external stores like Sephora. Although Sephora has one of the strongest rewards programs on the planet, it has almost nothing to do with Samsung.
Sony is another tech brand that spreads themselves (and their rewards programs) out over a number of industries.  However, when it comes to their rewards programs, customers are always earning rewards by Sony with Sony. Whether it's with VIP experiences like SONY movie red carpet events or simple discounts on Sony Tech, the rewards experience is entirely contained within Sony's domain.

This level of consistency keeps the positive feedback loop strong and ensures that customers always associate the great feeling of being rewarded with the brand that made that reward possible. This feedback loop is what's being lost when Samsung Rewards customers are sent to redeem rewards with external brands.
2) Samsung's Rewards F.A.Q. Pages Raise Some Questions of Their Own
When a customer ends up on a F.A.Q. page, it's because they're looking for clarification on something they don't fully understand. This search costs the customer effort, and if you've ever studied customer motivation you'll know that letting shoppers expend effort that doesn't lead to a desired outcome is the fastest way to demotivate your customers.
Unfortunately, the Samsung Rewards F.A.Q. page(s) aren't set up to easily guide a customer to their desired outcomes. The program has two separate explainer pages that have confusingly similar titles but discuss very different things: one for the Samsung Rewards program and another for the Samsung Rewards Visa card. A customer that is quickly skimming the page might not realize they're in the wrong place until they've already wasted time reading through irrelevant explanations.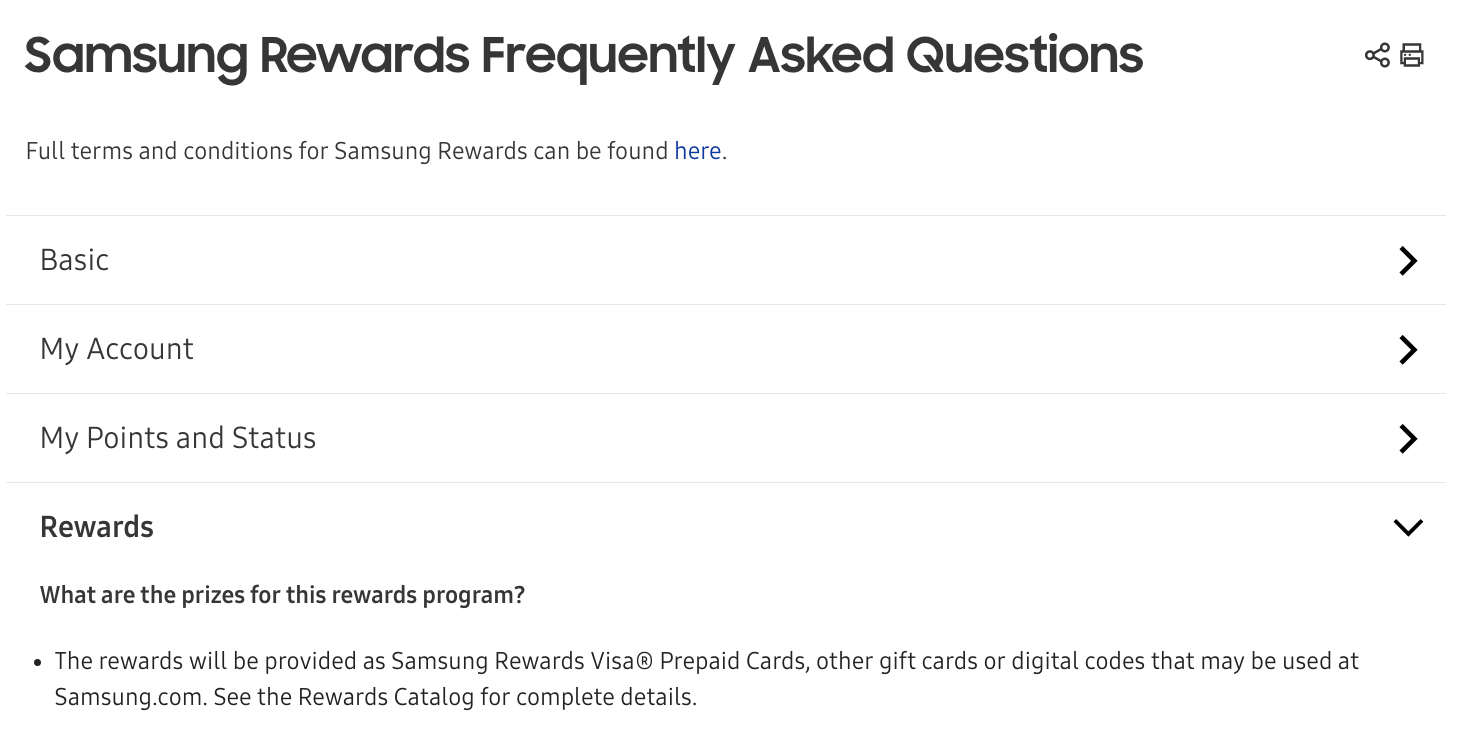 Additionally, while the Samsung Rewards main explainer page is broken into subsections that let a user easily navigate to the information most relevant to their needs, the Samsung Rewards Visa page hits users with a 15 question wall of text that they have to sort through to possibly find the answer to their question. This experience that could easily lead a customer to give up on their search, and maybe the whole program.
Samsung Rewards Is an Innovative Take on the Contemporary Rewards Program
Samsung is a multi-industry mega company that employs the full breadth of its industry knowledge with the Samsung Rewards program. Samsung Rewards isn't just ready for the dawn of mobile commerce but instead is working to be one of the main catalysts. With an amazingly convenient earning process and a beautifully simple VIP structure, Samsung is well on their way to making mobile commerce the only way to pay.
That being said, the program does falter a little bit when it comes to the organization of their explainer pages and tying back some of its rewards back to the Samsung brand.  Thankfully,  these smaller missteps don't take much away from what is definitely a solid program.
Samsung might be a household name, but their rewards program is sure to get you out of the house and earning points all over town.