A couple of my friends have been raving about this loyalty program for a few months now, but I just recently checked it out. I should have found this loyalty program sooner. It is a fantastic ecommerce loyalty program example.
The MyNB program is a loyalty program offered to New Balance shoppers in the United States takes advantage of our social tendencies, the ease of information collection online, and is very visually appealing and easy to navigate.

The program is relatively new launching in 2015, but what it lacks in age, it makes up for in function. In this post I will go over a few things I absolutely love about the MyNB program, as well as a few things I believe could be improved.
What MyNB Loyalty Program is Doing Right
Let's start with what I like about the MyNB Loyalty program. There are more than these three things I like, but in the purpose of time I will limit it to my favorite three. But please feel free to explore the program yourself.
1. Effective Use of Loyalty Tiers
Tiers are an amazing way to get your members excited to spend more, and perform more profitable actions. Without tiers, a program motivates by providing physical rewards and discounts. When you add in tiers, you are motivating on a psychological and sociological level as well.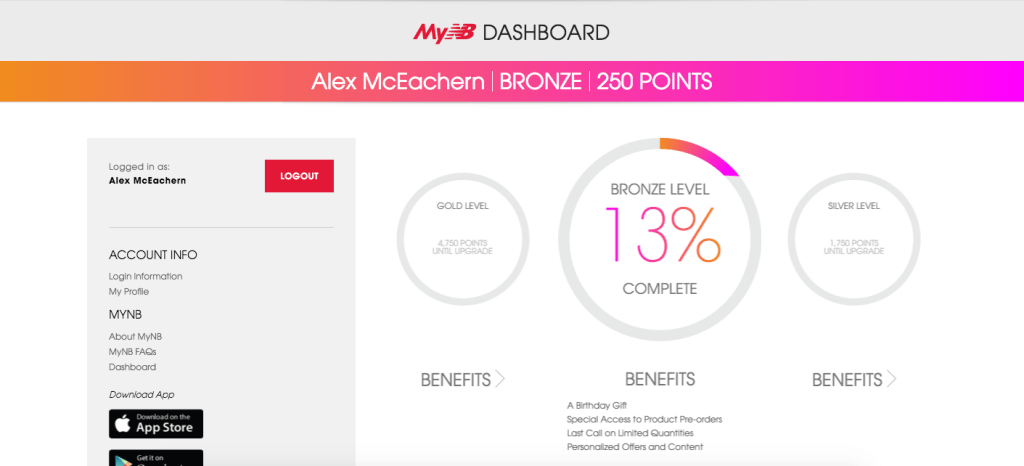 As you can see above, I am currently in the Bronze tier (13% of the way through to be exact). Even if you don't know the additional rewards for becoming a silver or gold member, you are still motivated to pursue them. As humans we aspire to be the best, and tiers encourage us to strive to be the best. This is also known as gamification.
The mere presence of tiers are effective motivators, but New Balance also offers some great additional rewards for moving through each. I also love that they display your current progress through each tier.

The above benefits are a little confusing without titles. The left is the Gold tier, the Middle is the Bronze tier, and the right is the Silver tier. You are automatically enrolled in the Bronze tier upon program registration. This gives you access to a few benefits right away. The amazing rewards come as you progress through the program like: free shipping, concierge, and priority support.
Tiers are an amazing way to make a program feel exclusive and I highly recommend them for loyalty programs that deal with fashion, electronics, cosmetics, or lifestyle.
2. A Robust Reward Selection
There is an old  saying that you have probably heard from a teacher or parent at some point. It is "you can't please everyone." Well, New Balance is trying with the large selection of rewards they offer.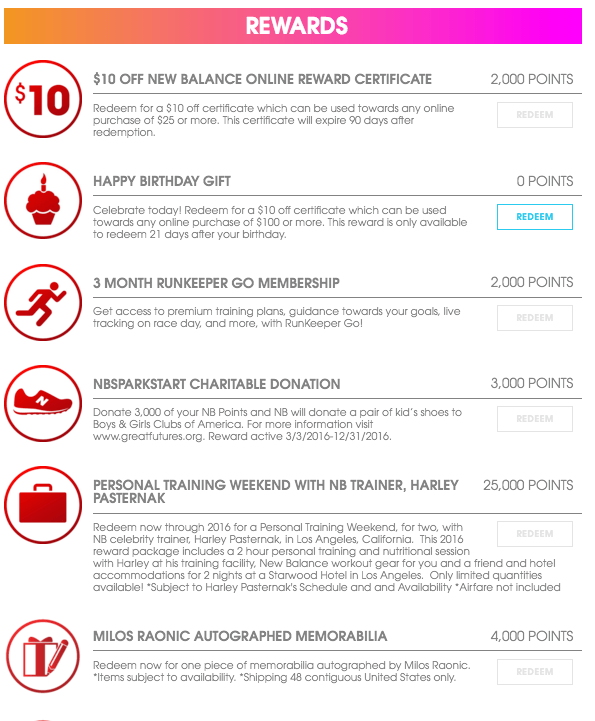 Some people like monetary rewards like dollars off or discounts. Some people prefer physical rewards like products or memorabilia, and others prefer experiential rewards. Normally it is hard to appeal to all these preferences, but New Balance has done a really good job.
As you can see in the image above they allow you to redeem your points for monetary reward, allow you to donate points, redeem for personal trainers, and even signed memorabilia.
3. A Well Put Together Explainer Page
An explainer page is likely the first interaction your customers have with your program. If it isn't good, you will not be seeing that customer enrolled in your program. That is because a customer needs to know what they will get when joining before they commit. An explainer page shows how a customer will interact with your program.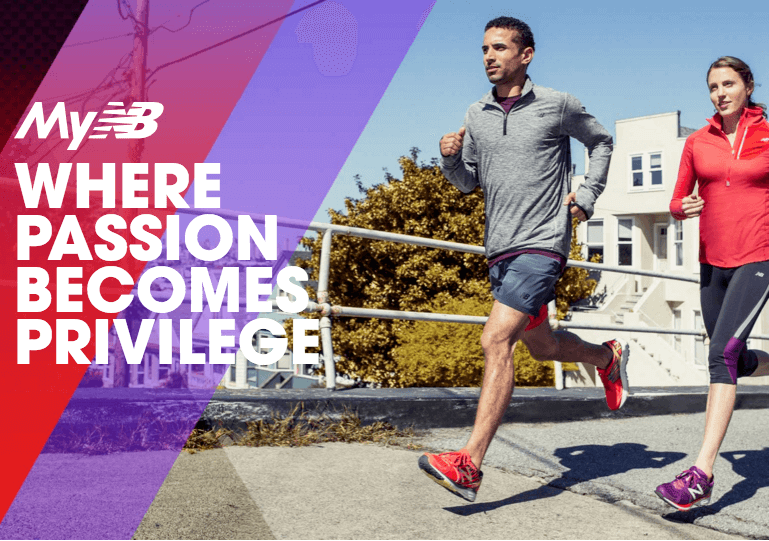 You can click on the image above to see the entire loyalty explainer page. The page shows customers how they can enroll, the benefits of joining, how they will earn points and more. They do this in a visually appealing way, and keep all the legal jargon on the terms of service page.
They have followed my loyalty explainer page tips to a "T" and have created an amazing way to showcase the program.
What MyNB Loyalty Program is Doing Wrong
I want to point out that I think the MyNB program is a fantastic ecommerce loyalty example, but there are a few things I think could be improved. These are just my personal opinions.
1. The First Reward Costs Too Many Points
Program members see value in your loyalty program when they exchange the points for a reward. Until that time, the points are just a currency that means nothing. You want your customers to get that first reward quickly.
MyNB gives 10 points for every dollar spent, which means you must spend $200 to get the first reward. This is not that much considering that each pair of shoes cost around $100, so 2 purchases would get you a reward.
I however am a big advocate of giving customers points quickly when they first join. This ensures they see the value right away, and will come back to shop with you again. This can be done by giving points for registration, sharing, and referring friends to get a reward right away.
In this program, even if you performed every sharing action and got the registration bonus, you would not have enough for the first reward. I would recommend making a smaller initial reward or giving more points for sharing and registering.
2. Need to Draw More Attention to the Program
One of the reasons I was unaware of this loyalty program is because they do not promote it too heavily. The only way to find the program is a small call out at the top and bottom of the page.
A loyalty program is not effective if no one is aware it exists. Just like any form of promotion, you need to advertise your program. I recommend at least a spot in your homepage banner, and a link your footer. There are a ton of other places to promote your program as well.
3. Limited Referrals
Referrals are an amazing way to drive both traffic and sales to your site. A referral from a friend is the most trusted form of advertising according to Nielsen. A strong referral program essentially turns your customer base into your best marketing channel. Loyalty points are an amazing way to incentivize your customers to share with friends and family.

However, New Balance limits members to 4 referrals a year. This makes sense based on how they reward the points. Points are being rewarded based on acceptance of the invitation. This makes it very easy to scam the system. A customer can make fake emails, refer them, accept the invite and get points. Limiting to 4 a year reduces the potential impact from fraud.
This however is demotivating for customers who actually want to share you with everyone. MyNB could reward points for the referral, only after the friend makes a purchase. This would tie the point reward to dollars generated to the store. This is how many loyalty programs structure their referral programs to avoid fraud.
This program could become even stronger if customers were not limited to only 4 referrals a year!
The MyNB Loyalty Program
As I mentioned before, this is a fantastic example of an ecommerce loyalty program. Even though I found some things to nitpick, it is a very strong program. I just happen to be a loyalty program perfectionist.