If you've started thinking about marketing your ecommerce brand you've probably heard the term content marketing thrown around. This is a great strategy to generate brand awareness, get your brand in front of new potential customers, and create a great impression online. But only if it's done correctly.
Many brands begin posting content online without any clear strategy or direction. So whether you're brand new or you've had your store for a while and haven't done any real content marketing yet, this post is for you. We'll cover how effective content marketing can create an inbound marketing funnel and start the process of turning online audience members into customers and then loyal brand advocates.
Determine your content pillars
In order to create effective content, you need a solid foundation. This comes from defining a concrete ecommerce marketing strategy before you start posting anything online. A key element of your marketing strategy will be your content pillars.
🏛️
Content pillars are broad themes that inform all of the marketing content your brand creates and don't change overtime.
We recommend choosing 3-5 content pillars and ensuring that everything you post online aligns one or more of these pillars. This means every social media post, email campaign, digital ad, blog post, and everything in between must be guided, strategic and aligned with your overall marketing goals.
Having direction with your content strategy will generate both brand awareness and drive customer engagement because they know what to expect from your brand.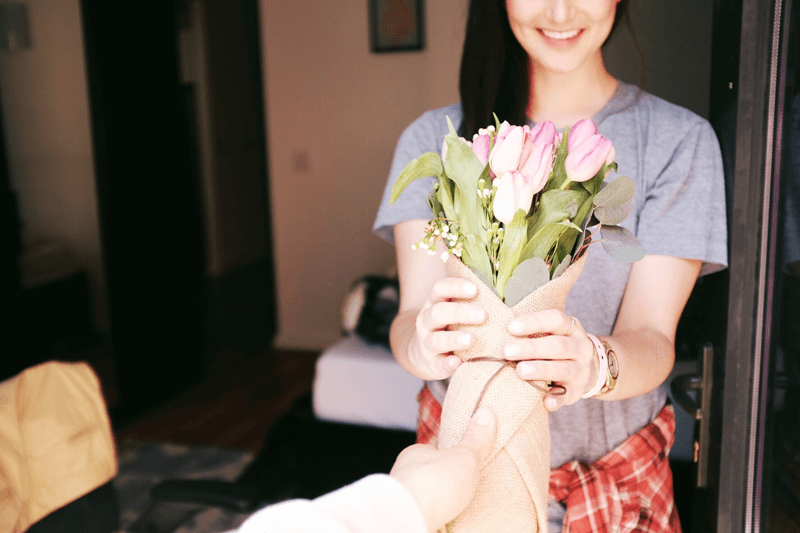 Plan your content executions
Once you know the direction you want your content to take, you begin putting your ecommerce marketing strategy into action in the form of content. Let's start by defining a few key terms:
📖
Content series: a recurring group of related posts or marketing pieces that are consistent in format and posted at regular frequencies, such as daily, weekly, monthly, quarterly, etc… Common examples include Throwback Thursday or a monthly newsletter.

Content execution: the individual piece of material that is posted that may or may not be part of a content series. Every social media post, blog article, marketing email, advertisement, and more is an example of a content execution.
While not everything you post needs to be part of a content series, they are a great tool to make brainstorming new content easier and build anticipation with your audience because they know what to expect. When you begin developing your content strategy, we recommend picking 2-3 marketing platforms to focus on and developing a few content series for each.
For example, if you're a new cosmetic brand your high-level content strategy may look something like this:
📱
Platforms:
 Instagram
 Online Blog

Content Series:
Instagram
1. Technique Tuesday where you share quick makeup application tips and tricks.
2. Customer Stories where you share user-generated reviews on your feed or stories.
3. Product Features where you highlight a different product and do a deep dive on its benefits.

Online Blog
1. Founder Favs where you share personal stories from the founder about the inspiration behind different products and why they love them.
2. Tutorials where you do a deep dive on how to create different makeup looks using the brand's products.
Once you've established your platforms and content series, you can begin filling in the gaps by planning specific content executions. We recommend planning about one month in advance so that you are not scrambling to create content on the fly.
While a content plan gives you guidance it should never limit you from posting reactive content. Consistently monitor social platforms that you're on in real-time too so that your brand appears and shows up in the conversations that matter to your audience. For example, an eco-friendly brand would want to engage with posts from environmentalists or other agencies in their space.
While you don't want to copy and paste your content onto every social media platform (different platforms have different goals and best practices), you can definitely rework content to save time and resources. For example if you write a blog post, you can repurpose that content into a social media post that summarizes the key points. You have different viewers on different channels who expect different things. Whenever you rework your content for a new channel, make sure you really think about if it makes sense for that audience.
Build your content toolbox
By this point we've talked about planning content pillars, content series, and content executions. But how exactly do you get there? Tools, tools, and more tools. Any great content marketer will tell you they've got a toolbox full of software and programs that help them at every stage of the way.
In this section we'll dive into the different stages of content marketing and the tools that can help you there to acheive an inbound marketing funnel.
Research and brainstorming
Step one for every marketing campaign is analysis and research—researching your environment, industry, competitors, internal capabilities, and more. When creating a content strategy with a goal of generating brand awareness for an inbound marketing funnel, you'll want to perform research in several areas.
First you'll want to look at what other brands, namely competitors and similar brands, are already doing and what their content looks like. Monitor their social media accounts (Twitter, Instagram, TikTok, or wherever they are), websites, and emails. It's a good idea to set aside time for these competitive analyses and make notes about what you like and what you don't. You can also sweep social media for any trends that align with your brand and could be a fun way to connect with your audience in a relevant way.
👀
Build in time into your marketing strategy to monitor competitors and online trends.
When it comes to written content like blogs, articles, or newsletters, there are a variety of tools we recommend. First, you should perform SEO (search engine optimization) research to see how your website is performing organically. This means how likely it is that your brand will come up on the search engine results page when customers search for certain keywords. There are a variety of tools like Moz.com, Ahrefs.com, and Google Keyword Planner that can help you discover how you currently rank for certain keywords, discover new keywords, and track your position over time.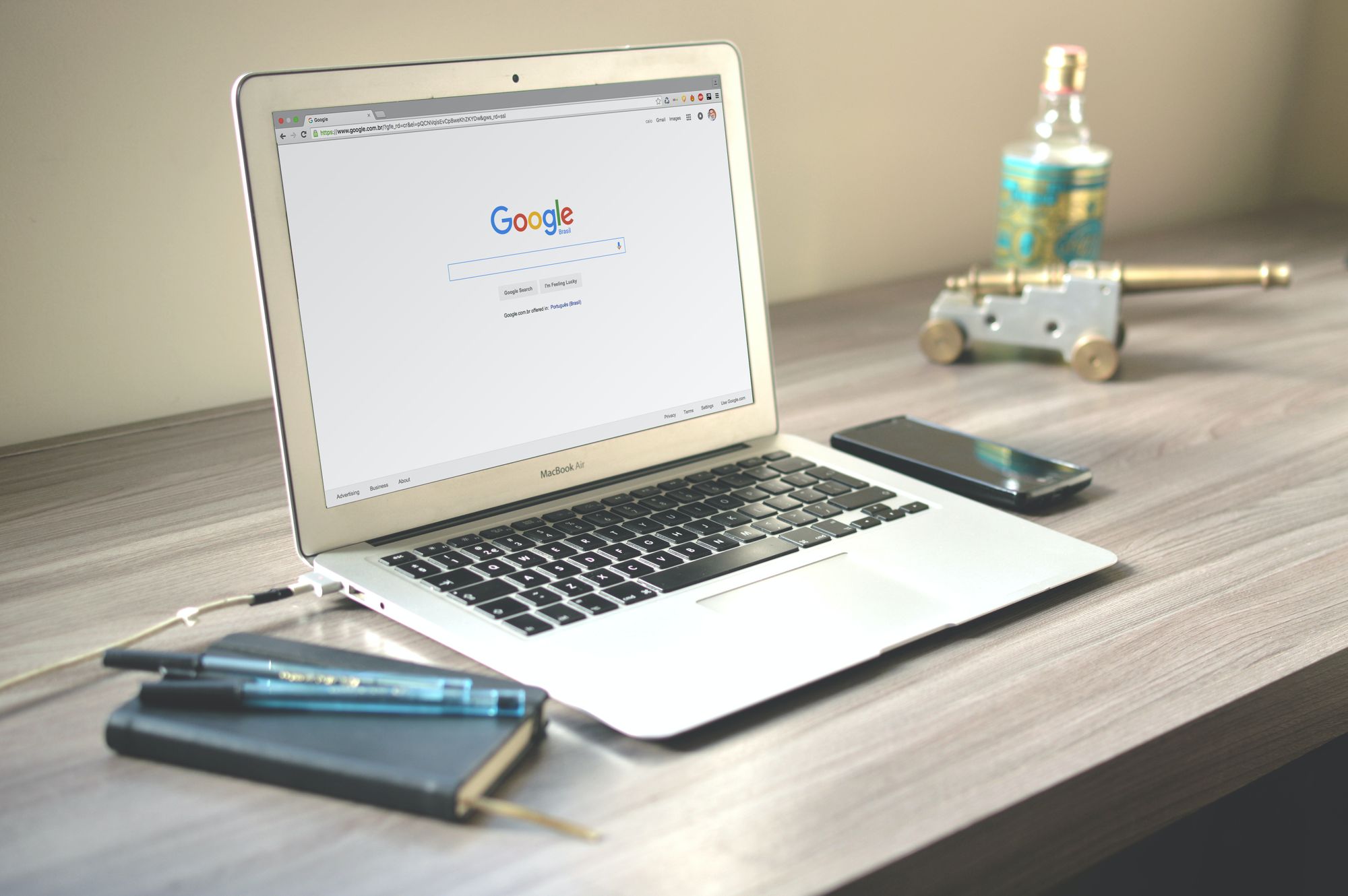 Keyword research is great when you have a blog idea in mind and want to know which terms to focus on, but sometimes you don't even know where to start. Luckily, there are tools for this too. One workaround for SEO research is to leverage the features that search engines already have. Using the "people also searched for" method is a great way to find alternative content topics that build off of topics you may have already covered.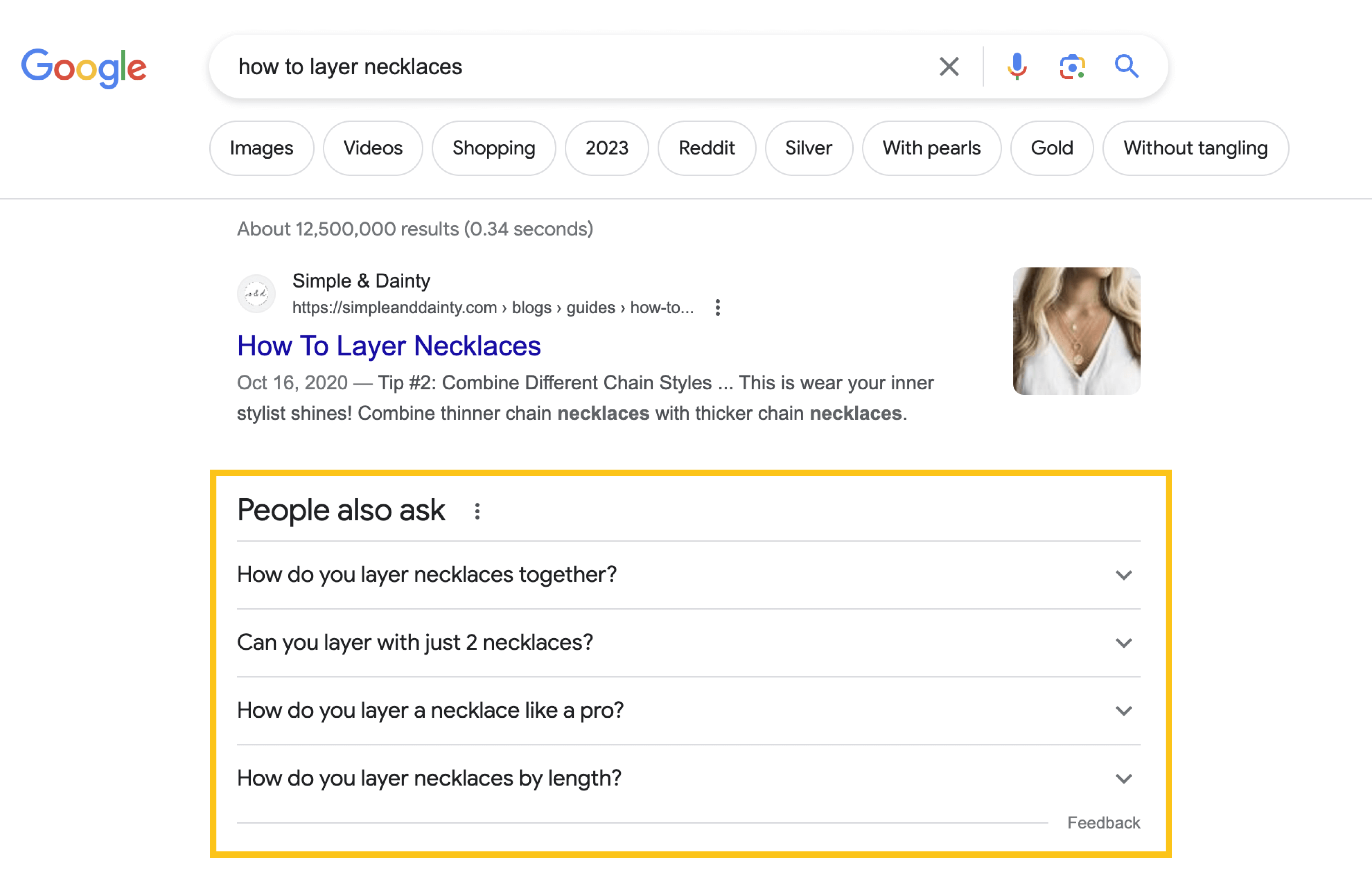 For example, say a jewellry brand posted a blog about "how to layer necklaces". If they search this phrase in Google, they can see other queries under the "people also ask" section. The brand could then use these phrases to create new content, such as an informative Instagram post on how to layer with just 2 necklaces.
Hubspot Blog Idea Generator is another valuable resource that allows you to enter a few nouns and gives you a list of blog topics, which you could also leverage for informative newsletter campaigns or infographics for social media.
Finally, we'd be remiss to not mention one of the newest and most valuable tools for content brainstorming and idea generation—AI (artificial intelligence) tools. With tools like ChatGPT you can get ideas for blog topics, title suggestions, heading topics, and more. It's also a great resource for email subject line generation, with the ability to get ideas in various tones and voices. While it can be tempting, we advise you not let AI tools do the writing for you. It's very easy to tell when something was not written by a human and at the end of the day your content is a way to connect with your audience on an emotional level—so keep it personal.
Content creation
The next phase is the most creative and time intensive one—content creation. You don't need to be a graphic designer or a published author to create great content. There are tons of tools designed to make content creation as easy as possible, even for beginners.  
For visual content like social media content or infographics, Canva Pro is a great one. You can try out the free plan but the Pro plan offers the ability to create a brand kit to easily access your brand colors, logos, and more in a few clicks. If you're more advanced, you can also try out design tools like Photoshop or Figma for more custom designs.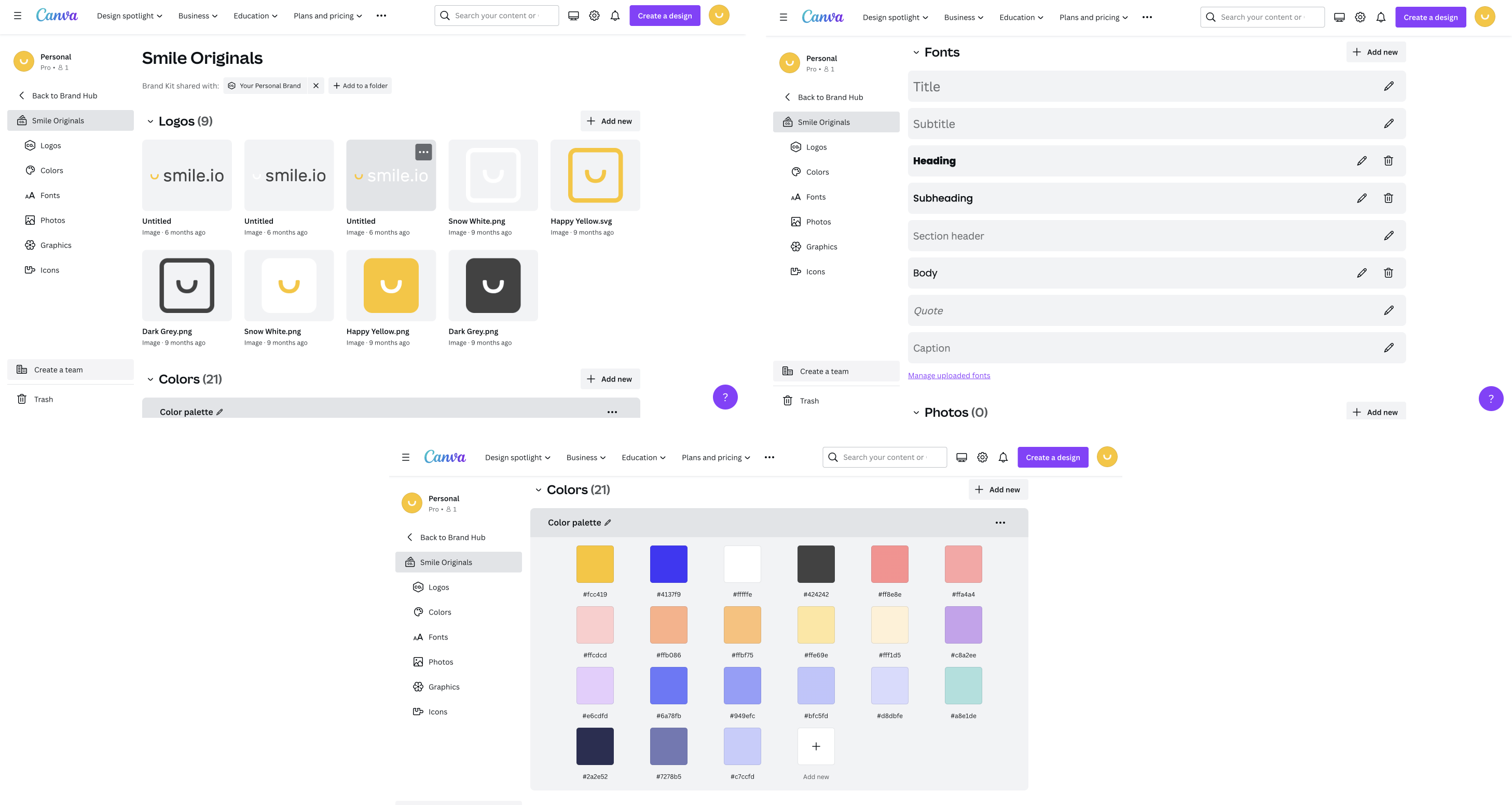 It's a good idea to have a kit of product photography that you can easily and quickly insert into other content, instead of taking new photos everytime. You can take great product shots without a professional photographer and studio. Invest in a few basic tools like a ring light, a tripod, and something to create a neutral backdrop and you're well on your way to having high quality product shots taken with your phone.
Since you're selling online, it's a good idea to have photos and videos of people interacting with your products so customers can visualize themselves using or wearing them more easily. If you don't have the budget to hire models, invite your friends and family to test your products, provide feedback, and be the face of your brand.
Calendars
When it comes to posting content, you don't want every post to be a spur of the moment, sporadic post. Creating a content calendar will help you stay organized and give your audience some sort of consistency.
You can use a content management system (CMS) like Hubspot, Sprout, Later, or any other that have a calendar built in and allow you to schedule content in-app. Or you can keep it nice and simple and opt for a simple Google or Excel Sheet.

Alternatively, you can use a project management software like Trello, Notion, Asana. Unlike the CMS options, these softwares don't let you actually schedule the posts but they do let you attach images, files, links, and more to stay organized. The example below shows a mock Trello board for a beauty brand. You can add due dates, checklists to track your progress, assign the task to a team member and tag cards based on the platform, content series, or post type.

Most of these tools have free and paid versions so you can play around with them and see which one suits your needs best. Scheduling content lets you free up on a day-to-day basis to complete other tasks, but it's still important to keep an eye on your calendar to engage with your audience after they see the posts.
No matter which route you choose, the point of a content calendar is to stay organized and track where you're at which every piece of content you plan.
Scheduling
When you're a one-person or small team, you may feel like you have to be doing everything all at once. This is why scheduling your content ahead of time is a great way to take some of the pressure off your day-to-day tasks. Most CMS have the ability to schedule content, including social media posts, blogs on your website, newsletters, or whatever you want to share.
If you do schedule you're content, don't fall into a set it and forget it mentality. With social media, you'll still need to be active to answer customers' comments and with a blog you'll want to share the post once it's live.
Most scheduling tools will also provide suggestions on the best time of day to post based on when your audience is most likely to be online and engage with the content. You can base your schedule around the industry standards at first and then adjust it once you begin to collect data and insights. With each platform having its own unique algorith, sometimes the best method is simple experimentation, A/B testing, or trial and error.
Engagement
You can control everything you schedule and post but sometimes other people will post things that you should interact with. This is why you'll need to build in time to engage with your audience and their posts online. For example, if a customer shares a photo or video using your product on their own personal page, it's a good idea to re-share it to your story, page, or comment on it at the very least to show your appreciation. Sharing user-generated content is also a great way to get in front of new audiences, bring new customers into your marketing funnel, and build trust.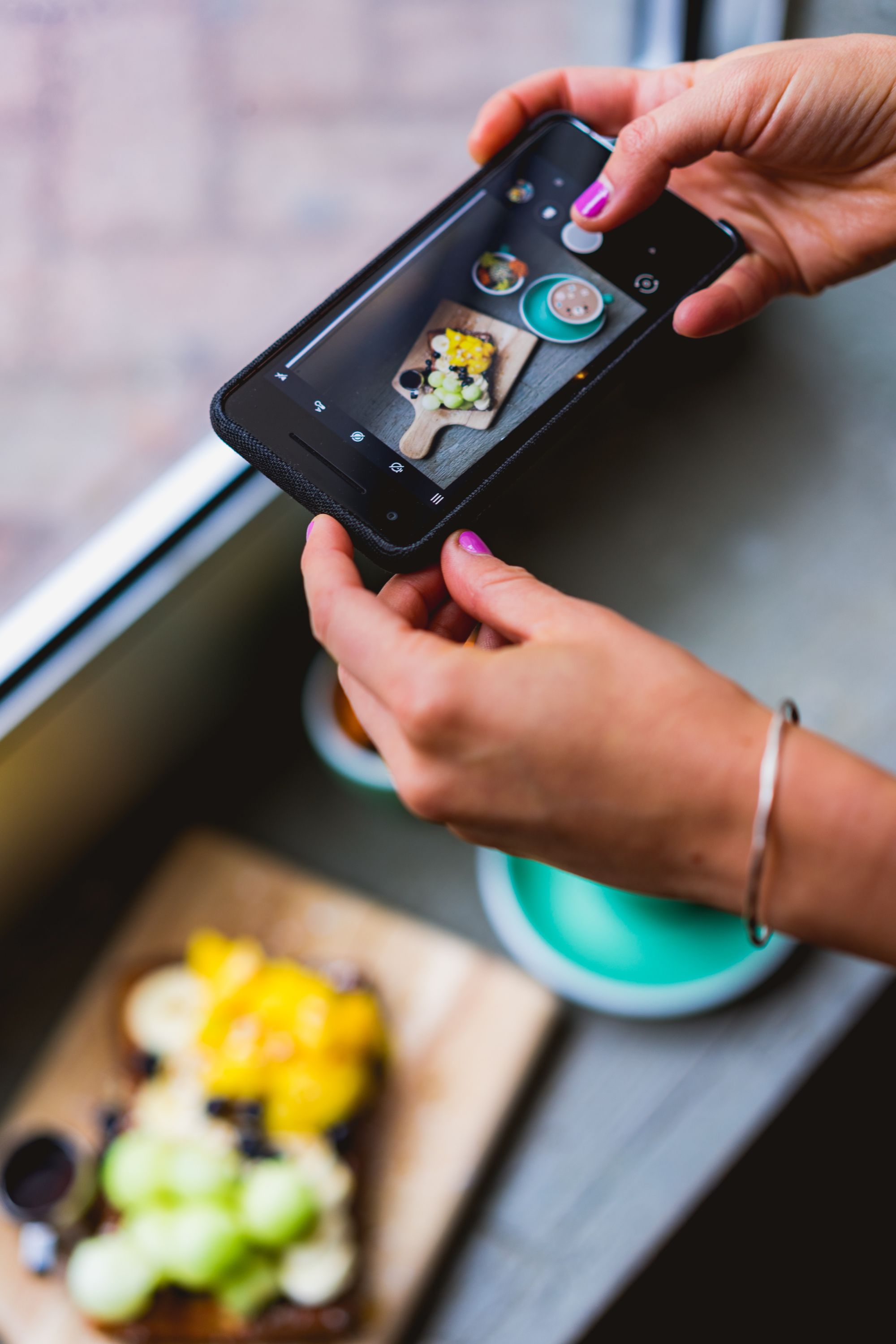 Alot of the CRM tools we've mentioned have the ability to do "social listening" where you can see if customers are talking about your brand on social media even if they don't directly tag you in the post. This is a great way to measure online customer sentiment.
Analytics
Posting content that isn't performing well is a waste of both time and effort. This is why you need to measure your content analytics. Most social media platforms have basic analytics built into the software that is easy to understand. When it comes to your website, Google Analytics is a great tool to see metrics like page views, website visitors, time spent on page, bounce rate, and other engagement metrics.
📊
Create benchmarks or research industry standards to compare your analytics to overtime.
We recommend measuring your analytics frequently, such as monthly or quarterly, so you can ensure you're either improving or maintaining your performance. Building a database of historical data will give you an idea of what is working, what is not, and how you're progressing towards your overall marketing strategy goals.
Templates will save time and create consistency
Building off of the idea of content series, it's a good idea to create templates, which are guides that can be used repeatedly overtime to make something. For example, if you own a beauty brand and do a bi-weekly series on product tutorials, you can create a template in a tool like Canva with animations or graphics and then fill in the gaps with the fresh content.
With the amount of online resources out there, you are able to find template builders for any piece of content you could imagine. Here's a list of some of our favorites for popular content types:
In addition to building your own content templates, you can leverage marketing automation software to continously engage your customers. This involves things such as automated email flows, and SMS marketing.
Use content marketing to build an inbound marketing funnel
With the right combination of planning, tools, and templates, you can create an effective content marketing strategy whether you're brand new or looking to freshen up your online presence. Effective content not only makes your brand appear more credible, but it generates views and impressions from a wider range of people that may either become customers themselves or pass your brand on to their network. Use these tips and tricks to start content marketing like a pro and building your inbound marketing funnel.
Get more marketing and ecommerce advice in the Smile newsletter
Learn from other entrepreneurs in Talking Shop