Imagine this situation—a customer sees your ad promoting your brand, clicks through to your website, adds a product to their cart, but ultimately decides not to check out.
Without marketing automation, this could be the end of the interaction.
What if, moments later, the customer opened their email to find a personalized email from you with a value add-on? And you would stay loyal to the customer with timely follow-up emails, each adding more value.
That's the essence of marketing automation.
In the past few years, the cost of converting new customers has skyrocketed. In 2013, the customer acquisition cost was $9, but it is now $29, a 222% increase over the last 8 years.
It's increasingly difficult to acquire new customers and retain the old ones, and that is where marketing automation can help.
How marketing automation improves customer loyalty
To fight the rising challenge of increased customer acquisition costs, keeping customers loyal to your brand is the only way to sustainable growth.
Loyal customers, aka your top 10% of customers, spend 2x more per order than the lower 90%, and your top 1% of customers spend 2.5x more per order. That's some impressive statistics and something every company owner should know.
And how does marketing automation fit in here?
Marketing automation is one of the best ways to create those loyal customers. This is for three reasons.
It ensures that customers don't fall through the cracks
Marketing automation provides you with the tools to ensure that customers slip through your pipeline unnoticed. For example, if a customer visits your website, and fills out a form on your site, you definitely want to send that initial welcome message.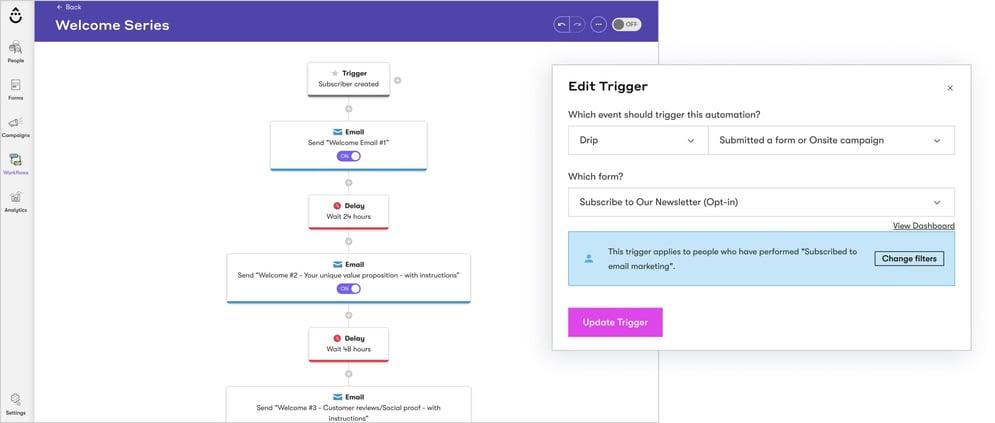 It makes sure you're hitting those lifecycle-critical touchpoints
By setting up automated emails and messages on various lifecycle-critical points, like abandoned carts, post-purchase, and anniversaries, you can ensure that your customers are always receiving the right messages at the right time.
There are so many moments in your customer journey that are critical in relationship-building. When those moments happen, you'll want the relationship you've built with your customer to count. That's the key difference between marketing at your customer, and engaging with your customer.
It offers relevant messaging at each step of the customer journey
Marketing automation allows you to tailor your messaging for each step of the customer journey. For example, someone who is visiting your website for the first time may require a different message than someone who is a loyal returning customer.
For these three reasons, marketing automation is an invaluable tool for any business that wants to keep its customers loyal.
5 marketing automation workflow ideas (with clear examples)
Let's start with our marketing automation workflow ideas. For each section, we'll include real examples of other companies doing the exact same thing.
1. Welcome Marketing Automation Workflows: Onboarding Done Right
When done right, welcome emails can bring much more than just a nice greeting. They provide an opportunity to introduce new customers to what you have to offer, set expectations, and offer special deals.
When to send a welcome email series:
A good thumb rule is to start with three welcome emails:
First email (immediately after sign-up): introducing the brand and its value proposition.
Second email (the next day):  the second showcasing unique products.
Third email (a few days later): highlighting what you stand for and your story.
Getting the Subject Line Just Right
A great example of this comes from Framebridge. In their welcome email, they bring the customer closer to their brand with their own specific style and provide a 10% discount.
To hook customers into the email, they use a simple "Welcome to Framebridge" email subject line:

The above subject line works in all niches and is a highly natural way to bring someone closer to your brand. If the customer hasn't purchased yet and you want to add immediate value, you can show the discount right away in the email subject line, as Framebridge does with their other welcome email:

Build trust by delivering what you promised
Once the customer opens the email, the important thing is that you deliver what you promised at sign-up.
Even better is if you overdeliver, like Framebridge does. In their first welcome email, they offer the promised 10% discount, and to overdeliver, they offer free shipping on top of it.
Add in a 100% happiness guarantee, and you've got the cherry on top of the perfect, enticing welcome email.

Remember, this is the first email you send to your potential customer—you must build trust. It doesn't matter if you offer incentives like discounts—if the customers don't trust your brand, they won't stay loyal. How does Framebridge build trust?
One way for them is to show their "Happiness Guarantee" in their welcome email.

While it could be just a basic "Money-back guarantee," something unique like a "Happiness Guarantee" is much more in tune with Framebridge's brand voice and mission to make customers' memories even more precious. A consistent tone of voice, like Framebridge has, is one of the best ways to build loyalty and trust with customers.
Using FOMO to move things along
For the second welcome email, you could go on and suggest relevant product recommendations. Use available data to personalize the content and remind customers of why they signed up.
As Death Wish Coffee does, you can use a bit of urgency and FOMO to put some pressure on the customer.

If the customer isn't engaged at this point yet, you can use the third welcome email to dive more deeply into your brand's values. Even if your customer isn't quite ready to purchase, you can start building rapport with them through your brand values and what you stand for.
You can use different social proof strategies and add reviews, testimonials, or user-generated content to the email.
2. Browse abandonment automation workflows: helping customers along the sales funnel
Browse abandonment is when a customer gets pulled away from your online store while browsing.
Typically, a browse abandonment email will pop up in your customer's inbox with a message like "We saw you checking us out," with a few product recommendations based on what your customer was browsing.
Practice discipline with this—if you're showing every product your customer looked at, you might come off as creepy. Instead, show one or two, and then pepper in a few recommendations from similar categories.
When to send a browse abandonment email:
We suggest you send two browse-abandonment emails before you cycle your customer back through your regular promotions and messages.
First email (24 hours after abandonment): Show a few of the products they were looking at with a few targeted recommendations.
Second email (48 hours after abandonment): Show a few product recommendations outside of what they browsed.
"Something catch your eye?"
A brand called Killstar uses quite a natural email for their browse abandonment campaigns, just asking their customers "if something caught their eye."

It's a natural way of reminding the customer that "Hey, we still exist." Under this, Killstar shows relevant products that the customer hadn't browsed previously.
Getting browse abandonment recommendations right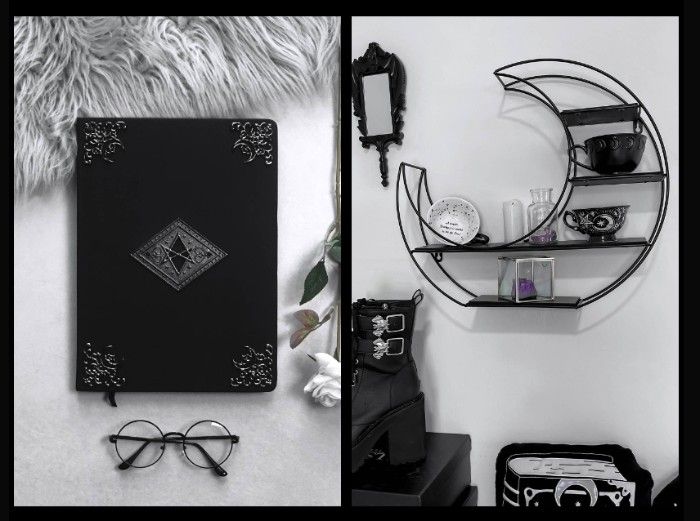 They use a simple "Continue Shopping" for the call-to-action button that leads the customer right back to their website.

Like Killstar, you shouldn't go too hard at trying to close a purchase. The interest is strong, but not nearly as strong as with an abandoned cart, for example.
While browse-abandoners have shown interest, they haven't necessarily shown intent just yet. So keep your brand top-of-mind, but don't be too pushy.
3. Abandoned cart automation workflow: bringing customers over the finish line
An abandoned cart is the most considerable "purchase intent" marketing automation campaign you can send.
It's generally sent to customers who have been browsing for a while and added something to their cart but then backed out of the purchase. The goal is to bring them back to complete the purchase.
When to send a cart abandonment email series:
As a good rule, your abandoned cart workflow should include three emails. Here is a breakdown of those:
The first email should act as a reminder to your customer of the product they abandoned and encourage them to complete their purchase. Send this email 1 hour after the cart is abandoned.
The second email should offer complementary products, which can help customers complete their purchases. Send this email 24 hours after you sent your first email.
The third email should include a stronger incentive or discount to get them over the finish line. Send this email 48 hours after you sent the first email.
While this is the most basic abandoned cart workflow and works well for most brands, it's not the only way to do things. And you might be thinking: "If we offer a discount in the first email, we can get the sale quicker."
Yes and no. Some customers are willing to convert even without the discount—they just need a reminder.
Some purposely abandon their carts in the hopes that a discount will arrive. By adding the discount to the third email, you're scooping up the most likely people to convert that needed a little more than a reminder.
Adding personalization to your cart abandonment workflow
An ecommerce brand, Pretty Little Thing doesn't offer any incentives or discounts in their abandoned cart emails, making them reliant on other conversion strategies. Their strategy is personalization, and they start this immediately in the subject line.

When the customer opens the email, Pretty Little Thing continues the email personalization by treating you by your first name.

If you look at their copywriting style, they really sell you the idea that you deserve to treat yourself. As they don't promise you anything special like a discount, they really have to bring up the personalization angle to keep sales up.
Include an irresistible CTA
And an important piece of the abandoned cart email is the call-to-action button. Pretty Little Thing has the "Shop Now" as you see above and a second CTA button down below.

Your CTA buttons should be simple and clear, so customers can get back to the cart page easily.
When to discount for cart abandonment
If you have the possibility to offer customers a small incentive like a discount, it's a great way to increase the conversion rates for your abandoned cart email. A brand called Brooklinen has a series of three emails for abandoned carts, and for every email, they increase the incentive to buy.
Starting with the first email, they offer a 10% discount.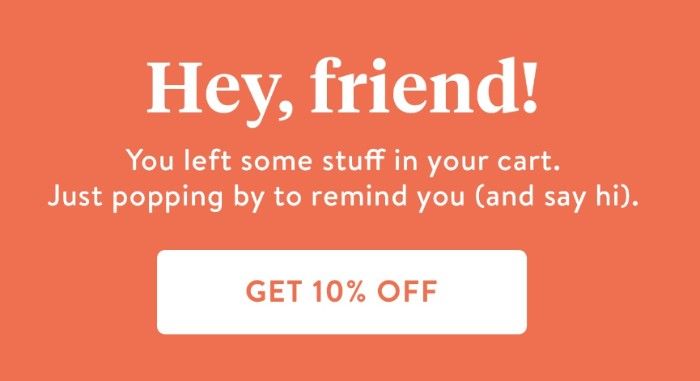 As it's the first email, they keep their text tone quite natural (no big pressure on the customer to act). Here again, the call-to-action button is clear and easy to act on.
In the second abandoned cart email, the incentive is already higher, and they combine two powerful scarcity strategies—a discount and a limited-time sale.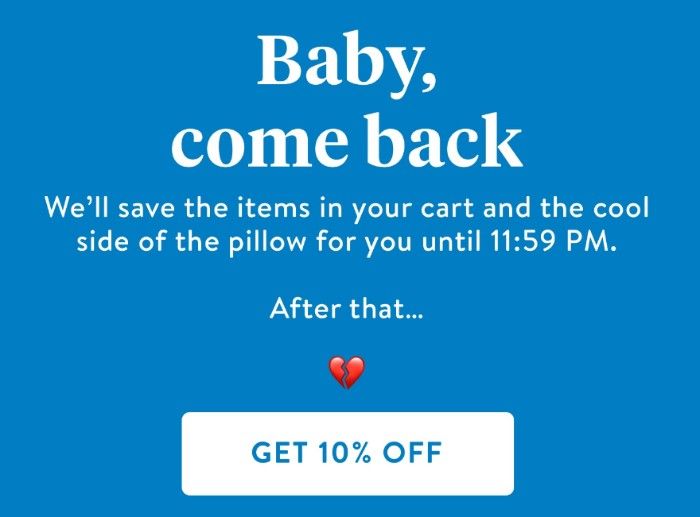 With the time pressure "until 11:59 PM," the customer can lose on a deal, making them feel a bit pressured and making a purchase much more likely.
The third email is the most powerful, containing a discount, free shipping, and social proof.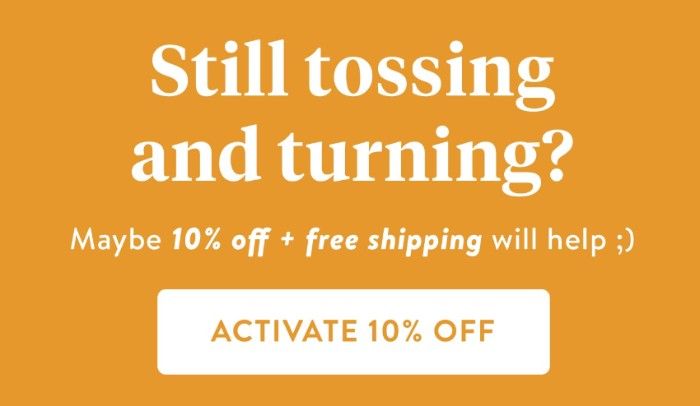 There is no limited-time offer on the third email, as it would be overwhelming with the price reduction and free shipping (too many promises can reduce customer trust).
Instead of saving the discount for the third email, Brooklinen has instead decided to keep upping the ante. This is another great tactic to use if a small discount isn't going to hurt your bottom line—just as long as you keep your best offer for the last email.
Using social proof to build trust
Under this clear call-to-action section is the social proof I mentioned. It starts with a bit of a humorous heading.

Brooklinen has outlined some of their customer testimonials and added them directly to the email.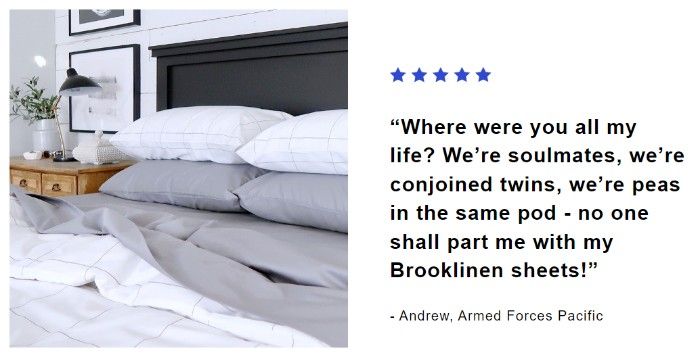 If the customer doesn't trust the brand yet, social proof can act as the final push for them to purchase.
And remember, you can't convert all your email subscribers into buyers. Don't keep spamming them with offers and incentives. It can scare customers away and hurt your conversion rate. Keep supportive copy that points to the customer's individual needs and interests.
If there are two workflows you absolutely need to activate for your online store, it's both the welcome and cart abandonment series. These two workflows combined with great on-site FAQs or AI-powered chatbots can provide a better customer experience and foster loyalty.
After all, an informed customer is a happy customer.
4. Order confirmation workflows: following up post-purchase
The order confirmation is the email you send out once your customer has completed an order.
This email is essential, as it first confirms that the order has been received, and second, you also have a chance to upsell or cross-sell additional products.
See, the original order confirmation should recap the products purchased, their total cost, any available shipping information, returns, and any customer service contact information.
In addition to this, you can send another message that provides an offer or incentive to repurchase within a time limit. This could be done with discounts, other value-adds, or relevant information.
When to send an order confirmation email:
You have a lot of flexibility with order confirmation workflows. As long as you're hitting all the right notes, your customer is going to be on the hook until their products arrive.
However, one thing you can't be flexible about is when the first order confirmation email gets sent—which should be ASAP.
After that, tracking information, if you have it, should be sent as soon as you can.
Once you've done those two things, send anything else you absolutely need your customer to see in the time between when they finalize their order and when it should typically be delivered.
This means you have more of their attention than ever before. Use that attention wisely, and you can build a life-long customer relationship.
Do that by adding value. Let's look at two examples of order confirmation workflows:
How to make the most out of order confirmation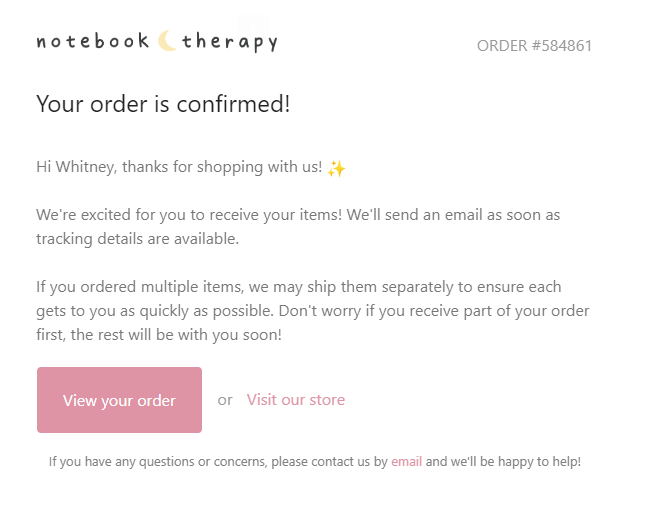 Notebook Therapy sends me everything I need to know:
Yes, my order went through properly.
My order number is at the top right.
They'll come back to me with tracking information.
They might send things in multiple stages to get it to me quickly.
There's a recap of what I bought with the total purchase amount.
This is an email that builds credibility—I can double-check that all the information is correct and breathe a sigh of relief.
The "while you wait" email
Notebook Therapy even sent an email with extra resources to keep me content while I waited for my new products to arrive.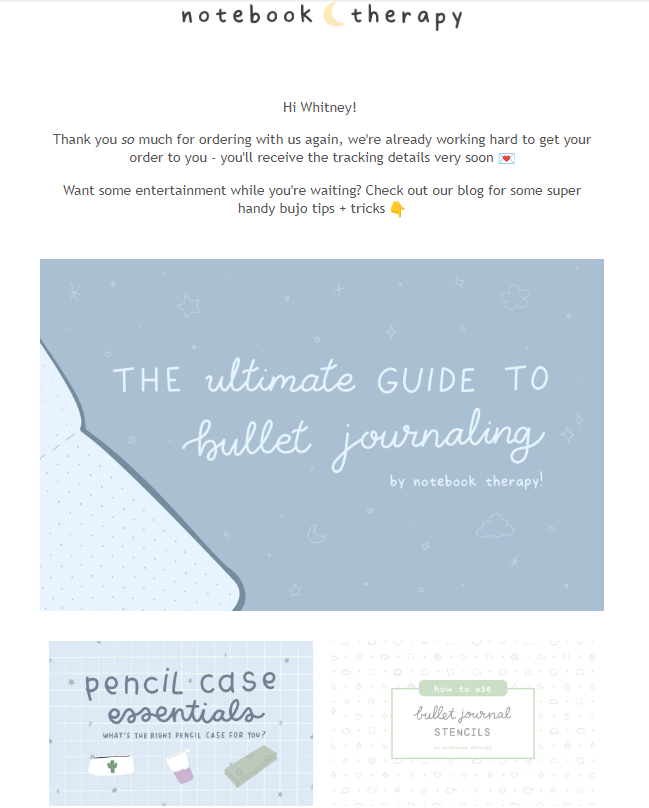 The idea here is simple—you want to build a relationship with your customer by providing value and information on how to get the most out of your products once they arrive.
That's the easiest way to make sure they'll order from you again. The more successful they are at achieving their goals with your products, the stickier they'll be.
The options are limitless with the order confirmation and post-purchase emails. Consider what the customer would want in your niche, and use that as a guide.
5. Reactivation campaigns: reminding your customers why they fell in love in the first place
Reactivation campaigns are designed to bring back customers who haven't purchased from your online store in a while. The goal is to get them back to their roots and remind them why they fell in love with your brand in the first place.
When to send a reactivation email workflow
Reactivation campaigns can be broken down into three emails:
First email: entice the customer to come back.
Second email: add more value with things like add-on products.
Third email: a last-chance email with more social proof.
If your customer doesn't come back during your reactivation campaign, it's time to set them free. The fact is, subscribers in your email list who aren't engaging, aren't opening, and aren't purchasing aren't doing anything good for your business.
In fact, they're actually hurting it. Sending messages to those who aren't opening them can land your emails in the spam folder even for the customers that do want to see them.
Reactivate them, and if that doesn't work, clean your email list.
Tempt your customer back with an emotional subject line
To get customers hooked, a subject line like "We Miss You" works well for the first email. This is precisely what Anastasia Beverly Hills is doing with its reactivation email subject line.

It's simple, and that's why it works. Once you open the email, they continue with the same reactivation campaign style: "Hey babe, it's been a while!"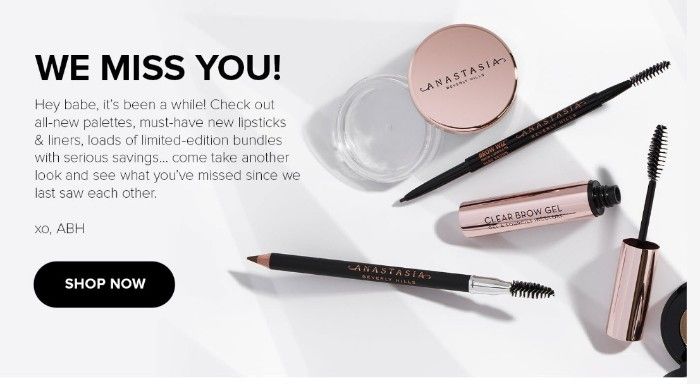 Recommend products that make sense
Providing customers with new products works well in the reactivation campaign because it gives them the incentive to come back. You can add different sections, like "Since you've been gone," to the reactivation campaign, as shown here: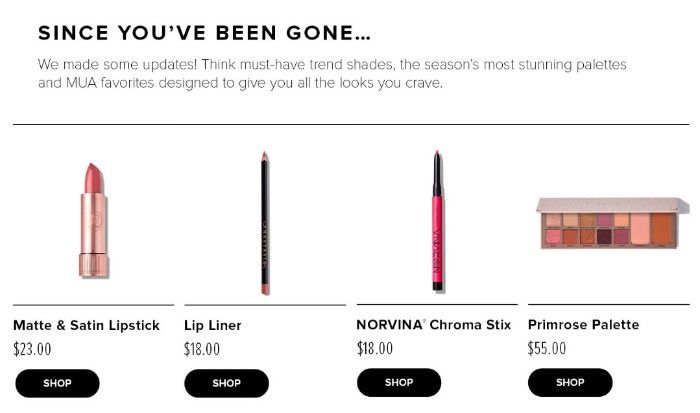 This is the time to use your discounts
If the customer isn't interested in the first email, you can add extra value to the following email, such as a discount. Anastasia Beverly Hills does this and starts by showing it in the subject line.

See how this is exactly the same as the first subject line, but they just added: "15% Off". By keeping the same format, customers subconsciously remember your company better and are more likely to open your email. Especially the second time, as there is 15% Off.
The email body is also almost identical to the first email, except that the first cover image is changed to match the 15% off sale.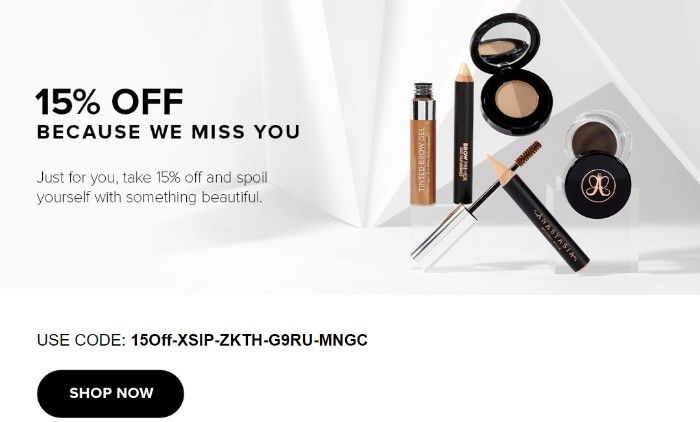 You should pair the second email with some social proof, like testimonials, that gives customers the final push to act on the sale.
The last chance email
If the first two emails aren't enough to convince the potential buyer to act, you can use the third "last chance" email as a final call to action. The third email should have a more urgent feel to it, which is what Notebook Therapy is doing: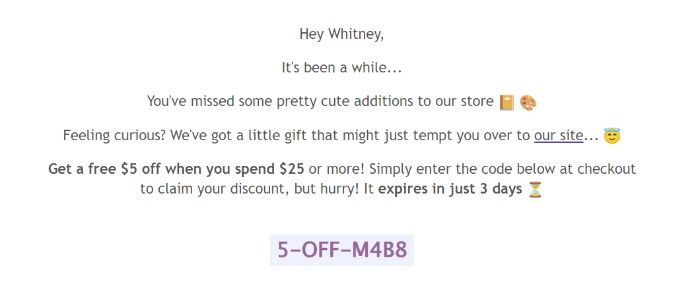 The "last chance" email is also an excellent place to ask for any feedback or ideas your customers may have.
Begin building customer loyalty — automagically
Ecommerce brands who aren't running these marketing automation workflows are simply not building the deeper customer relationships that lead to sustainable growth.
Each marketing automation workflow serves its own specific purpose, so you should create them with that in mind.
For each workflow:
Tailor the message to match the specific workflow.
Start with small, and with each email, deliver more.
Add testimonials to build trust with the customer.
Add incentives like discounts to give a final push.
When done right, you can end up having a massive boost in your conversions and create loyal brand advocates who keep coming back for more and more.
Whitney Blankenship is the Content Marketing Manager for Drip. When she's not writing awesome content, you can find her playing video games, painting, cross-stitching, or watching horror movies.