Not too long ago when you'd mention the word ecommerce, Amazon was the only thing that came to mind for many shoppers. Today ecommerce platforms like Shopify, BigCommerce, and Wix have made it easier than ever for entrepreneurs to start their own ecommerce business, but Amazon is still top-of-mind for many in the world of online shopping.
Along with that comes its loyalty program, Amazon Prime. While it's different than most loyalty programs we discuss, being a paid subscription model, it still has millions of loyal customers. So let's break down the program and see what Amazon is doing well and where they could improve.
What Amazon Prime does right
What started as an online bookstore quickly became the gold standard in ecommerce. Amazon is an all-encompassing ecommerce solution and is often seen as the "Wal-Mart" of ecommerce. Thanks to its size, popularity, and ongoing innovation, Amazon Prime remains a central topic of discussion in the future of ecommerce!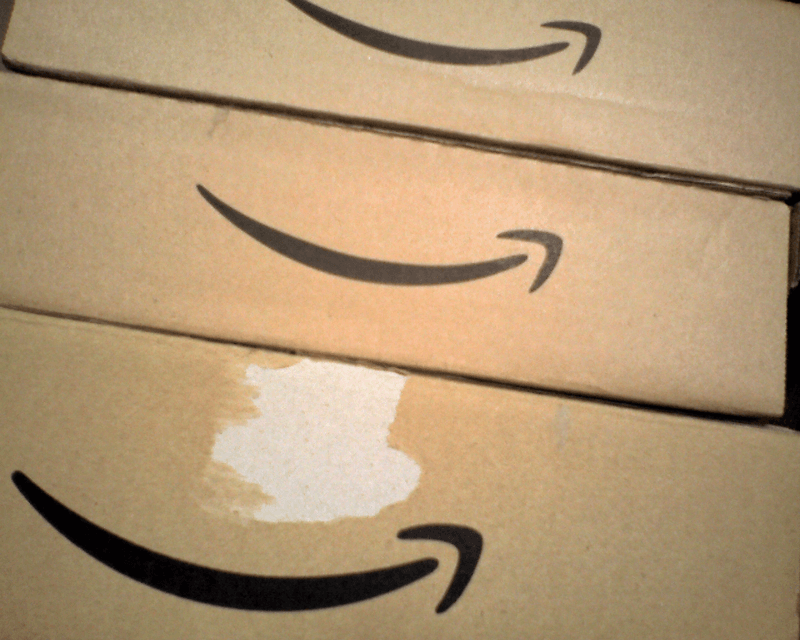 1. Amazon Prime is easy to understand
You will be greeted with plenty of benefits when you sign up for the program. The Prime explainer page does a really good job of showing all the benefits without overwhelming you.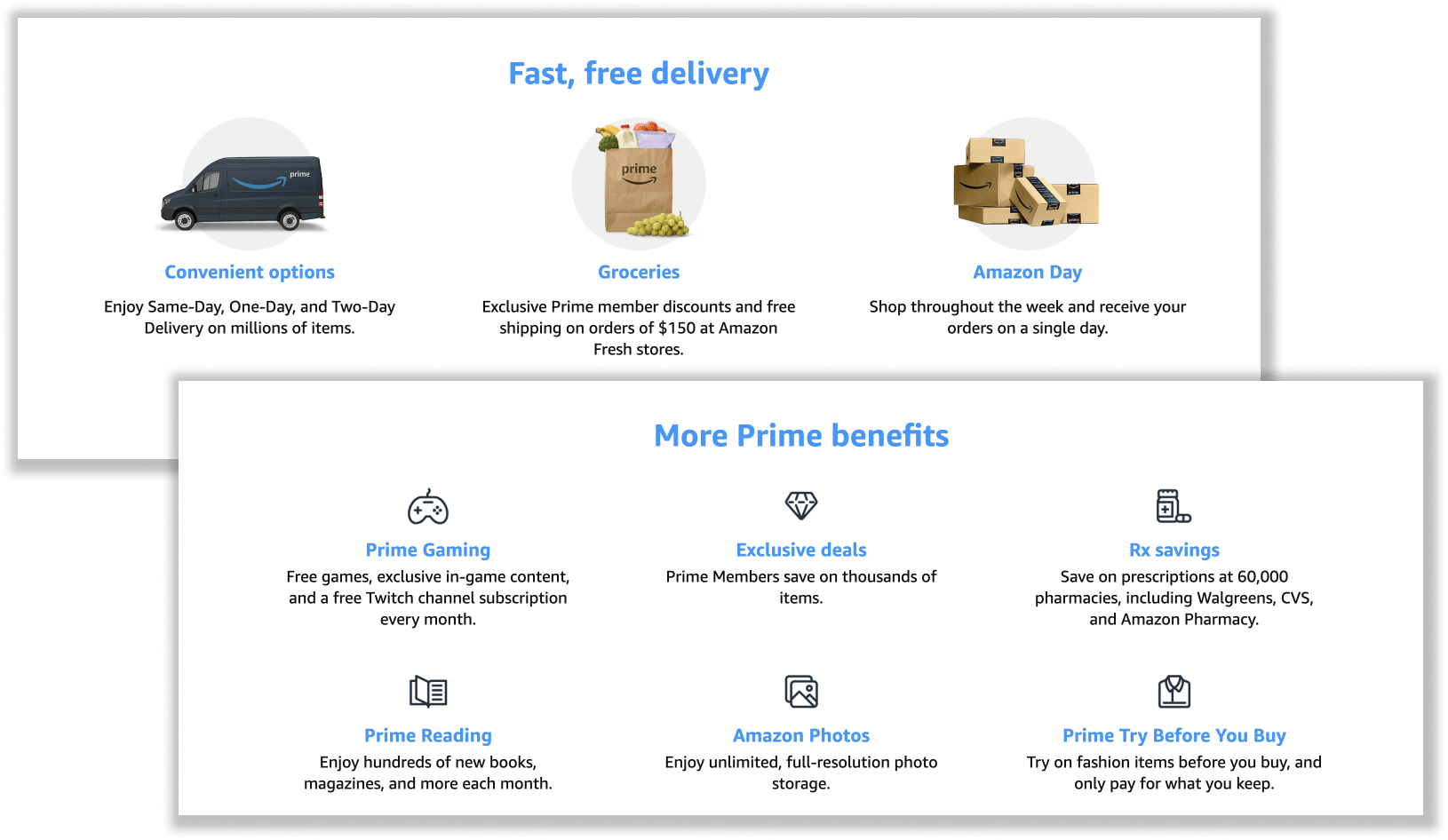 The page highlights each key benefit with an accompanying icon and brief description. This makes the page easily skimmable, while also providing adequate detail for prospective customers. It's just enough information to get you excited, without being too overwhelming. This is vital for a strong explainer page.
However, some people will want all the details. That is why Amazon Prime provides links to more detailed explanations at the bottom of the page. Want to know more about Amazon Music? Just click that link and all the details you could possibly need are right there.

Amazon's program at its core is a subscription to get cheaper expedited shipping and access Amazon's multimedia outlets. It can be boiled down to two main benefits, but Amazon does a good job of building these benefits out to create a program that is relevant to a variety of customers. Some customers are readers, while others are gamers. And for the customers who enjoy both, the program is even more appealing. By diving into the details of program benefits, Amazon has created an explainer page with near-universal appeal.
2. Amazon offers a broad choice of shipping methods and speeds
There is not a one size fits all loyalty program. You need to adjust and tweak your rewards to match what your customers are looking for in a program. A luxury brand's loyalty program would be structured differently than Amazon Prime. Nonetheless, Amazon seems to give customers exactly what they want.
Amazon's biggest advantage over other ecommerce stores is its variety of fast delivery methods. Amazon makes two-day shipping feel like the economy option by offering even faster methods, including drone delivery within an hour in some locations:
Members get their orders delivered fast, free, and with excellent customer service along the way. This simple benefit is one of the best examples of giving your customers what they want from your loyalty program. When customers think of Amazon Prime it's become essentially synonymous with the brand's fast Prime Delivery.
3. Prime comes with additional perks — music, movies, and more
Most know Amazon for its selection and shipping, but many people are unaware of their other services. Today's customer is likely accustomed to having a long list of monthly or annual subscriptions — Netflix for video streaming, Spotify or Apple Music for music streaming, iCloud or Google Photos for photo and video storage, and the list goes on. But with customers trying to cut back their discretionary spending in uncertain economic times, a one-size-fits-all subscription might be what they're looking for.  
🎁
With Prime Video, Amazon Music, Prime Reading, Amazon Photos, and more, customers can find everything they're looking for wrapped up in one subscription.
Amazon Prime offers competing products for all of these. It's a fantastic way to get your services into the hands of thousands and to build a thorough ecosystem of products and services.
As we write this post, we keep wanting to call these services "free." From a user's perspective, the $139 spent per year is to take advantage of the shipping offers, while other features feel like extra perks. They aren't really free, but Amazon positions them as perks rather than features to create this illusion.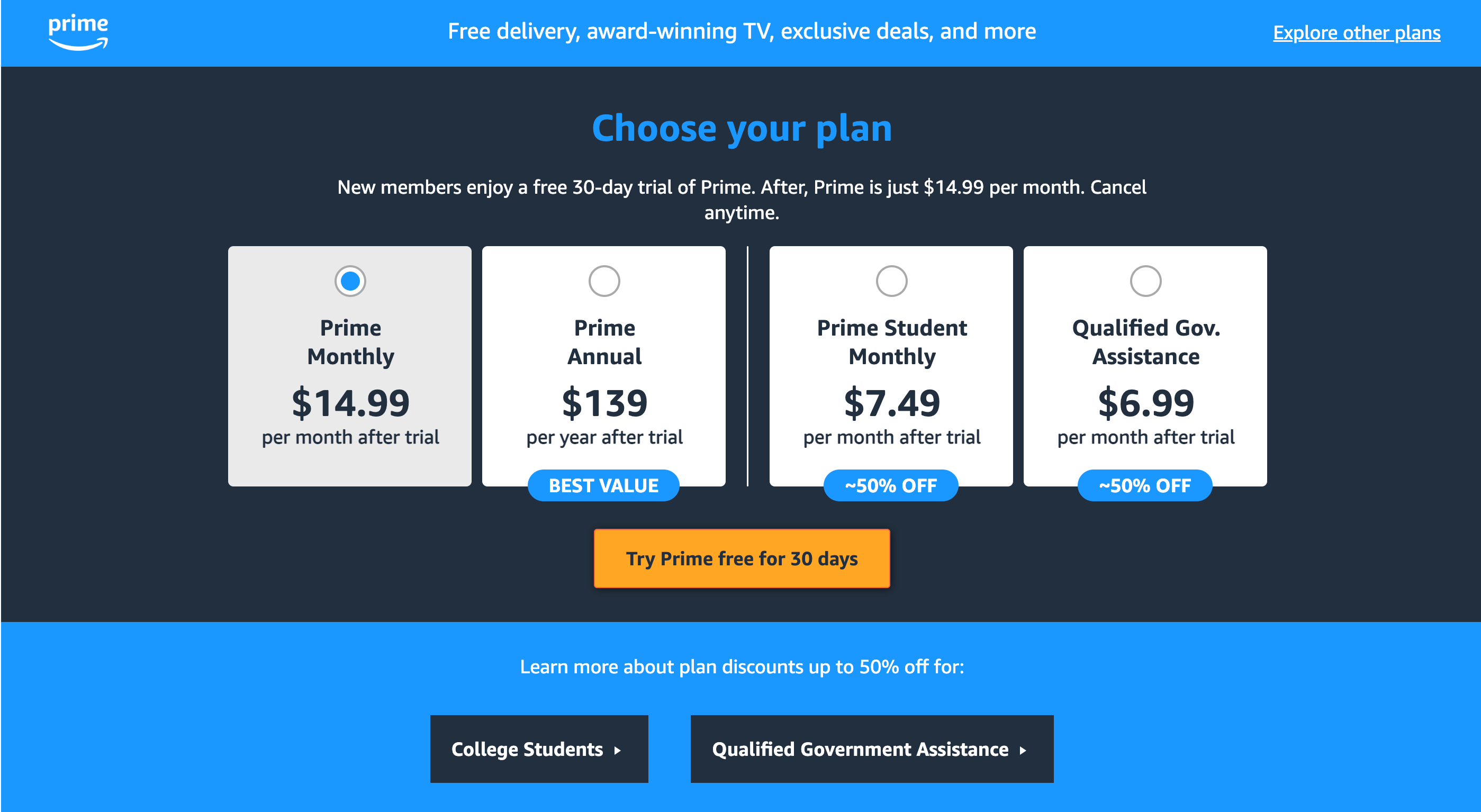 Members see extra features as a cost-saving opportunity since they are already paying more per year for services that don't deliver the same breadth of value. That's not to say customers will cancel their Netflix or Spotify subscriptions after signing up for Prime. They've developed loyalty to the other brands and may prefer the options available to them on the other platforms.
But for the super price-conscious, value-driven consumer, Amazon has positioned itself perfectly as the one-size-fits-all solution!  Members see value in using these services and Amazon expands market share and brand awareness in all of the areas they are less well known for. This is loyalty marketing at its finest!
4. Amazon Prime has started recognizing the importance of "shopping small"
It's no secret that we're all about supporting small businesses here at Smile. Amazon is often considered the anti-small business ecommerce solution. It's even become a bit of a taboo topic in the movement to "shop local" or "support small businesses".
Like any brand that wants to survive, Amazon has made an effort to start meeting these customer preferences. Its Buy with Prime feature allows customers to reap the shipping benefits Prime offers on other ecommerce sites beyond amazon.com. When customers shop on its network of participating ecommece sites they can select the Buy with Prime button to purchase the product with the expedited checkout experience they are used to. This is the perfect solution for customers that want to shop small but still appreciate the value of free, fast shipping.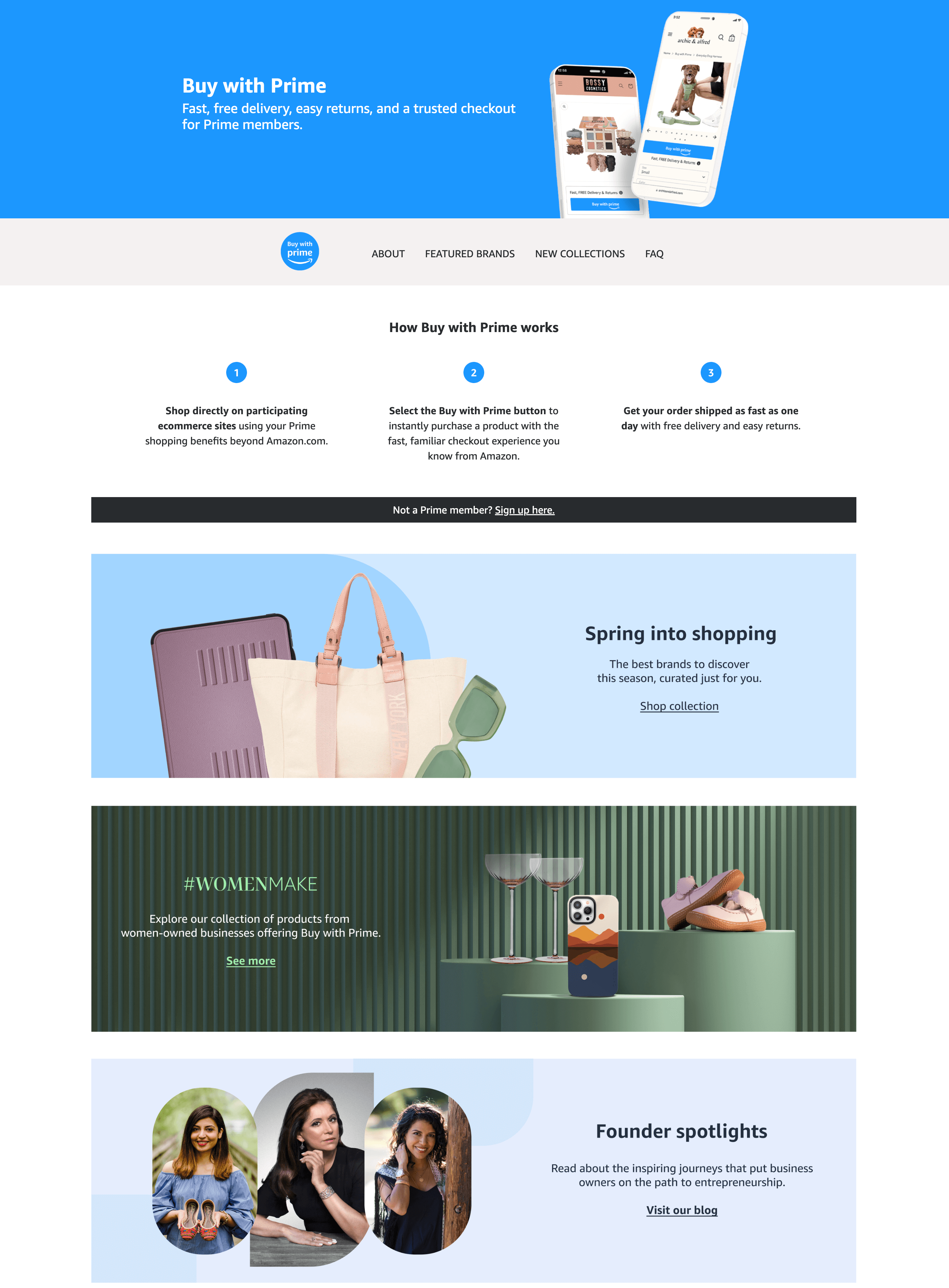 Amazon has even included features and spotlights of the founders to help its customers connect with the brands. With the ability to shop collections by your "vibe", Amazon Prime gives customers a centralized hub for discovering awesome small businesses that they can support directly while still receiving the Prime benefits they know and love.  
While we always encourage shopping small wherever possible, we have to give credit where credit is due. We know a good loyalty program when we see one and Amazon Prime is a great example of exceeding customer expectations and adding value.
What Amazon Prime is doing wrong
Before we get into this section we want to clarify that we could not find any glaring problems with Amazon Prime. After all, there's a reason there are 200 million Amazon Prime subscribers worldwide. This is more of a "recommendations for improvement section" than it is a "what's wrong" section.
1. Customers feel Prime overpromises and underdelivers for the price
Loyalty programs are usually a tool used in retention marketing. This means they are focused on getting a greater percentage of your existing customer base to come back and become profitable repeat customers.
As we've mentioned, the biggest perk most customers associate with Prime is the fast delivery. But many customers have been complaining that the same-day or two-day delivery they were promised was in fact an empty promise. When you offer something as a benefit, not to mention the main benefit, of your loyalty program — you better deliver (on time).
@amazon why do you falsely advertise with a Prime membership 1 day delivery standard at the time of purchase but then change that after I've paid to a 2 day delivery standard but put a delivery date of 3 days?

What am I paying Prime for?

— Eric G (@ezza) June 1, 2023
In some cases, Amazon sidesteps the one-day delivery promise if you live in what they classify as a "remote" area. This makes sense, sometimes. Customers in rural towns don't expect the same delivery speed as those in major cities. But where customers have an issue is when the "remote" label is applied too generally.
For example, I live in a small town and two of my sisters live in neighboring towns 5 minutes east and west of me. While my address has earned me a "remote" status and 2-day delivery that ends up being closer to 3 or 4 days, my sisters both get the 1-day delivery they were promised. I won't lie — paying the same price as them to watch delivery trucks drive right past my house is more than a little frustrating.
2. Users are not rewarded for spending more (or more often)
Today's best loyalty programs incorporate elements of gamification or status-based rewards. This means they challenge customers to strive to be better or to beat each other. These types of programs are called VIP programs or tiered programs. Amazon would no doubt benefit from a program like this.
One of the best examples of a tiered loyalty program is Sephora's Beauty Insider, which has gotten makeup users to be proud of spending $1,000 a year at their store.
We believe Amazon could take advantage of a similar style program. If we were to restructure Prime, we would make it free to join and give additional shipping benefits based on tiers. Members would start in basic and get discounted shipping. When a customer makes a certain amount of purchases in a year (maybe one above the average purchase frequency) they get free basic shipping. When they make the next threshold of purchases they get free one or two-day shipping like the current Prime structure.
This tiered style program would allow Amazon to see the benefits they currently see with Prime while engaging customers who are not yet frequent buyers. Customers will spend more if they are challenged to do so!
3. Amazon confuses customers with multiple loyalty programs
Amazon has two types of loyalty programs — Amazon Prime and Shop with Points. This is a collaboration with other point providers, where they can use those points to make purchases on Amazon. Amazon offers points directly through a Visa card, but most are done through an external point system.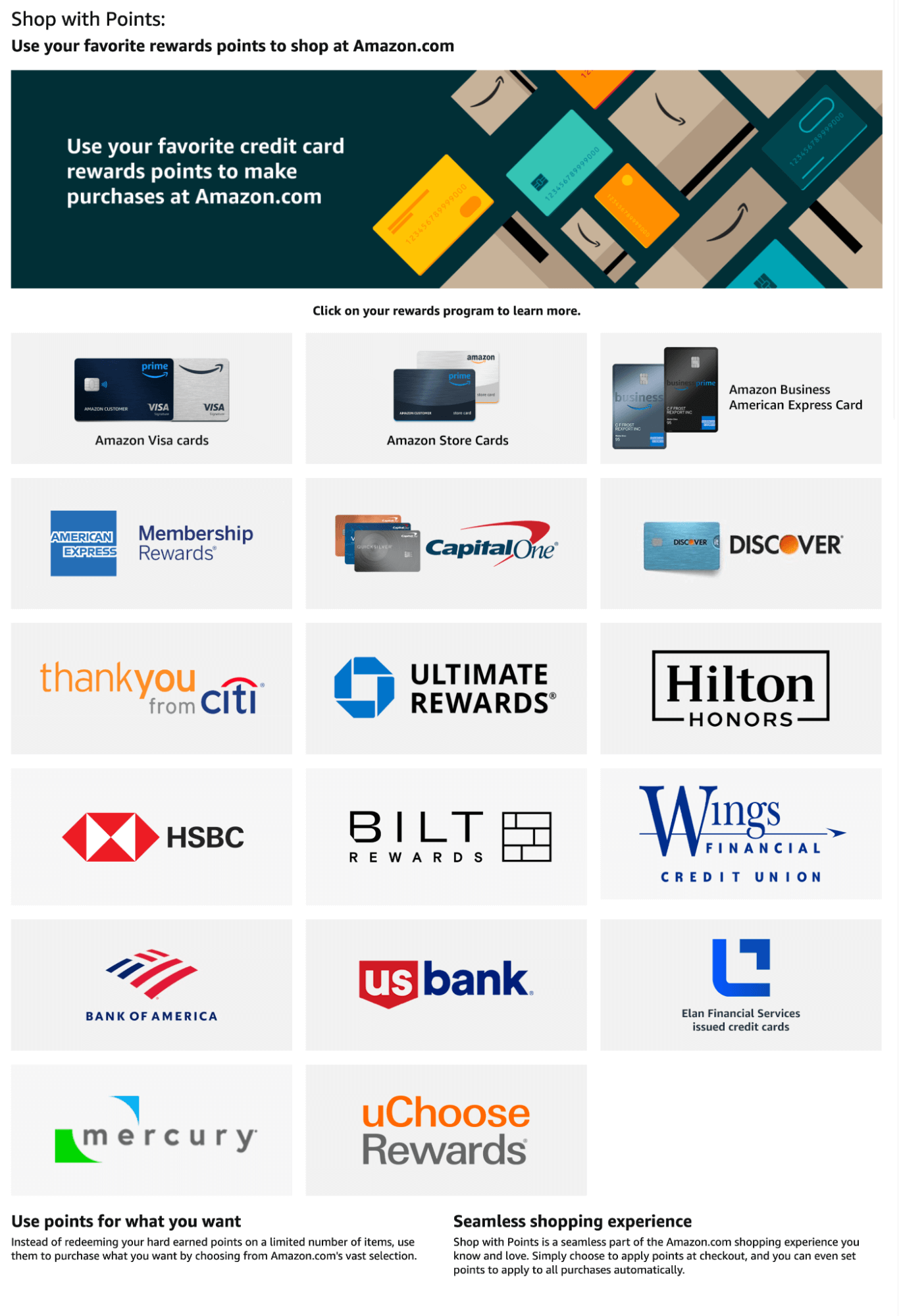 Running two different programs can create confusion — especially when both are so prominent. Amazon could easily combine Prime and a points-based program to make something that would be super effective.
Is Amazon Prime worth it?
All in all, we like how Amazon has structured the Prime program. They have created a program their customers love and they give those customers exactly what they are looking for, most of the time.
We think they could improve the program with a focus on delivering on its promises to all customers, some gamification elements, and a clearer distinction between its two reward structures. But all in all, the sheer amount of Prime subscribers speaks for itself and Amazon is doing a thing or two right.
Editor's Note: This post was originally published on November 5, 2015, and was updated for accuracy and comprehensiveness on June 14, 2023.
Launch a VIP program to level up your program.
Enhance your loyalty experience with a tiered program