Editor's Note: This post was originally published in Aug 2016 and was updated for accuracy and comprehensiveness on Feb 7, 2019.
If you stripped away all of the visuals from your site, would your customers still be able to recognize your brand? The words you use are just as important as the visual markers of your brand because they help you set a specific tone and feel. This tone is then what helps build trust with your community members.
Trust is the foundation of emotional, long-term relationships with your customers. A well-crafted brand voice offers you a unique opportunity to humanize your brand and show your customers that you're sincere and trustworthy in each interaction you have with them.
An inconsistent tone kills trust
If your brand's tone of voice is responsible for establishing trust, you need to be delivering a consistent experience. It's like if you went into your favorite coffee shop and ordered a nonfat latte but were mistakenly served one that was full-fat. If it only happened once, you'd probably chalk it up to being a mistake and forget about it, but what if they messed up your next couple orders, though?
Clearly if an experience is consistently not what you have come to expect from a brand, it's only a matter of time before you start to look elsewhere.
Inconsistency is the ultimate killer of trust.
The same principle can be applied to your brand voice. If a customer's first interaction with you is a fun exchange on Twitter, but your website and is dry and robotic, they will likely start to doubt how much they trust your brand. Having two contrasting voices will leave customers not knowing which voice is actually yours, giving your brand an air of hypocrisy that nobody wants.
How to translate your brand's voice into your rewards program
A consistent tone of voice is especially important for your rewards program. As a holistic part of your brand experience, your rewards program should feel like a natural extension of your brand. If your customers view your program as a seamless part of your brand experience, they'll associate the feelings of trust they have with the rest of your brand. When they trust your rewards program as part of the complete experience you're offering they'll be more likely to join, engage with and share your community.
Thankfully, creating this cohesive experience isn't difficult. To help you connect the dots, here are three areas that you can easily adjust your tone of voice to give your shoppers a compelling reason to join, engage with, and share your brand community.
Match your customer panel to your social media accounts
A customer's first experience with your brand is often on social media. As a result, this is likely the first place they'll hear about your rewards program, too.
With that in mind, reflecting the same tone of voice you use on social in your rewards program is an important way to spread consistency across the entire customer experience. That way when your social posts bring visitors to your website they feel right at home, and joining your community becomes an obvious next step in their journey with your brand.
The best place to match this tone is in your rewards program Panel. Not only is that where customers are actually prompted to join your program, but it's also the first place they'll likely encounter your program on your website.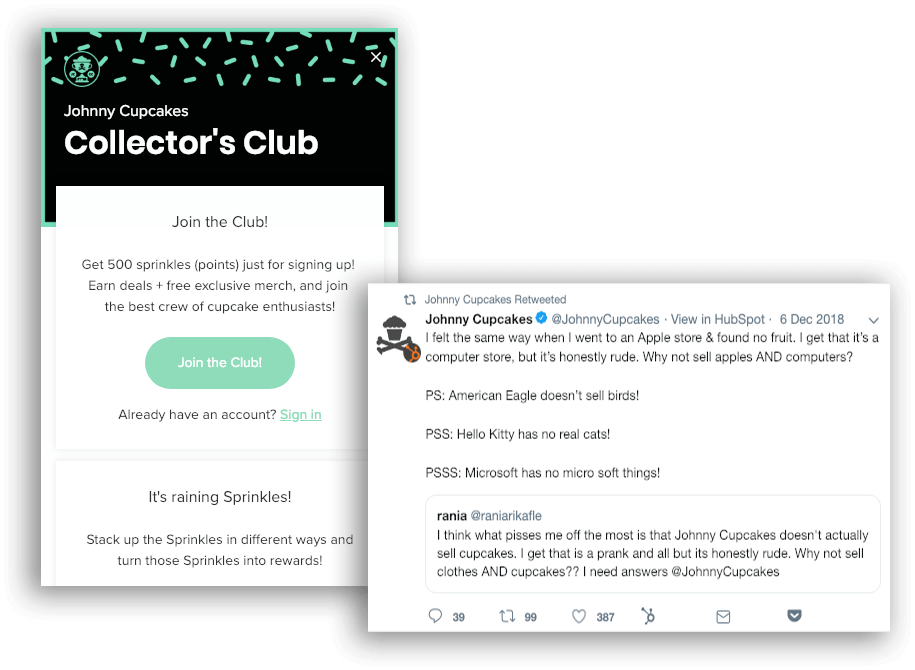 Echoing your brand's tone of voice in your rewards Panel can help it make a strong first impression on your website and make a stronger connection with your customers. Reverting to cookie cutter rewards copy can disconnect them from your brand experience completely, discouraging the number of customers who want to join your community.
This line of thinking is what prompted Johnny Cupcakes to sprinkle the witty banter they use on platforms like Twitter into every part of their rewards Panel. Having baked cupcake and sprinkle related-puns into their account creation cards, it perfectly matches the playful tone of their social media accounts. Now, customers can easily connect joining their rewards program to other parts of the complete Johnny Cupcakes brand experience.
Just like Johnny Cupcakes, you can take the fun, conversational tone from your social interactions and customize your account creation cards to tie them to the personality of your brand.
Echo the tone of your explainer page in rewards emails
Consistency isn't only important when you're trying to get customers to join your rewards program. After they've actually joined your community, your tone of voice needs to be just as consistent if you want them to keep engaging with you.
Email communications are a huge part of running an effective rewards program, and are incredibly valuable for motivating members to get engaged. Whether you're letting members know they've earned enough points for a reward, or just sending updates about their points balance, rewards program emails speak for your program and, as a result, your brand.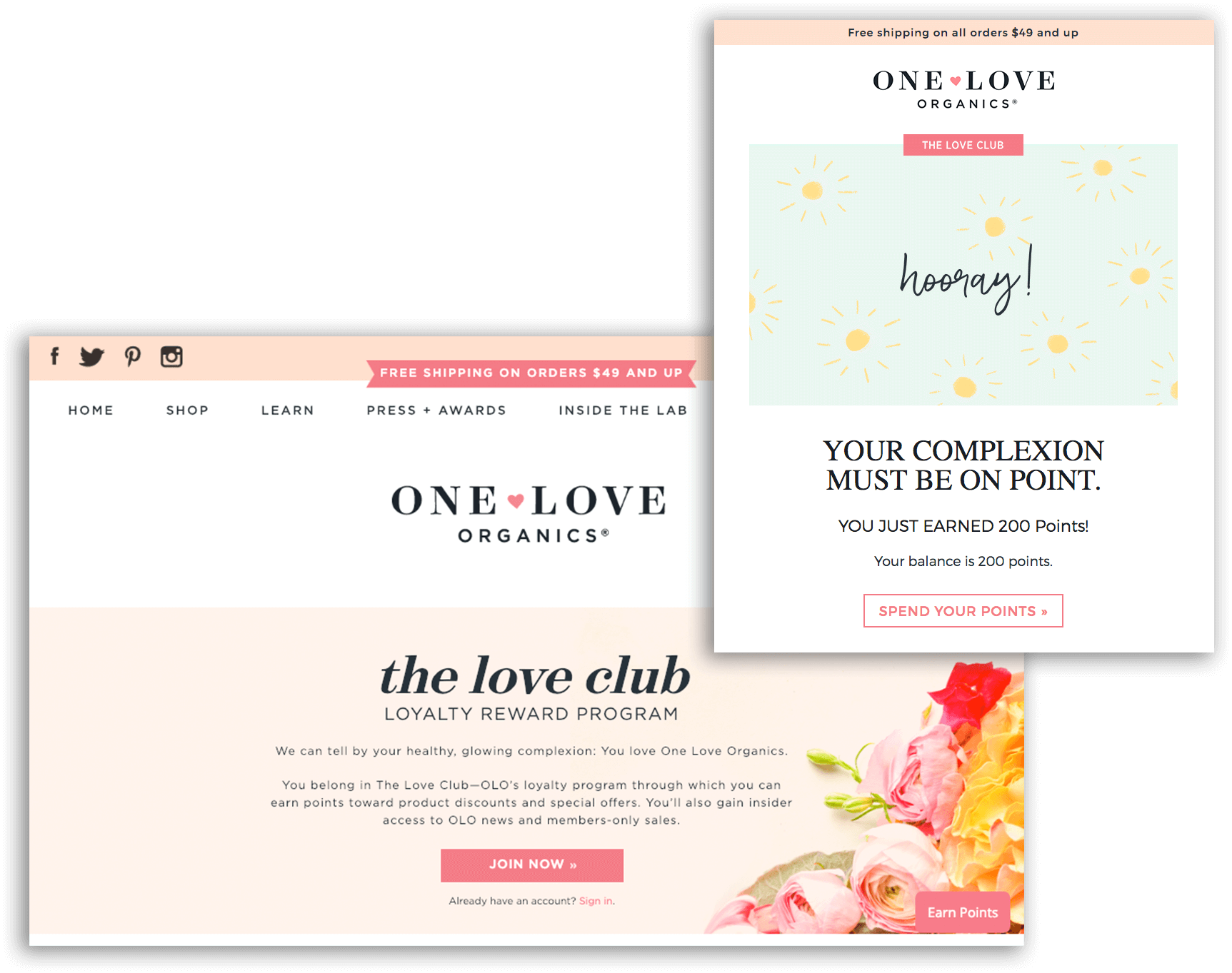 One Love Organics takes advantage of every opportunity to motivate customers to engage by echoing the joyful look and tone of their rewards explainer page in email communications as well. With fun and approachable copy that encourages them in their quest for healthy skin they'll love, OLO has bridged their online rewards experience and each email. As a result, their emails not only remind customers that they're valued members of the community but also prompt them to stay engaged.
By echoing your brand's tone of voice in your reward emails, you will be able to clearly connect what they love about your brand with each program message you send. This will make them more likely to engage with every message they receive, keeping them active in every part of your community experience.
Make referrals a priority at every program touchpoint
Referrals are not only one of the best ways to build reciprocal relationships with your customers but also the final piece of your community building cycle that needs a consistent tone of voice.
83% of happy customers are willing to make a referral, but only 29% actually do.
- Texas Tech University
When your customers love you, they'll want to share their awesome experience with others. The problem is that too often brands use generalized, detached copy to try and motivate referrals, making it unappealing for customers to follow through even if they're willing to. This results in unmotivated customers who won't actually share your brand with anyone!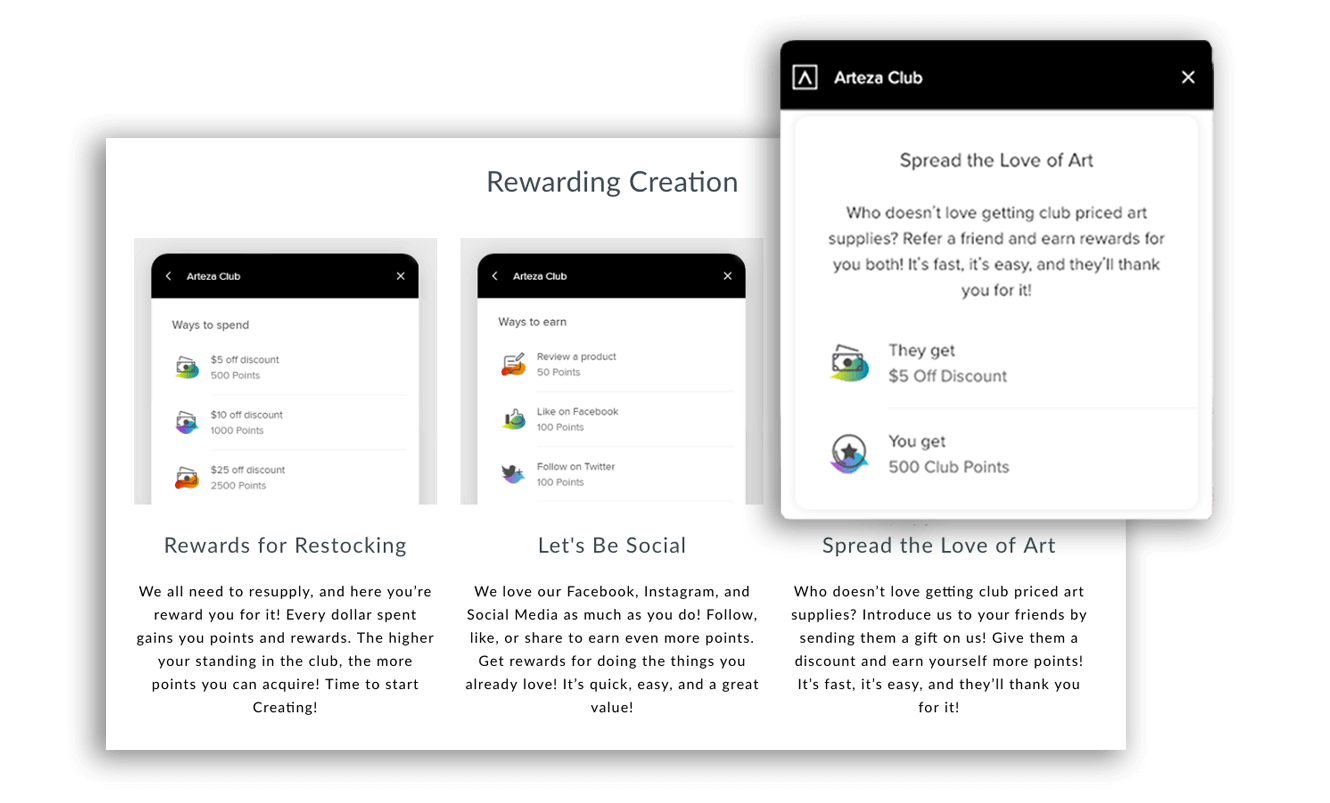 In order to avoid this problem, Arteza has taken great strides to clearly connect their brand's tone of voice to their referral process. As authorities in the art supply world, Arteza knows the importance of painting their referrals with the same brush as the rest of their brand. As soon as you land on their explainer page, it's easy to see that they value creativity and community — language that's reflected in the referral card of their rewards Panel, too!
Connecting your referrals to the rest of your brand makes sure that members are reminded of what they love about you when it matters. Even delighted customers need a bit of motivation to actually make a referral, so tying what they value in your brand to the act of sharing gives them that little push needed to help them spread the love.
Don't make tone of voice an afterthought!
Consistent brand communication is essential to any business, but it's most important for ecommerce brands. Since you don't have showrooms or sales people to talk to shoppers, your customers only know what they can see and read online.
That's why it is so important to customize every touch point of your brand experience to showcase your tone of voice — especially your rewards program! From your rewards Panel to your explainer page and every email in between, you have the opportunity to connect every customer interaction to your brand community as a whole.
This is what allows you to show the true value of choosing to shop with you, and reinforces the trust and loyalty they feel for you in all the interactions to come.