At the heart of any business is its customers. Without them, you have no one to sell your products to and no one to organically market by word of mouth. And yet, poor customer service threatens $4.7 trillion in annual revenue for companies worldwide.
Too many brands seem to forget that behind the online shopping basket is a customer that is a thinking, breathing human being. Consumer psychologies that may seem obvious to some–for example, loving a good deal or staying loyal to a trusted brand–are ignored by many.
To get into the mind of your customers and drive up your sales, you must understand these theories of consumer behavior. Then, you can grab the bull by the horns and improve your customer engagement at each step of the journey.
This article will thoroughly explain the customer lifecycle journey and what you can do to take advantage of your customer buying process.
What is the customer lifecycle?
You can think of the customer lifecycle this way: each customer you have passes through various stages as they interact with your brand.
Every customer makes a different journey, and most will not make it to the end. It is your job as a brand marketer to ensure as many customers complete their journey. But how can you make this aspiration a reality?
We find it helpful to think of a customer's lifecycle as being split into 'five stages'. Then, you can develop a marketing strategy to engage with your customer base at each step, targeting everyone from new arrivals to the old faithful.
What are the five stages of the customer lifecycle?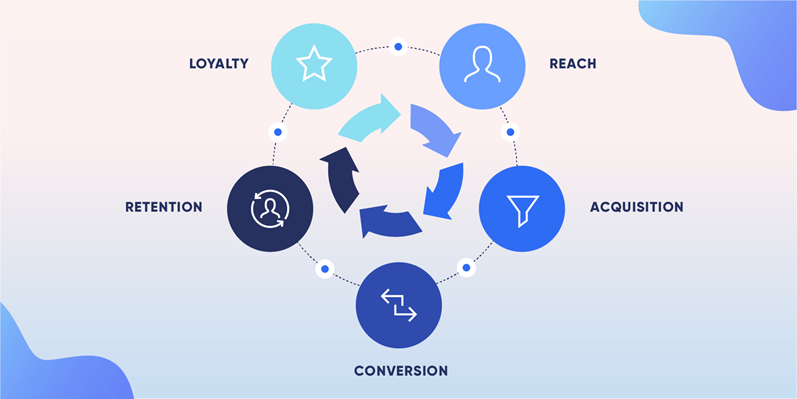 Reach
Your customer's journey begins with the 'reach' phase. This stage is about brand awareness and gaining the attention of prospective customers.
First impressions count, so it is imperative to wow these new faces to stand out from the competition. Don't neglect the power of word of mouth either—focusing on employee development is one way of achieving organic reach.
Acquisition
The next step is the 'acquisition' phase. At this point, a customer has found your business, liked what they have seen, and agreed to pass over their contact details. It might come through them making an account on your website or agreeing to receive marketing deals via phone or email.
If you go down the route of SMS notifications, ensure you invest in a custom caller ID solution. What is caller ID? Well, it means you'll be ringing customers from the same phone number regardless of the device.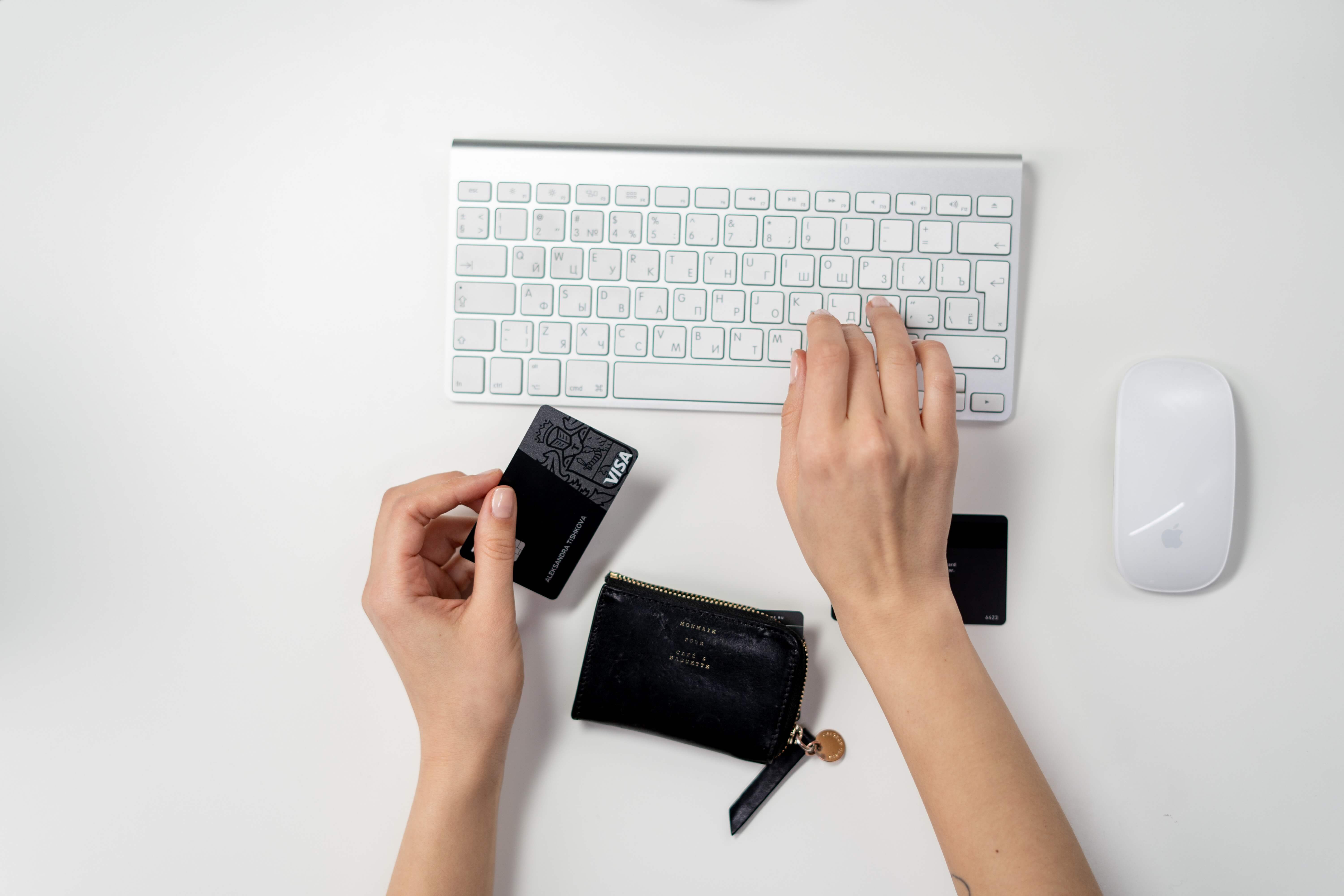 Conversion
The 'conversion' stage is when your customer decides to enter into business with your company. Often this can be the biggest hurdle in a customer's journey, as it requires a certain level of trust for them to pay for your goods and services.
Customer conversion marketing focuses on nurturing your customers into finalizing their purchases.
Retention
After your customers' purchase, the 'retention' stage focuses on living up to the promises you sold them on. You can think of this as fulfilling (or even exceeding) their expectations by delivering a seamless, complete shopping experience.How you do this somewhat depends on the sort of business you are running. If you are providing an online service, you want it to run as smoothly and reliably as possible, with limited downtime. On the other hand, if you are providing physical goods, you might want to focus on fast shipping so they arrive without issue or delay.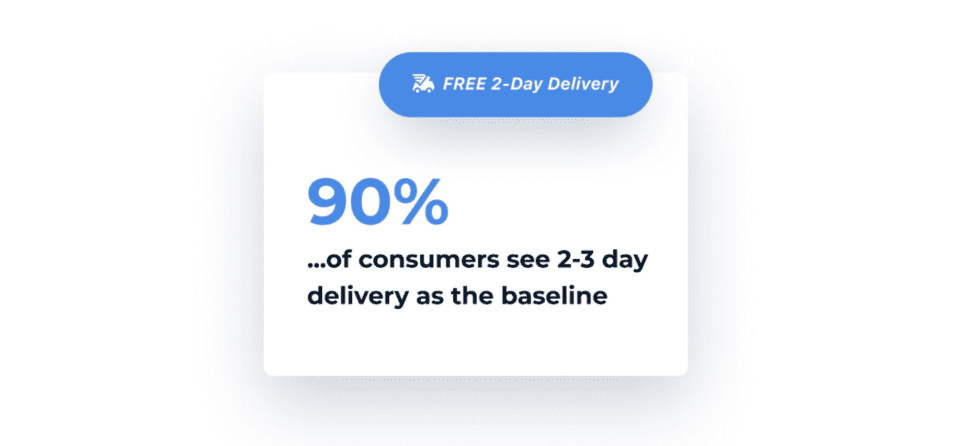 Loyalty
Finally, the 'loyalty' stage focuses on the customers that have already transacted with your business. Often, you will find it's easier to focus on reaching out to old customers than it is to attract new ones.
You know what works well and who is buying your products—all you need now is to give those past customers a nudge to make another purchase. It doesn't have to be directly from your company—you may look for freelancer content marketers to write blog posts on your behalf. You'll be sending out those new dropshipping products from trusted suppliers before you know it.
How can you engage with your customers at each stage?
In the previous section, we covered the five stages of a consumer's journey. This next section will explain some ways that you can develop your marketing strategy to concentrate on each stage.
Reach tactics
Reach merely means how many customers are aware of your brand or product.
The larger your reach, the more impressions your store page gets, hopefully increasing your company's sales down the line. But how can you boost the reach of your website using a combination of Ecommerce software and strategy?
You will want to start by pursuing an omnichannel marketing strategy. This means that your brand is visible on all platforms: email, social media, and your website, to name just a few. It is vital to keep your branding design consistent and recognizable.
A concept that you will need to grasp quickly is Search Engine Optimization (SEO). This means making minor changes to the structure and content of your website so that it shows up at the top of search engines' ranking pages. Without SEO, it will be much harder to make your website visible. When was the last time you went to page 2 of Google to find what you were looking for?
You may also consider a paid ad campaign to direct customers to your store. As your website gets more clicks, search engines will see this as organic growth and opt to push your page up the search rankings. Wondering where to get started? Performance marketing is an exceptional tool for guaranteeing a minimum yield of clicks, conversions, or sales.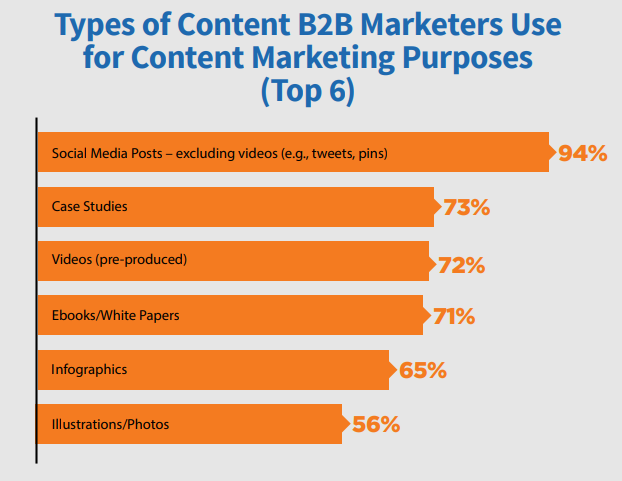 Acquisition tactics
Once you have grabbed the attention of prospective customers, you should direct them to your website's landing page. This is essentially a form for them to offer their contact details with the expectation that you will reach out to them later.
Typically, you will want to advertise this as a 'newsletter' where subscribers can gain access to promotions and the latest deals. It doesn't even have to be via email on instant messaging platforms for business on the rise—you may explore these alternatives.
However you choose to structure your landing page, it needs to make a compelling argument in a short text. Stuck for ideas? A bit of lighthearted comedy always tends to work well as a way of building trust.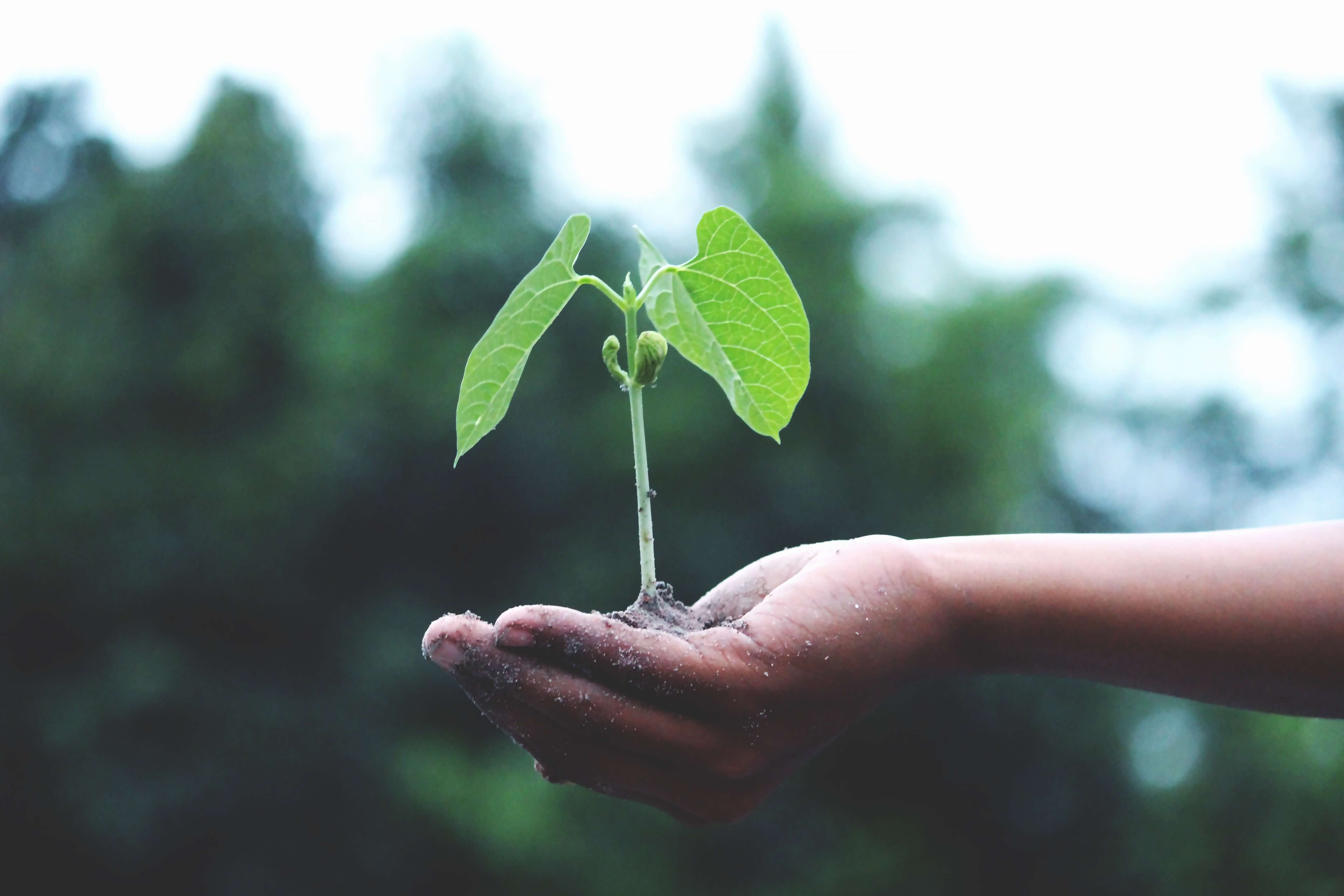 Conversion tactics
So you have successfully directed traffic to your website and landing page, but your sales still are not up? Well, there are plenty of reasons why that might be the case, but here are some tactics you can start with:
Encouraging your customers to leave positive reviews for others to see.
Optimizing your checkout page (to boost payment acceptance rate).
Offering direct customer support, for example, via a conversational ai chatbot.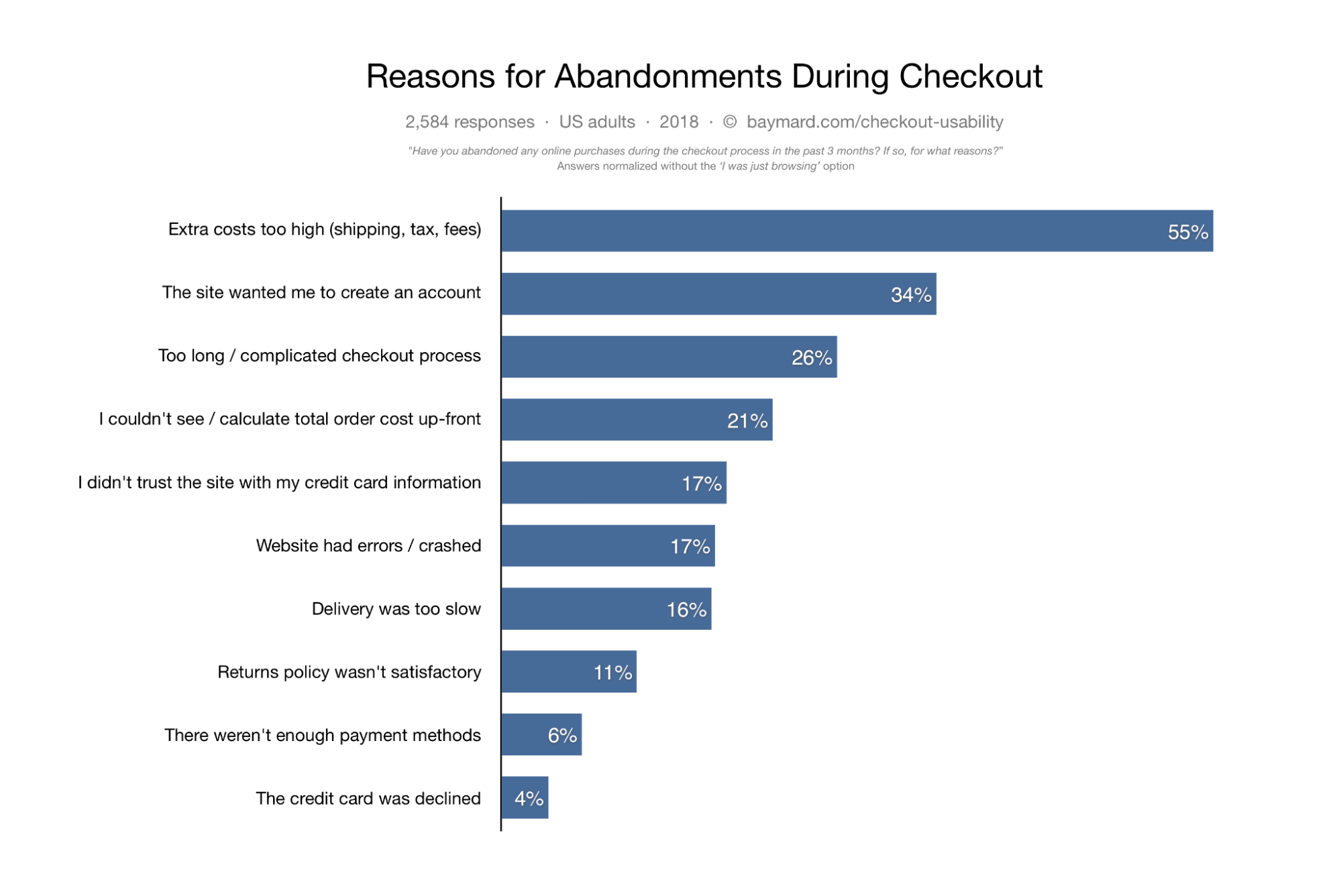 Retention tactics
Once a customer has transacted with your company, the door is open for you to turn them into loyal users. To even get to this stage, you must demonstrate the value of your marketplace. It is up to you now to maintain that recognition of value.
An effective way to achieve this is to simply deliver on the promises that you made to them; ensuring that your product or service is of the highest quality. Beyond this, you need a customer services system to follow up on their purchase, asking them directly if it was to their expectations.
Other techniques include upselling at the checkout stage, such as showing your customers what others bought alongside their chosen items. You will want to frame this in a way that those extra items will be useful to their purchase and experience.
Finally, you may also want to send a reminder notification or email to customers that have abandoned their shopping carts. This is a feature of e-commerce automation widely used by the top online marketplaces in 2022.
Loyalty tactics
Do all this successfully, and you will have an army of loyal users who organically market your products and services. The question now becomes: how do you maintain that loyalty?
Well, the answer lies in establishing a relationship with loyal customers. Send them regular email updates on your product range and offer them exclusive deals as a reward for their support.
Another way to think of this is as a business proposal; in that, you are arguing the case for your customers to transact with you again. Wondering how to write a business proposal? Well, you must keep your language concise—quickly getting to why they should deal with you and certainly not wasting their time.
Getting started on customer lifecycle marketing
This article has covered the fundamental theories of the consumer lifecycle. By now, you should have a good idea of strategies for bespoke consumer marketing. You should try implementing all our top recommendations to see what works best for your business.
This is a guest post from Jenna Bunnell, the Senior Manager for Content Marketing at Dialpad.