There are few things that encourage us to spend money more efficiently than the opinions of others. Thanks to the principles of persuasion, we're all more likely to do something when we know someone else has already done it.
It's no surprise, then, that in today's ecommerce landscape it's hard to come across a brand that isn't using social proof as a sales technique.
Social Proof: using the actions of others to influence your own decision making.
What might come as a surprise, though, is that social proof marketing is actually one of the best ways to strengthen your brand community! Not only does it help solidify the value of your brand, but it also has the power to encourage all kinds of valuable customer engagement in both new and returning customers.
To show you exactly how it's done, I'm going to show you the 5 best ways to use social proof and how they can each strengthen the 3 phases of your own marketing cycle.
Product reviews
Product reviews are one of the most common forms of social proof marketing because they are also one of the most powerful. 97% of customers say that product reviews influence their decision about making a purchase, but how do you get those valuable reviews? Many customers aren't going to take the time to share their thoughts on their own, which means you need to give them a reason to.
A loyalty program is the perfect tool to encourage your members to leave reviews. By offering them points for leaving feedback, you condition them to connect the act of leaving a review with more value, increasing the likelihood of them engaging again in the future. These existing reviews will also encourage engagement from other customers who want to join the conversation.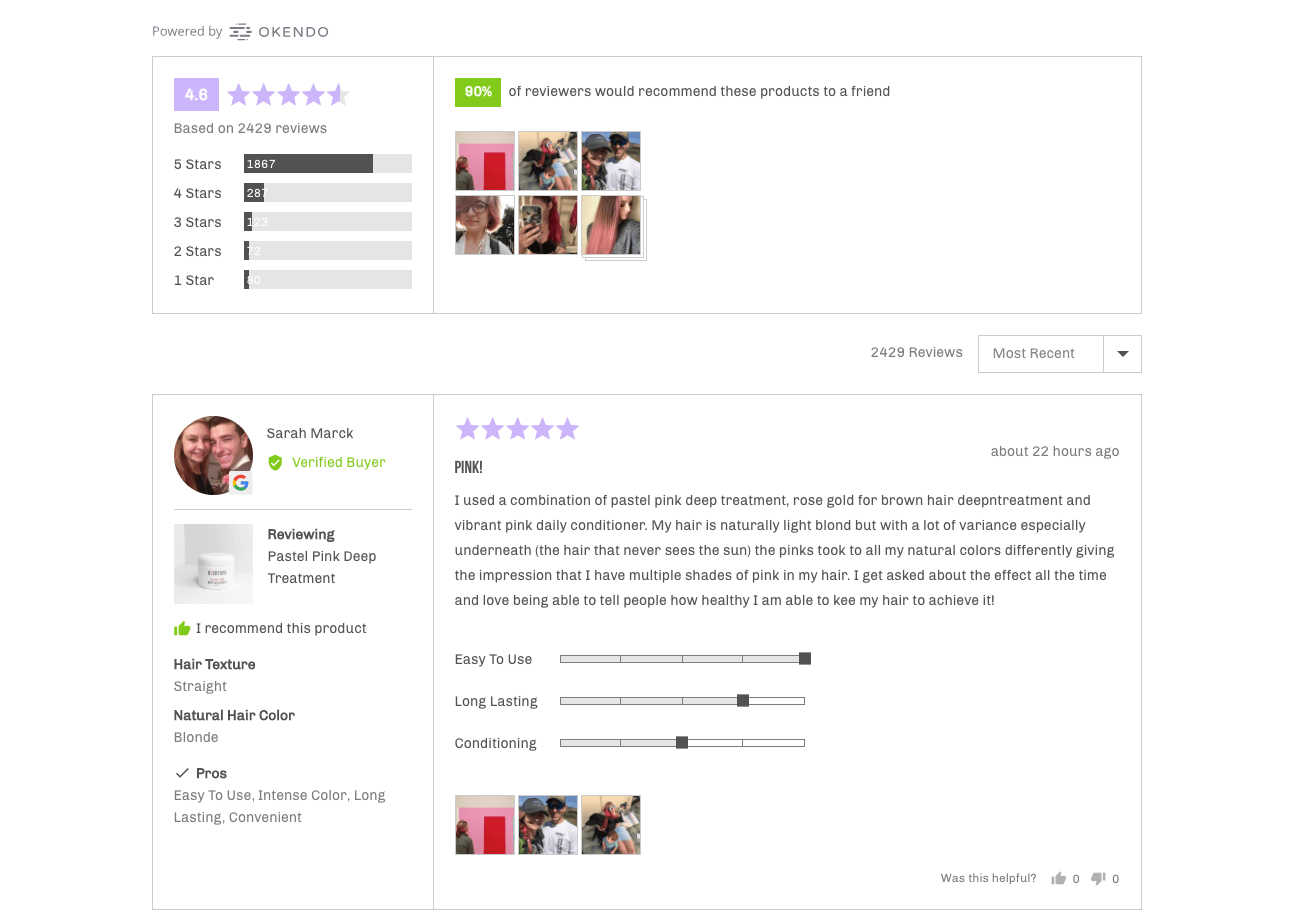 Colorful hair conditioner brand oVertone takes product reviews to the next level, creating a dedicated reviews section of their website. By pairing their loyalty program and review tool together, oVertone has made it valuable and easy for their community to leave reviews. This  encourages ongoing customer engagement while also showing new shoppers how helpful the oVertone community is. Each of these detailed, insightful reviews make it enticing not only to try their products but also to join the community themselves by joining the many different conversations.
These factors make product reviews the perfect tool for both acquiring and engaging customers with your marketing strategy. With the value of your products at the forefront, reviews get potential members excited not only to try your products but also to get to know the awesome people who are already part of your community.
Customer testimonials
Even though many people use the terms "review" and "testimonial" interchangeably, they're actually quite different. While reviews provide uncurated feedback on a given product or service, testimonials are crafted between you and your best customers to highlight something positive about your brand community.
Testimonial: a quote from a high profile customer that has had a positive experience with your product/brand.
By creating content with the most engaged members of your community, testimonials are curated social proof that highlights which of your brand's values you want to show off the most. As a result, testimonials are also a fantastic way to strengthen the acquire and engage phases of building your brand — new customers will get a sense for who you are and what you value, while your existing members will be motivated amp up their level of engagement so they can also be featured. After all, who doesn't like sharing their opinion?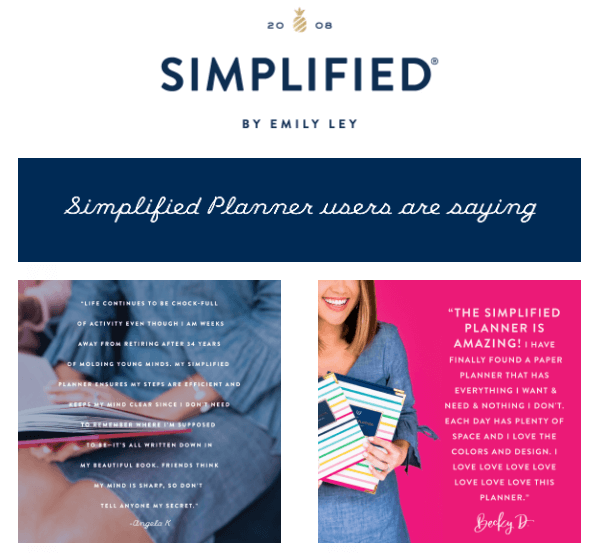 You can see this at work with Emily Ley. If you're looking for a planner, they guarantee they  have one that will suit you and your lifestyle. More importantly, the stationery brand has the social proof to back it up. Customer engagement is incredibly high as community members rave about the Simplified Planners, testifying that these aren't just any planners: they're amazing planners.
With so much positive content being shared, the Emily Ley team has a treasure trove to pick from. They then turn these positive reviews into testimonials shared with their newsletter subscribers, packing each message with the joy associated with the Emily Ley brand community.
Featuring testimonials like this in an email helps build emotional connections with customers and validates their decision to stay engaged with your brand over time. In these ways, testimonials are supercharged reviews that make it easy to show what makes your brand community worth writing home (or in a planner) about.
User-generated content
While product reviews might be the most widely used form of social proof marketing, user-generated content is by far the most popular. Not only is it the most visual but it's also the easiest to share, making it extremely appealing for today's mobile-oriented customer.
If you don't believe me, consider this: there are tens of millions of social media posts being uploaded every minute of every day! That is a lot of potential social proof marketing content being created, and the best part is it doesn't cost you anything! Since your customers are already using social media, it quickly becomes the best way to encourage more customer engagement and get your community to share valuable social proof — all while establishing connections beyond a sale.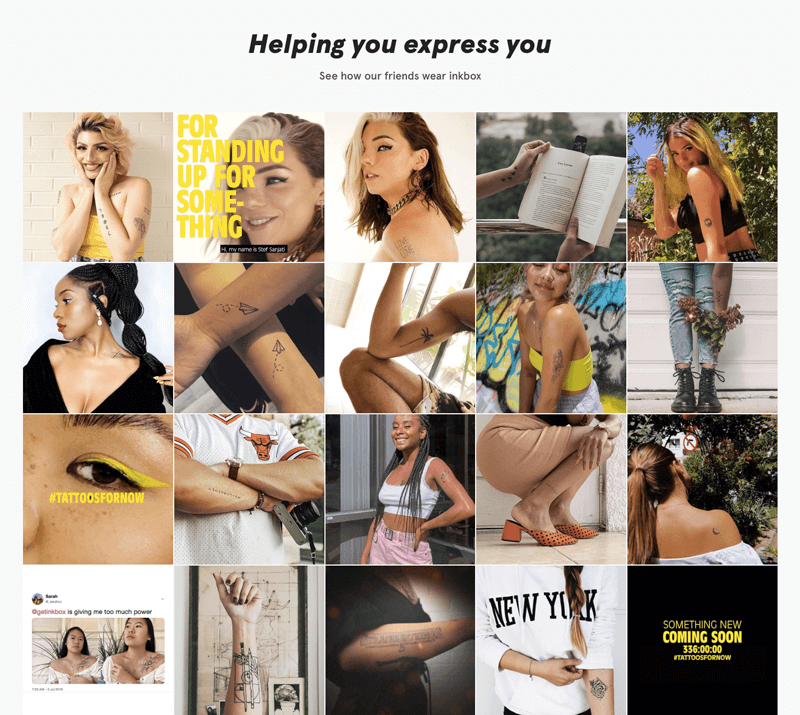 inkbox has quickly become the market leader in temporary tattoos, and their success is largely due to how shareable their products are. Their incredible social sharing doesn't happen all by itself, though. inkbox has made it fun and exciting for their community members to engage with them on social media by proudly featuring this social proof on their homepage. With a huge section of their homepage dedicated to user-generated Instagram content, they've left an open invitation for customers to submit their photos and be part of the conversation.
This also makes inkbox highly searchable and discoverable for anyone looking for their brand, lowering the barriers to joining their vibrant community and encouraging ongoing customer engagement from the very first point of contact.
Clearly UGC is a must, as it holds the key to making your community easier to find, fun to engage with, and exciting to share — everything you need to build a brand community.
Referrals
Considering referrals are one of the most trusted forms of marketing, it shouldn't come as a surprise that they're also one of the best ways to use social proof to share your brand community.
When your community members love what you do, you can use a referral program to turn them into a team of passionate marketers. Powered by the principle of reciprocity, referrals motivate customers to tell others about their positive experiences as a member of your community. With a loyalty program, the benefits are multiplied when customers are given points in exchange for a referral and the recipient is given a discount. Since the recipient is given a gift, they feel the need to reciprocate by making a purchase, making it a winning situation for everybody: you get a new community member, your existing member earns a reward, and your new member is delighted by additional value!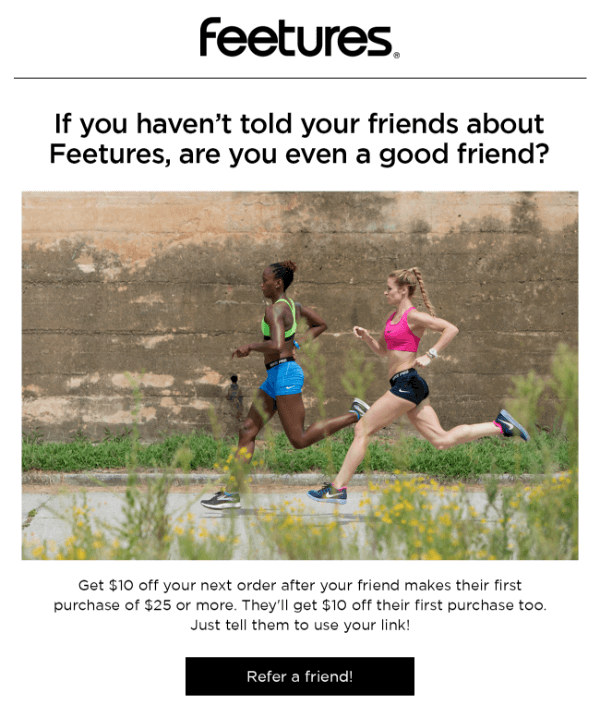 Sock brand Feetures is the perfect example of using referrals to capitalize on social proof. Their referral emails show exactly what is in it for the recipient and the sender. Better still,  it even challenges their customers to consider how good a friend they are if they don't tell their friends about the brand. Reciprocity and a tongue-in-cheek guilt trip all at once!
Referral programs are incredibly useful for creating social proof because they connect the value of rewards with the action of sharing your brand community. When more people know about your community and its value, the bigger and stronger it will get as customer engagement grows and grows.
Create exclusivity
This last form of social proof marketing is often overlooked but is actually an incredibly powerful way to strengthen your brand community. Exclusivity uses the scarcity principle to create an assumption of social proof. When customers see that something is limited or exclusive, they assume other people find it valuable. This prompts them to think so too, and motivates them to seek out that exclusive product or experience.
This mindset is largely responsible for the culture around product drops. These events are highly shareable thanks to the elevated sense of social status shoppers feel when they are attending something exclusive and others aren't. In turn, this boosts the perceived value of the product to make other wants to have it as well.
This feedback loop is why brands that run VIP programs have so much success acquiring and retaining new customers.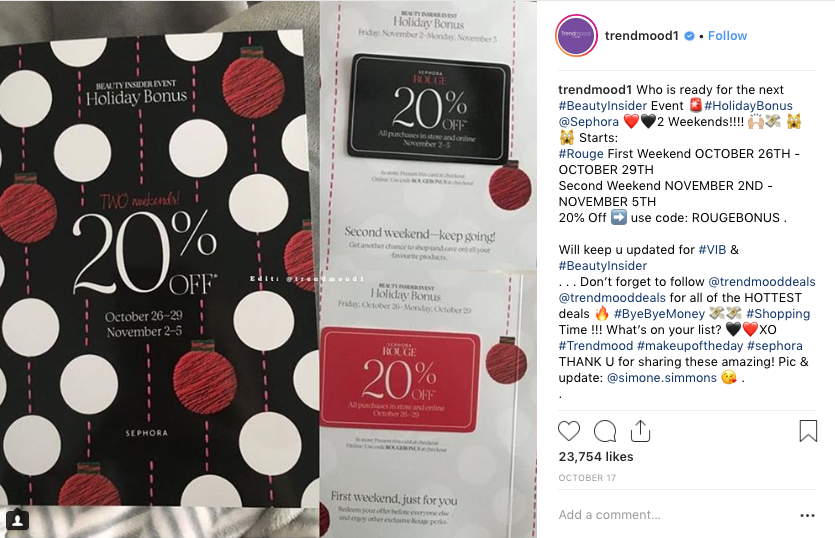 Makeup megabrand Sephora has made their Beauty Insider VIP program all about the value of reaching Rouge, their highest tier. While Insider and VIB tiers are definitely valuable, the most exciting part of their program is all the exclusive perks that come with reaching the top. Sephora has taken full advantage of exclusivity as social proof, creating Rouge-only events and sales that generate huge hype. Customers are constantly bragging about their exclusive invites on social media, and this social proof essentially turns VIB Rouge status into a product all by itself.
As you can see, a VIP program's exclusivity breeds social comparison — that good feeling you get when you have something someone else doesn't. This acts as an extremely powerful switching barrier, making it valuable for customers to stay engaged with your community while also showing the value of joining your community and being on the inside.
With the irresistible promise of being "elite" on the line, customers will be sure to tell everyone and anyone all about the status they've achieved at your store.
Social proof marketing is a community building power tool
As we've seen, there are a lot of ways to create social proof for your community. However, regardless of how you do it you are clearly missing out if you aren't taking advantage of it! Even though you might already be using it as a sales tool, social proof marketing is primed for showing your customers the value of joining your community, engaging with it, and sharing with their friends.
Don't sell your brand short — go beyond the sale and use a variety of social proof examples to strengthen your incredible online community.