Conversational commerce has been a hot topic for a while now. In a world that feels more connected than ever, investing in real conversations with your customers can be the difference between real, lasting relationships and flash-in-the-pan transactional ones.
The question is: how do you start conversations? How do you move beyond the sale to authentic, organic communication with your customers?
Here are the 5 best ways to introduce conversational commerce to your brand experience and transform your community with conversations.
Live chat
This is a conversational commerce tool that has become increasingly popular over the past number of years, and for good reason! With live chat, you have the opportunity to enrich every stage of the customer journey by making yourself easily accessible. In just one click, customers can get in touch with your team in real time, delivering a sense of immediacy they can't get through simple product descriptions.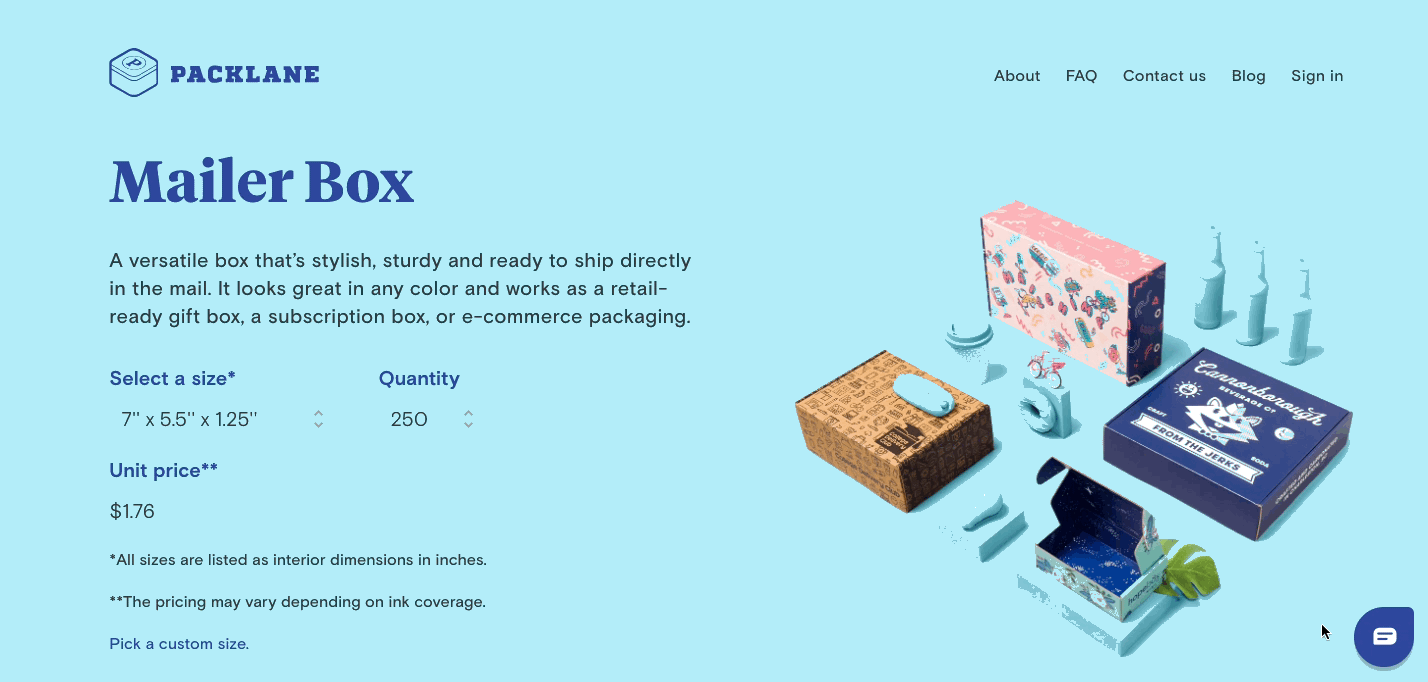 This is particularly impactful if your customers tend to have lots of questions about about your products. As a B2B packaging brand, Packlane knows their customers are bound to have some questions about the services they offer, which is why they invite customers to stay in touch with live chat. From there, customers can either ask questions about the brand in general or their specific order, personalizing every live chat experience to what they need, when they need it.
In this way, Packlane has made themselves both incredibly approachable and helpful. By encouraging customers to ask questions, they promote the idea that they want to help every customer get the most out of their experience. This lowered barrier to entry increases the desire to join their brand community and clearly demonstrates the value of getting engaged.
Referrals
If live chat is the most effective way to start a conversation with your customers, referrals are a very close second. As the most trusted form of marketing, referrals can work wonders for getting new customers to join your brand community because they're so closely tied to personal relationships. The catch is that your customers only make referrals when they truly love your brand and community.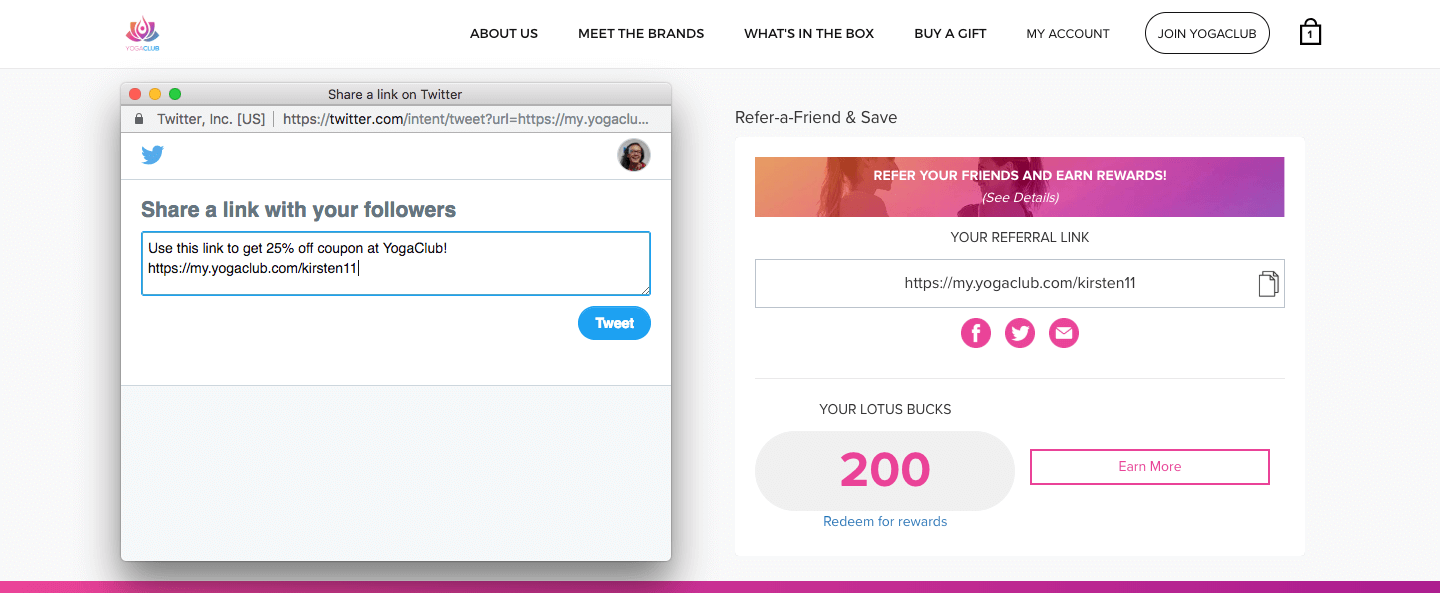 You can increase these odds by understanding how your customers communicate with each other and getting involved in those conversations. YogaClub understands this very well, giving their community members the option of referring through Facebook, Twitter, or email. Each of these channels are familiar and trusted, making it easy for their customers to work these types of brand conversations into their daily habits.
More importantly, YogaClub has taken the opportunity to brand their referral messages as a way of starting and guiding each of these peer-to-peer conversations. With personalized referral codes and an invitation to save 25% off their first order, YogaClub has set themselves up as a brand that deeply cares about the total customer experience and wants them to get the most value possible.
While referrals aren't always a direct line between you and your customers, they're the perfect caveat for building and sustaining new relationships with customers you wouldn't otherwise have the chance of meeting.
Ask for feedback
I have a friend who often says "you don't know what you don't know." While this can apply to any number of things, it's often relevant to learning about your customers and their experience with your brand.
This gives you a great excuse to start a conversation. Asking your customers what they think about your brand community or products is a wonderful way to show genuine interest in their experience and make your brand more approachable. By giving them opportunities to share their honest opinions, you can collect valuable information that will allow you to improve your brand experience in the future.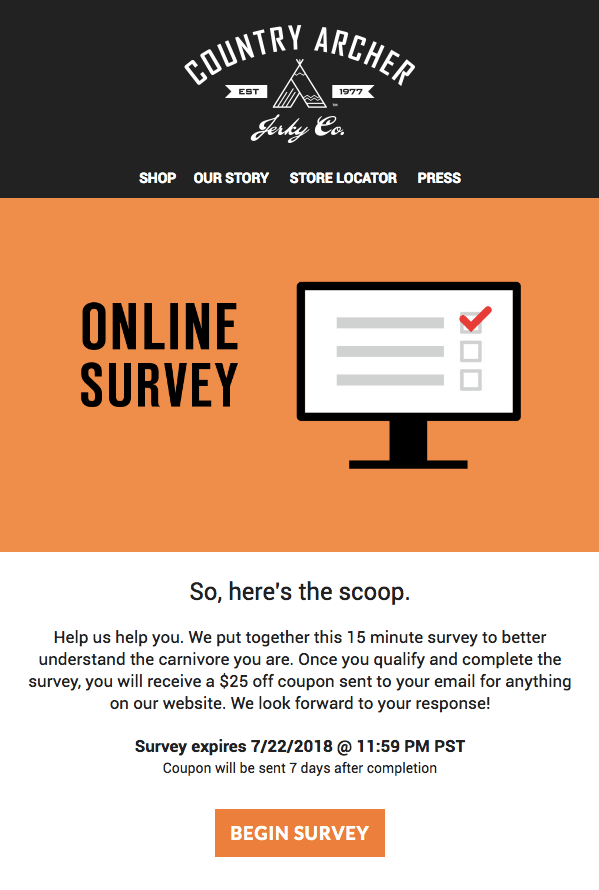 You can even take a page out of Country Archer's book and offer your customers an incentive for completing a survey or getting in touch. Tying your call for feedback to your rewards program is an effective way to tighten up the connection between each of your brand's moving parts and demonstrate the value of joining and staying engaged.
Whether you choose to ask for feedback on social media, through post-purchase emails, or a specific feedback campaign, these conversations are a powerful way to demonstrate respect for each individual customer's opinions. Who knows? These messages might even open the door to more conversations, taking you even deeper into a sustainable, long-term relationship that benefits both of you!
Use social media
This probably seems obvious, but that's because it's so incredibly effective. Platforms like Twitter, Instagram, and YouTube are all easy to use and, more importantly, are highly public. This makes them the perfect avenue to ask your brand community questions and get them involved.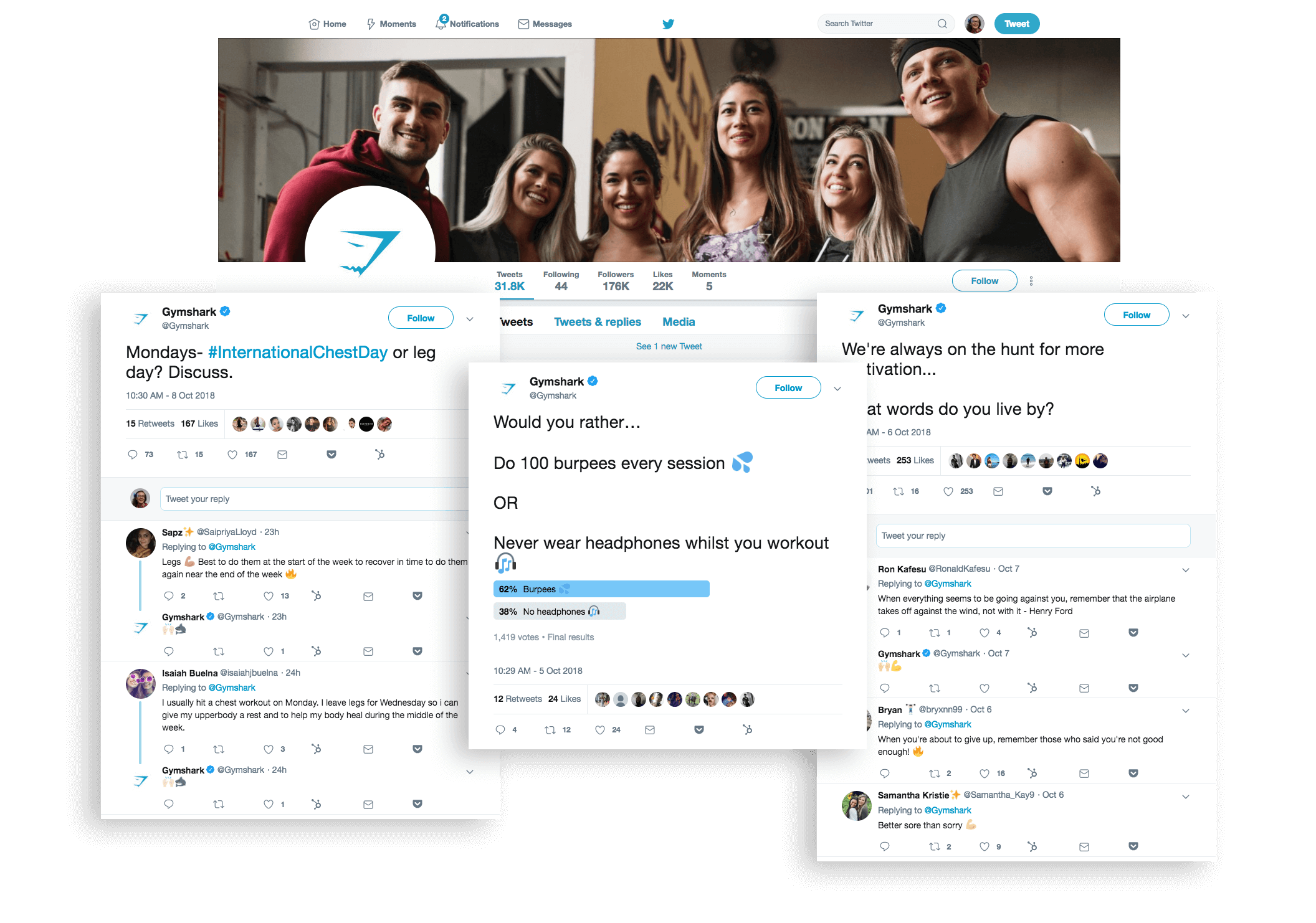 My favorite example of this is Gymshark. The athletic wear giant has received a lot of attention for the many ways they're growing their brand community, but their social presence is rarely focused on. This is a huge mistake, in my opinion, seeing as their social channels are the best place for anyone around the world to experience and participate in their brand culture.
From "would you rather" polls to invitations to share your personal motto, Gymshark uses their social media channels to involve every single one of their community members in the story they're telling. These stories are then backed by their larger community events to create an all-encompassing community experience that is unparalleled and, most importantly, appealing.
Host community events
The final conversational commerce tool I'll mention are community-only events. As the only face-to-face interactions on this list, they carry a different weight in terms of allowing you to build real emotional relationships with your customers — especially if you make these events exclusive.
Beauty brands have been doing this for years. From Sephora to MAC and everything in between, cosmetics brands understand what their customers want: exclusive products, exclusive invites, and exclusive status.

e.l.f. Cosmetics is no different. Last year, the brand launched their first Beautyscape event, which was exclusive event open to only the most loyal members of their brand community. This event boasted early access to new products, meet and greets with other brand ambassadors and influencers, and the opportunity to contribute to new products.
Each of these elements turned Beautyscape into a must-attend event for their die-hard brand community, and gave the cosmetics brand an opportunity to personally connect with a large number of their brand influencers. These in-person connections helped bridge the gap presented by a phone or computer screen, reducing the distance between community members and the brand inteself.
These face to face interactions make a huge difference to the connections customers feel with ecommerce brands, and encourage familiarity and collaboration in ways other communication channels can't. On top of that, they're one of a kind experiences that everyone will want to be a part of, making them a heavy bargaining chip for maintaining community growth.
Time to start talking!
Whether conversational commerce is a new idea for you or not, there's no better time to get started. With these 5 easy ways to encourage better community conversations, you can begin laying the foundation for lasting customer relationships right now — all without having to pick up the phone.