Editor's Note: This post was originally published in Oct 2018 and was updated for accuracy and comprehensiveness in July, 2020.
A loyalty program is designed to create repeat customers and increase customer lifetime value for your business. However, is simply having a rewards program enough to stick out from the crowd?  In a world where businesses selling similar or identical products to your brand spring up every day, brand distinction is crucial to success. You need a loyalty program that helps you stand out and break through the noise.
Why you need a creative loyalty program
1. Create desire
Your customers should feel valued by participating in your rewards program and want to experience more of your brand as a result. That's why every piece of your rewards program, from earning actions to spending rules, should be an engaging experience. You'll know you've created an effective loyalty program when customers seek out the action rather than the reward.
2. Spark conversation
Being part of just another loyalty program isn't something to brag about to your friends, but joining a reward program that offers a chance to model in a video for a reality star's new fashion line is a whole other story. Thinking outside the box increases the chances of your customers talking about your program organically, leveraging word-of-mouth marketing in a way that promises your program a tremendous growth opportunity.
3. Cohesive branding
Your rewards program should become an extension of your brand, not just be tacked onto your website. For example, a luxury retailer should have a posh, VIP themed loyalty program, while a toy company should make it fun and light hearted. Align your loyalty program's values with your brand objectives for increased effectiveness.
How to make a creative loyalty program
Now that we have explained the importance of having a creative loyalty program, let's look at some of the best tactics out there to actually achieve creativity.
1. Connect your program name to your products
The first thing customers will notice about your rewards program is what you call it. Nothing leaves a more lacklustre first impression than simply calling it  "the rewards program." Your business is worth way more effort and creativity than that, and your customer's attention is worth more, too. Name your rewards program something that reflects who your brand is, what you sell, or the values you want your community to represent.
One Love Organics put together an incredibly branded program with their Love Club rewards. As a health and beauty brand with "Love" directly in their brand name, incorporating "Love" in their program name makes perfect sense. Not only that, but their VIP tiers are named with their target market in mind as well, with Queen's been their most valued VIP members, and who doesn't want to be treated like cosmetic royalty?
This is just one example of how you should use your brand's values, products, and attitude in the overall program name and VIP tiers to hook shoppers and pique their interest.
2. Be creative with how you name your points
Similar to how you should take the time to connect your program name to your products, you should also use the same amount of attention to detail one level deeper and focus on your points currency!
Create a clear connection between your brand, program name, as well as the name of your points and how they are displayed. This will create a cohesive customer experience, and show them that your rewards program is part of your brand community experience, not an afterthought.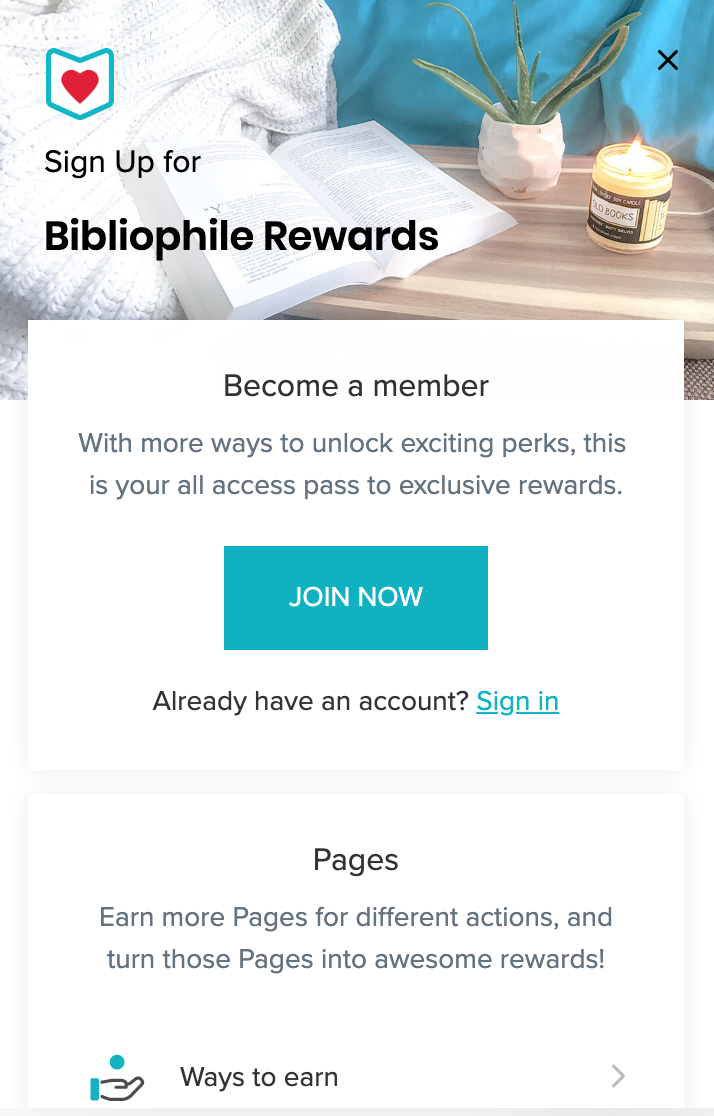 I have seen many creative point names, but one of my favorites is from Frostbeard Studio. Since they sell book-themed candles, Frostbeard decided to reward their customers with Pages. This is a great example because it's aligned with their playful branding and ties back to their product offering.
You can make your currency even more exciting by giving it some kind of visual element. When you create a look for your currency, customers can imagine what the points they earn look like, making them more than just a number.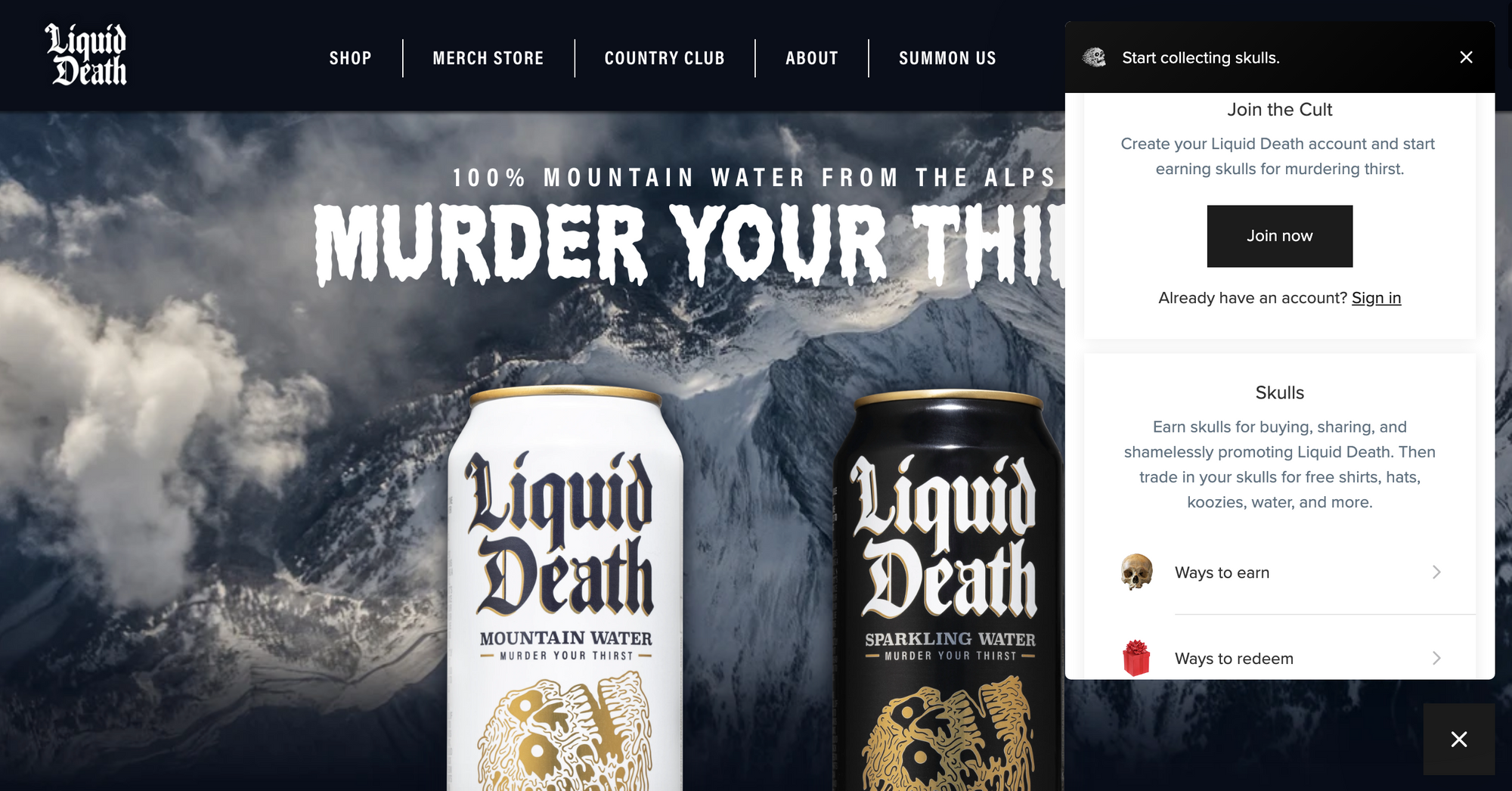 Liquid Death, the irreverent water-in-a-can brand, does a great job of keeping the look and feel of their points consistent with the rest of their store. Especially the skull image they use for their "Skulls" are fitting for both their merchandise and points name, creating a clear link between their products and rewards.
3. Use your imagination to design how your program looks
Even the smallest details can make a huge difference in making your rewards program an enticing and inviting community to join. With the right tools, you can customize a program so that every interactive element is on-brand and looks incredible.
Art supplier Arteza obviously knows a thing or two about creativity, so it's no surprise that they've kicked it up a notch in every aspect of their rewards panel. Not only have they designed an art-themed banner image, but they also have a whole slew of paint-stroked icons for their earning and spending rules and VIP tiers.
Just like Arteza, you should take whatever aspects of your brand, vision, and community's values you want to highlight and use them to visually tie your brand to you rewards program. Like I mentioned before, it might seem like a small thing, but it will go a long way with your customers!
4. Be creative with the ways customers earn
The best loyalty programs reward customers when they least expect it. While rewarding customers for making a purchase is effective at creating positive reinforcement, it doesn't create a memorable customer experience.
Rewarding points on a customer's birthday is an easy way to enhance the customer experience. Set up your program to celebrate customer birthdays by automatically sending them bonus points, along with a birthday email. This is an effective technique because it surpasses customer expectations and helps create an emotional connection with your community members.
Even better than birthday rewards are surprise rewards! Try sending your customers an email that delivers some words of encouragement, like what One Love Organics (who we mentioned earlier) has done for their community members.
A simple message like "we think you're awesome" and a few bonus points is a great way to make your customers smile, something we're big fans of.
5. Be creative with the ways customers are rewarded
While discounts are the standard customer reward in loyalty programs, your program needs to offer more if you want to stand out from the crowd.
A fantastic example of taking rewards to the next level comes from Sephora's Beauty Insider program. This world-class rewards program has it all: mobile experiences, VIP tiers, and exclusive rewards. Customers who manage to reach VIB Rouge, the top tier of their program, are given exclusive access to new products. This creates a memorable customer experience and gives customers greater incentive to become members and spend at Sephora.
Experiential rewards are another great way to engage customers and strengthen loyalty, because they go beyond transactional rewards to create a one-of-a-kind experience.

Sony Rewards does an excellent job delivering out-of-this-world experiential rewards. Through the ShowStoppers portion of the program, members are invited to bid points on access to incredible events, such as movie premieres, concert tickets, and vacations.
This type of reward is out of the ordinary, making it the perfect conversation starter to get your customers talking to others about your program.
6. Give your customers status
This is the best to differentiate your rewards  program. Because you show your customers exactly where they stand within your program. Give them something to strive towards and create an exclusive club of only your best loyalty program members. People love to share when they belong to something that is seen as rare or important.
The best way to start is by introducing some type of VIP program. Many hotel chains – like Marriott – do this extremely well.  You can set a point threshold that a customer must reach in order to be included in the VIP program. This could be dollars spent, number of orders, or number of customer referrals.
One of the simplest but most effective VIP programs out there comes from Starbucks. Despite offering only two tiers (Green and Gold), Starbucks Rewards creates an exclusive experience that's worth talking about. Although the Gold tier is easy to reach for everyday coffee drinkers, Starbucks still elevates the experience with the personalized Gold Card and access to free beverages. The Gold Card is effective because it's personalized, tangible and symbolizes the customer's commitment to the brand. Now that is something worth talking about!
Be creative - not generic
I hope the above examples and recommendations have provided you with the inspiration you need to build a truly creative loyalty program. At the end of the day, it all comes down to how well you can stand out, so focus on what makes your brand, products, and community special.
With this as your guide, there's no way you're just going to blend into the crowd.