Good things take time, and creating an incredible rewards program is one of them. The best businesses know that there is always room for improvement, and as a result they are often making changes to better meet their customers' changing needs.
Not all program changes are met with open arms, though. Sometimes, loyalty program makeovers can actually threaten customer loyalty by altering core elements that members have grown to love. Knowing which changes your customers will love and which ones they'll hate isn't black and white, so let's see what we can learn from some of the biggest loyalty program makeovers - the good, the bad and the ugly!
1. Starbucks Rewards
Starbucks Rewards may be one of the world's most popular loyalty programs, but the coffee giant's status couldn't shield the brand from customer fury when program changes were announced in 2016.
Starbucks' previous program awarded customers 1 point per every transaction, with customers reaching "Gold status" at 30 points. However, program revisions resulted in customers earning 2 points for every dollar spent, meaning only those with high average order values would benefit from the switch. For customers looking to spend $2 on their morning cup of coffee, this change was anything but helpful. Now, these members have to spend $90 more to reach gold status, making earning a reward 10 times more difficult!
This negative ultimately outshone some of the positive additions to the program (like double Star days and personalized recommendations).  At the end of the day, these great changes were buried behind the main message that was being communicated: if you buy a venti frappuccino once a week, you're more valuable than the daily dark roast connoisseur.
While the smoke has cleared since these changes were first announced, Starbucks definitely lost some loyal customers along the way.
What We Can Learn From Starbucks
For a successful program makeover, offer value to the
most customers possible
and consider scattering feature releases to build hype.


2. PC Plus & Shoppers Optimum
President's Choice and Shoppers Drug Mart are the originators of two of Canada's most beloved rewards programs: PC Plus and Shoppers Optimum. When the brands realized that there is strength in numbers a coalition was formed, and the result was one mega loyalty program: PC Optimum.
While this loyalty program makeover is not yet live, the brand's approach to announcing the revamp was handled extremely well. Instead of providing short notice or little detail about program changes, an entire marketing campaign was launched. With print materials all over brick and mortar stores, a stunning email marketing campaign, and a microsite designed just for the launch, these brands covered their bases!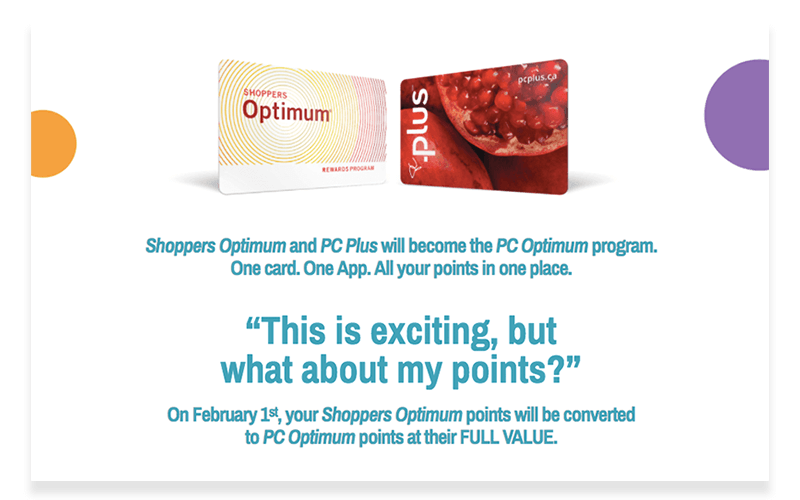 One of the most crucial aspects of this program announcement was PC and Shopper's commitment to answering customer questions well. As with any program change, customers want to know that their points are safe, and PC even went so far as to include a point-conversion calculator so that no question went unanswered.
What We Can Learn From PC Optimum
Show your customers you have their best interests in mind by
tackling the hard questions and establishing trust
between your brand and your customers.


3. tarte Rewards
If anyone is familiar with makeovers it's tarte Cosmetics, and they put their expertise to the test when they gave their loyalty program a serious facelift this year!
Previously, tarte's "Pretty Perks" program awarded customers one token for every dollar spent or product reviewed, and 10 tokens for each successful referral. Unfortunately, the success of the Pretty Perks program was threatened when customers outside of the US realized that they were never eligible to redeem rewards. Having invested time and money into the program, these customers felt extremely misled.
Within weeks of these customer complaints spreading online, tarte responded with a complete program makeover. The switch from Pretty Perks to tarte Rewards included more ways to earn and redeem points, beautifully branded program tiers, and most importantly - full program access for international customers.
What We Can Learn From Tarte Rewards
Customer complaints spread like wildfire. If you know customers are unhappy,
act quickly and transparently
to resolve issues that could otherwise be an issue.


4. Air Miles
When it comes to loyalty program makeovers, Air Miles is known for making headlines — and not because they're first class!
Last year, Air Miles announced that all loyalty points held for more than five years were going to expire. This outraged thousands of customers, and eventually inspired Ontario legislature to ban the expiry of loyalty program points altogether! While Air Miles later revoked their statement about expiry, a handful of customers had already redeemed their points in fear of the ticking clock — some on items they didn't even want.
In order to make amends, Air Miles has committed to offering 24 hour customer service on their social channels and an expanded rewards portfolio for members. While the effect of these changes on program participation is yet to be seen, this situation could have been avoided had Air Miles understood what their customers customer wanted from the program. If the company knew why customers were holding on to points for long periods of time, they would have been equipped to propose a solution other than expiry.
What We Can Learn From Air Miles
Understand what a customer needs and wants.
Instead of changing program rules based on assumptions, do research to understand customer behavior.


5. Wigs.com Rewards
Wigs.com is proof that loyalty program makeovers don't have to be drastic to get results! The hair retailer wanted to create a seamless experience between checkout and rewards redemption, so they decided to implement a "points at checkout" feature. Previously, customers managed their rewards program membership separately from checkout, using discount codes to redeem rewards with purchases.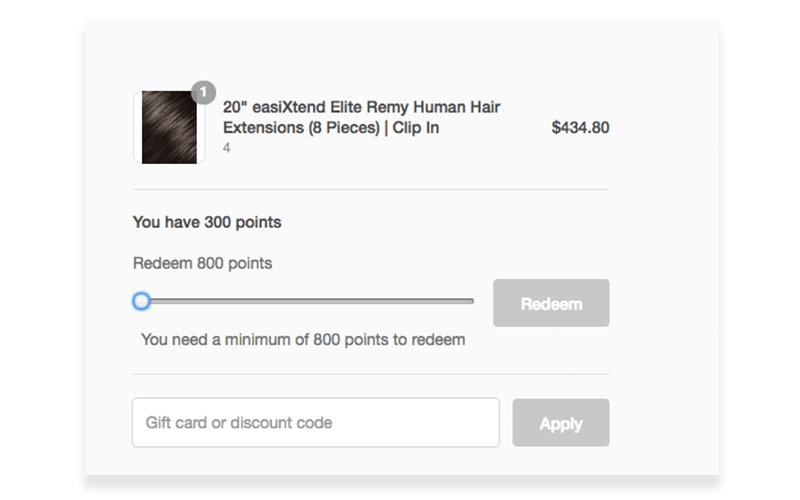 The points slider allows customers to seamlessly choose how much they want to save with each purchase, giving them more authority over the way they save and spend their points. For example, if I've collected 1,600 points with Wigs.com, I can simply slide the notch along to 800 points and hit "redeem" for my first discount.
While this change may be small in the grand scheme of the Wigs.com loyalty program, the results were anything but -- in fact, by incorporating the points at checkout feature, Wigs.com saw redemption rates jump from 16% to 31% in only 4 months!
What We Can Learn From Wigs.Com Rewards
A small improvement can lead to huge results. Program makeovers don't have to reinvent the wheel - they can be
simple upgrades that make being a member more rewarding.

6. Macy's Star Rewards
When Macy's noticed that their highest-spending customers were leaving to shop with other chains, they knew they needed to act quickly! Their solution was to re-launch their "Star Rewards" program - a program that automatically registers all customers who open a Macy's credit account.
Previously, participation rates in the Star Rewards program were low due to complex promotions and layered deals that confused customers. In order to simplify the program, Macy's chose to relaunch Star Rewards with new tiers, including Silver, Gold, and Platinum rather than Preferred, Elite, and Premier Elite.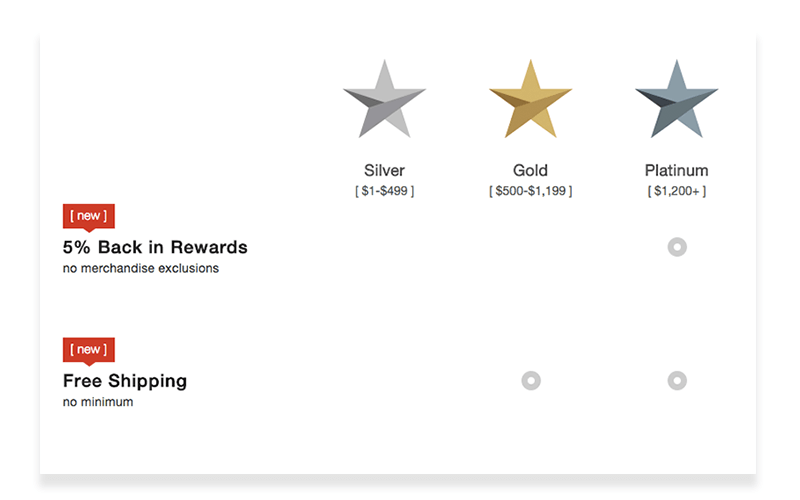 This small effort to simplify the distinction between program tiers was combined with new features like free shipping, exclusive access to products, and personalized sales events. As Macy's has shown us, complexity creates confusion, and Star Rewards is bringing it back to the basics.
What We Can Learn From Star Rewards
Less is often more.
Complex rewards programs confuse customers, and customers can't see value in what they don't understand.


Learning is Key
Having had a chance to explore some of the best and worst examples of loyalty program makeovers, there's one thing that we hope you take away from this lesson: learning is key.
All of your decisions should be based on what you've learned about your customers since launch — their likes, dislikes, needs, and wants. Following the launch of your new program, you should move forward based on what you've learned from customer response — what features did they like? Which features let them down?
At the end of the day, learning leads to improvement, and improvement leads to a successful rewards program. Now take what you've learned and put it into practice!