Editor's Note: This post was originally published on February 15, 2018 and was updated for accuracy and comprehensiveness on June 27, 2019.
Successful advertising relies on pictures. Customers are unlikely to buy a product if they don't know what it looks like or haven't seen what it can do, and promoting your loyalty program is no different! As a critical piece of your brand, you need to pitch it the same way you would pitch a product. Pictures can help you highlight what your rewards program does and, more importantly, what it will do for your customers.
Here are six reasons you need to use pictures in your loyalty program.
1. People expect pictures
In a world saturated with image-based content, it's no surprise that your customers expect visuals to be an integral part of your customer experience. Between the ever-growing popularity of social media apps like Instagram and the fact that everyone has a camera in their pocket, it's no surprise that 10% of all photos taken in history were taken in the past year.
Cellphones and social media have made it easy for anyone to create and distribute visual content, making it an expectation in customer experience.
The rise of emojis have also contributed to this expectation. 92% of people use emojis on a regular basis, with 30% using them several times a day! With more and more people recognizing emojis as a respectable language, it's not surprising that they've made an appearance in traditional marketing. Between 2015 and 2016, the use of emojis in marketing grew by a whopping 775% as more brands started experimenting with these familiar, playful symbols.
When it's this easy to create visual content, there's no excuse not to have it included as part of your rewards program. This is especially true when you consider the fact that world-leading reward platforms like Smile (yes, that is a shameless plug) have made it easy to include pictures in your loyalty program. Whether you choose to use them at every interaction point or specific intervals, the reality is that your customers expect to see them and you can bet that if they don't they'll move their eyes (and business) elsewhere.
2. Pictures are easy to understand
No matter where your customers are from, they'll be able to understand what a picture is trying to convey. As perhaps the only worldwide language, images make it easy for you to connect with customers all over the world without the need for translations or context.
Human brains can process and understand images in as few as 13 milliseconds.
Images are also the perfect way to reduce complicated ideas into simple ones. Research from MIT shows that it could take as few as 13 milliseconds for the human brain to process and understand an image. Not only that, but 53% of younger users have said that using emojis and text makes it easier for them to understand each other. This makes pictures an incredibly powerful tool in a media-saturated world where attention spans continue to shrink.
This concept is extremely effective on your program's explainer page. As a one-stop shop for all of your customers' program-related questions, your rewards page needs to break the earning and spending process down into uncomplicated explanations.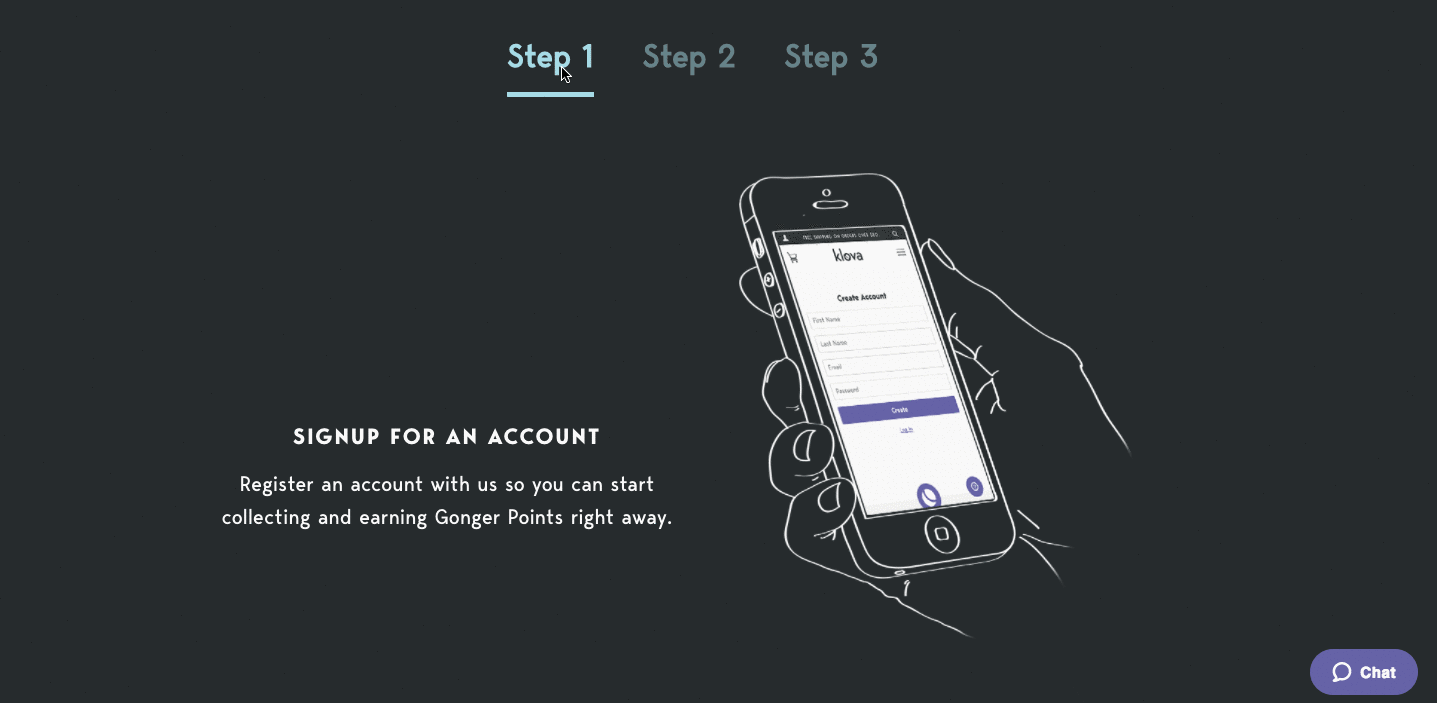 Klova has done this exceptionally well with their Sleep Squad program. Through a combination of branded colors, shapes, and icons, they've surpassed this communication problem at every turn. As you scroll through their explainer page, you're able to understand the earning and redemption process with only two simple images. They've even gone so far as to show their customers exactly how to sign up, engage, and redeem through a series of three line drawings that show shoppers how their program works on mobile.
These multiple levels of meaning leave no stone unturned, ensuring that every customer clearly and easily understands how to get involved and, more importantly, get rewarded.
3. Pictures communicate emotions
Human faces have the potential to communicate a lot without any words, making human faces one of the best ways to visually communicate. In fact, our brains are hardwired to respond to facial features - that's why babies aren't afraid of making eye contact!
Use visuals to show customers what they'll feel when they join your loyalty program.
This makes photography of people the perfect adding to your program's marketing. Our desire to connect with others doesn't change as we get older, and harnessing that desire with well-placed pictures of people is a great way to communicate emotion through your rewards program. Customers like to see themselves reflected in your brand community, and faces (even cartoon ones) help with that. This is supported by research that shows even emojis can have the same effect as looking at a smiling face in real life.
After all, your program is designed to make people happy, right? So show your customers that they can experience those emotions if they participate! Emojis and pictures make it easy to build emotional connections by making your brand look and feel like a friend.
One of the best examples of this "picture principle" is SHEFIT As a fitness apparel brand committed to body positivity and empowering women, the SHEFIT team is passionate about helping every customer feel welcomed and appreciated. In order to communicate that commitment, they included a fun picture that highlights the diversity of their customer based on their program's loyalty panel.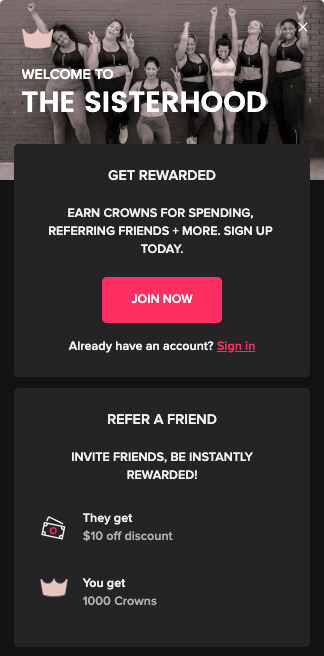 By pairing this particular image with this component of his program, he's helping customers make a strong connection between his happiness and the act of making a referral. Now, his program members are much more likely to want to share their referral code with their friends in the hopes of experiencing the same joy he's experienced.
4. Pictures demand attention
Since most content these days is image-based, content without visuals can easily get lost in the shuffle. That's because visuals attract and hold attention. Studies have even shown that blogs with images experienced 94% more views because our eyes are naturally drawn to images.

Clearly, pictures are what people notice so if you are trying to promote your rewards program they're definitely something you need to be using! This is particularly true for your program launcher. As the first point of contact, it has the power to convince customers to explore and join your loyalty program. Using a logo or icon (like the four examples shown here) creates a subtle but firm visual cue that your customers will correlate with the rest of your brand and be drawn to. This is especially true when combined with your brand colors.
You could also consider combining visuals with movement. Video is an extremely effective attention-grabbing tool because it adds a sense of life or dynamism to your brand - especially on explainer pages. Rockin' Wellness has combined the power of human faces and moving images to explain their Rockin' Rewards program to new and returning customers. With the irresistible allure of the "play" button, they've created more opportunities for customers to engage with their loyalty program and made their program impossible to ignore.
5. Pictures are the easiest way to communicate your brand
When you break them down, images are just a combination of colors, shapes, and typography.  Conveniently, these elements also happen to be components of your brand language! Your store's brand is an incredible marketing tool that helps you differentiate your store from the competition. It's also how many of your customers identify you, making it an obvious way to seamlessly connect your rewards program to the rest of your customer experience.
There are a number of different places in your loyalty program that you can leverage the power of your store's branding. For one, you can update your rewards panel and cards to include logos, photography, and colors that your customers will recognize.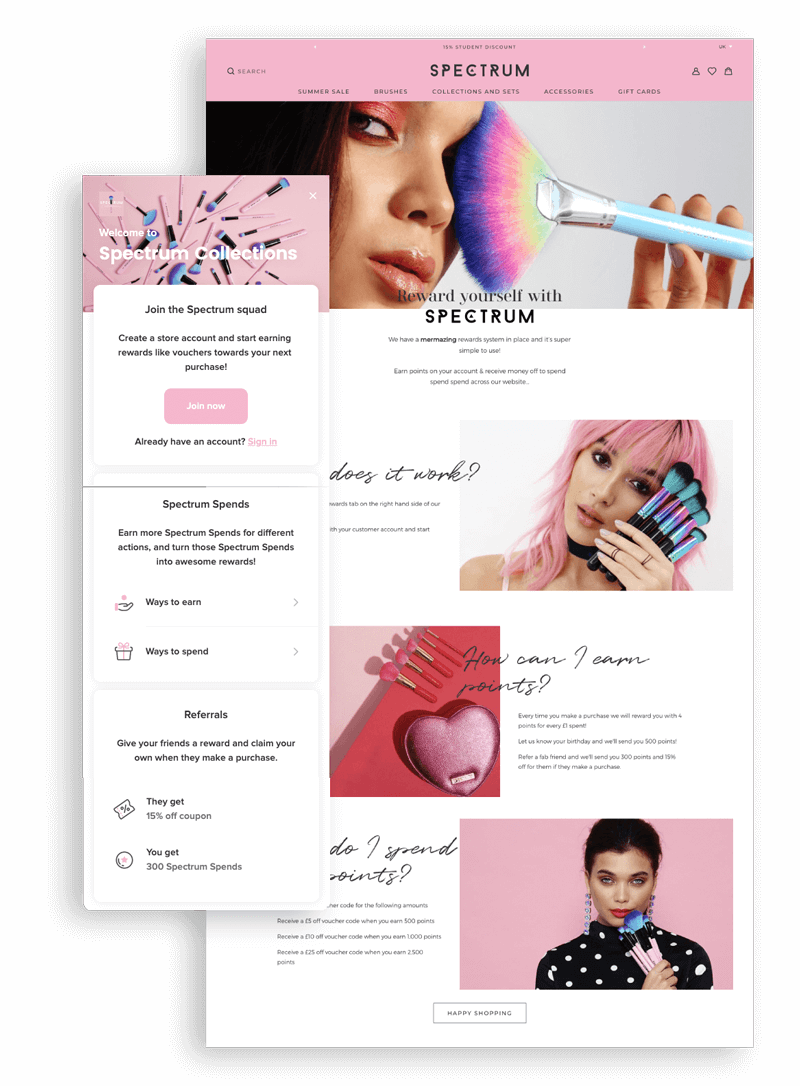 You can even expand this visual language to your program emails and explainer page as well to deliver a consistent experience at every touchpoint.  Spectrum is a beautiful example of this: between their panel cards, explainer page, and launcher, they've built a beautiful loyalty program that visually translates from page to page, blending seamlessly with product pages and other store elements.
When you consider that 63% of customers think product images are more important than ratings and reviews, it's not hard to understand why this same thinking needs to be applied to your rewards program. Make sure you're representing your brand properly in every possible place!
6. Pictures make your program easy to remember
Did you know that people can remember up to 2,000 images for days after seeing them?  Research has shown that pictures can increase recall by up to 95% - a stat that is largely due to the fact that humans remember visually. Using images will keep your program top of mind, making it much more likely to engage and return in the future.
This is especially true for referral programs. More and more brands have realized that mobilizing your best customers to do your marketing for you is an effective acquisition and retention strategy, which means there's an increasing number of referral links floating around the web. Branding your referral share messages with custom visuals will automatically make yours more memorable and, as a result, more likely to be used.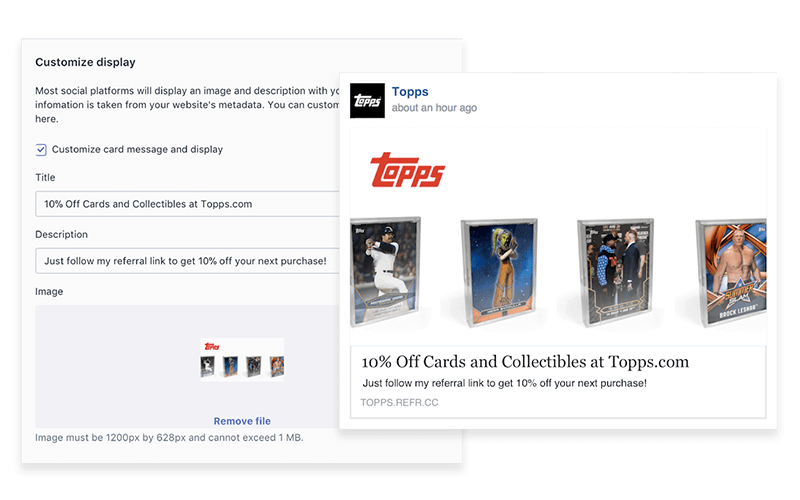 Take Topps, for example. The American sports company has done a beautiful job of using branded imagery to help their referral messages stand out from the crowd.  With their logo prominently featured and beautiful product photography, they've designed messages that not only look desirable but also clearly communicate who they're coming from. These elements make them hard to forget, keeping the referee/referred customer loop turning.
Picture this: increased customer engagement
Incorporating pictures in your loyalty program is a fantastic way to boost your program's customer engagement. With so many images being created every single day, customers have come to expect them in every brand interaction which gives you the perfect opportunity to leverage them for your program's gain.
With the power to explain complex ideas, attract attention, and positively reinforce your brand, visuals might just be the secret ingredient your rewards program has been missing!