Do you know who your brand advocates are?
I know that question probably feels like it came out of nowhere, but it seems like brand advocates are a very hot topic right now in the world of ecommerce.  Whether you're selling supplements, apparel, or something in between, experts are always encouraging retailers to increase your advocate count.
Now we need to be clear that advocates are not the same as loyal customers.  I know that many people would use these terms intermittently, and while advocates and loyal customers may share certain characteristics, they do exist in two completely separate categories.  Allow me to explain:
Loyal Customers

Loyal customers can be defined as any shopper that makes repeat purchases in your store. Through these repeat purchases, loyal customers demonstrate a commitment to your brand and are unlikely to negatively promote your brand to others.
Brand Advocates

Brand advocates, on the other hand, are more actively involved in promoting your brand to other customers.  While they are not necessarily a repeat customer, they are able to positively influence others to engage with your brand by providing objective recommendations.
In general, your brand advocates can be largely defined by their tendency to share your brand's content.  Whether they're looking to add value to other customers' conversations, connect with others, or support causes they're passionate about, brand advocates are your brand's most vocal supporters.
Upping the Ante
Having both loyal customers and brand advocates is hugely beneficial to your store.  A higher repeat purchase rate means your customer lifetime value goes up, resulting in greater profitability.

Repeat purchases also increase the likelihood that customers will recommend your brand to others, adding to your brand advocates' influence.  On average, retention rates can climb by up to 27% when current customers refer new ones, and brand advocates tend to spend two times more than first time shoppers.
This all sounds pretty good, but what if I told you things could get even better?  Believe it or not, you could be getting even more from your brand advocates and it all starts with understanding brand ambassadors.
Brand Ambassadors

Brand ambassadors are the creme de la creme of your best customers.  While loyal customers and brand advocates perform primarily one function (either making repeat purchases or advocating for your brand by sharing), brand ambassadors are able to do both.  Essentially they're the Renaissance Man of shoppers, choosing your brand over your competitors because they like you and want to engage in your community.
Transformers: Brand Ambassadors in Disguise
I think it's pretty clear that brand ambassadors are your strongest weapon when it comes to word of mouth and peer-to-peer marketing.  The only hang-up, then, is how to convert your brand advocates and loyal customers into ambassadors.

While customers may naturally transition from one customer type to another throughout the customer journey, there are a couple of things you can do to help them along.
1. Provide Opportunities to Engage
Like brand advocates, brand ambassadors are looking for opportunities to tell others about your brand.  A recent study revealed that 89% of brand advocates reported that friends and family bought products from brands they had recommended, making their ability to share their customer experiences very valuable to you as a merchant.

This one doesn't really require a lot of thinking: simply provide your customers with multiple opportunities and ways to engage with and share your brand.  An effective way to do this is with the help of a loyalty program.
By offering your customers rewards for following and sharing your content on social media, you're fulfilling your potential ambassadors' need to engage in sharing communities while dramatically extending your social reach.  With anywhere between 300 and 600 peers in their social networks, your advocates are ripe with potential to transform into ambassadors.

You could also set up your loyalty program with a referral program.  This would allow you to very obviously incentivize your customers' desire to share their experiences with others, which is very profitable for you in the long run.  Since referrals from peers convert 150 times more than other leads and 92% of people trust word-of-mouth marketing, it's clear that the sooner you convert your loyal customers to brand advocates and your brand advocates to ambassadors the better.
2. Open Communication
Your customers' ability to communicate with you is very closely tied to their ability to communicate with others.  Ensuring that you are consistently providing an amazing customer experience is key to gaining your customers' loyalty and advocacy.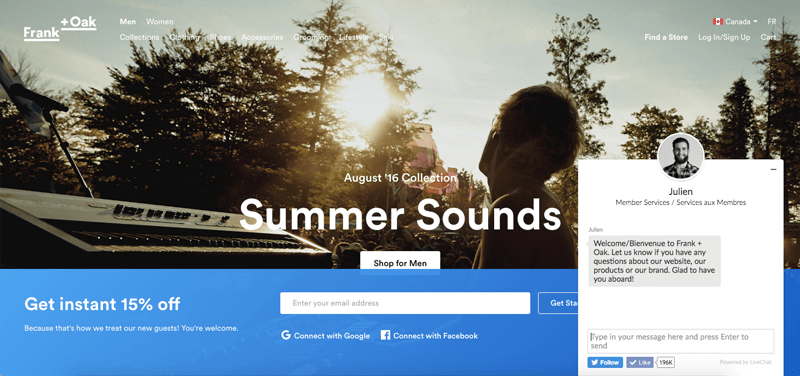 Take Frank + Oak for example: by providing services like personal styling and live chat online, they've created a customer service experience that impresses shoppers and makes them want to talk about it with others.
Your loyalty program should also be leveraged here by rewarding customers for reviewing your products and services.  Giving customers the opportunity to reach out to you directly regarding their experience with your store allows them to take some ownership in the customer/merchant relationship.  This ownership will then make them feel more accountable to the overall success of your store, prompting them to share the benefits of your brand with others.

Just like social shares and referrals, customer reviews will help develop a relationship with potential buyers who are 59% more likely to trust your brand advocates and ambassadors than anyone else when forming an opinion about your store.
3. Amplification
This final trick is entirely within your control, and could possible be the most important one to consider when trying to capture and transform brand advocates.
Once you have your customers engaged with your brand and loyalty program, you have the power to amplify the impact of their social shares and reviews by responding to them directly.  Replying to customers' Tweets, Instagram posts, and reviews – even just to say thank you – can go a long way in fostering a sense of trust, and provides you with more persuasive content for potential customers.

For Millennial and Generation Z shoppers in particular, user-generated content is monumental to the way they create and control retail experiences.  Acknowledging their voice in the business-to-consumer relationship sets your brand up as one that truly listens to and appreciates their customers.  Before you know it your brand advocates will be ambassadors and the content sharing will be fierce, fast, and fabulous.
Loyalty as a Transformation Tool
While you may think of loyalty programs as merely a retention tool, they can also be used for transformation.  Besides allowing you to grow brand ambassadors through engagement, communication, and amplification, they also give you the chance to make a positive brand impression by offering exclusive rewards for your best customers or inciting a little bit of healthy competition.

With loyalty programs, the possibilities are endless but the outcome is the same: more brand advocates, more brand ambassadors, and more ways to impress, acquire, and retain your customers.