Editor's Note: This post was originally published on May 19, 2015 and was updated for accuracy and comprehensiveness on May 11, 2018.
Very few retailers will dispute the value of a repeat customer, and many are even familiar with how to create a loyal customer with tactics like personalization and loyalty programs. However, many people have a very narrow minded idea of what a loyalty program looks like.
Traditionally, loyalty programs seemed to be all the same. They either gave a customer a percentage back as points that could be redeemed for a discount or they gave shoppers something for free after a certain number of purchases. Punch card systems like the McDonald's McCafe Rewards program are a great example of this.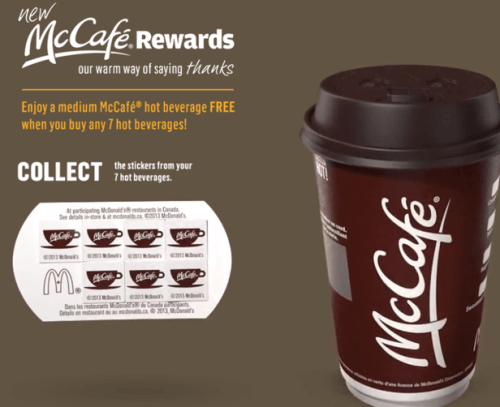 As you can see these programs are still popular today, but they're not the only way to structure a loyalty program. Many retailers, particularly those in the luxury industry,  are looking to build exclusive loyalty programs. These programs create an sense of elite status and tend to avoid discounts.
Tips to Create an Exclusive Loyalty Program
Before I get into some tips, I want to clarify what is meant by an exclusive loyalty program. I do not mean that you should only accept certain people or exclude shoppers from your program. What I mean is that you should design your program so that customers feel like it is providing exclusive benefits to them.
So what can you do to build your own exclusive loyalty program?
1. Offer Points Only Products
This is one of my favorite ways to create an exclusive loyalty program! A points only product is a product that is only available for purchase with points.
By creating a catalog of products that are not available in any currency other than your points currency, you can provide additional value to your customers in the form of a gift rather than simply giving them a discount on a purchase.   These exclusive products also create desire in your customers that is stronger than the desire to get a discount.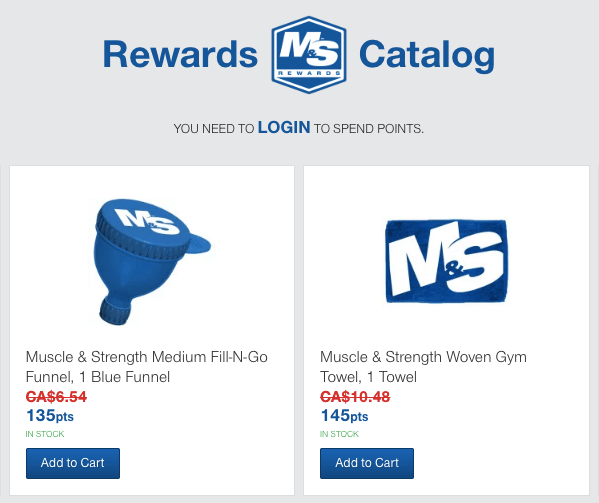 Muscle & Strength has done a really great job of building a large rewards menu that is heavily supported by points only products.  They make them feel even more exclusive by showing their customers how much they're worth in dollars. This creates a high perceived value that customers can't wait to take advantage of!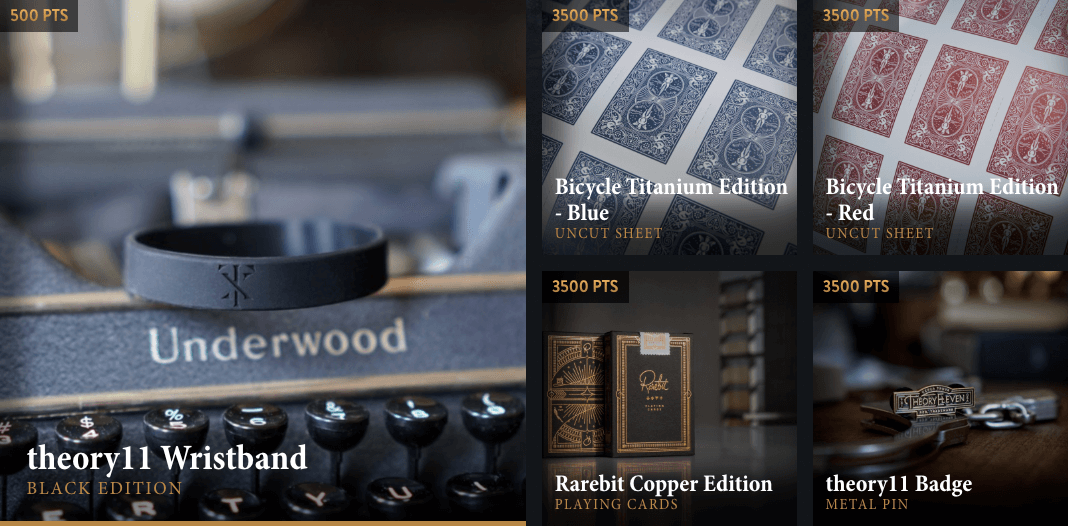 Theory11 is another great example of this concept at work.  As part of their Elite program, customers can "purchase" limited edition playing cards and wristbands that can't be found anywhere else. Limited edition items like this are great products to offer as part of an exclusive loyalty program.
You can take your points only products to the next level by making them aspirational.  These rewards should cost a lot of points and take more work for a customer to earn.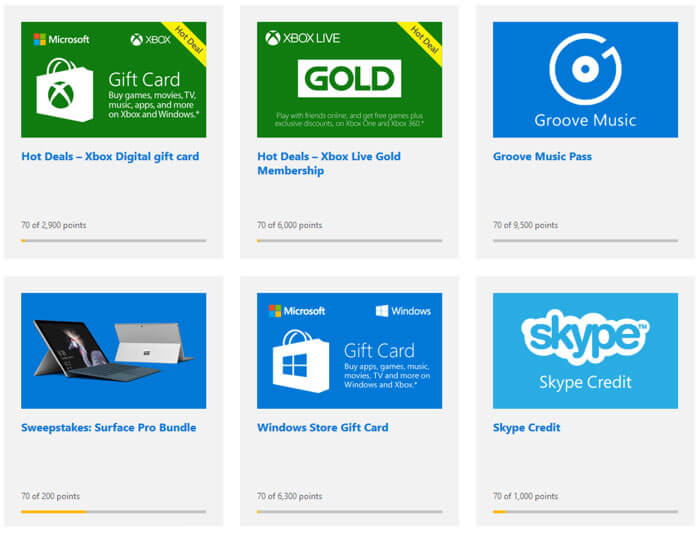 Microsoft Rewards puts this into practice by giving customers the chance to redeem points for chances to win a Surface Pro.  The more entries they redeem, the greater the chance of winning the computer, making it an exciting challenge for their best customers.
2. Include Experiential Rewards
Another way to create an exclusive loyalty program is with experiential rewards. These rewards are similar to points only products because you are offering something that can only be redeemed with points. The difference is that these rewards focus on creating an experience for your customers. A product has a lifetime, but a great experience can last forever.
I have seen experiential rewards offered in many ways, but the important thing to remember is that the experience you provide needs to match your brand image and your customer demographic. You want to create an experience that will drive your customers to take action.
Some great examples I have seen:
Marvel
What they sell – Comic books and superhero memorabilia
Experiential Rewards – Getting drawn in a Marvel comic
The fact that this experiential reward "sold out" so fast is proof that Marvel hit the nail on the head -- they understand who their most loyal customers are and what they care about. The comic giant also offered other experiential rewards like Twitter shout-outs from comic book artists. Both of these experiences perfectly complement what Marvel sells and stands for.
Sephora
What they sell – Cosmetics and supplies
Experiential rewards – Exclusive shopping events, invites to Sephora parties, and access to the beauty studio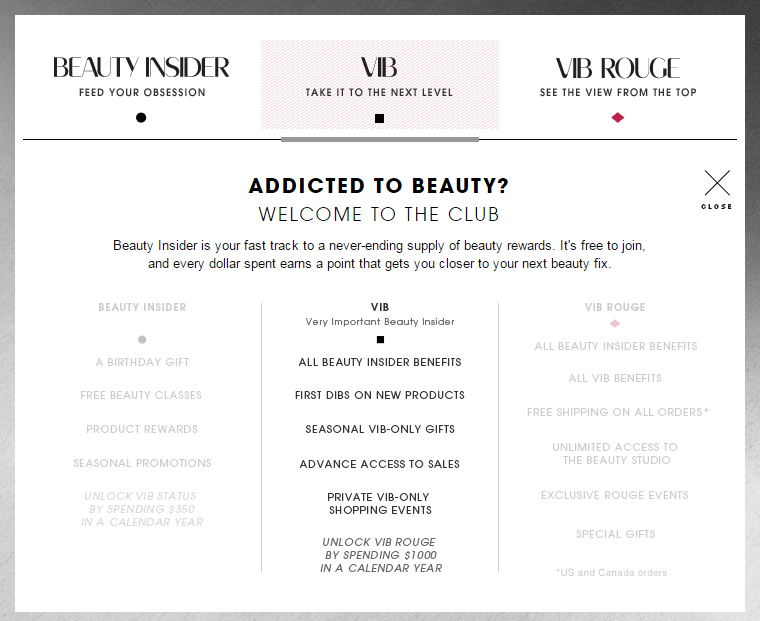 Sephora does a fantastic job of motivating shoppers to engage with their program by giving them a number of luxurious experiential rewards to work towards.  With advance access to sales, seasonal gifts, and private events, Sephora is doing lots of things right with their VIB program!
Other Experiential Reward Ideas:
Meet and greet with the CEO or a Celebrity Endorser
Tickets to industry events or shows
Early access to sales and promotions
Vacations
One on one consultation (explain which products will work best)
Once again, the important thing here is to match your experiential rewards to your brand and customer base. If you want to give your loyalty program an exclusive feel, you need to provide rewards that get your members feeling that way!
3. Give Your Best Customers Elite Status
Nothing gets a customer feeling like they are part of an elite club quite like status based tiers. These are tiers that separate your loyalty program members into groups based on purchase behaviors. The purpose of this is to get members competing to be part of an exclusive group.

Tiers work best for exclusive loyalty programs when they're tied to a status. You can show status with a physical card like Sephora's VIB card or Starbucks' Gold Card, or by providing upper tier members with special benefits unavailable to those in lower tiers.

You should aim to have your best 5% of customers in the top tier of your program to create a real sense of exclusivity. This ensures that those seeking the status will be motivated by the promised status.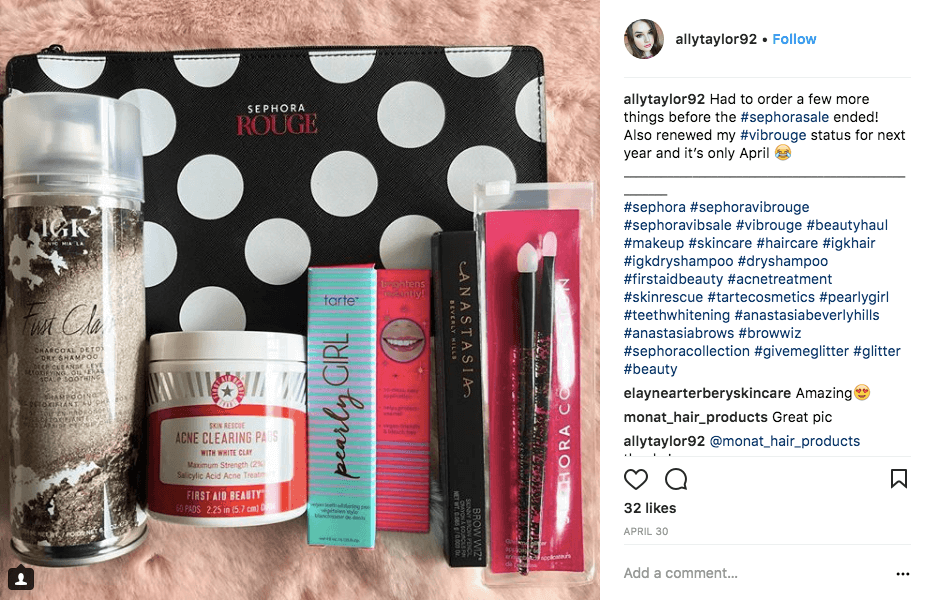 If you don't believe this type of status is valuable, just look for #VIBRouge on Instagram or Twitter.  Sephora's loyal customers covet this reward above all others, and can't wait to tell the world when they finally unlock it.  This powerful motivator can separate your rewards experience from your competitors and keep customers excited long term.
An Exclusive Loyalty Program
Creating an exclusive loyalty program that does not focus on discounting is definitely possible! You just need to be sure that you focus on creating rewards and benefits that match your target audience.
Do your customer value having things before the general public? Offer them early access to new products for their loyalty. Do your customer love being unique? Allow them to redeem points for limited edition items that are not available anywhere else.
There are tons of ways to create a loyalty program that feels exclusive. The important thing is to use tactics that will work for you. Good luck!