You may know that obtaining new customers costs 5x more than it does to retain existing ones, and returning customers buy an average of 30% more items than first-time buyers. Reward programs are a great way to build customer retention, but what happens if you still see customers falling by the wayside? That's where email's here to help.
Email is one of the most powerful tools in your marketing arsenal, especially when it comes to your rewards program. For every $1 spent on email marketing, you can expect an average return of $32. When some subscribers inevitably stop opening your emails, you can send a winback email series to re-engage them.
12% of subscribers open re-engagement emails, and 45% of those continue on to open a subsequent message. Bringing some of your lapsed subscribers back into the fold can help strengthen their brand loyalty, and will ultimately improve your bottom line. More good news? These same lessons can be applied to your customers, so we've broken down some tips on how you can use winback emails to re-engage dormant rewards members.
When should I send winback emails?
When you send a winback campaign will largely be influenced by your brand's own cycles. If you're winning back a lapsed subscriber, we generally recommend sending after they haven't opened 5-10 emails, although this will vary depending on how often you usually send.
With rewards members, you'll want to look at your buying cycle. What does the average buying cycle look like? How long of a period between purchases is significant to your brand? You can send your winback emails after the point when you would anticipate another purchase.
Anything I should keep in mind?
Number of emails
Depending on your usual communication schedule, you may want to send a single winback email or a series of 2-3 emails that engage your customers in different ways (don't worry, we've got some ideas for you below!)
Segmenting rewards members
As part of your holistic email strategy, you'll want to segment your rewards members so that you're sending subscribers more customized and targeted emails (think: separating contacts into categories based on purchase history, rewards tiers, or demographics).
You can also use these segments to send targeted winback emails. Consider the messaging you would send to an otherwise frequent customer in a VIP tier vs. someone who's shopped with you once or twice - probably pretty different, right?
Choose your CTA wisely
Where do you want to send rewards members when you re-engage them? If you're planning to send multiple emails, a call-to-action to confirm they're still interested in receiving emails is all one email needs. Or maybe you want to link your login page or a specific page on your website designed for conversion.
In this email, Urban Outfitters asks subscribers to confirm their interest with a fun, on-brand graphic. This is an engaging and effective way to connect with potential customers and make sure emails are only being sent to interested readers.
Alright, how can I incentivize dormant rewards members?
Discounts
Discounts are a foolproof way to re-engage your customers. Have them earn more rewards and step back into the buying cycle by offering discounted shipping, a dollar discount, or a percentage off - whichever is most meaningful for your members.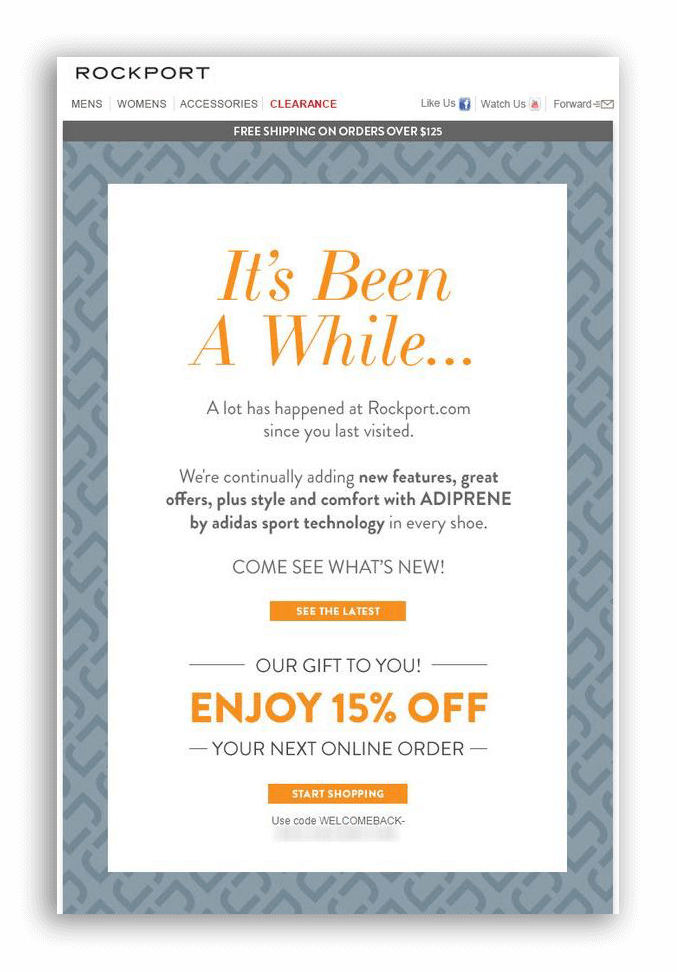 Rockport's winback email uses colour to draw attention to the main feature - their 15% welcome back discount. They also do a great job with the rest of their copy, showing customers what they miss out on when they don't engage with the brand (in an inviting way).
Bonus point offer
You may have considered running bonus point events, but you can also send targeted bonus point offers to dormant rewards members. These winback emails can entice customers to keep shopping with your brand. These offers help keep your rewards program top of mind, and encourage customer loyalty in a way that discounts sometimes do not.
If you have a tiered or VIP rewards program, you can take your bonus point offers to the next level. Helping members get closer to VIP tiers or offering larger points incentives to your VIP members can make your messaging even more targeted, and engage more customers.
Gift with purchase
Small gifts can feel like a sweet treat for your customers. People love tangible items (25% of shoppers have said they purchased because of a free gift). If you have a little something to offer with their next purchase, you can show dormant rewards members that you really care.
Point reminders
Drop into rewards members' inboxes before their points are about to expire. You may have read that people are hardwired to avoid loss, and unused points are no different. Keep your rewards program front and centre and incentivize members to shop with a timely (and friendly) reminder that if they don't use it, they just might lose it.
Appeal to their humanity
In the end, we're all human. Appeal to dormant rewards members' humanity by playing up brand loyalty. You can get a little cheeky with your messaging if it suits your brand - think, "Come back", "Is this the end?", or "Let's stay together". If those are a little too playful for your brand, a simple "we miss you" can still do the trick.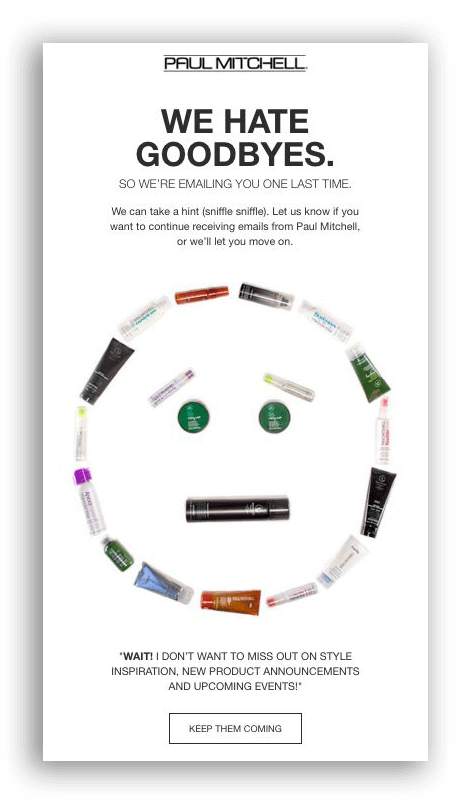 Here, Paul Mitchell dives headfirst into their playful winback email. Not only does the main appeal read "we hate goodbyes", but they've also used their own product to tug at our heartstrings. We don't think shampoo has ever made us sad before.
Build intrigue
FOMO is real. Use your winback emails to showcase all the amazing things your brand is offering, like rewards benefits, upcoming sales, or new products and features. Sometimes all you need to do is show dormant rewards members what they're missing.
It's your time to shine
If customers press pause on shopping with your brand, all is not lost! Use winback emails to re-engage dormant rewards members by sending targeted messages that connect with your audience. You know your company better than anyone, so let your brand shine and leverage your program to rebuild that customer loyalty.
This guest post was written by Anna Cunningham, Content Marketing Manager at Hive.co, a data-driven email marketing CRM that gives brands deeper insight into customer behavior so they can sell more.