It's not secret retail sales spike during the holiday season. Of course, so does the cost of advertising. In fact, a new holiday marketing study found that rising ad spend is the number one concern (80.4%) among large online retailers.
Reward programs are the perfect way to transform both spikes into year long success!  Wondering how to market your rewards program this holiday season? Take a look at how some of the world's biggest brands are using loyalty to spread holiday cheer!
1. Starbucks' "Starbucks For Life" Campaign
Starbucks is no stranger to holiday marketing. Each year, members of the brand's rewards program know that an exciting loyalty promotion is coming the day that the signature red cups hit the counters! While Starbucks has run a number of successful holiday rewards campaigns, their Starbucks for Life sweepstakes takes the cake.
Starbucks For Life is a holiday game in conjunction with the Starbucks Rewards program. To win big, customers must enter a unique gameplay code received with purchase into a promotional microsite. Each play (up to 2 per day) represents another game piece, and 3 matching pieces on the game board means you've unlocked free Starbucks for a week, year, or 30 years! While collecting enough pieces to win may seem unlikely for the average customer, the promise of bonus points for participation keeps even the least frequent of customers involved.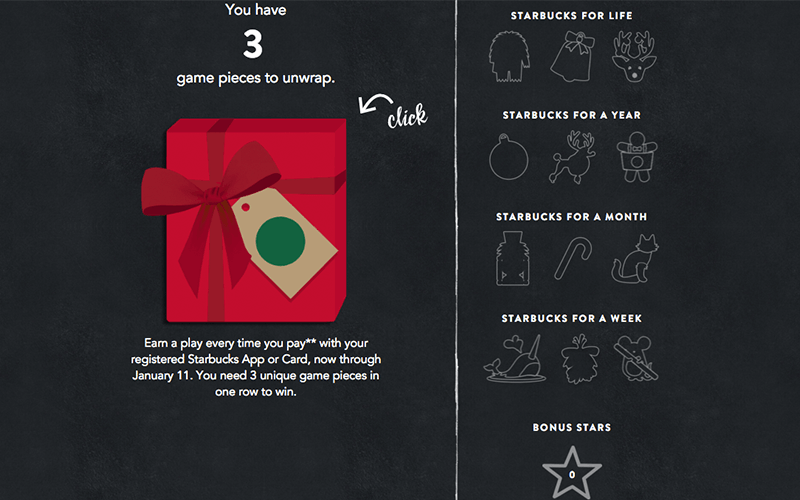 With so many gifts to buy during the holidays, many customers might find specialty coffee from brands like Starbucks unnecessary. However, the Starbucks for Life promotion keeps customers in-store every day in hopes of hitting the holiday jackpot!
2. Disney Movie Rewards "Freeform's 25 Days of Christmas" Campaign
Disney sure knows how to make dreams come true, and their holiday collaboration with Freeform cable is everything a rewards program member could wish for!
From December 1st-25th, members of the Disney Movie Rewards program are invited to check the associated social media pages in search of a unique daily code. This "magic" code will change every day of the promotion, and can be entered to unlock bonus points for each member at log in.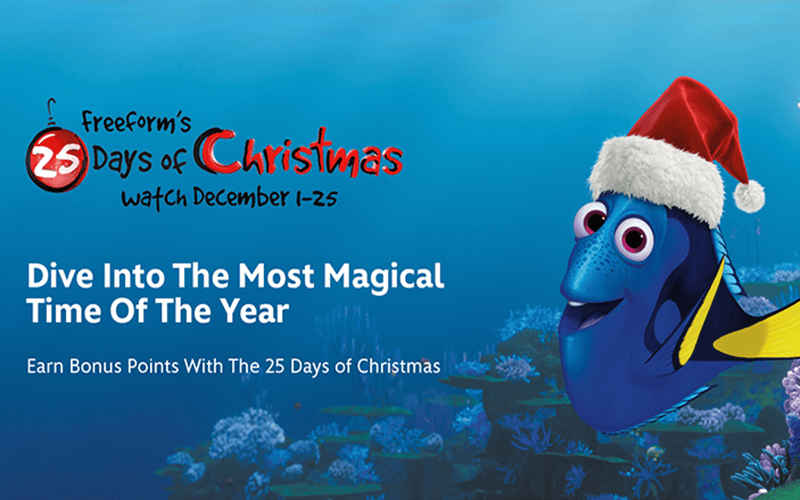 With codes that vary in value, each day is a surprise. The most loyal of participants can earn up to 130 bonus points over the promotions course. To put that into perspective, customers can redeem their first reward at just 5 points! The magic and mystery of this holiday campaign keeps Disney top-of-mind during the holidays.
3.  Nordstroms' "Holiday Rewards Benefits" Campaign
The holiday season means a lot shopping, and customers are looking for the best deals on the market. To encourage spending in one place, Nordstrom entices their rewards cardholders with bonus points that make every penny count.
Starting on Black Friday, Nordstrom encourages customers to kick off their holiday spending with Personal Point Days that can be scheduled at the shoppers' convenience. On this day, customers can earn 10 points per dollar on all credit and debit purchases.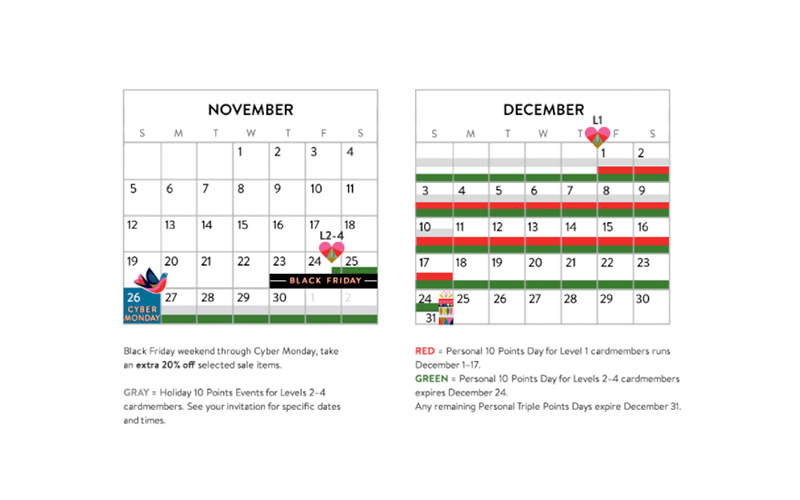 To sweeten the deal, level 1-4 cardholders can schedule another Personal Points Day before December 31st, earning triple the points on all credit and debit purchases. To end the Christmas craze with a bang, level 1-4 cardholders can earn an additional 10 points per dollar on purchases at an intimate invite-only event.
Nordstrom's effective use of bonus point events keeps brand-switching at bay during the holidays. By offering more value than competitors for customer dollars spent, crossing each gift off the Christmas list at Nordstrom just makes sense!
4. Southwest Airlines' "Unwrap Holiday Bonus"
The holiday season is the busiest travel period of the year. People all over the world are flying home to spend the season with the people they love, and Southwest Airlines wants to be the airline they choose to get there.
To make this happen, Southwest offers customers holiday bonuses on flights and purchases made with participating partners, giving Rapid Rewards members the opportunity to earn as much as 3000 bonus points! With participating partners like Kohl's, Macy's and Saks Fifth Avenue, customers will have no trouble earning their next flight while completing their Christmas shopping.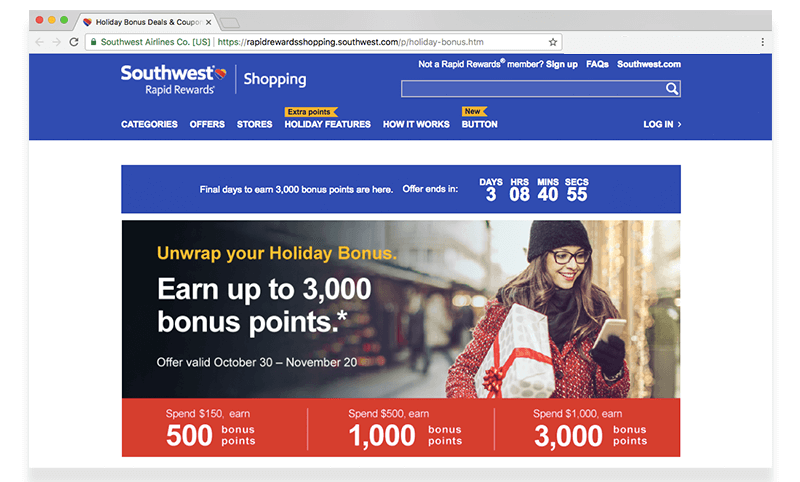 It doesn't end there, though. Southwest also runs "holiday extra points series" with different retailers each week, presenting more opportunities for bonus points and exclusive access to holiday deals. While it seems like Southwest Airlines may be a little too generous with the awarding of points during the holiday season, their generosity will pay off with an increase in customer lifetime value.
5. Sephora's "Holiday Reward Card" Campaign
Sephora is known for offering luxurious rewards, but the beauty brand takes gifting to the next level at Christmas time! With bigger and better rewards for their most loyal customers, Beauty Insiders receive an exclusive discount based on the tier they've reached in the calendar year. For example, members of the first tier, "Beauty Insider" will receive the gift of $15 off a purchase of $50 or more, while VIB and VIB Rouge are gifted $25 and $50 off, respectively. The best part? There is no purchase required to receive this gift!
Sephora holiday rewards cards make the holidays a little brighter for everyone involved. Customers feel appreciated for their loyalty throughout the year, and Sephora encourages holiday spending from program members at every level!
6. Expedia's "Santa Flies Coach"
We all know that Santa does a lot of traveling over the holidays, but a coach seat with Expedia isn't quite what we imagined. In Expedia's Santa Claus flies coach campaign, Santa Claus travels from country to country and racks up Expedia+ points on the way. His final destination isn't the North Pole, though. It's actually St. Jude's Children Research Hospital in Tennessee - and Santa is there to spread Expedia+ points around like Christmas cheer!
Expedia is a long-term supporter of St. Jude's hospital, and this campaign was designed to encourage customers to donate the points they accumulate over the holidays to a good cause.
While this holiday campaign doesn't necessarily encourage customer spending in light of Christmas, it does encourage customer giving. This initiative inspires rewards program members to shift their focus and consider the impact a donation of their points can have on the less fortunate this Christmas.
Holiday Cheer That Lasts All Year
While holiday campaigns are often designed to encourage a short-term spike in rewards program participation, the positive feelings associated with brand generosity last all year. Use your rewards program to your advantage this holiday season — don't miss this opportunity to wish your most loyal customers their happiest holiday yet!